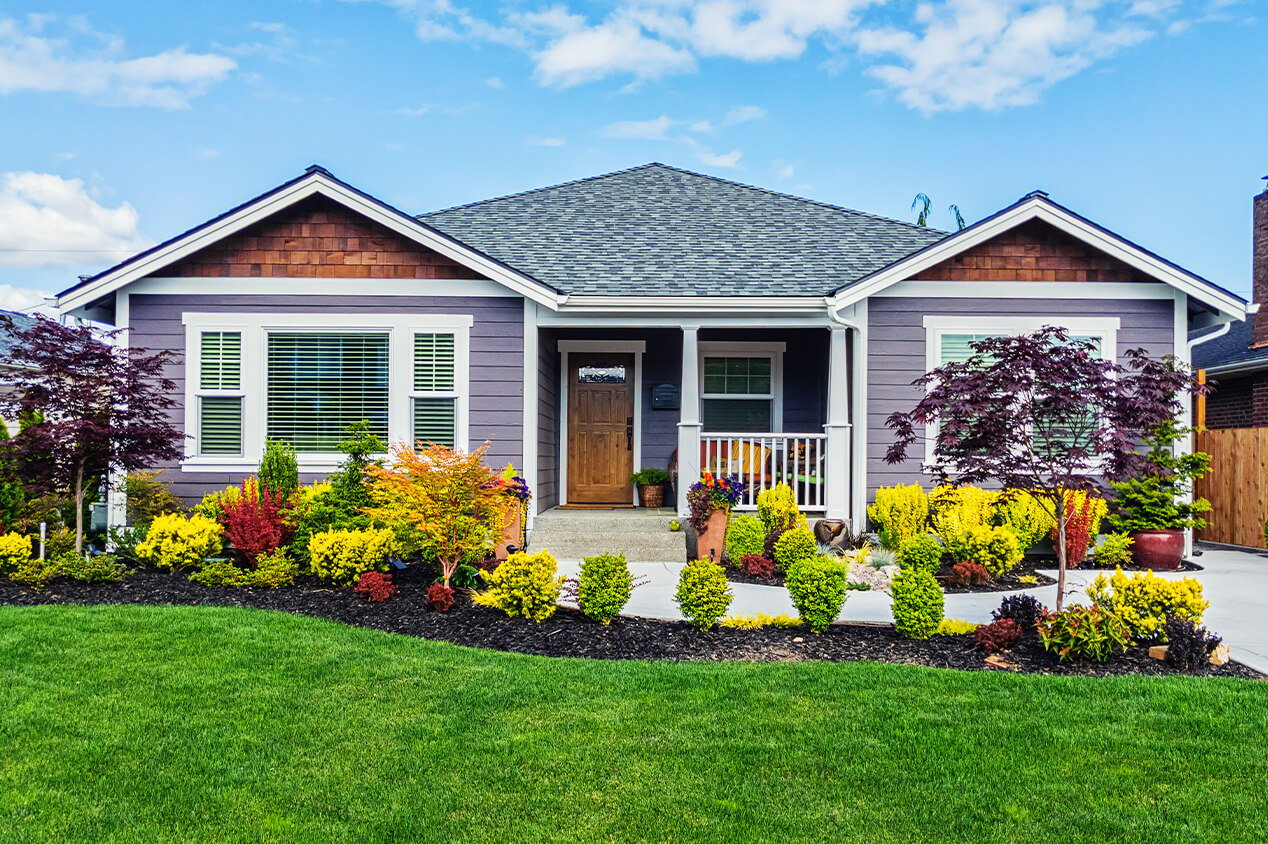 Do you want to reap the benefits of a beautifully landscaped lawn without spending hours weeding every week? Hiring a gardener to help with lawn upkeep is the easiest way to boost curb appeal and keep your yard looking great. Typically, the cost of lawn maintenance in the U.S. is between $100 and $200 per month. You can keep landscaping costs even lower by following low-maintenance landscaping tips.
Approaching your landscaping with a low-maintenance mindset is the perfect way to make easy and affordable lawn care decisions. While there's an upfront cost to hire a landscaper, it's worth every penny to maintain your yard with minimal effort.
On This Page:
12 Low-Maintenance Landscaping Ideas
There are plenty of low-maintenance solutions for your yard that look great. Check out the 12 ideas we've rounded up below.
1. Try xeriscaping
If your schedule doesn't allow for frequent watering, you have options to reduce it. Xeriscaping is a drought-resistant landscaping technique that reduces water use and the frequency of maintenance required. Depending on your region and budget, ask a landscaper near you if this approach is right for you.
2. Add a small fountain or pond
A miniature fountain or pond may be an upfront investment, but it works wonders to elevate an outdoor space. Typically, the cost to install a water fountain falls between $950 and $4,650. Once you have this lawn feature, the upkeep is minimal. Additionally, you might consider installing a pond. Be sure to double check that your budget allows you to comfortably afford the cost of a pond, which is between $1,250 and $5,650.
3. Get creative with landscape lighting
Installing an exterior landscape lighting system is one way to add long-term beauty and curb appeal to your lawn or garden. Depending on lighting placement, you can strategically make your lawn seem bigger and brighter. Be sure to read plenty of contractor reviews and understand the cost of hiring outdoor lighting designers before bringing in a team.
4. Upgrade your flower bed borders
Upgrading the stone border surrounding your flower beds has a big impact on the overall look of your lawn. A clean garden edge with complementary stone will elevate your landscaping efforts. Natural stone is usually the most popular choice, but weigh all your options before picking a style that suits your home. Keep in mind that the cost of landscaping edging varies greatly depending on your set-up—the price can be between $730 and $1,900.
5. Invest in an artificial lawn
If you need a hand with mowing, it's simple to find a lawn care service near you. Also, instead of sod or seed, artificial grass is a great time-saving option. Artificial turf alternatives have come a long way; there are many different options designed to look like the real thing.
While the cost to install turf is much higher than sod installation or seeding, a faux lawn requires very little effort to maintain. You can quickly hose down your turf to keep it clean, and deeply rinse and brush it once a month. Also, double-check that your turf is non-toxic and has a relatively soft texture if you have pets or kids.
6. Opt for permeable pavers
Hiring a local irrigation contractor is ideal for keeping plants watered. If you're not interested in a full sprinkler system, allow rainwater to permeate your yard's soil as much as possible. Permeable pavers minimize erosion and prevent runoff. You can also achieve this by picking the right materials like organic mulches, gravel and stone. Keep in mind, it's much more costly to switch from concrete to a permeable pavement option, rather than starting off by choosing permeable pavers.
7. Create a grid design with patio pavers
Don't underestimate the power of a perfectly "hardscaped" courtyard to enhance your yard and limit landscaping chores. Create a simple grid design with permeable pavers for your courtyard or patio. You'll likely need to hire a local landscape designer to help you get it right.
8. Add faux potted plants
Consider sprinkling your walkway with beautiful faux potted flowers to decorate your front lawn without the upkeep. Buying durable and colorful artificial plants can give your home extra curb appeal, and no one will notice they're fake from afar.
9. Use fencing to your advantage
Fencing can clean up the look of your lawn and, when installed properly, even help streamline maintenance. You'll avoid chaotic overgrown plants and keep your backyard safe and enjoyable for your pets. Rather than just installing a wooden or metal chain-link fence, consider lattice-topped horizontal boards or pickets. Consider planting flowers and herbs in various containers as well.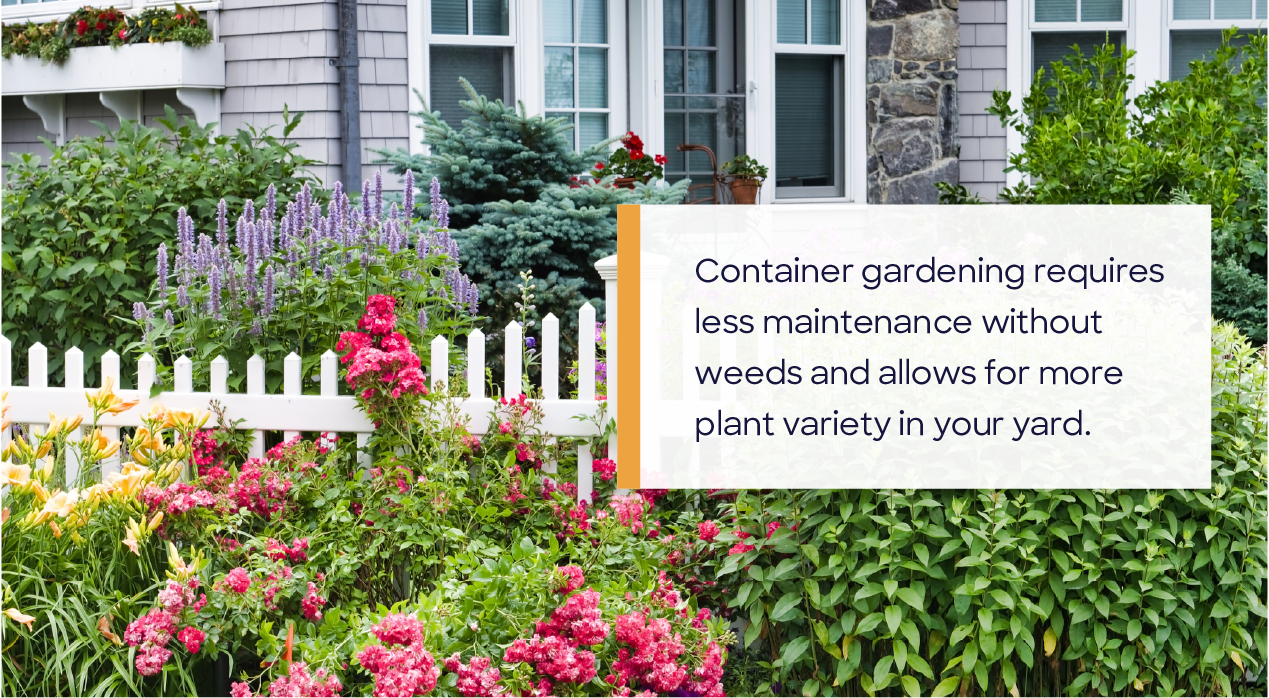 10. Use rocks to create elaborate designs
We've mentioned using rocks and stones to create borders and accents between different sections of your lawn—but what if you used these materials solely for the purpose of adding an artistic element? There are landscaping designers near you who can help you create truly captivating designs that require almost no upkeep.
11. Maximize your yard with ivy and small trees
Plant small trees instead of large ones and decorate your fences with flowering vines instead of lining them with large shrubs. Not only are vines from ivy and miniature trees easy to care for, but they can add an extra touch of sophistication to your yard. You might also be able to save money and time on trimming and pruning.
12. Choose drought-tolerant flowers if your climate allows
If you're worried about your carefully-placed flowers withering without painstaking upkeep, choose low-water flower varieties. For example, lamb's ears and purple coneflowers are beautiful if you're in the right geographic region for them to thrive.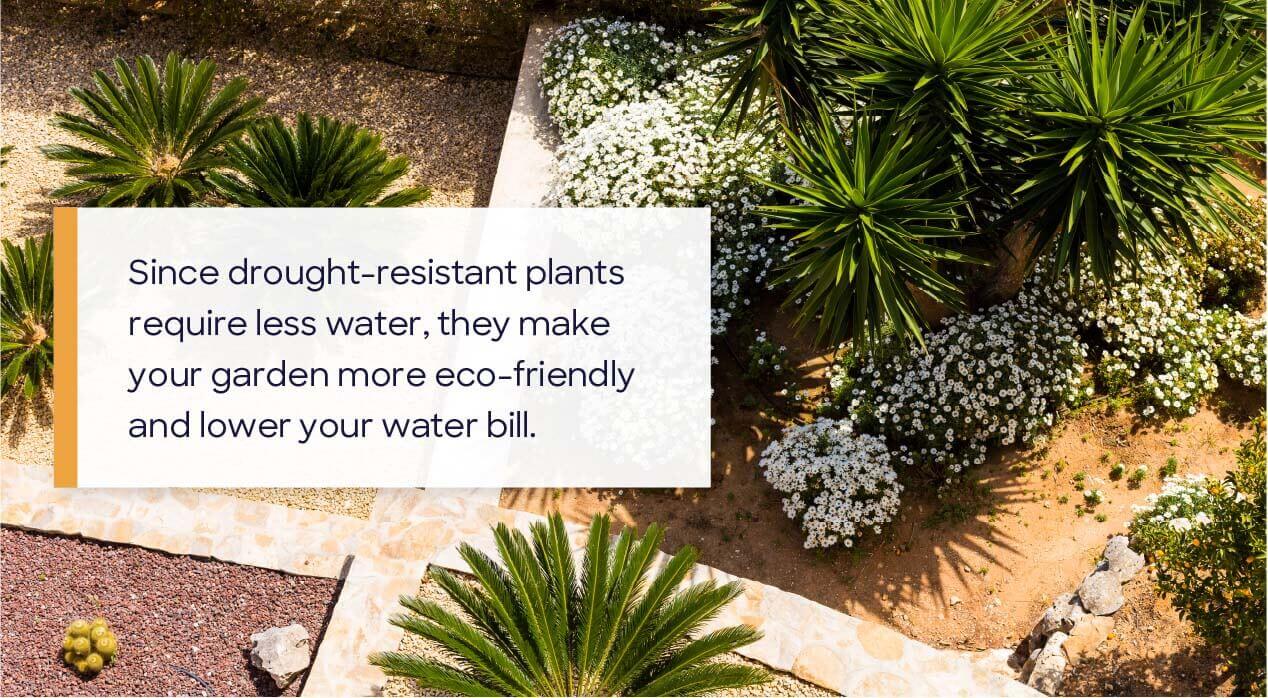 12 Low-Maintenance Outdoor Plants
Be sure you check regional resources to ensure you choose plants that will flourish where you live. To figure out your region, determine your gardening zone as decided by the U.S. Department of Agriculture planting "Hardiness Zone" map.
Pest-resistant plants that require minimal watering can help your local environment and increase your home's curb appeal. It's always best to pick plants that match your level of commitment to maintenance. Check out our 12 recommendations below.
1. Begonias
If you live in a humid climate, this hearty plant is perfectly low-effort to maintain. The flowers are naturally pest-resistant and thrive in subtropical locations. Just be sure not to overwater them!
2. Marigolds
These vibrant flowers are hard to kill, and they have an eye-catching blooming season in late summer to early fall. Marigolds are easy to grow and come in perennial or annual varieties.
3. Sweetheart Hoya
The heart-shaped leaves of this drought-resistant plant are bound to add some beauty to your landscape. The sweetheart hoya only needs water once or twice a month, and you might see small red and white flowers bloom.
4. Chrysanthemums
Chrysanthemums are gorgeous, colorful flowers that you don't have to stress over. They don't require much sunlight to stay alive and watering them once a week suffices.
5. English Lavender
Lavender is a perennial herb that continues to grow each year with limited oversight. The fact that these tiny purple flowers require very little water makes them an easy and enjoyable splash of color for your lawn.
6. Crown of Thorns
This breathtaking succulent often blooms red, pink or white. Considered a lucky plant in certain cultures, this flower is super low-maintenance and ideal for arid climates because it needs little to no water.
7. Ribbon Grass
As a decorative grass option, ribbon grass looks great for most lawns and proliferates quickly. Once-per-week watering and limited sunlight are perfectly suitable for this plant.
8. Creeping Thyme
The fragrant and edible creeping thyme is a perennial favorite. All it needs is warm weather and the occasional watering. Its hardiness and drought-resistance make it a great alternative to grass.
9. Housesleeks
One of the best perks of houseleeks is that after you plant them, they can spread organically in beautiful patterns. These plants need a lot of sunlight, but not water. It's best to water these extremely infrequently.
10. ZZ Plants
The zamioculcas zamiifolia (ZZ) plant is an all-time favorite—the caveat is that they're not safe for pets and kids. ZZ plants thrive in indirect light. They can be perfect low-effort plants when outside in shaded areas with well-draining soil.
11. Purple Clover
These butterfly-like plants are beautiful additions to your potted plant collection. They're easy to take care of because they're resilient in different types of weather, regardless of whether there's a dry spell or heavy rains. Typically, you only need to water them when the soil is dry to the touch.
12. English Ivy
This ivy's picturesque vines easily weave through terraces or climb the sides of houses. They require very little maintenance because they flourish without interference in most climates.
You'll want to be careful to control their spread and take note of your home's exterior material and its condition. Although most well-constructed masonry walls can handle ivy, its roots can damage materials like brick, siding and stucco.
If you wish you had a green thumb but simply don't have the capacity for needy plants, then our recommendations are for you.
Remember, besides being easy to maintain, low-maintenance yards also usually require minimal watering. By designing a low-effort lawn, you're also creating an eco-friendly outdoor space.
A landscaped yard that conserves water, rather than wastes it, is always a plus. After all, another perk of saving water is a cheaper utility bill at the end of the month. Hire the right backyard landscaper or contractor near you to help with your landscaping project this spring.
Creating an Eco-Friendly, Low-Maintenance Yard

Sources: NICH | National Association of Landscape Professionals | Gardener's Path
Ready to start your
Landscaping Project

?Find Pros
No Comments Yet