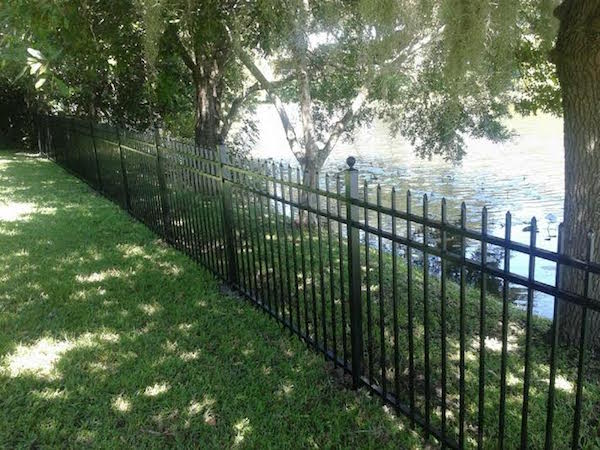 Aluminum fences are fast becoming one of the most popular fencing solutions for residential, commercial, and industrial needs for many reasons. They are lightweight, sturdy, never rust, and are available in a multitude of colors, making them suitable for just about any application. If you're looking for fence for your home, pool, yard or business, take a good, long look at this increasingly popular product.
Tougher Than Steel
As mentioned above, the reasons to choose aluminum for your fencing needs are many, but perhaps the best reason to choose this material is its durability. Aluminum fencing is nearly indestructible, and because it doesn't rust it is an excellent alternative to steel or wrought iron fences that have to be carefully maintained and painted to preserve their integrity. For just this reason, aluminum fences have become the preferred material for installation around swimming pools and other areas where regular contact with water is inevitable.
The availability of powder coating for aluminum fences only adds to their durability. Powder coating is a special painting process that cures paint onto the metal and protects the fence from the elements, fading, and even graffiti. Add all those together and you've got a fence that is virtually maintenance free (and usually guaranteed) for the life of the product.
Light as a Feather
The other big benefit of aluminum fencing is its weight. As with any aluminum product, aluminum fences are far lighter than their steel or wrought iron counterparts. This means easier installation, longer lasting life (as it won't stress joints and posts nearly as much as heavier metals), as well a greater number of uses. Gates are a shining example of the benefits of aluminum fences in this arena. An aluminum gate can span a distance far greater than steel or iron for just this reason, and aluminum is far and away the most popular choice for gates that provide entry to large estates and commercial and industrial facilities.
Ready to start your
aluminum fencing

?Find Pros
Choose the Right Style For You
The final thing to take into account when considering aluminum fencing for your property is to think carefully about what style is going to be best for your needs. Aluminum fencing comes in a variety of makes and models that include everything from spiked security fences to those with flat top rails for pools and other areas where the safety of children and pets is concerned. Add to that the fact that they can be painted or powder coated to almost any color, texture or appearance, and its tough to find a fencing need that aluminum fences can't meet. For more information on aluminum fencing and the options available to you, contact a fencing contractor or aluminum fence supplier to get the best, and most relevant information for your particular application.
1 Comments