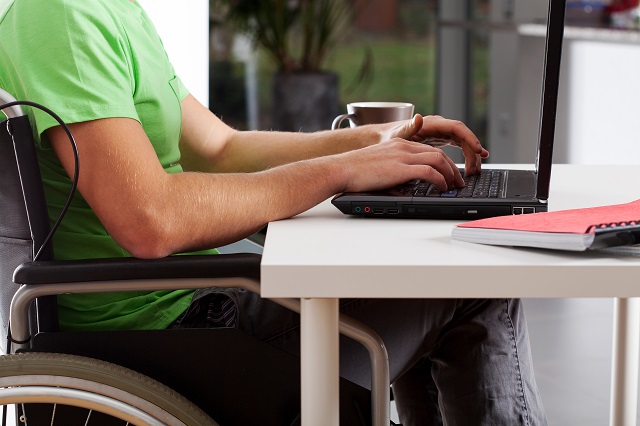 Working from home comes with a lot of perks, like spending your day in a home office of your own design, creating your own schedule, setting your own dress code, and enjoying the conveniences of being in a space that is comfortable, convenient and inspiring. While this is true for most anyone, it's especially true for people with disabilities.
Some people with disabilities may find managing the environment of a traditional office setting to be difficult and uncomfortable. Even the commute can be a challenge in and of itself. However, people with disabilities can be extraordinarily productive in the right environment. The skills, knowledge and abilities that can make them model employees, however, may be overshadowed by the physical, mental, emotional or medical issues that could be further impaired by a traditional work environment.
The answer for many is to work from home. People with disabilities who work remotely join the nearly 9 million Americans, or roughly 56 percent of US workers, who work from home at least part-time. According to the Americans with Disabilities Act (ADA), a job that allows people to work from home — also called telecommuting — is listed as a reasonable accommodation for someone with a disability.
However appealing and accessible, working from home is not without its considerations and challenges. How can you make sure you are productive and not distracted? How can you inspire creativity and ingenuity? How can your environment improve accessibility and comfort? The average cost for disability remodels — about $5,000 — should include modifications that need to be made to your home office. This guide will walk you through four areas where you can make your home workspace more accessible and enjoyable:
Lighting
Furniture
Organization
Modifications
Lighting: Accessibility for Sight
When it comes to accessibility for lights, brightness isn't the only factor to consider. The lights in your home office need to not only support your vision, but also be located in a place where you can easily access them. Someone in a wheelchair might not be able to reach a ceiling fan light with a pull cord, just like someone with partial vision might not be able to see the cord to begin with. When setting up the lighting in your home office, consider:
Ways to bring in more natural light, which has been shown to reduce stress and promote job performance.
Painting switches and lamp bases with bold, contrasting colors so that people with low or partial vision can see them more easily.
Keeping more light sources in your home office and having a variety of styles, from tall floor lamps to overhead lights to desk lamps.
Using halogen bulbs for maximum lumens.
Installing switches that are low enough to be reached from a wheelchair, or are activated by voice commands, motion or other sensors.
Lighting accessibility improves your work performance and your day-to-day life. Proper lighting is essential for anyone, from people in wheelchairs to those with vision impairment or hearing loss. For those who suffer from chronic medical conditions or mental health concerns, working in places without windows has been shown to exacerbate health issues. That's why it's vital that people with disabilities make lighting — particularly natural — a priority in their home office.
Consider installing or expanding a window. Other solutions include hiring a handyman to replace lighting fixtures or finding an electrician who can add a new light to your home office.
Furniture: Accessibility and Mobility
Your home office should have furniture that you can easily access and that you can efficiently navigate around. Furniture in your home work space should be practical, but also bring in a sense of design so that your office is not only accessible, but enjoyable as well. When purchasing and arranging home office furniture, you might want to:
Look for a wheelchair-accessible desk. It should be the right height and width to allow room to wheel under and have shelves and drawers that you can reach into with ease.
Make sure you have adequate room to turn your wheelchair around and move between your desk and other furniture, like bookshelves and tables. Keeping the middle of the room open with furniture along the walls is a simple way to accomplish this.
Choose furniture that fits your style, not just pieces that accommodate your disability.
Use texture to help navigate around the room if you have low vision. Hang a piece of carpet along the wall that leads to the desk or put textured tape on the back of a desk chair.
If your furniture isn't comfortable and accessible, you'll never feel at home in your home office. You need a space that supports you and your work, one that you can move around in the way you want. Furniture plays a big part in that, as well as how you use it to store and organize your work.
Organizing: Accessibility in Storage
Staying organized is the ticket to success in any home office. If your space is in disarray, you'll have a hard time finding the things you need and feeling happy and productive in your work. When it comes to removing clutter and improving organization, some important considerations people with disabilities should make include:
Achieving two major goals: independence and productivity.
Adopting an organizational style that works for you, like color coding certain categories — perhaps blue for in-progress work, green for special projects, and red for administration tasks. Try to use bold, contrasting colors if you have low vision.
Utilizing cabinets or storage bins that have no doors or, if they do, have large, easy-to-grip handles and knobs.
Choosing a space in your house with little to no outside noise distractions.
Using storage containers that you can place a wheelchair in front of or next two and still be able to get your hands on all inside contents.
Creating daily routines for picking up clutter and organizing work.
Organization is especially important for people managing mental health issues. Clutter and disarray can lead to a build-up in stress and anxiety. It becomes a pressure cooker for someone dealing with emotional trauma, a personality disorder, or depression. It may seem simple or even tedious, but make organization a daily priority to see improvement in your home office flow.
Modifications: Making Your Best Work More Accessible
Today's technology gives all people — of all abilities — greater access. From working in an at-home call center to writing for websites, the equipment you use can propel you over any perceived limitations. Your home office might benefit from modifications to hardware and software like:
Speech recognition software
Extra-large keys on your keyboard
An amplified telephone or a close captioned phone
High-contrast themes and large windows, text and cursor on your desktop
Having the right equipment can improve the quality of your work, but other modifications can be just as impactful in your home office, such as:
Doorways widened to accommodate wheelchairs
Stair lifts to give access to second floor home offices for people with mobility issues
Rugs without frayed or lifted edges, which could increase the risk of tripping and falling
Hand rails to help with navigation, reaching items or sitting and standing
Your home office isn't the only place in the house where a person with disabilities should feel free and limitless. Making sure the kitchen, bathroom, hallways and other areas are accessible for your specific disability is essential for a safe and stress-free personal and work life.
It wasn't too long ago that workers with disabilities simply had to deal with the frustration and unfairness of being held back by the limitations of inflexible employers and workplaces. Thankfully, that's not how things work today. With new technology and workplace culture shifts, people with disabilities have an easier time telecommuting to create a fulfilling and rewarding home-based career.
No Comments Yet