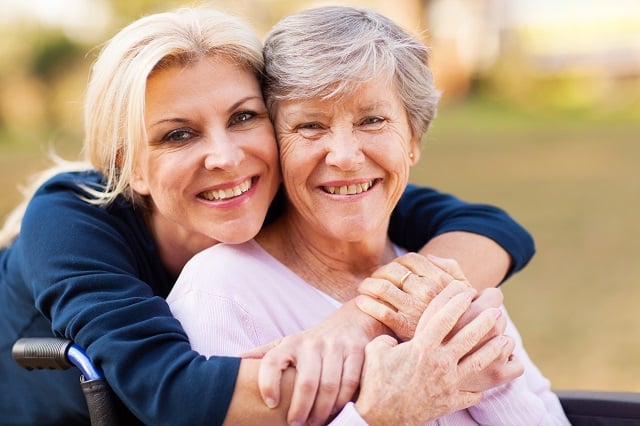 When someone you love has been diagnosed with Alzheimer's or dementia, you want to protect them.
Oftentimes that means moving your loved one into your home; but creating a space that is both welcoming and safe isn't always easy.
Depending on your loved one's individual needs, your specific structural needs may vary, so it's always a good idea to consult an ADA contractor for an assessment of your space.
There are several features every family can provide to make them feel at home.
Focus on Positivity
Since people with the disease use their senses to learn and understand their surroundings; a positive setting and familiar routine can help them feel at ease.
At home, you can create a soothing and uplifting space by using common strategies similar to memory care facilities that can help reduce anxiety and minimize stress:
Choose simple decor in soothing colors.
Give your loved one access to a telephone that they are comfortable using.
Schedule regular visits from family and friends .
Encourage them to focus on positive memories.
Use an in-home caregiver when possible to allow your loved one to be at home where they are most comfortable.
Play music that is uplifting and relaxing.
Find safe ways for your loved one to be independent — allow them to cook simple meals, help around the house and participate in hobbies that bring them joy.
By using as many of these options as possible at home, you'll be creating an environment centered around the individual instead of the disease.
Stimulate the Senses
People who have Alzheimer's or dementia struggle with too much stimulation because they are less capable of ignoring stimuli than people without these illnesses.
The result of this is often confusion, anxiety and agitation. When the correct types of stimuli are offered – your loved one may experience improved mood, better sleep and fewer behavioral issues.
Here are some ideas you can use at home:
Eliminate clutter in common areas.
Keep the television's volume high enough for your senior to hear it, but low enough that it doesn't annoy them.
Find a local designer to create rooms with an open layout to avoid crowding.
In addition to a closet with most of your loved one's wardrobe, provide a smaller dresser with just a few items to choose from each day.
Offer a small selection of choices for food and activities from which your senior can select.
Increase lighting to help your senior see better and to trigger their body's natural circadian rhythm.
If you're looking for a more comprehensive solution to proper stimulation, consider a sensory room for your loved one with Alzheimer's. Commonly used for children with autism spectrum disorder (ASD), these rooms provide a combination of light, movement, music and tactile objects. Find a local interior planner to help you create the best space possible.
As a result, you may also see an improvement in communication and memory.
Incorporate Nature
Too often, people with dementia or Alzheimer's don't spend enough time in nature. The various benefits of increased exposure to sunlight and nature make it worth your while to incorporate a secure, accessible space for your loved one. For example, a lack of vitamin D from the sun has been linked to worsened dementia symptoms. Other benefits include:
Better sleep and hormone balance
Lower resting heart rate and diastolic blood pressure
Better emotional, psychological and spiritual well-being
Flowers stimulate emotions – resting in a garden can improve concentration.
Gardening is a physically and – emotionally – beneficial hobby and social activity.
Natural light improves sleep, mood and behavior
Time outdoors reduces stress and anxiety
It's important to be practical and cautious when designing an outdoor space suitable for your loved one with memory loss.
Here are a few steps you can take to ensure your senior's safety outdoors.
Use native plants historically common in your area may trigger memories for some people with memory disorders.
Provide a selection of flowers that bloom in every season for year-round stimulation.
Install a fence to enclose outdoor spaces. This way, you can provide unrestricted access to the outdoors.
Constant supervision makes it less likely that your loved one will take advantage of the space, whereas freedom to roam in the enclosed space is more inviting.
Ensure there is enough seating, so your senior can sit frequently during a visit to the garden.
Install railing, lights and paved walkways without stairs will encourage seniors to go outside.
Use dark colors reduce sun glare.
Add continuous, circular walkways will make sure your loved one finds their way back to the entrance.
Be Discreet About Security
When caring for a loved one with Alzheimer's or dementia, safety and security are top priorities. Installing a discreet security system can allow you to watch over your senior without making them feel like a burden.
A smart home professional or locksmith near you can install door alarms, indoor and outdoor video camera, and smart locks that blend into your decor.
Most local home security companies offer the option to discreetly alert your mobile device when a door opens, motion is detected or a breach occurs; all without sacrificing your senior's sense of control.
Creating a space that caters to your senior's emotional well-being and physical health is possible; if you focus on a positive, stimulating environment, provide access to nature and incorporate security with discretion.
No Comments Yet