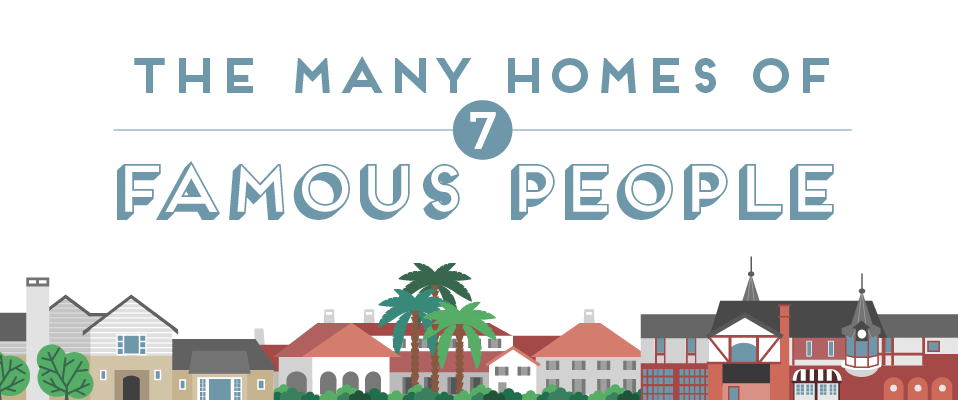 The homes of the rich and famous have moved beyond a subject of mild curiosity, becoming a genuine part of pop culture. The media has allowed us to get a peek behind the (usually) closed doors, providing inspiration for our own homes – or items to add to our wish lists.
But there's often an interesting story beyond all the glitz and glamor. Many of the most well-heeled celebrities came from humble beginnings, and we've mapped out the homes that they've lived in.
1. Bill Gates
Bill Gates certainly wasn't impoverished through his childhood, but the tech giant and his business partner lived in a shabby roadside motor lodge along Route 66 while launching Microsoft. Since becoming a millionare at 26 and a billionaire at just 31, Gates has purchased some extravagant homes for his family to enjoy.
Perhaps the most notable property in his real estate portfolio is a 66,000-square-foot custom built mansion in Medina, which is set on Lake Washington and said to be worth a whopping $178 million.
2. Michael Jordan
Jordan, widely recognized as the greatest hoop-shooter of all-time and the man who infamously lent his name to sneakers, has certainly reaped the rewards of his accomplishments. The former shooting guard's childhood home in Wilmington, North Carolina is now a historic site, and Jordan has moved on to much bigger things.
Though he owns two homes in Charlotte, a custom property in Chicago – which is currently on the market for $14.8 million – and a recently-purchased mansion in Palm Beach are the highlights of his real estate portfolio. There's no doubt that this billionaire will spend the rest of his days living in the lap of luxury.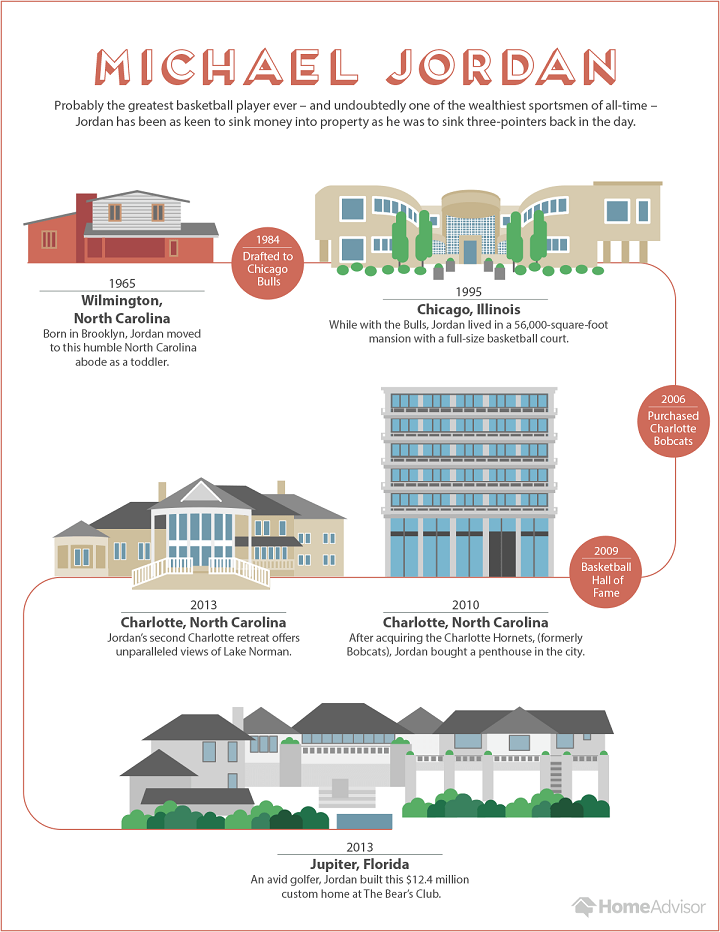 3. Georgia O' Keeffe
The iconic American modernist artist lived an appropriately colorful existence. O'Keeffe grew up in a rather striking, romantic home in Sun Prairie, Wisconsin before moving to Charlottesville, Virginia with her mother, where she spent time teaching at the University of Virginia. She later moved into New York's Shelton Hotel with photographer-husband Alfred Stieglitz, and together they spent summers at his family's estate in Lake George.
As her painting career reached its apex, O'Keeffe moved to the remote Ghost Ranch in New Mexico. She spent the final years of her life at her home in Abiquiú, marveling at its raw beauty.
4. Oprah Winfrey
Winfrey's tale is a classic rags-to-riches story – and the riches that this broadcaster has acquired are considerable. Oprah's early life was spent in a ramshackle house in Kosciusko, Mississippi, which gave little indication of the success to come. She rose rapidly from a local radio presenter to a nationally syndicated broadcaster, and her property portfolio began in earnest.
Today, Oprah spends most of her time at a vast estate in Montecito, California. She also enjoys relaxing at her traditional country home in Maui and recently purchased a high-tech property in the ski enclave of Telluride, Colorado.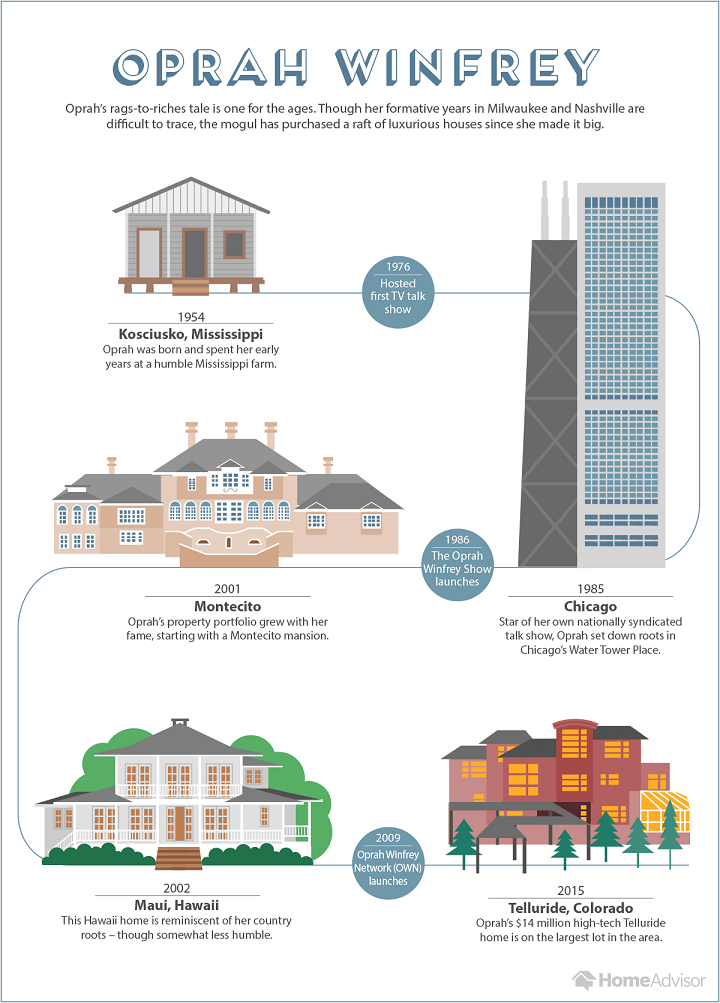 5. Michael Jackson
There's no doubt that the King of Pop is most associated with his infamous Neverland ranch. But his complicated and controversial personal life led to the vast estate falling into disrepair, forcing Jackson to seek other pastures.
His career began in Gary, Indiana before his father moved the family to a Los Angeles estate. One of the most recognizable celebrities on the planet, the Thriller singer eventually sought sanctuary in Las Vegas before his tragically short life came to an end in an $18 million mansion in L.A.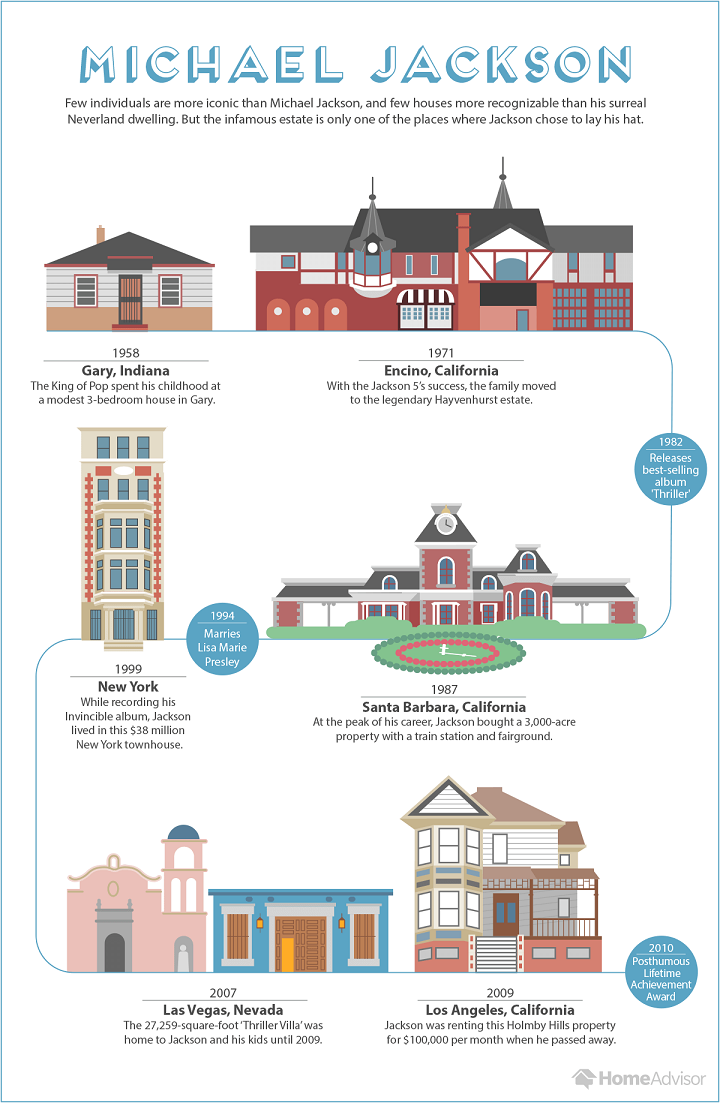 6. Paul McCartney
The Beatles songwriter occupied several humble abodes while playing in Liverpool bands and forging the most important songwriting partnership in popular music history. McCartney lived at 20 Forthlin Road, a small terraced house, when he first met John Lennon. The hugely successful work that they produced together later allowed McCartney to purchase some much grander properties.
Through the years he acquired a country estate in East Sussex and a Beverly Hills mansion, though he now spends most of his time in a trendy $15 million duplex apartment in Manhattan. Interestingly – and somewhat grimly – his Beverly Hills home is thought to be the place where fellow Beatle George Harrison passed away in 2001.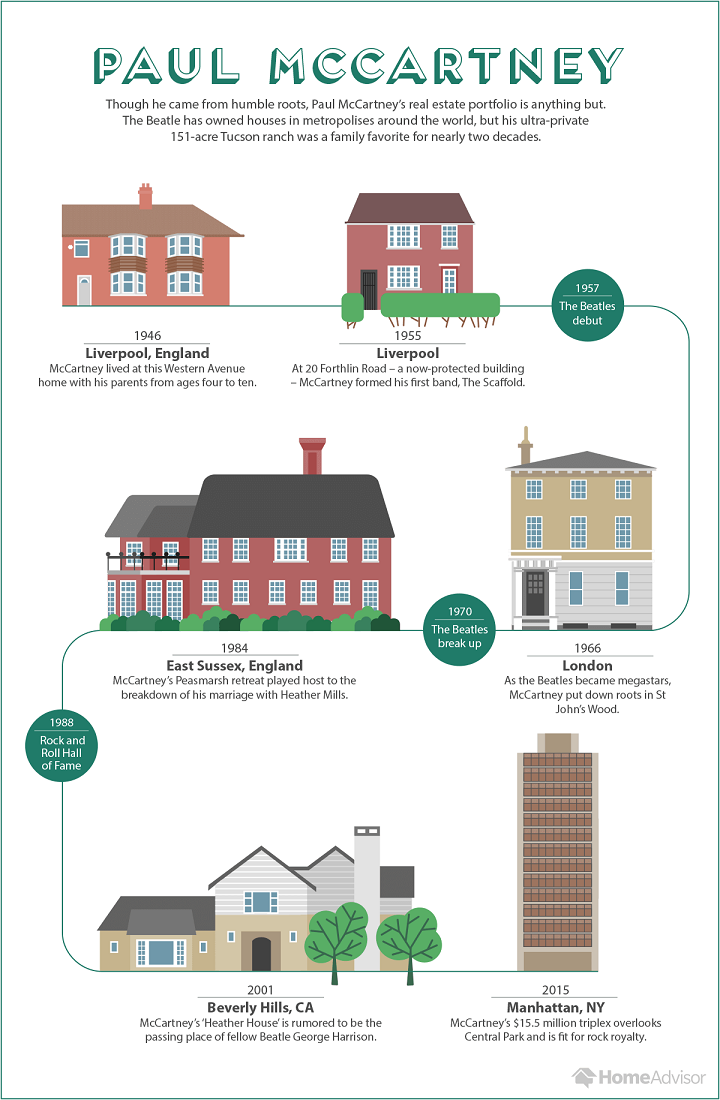 7. Ernest Hemingway
This quintessential American writer lived in some stylish and intriguing properties during his life. In 1899, Hemingway was born in a second-floor bedroom of a Queen Anne home in Oak Park, Illinois. As his career flourished, he moved to the Florida Keys, where he could pursue his passion for fishing.
Hemingway later spent two decades at a 15-acre finca in Havana, Cuba, at a time when the country's relationship with the United States was more favorable. The writer's final move was to Ketchum, Idaho, where he purchased a robust home constructed from cinder blocks, echoing his earthy perspective on life.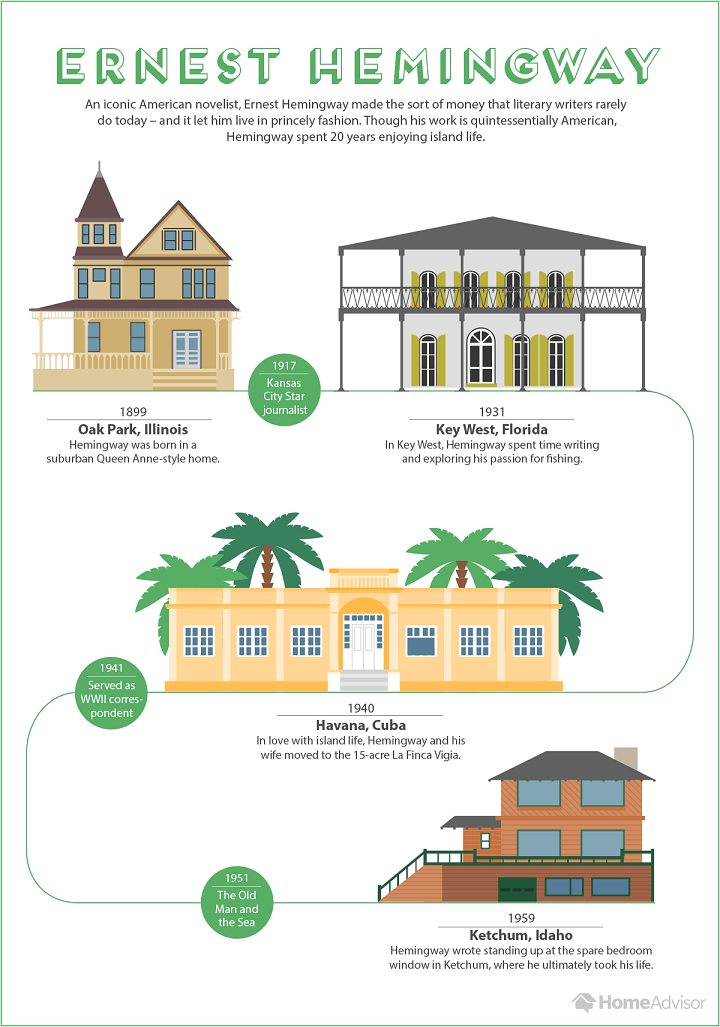 It wasn't always sprawling estates and luxurious surroundings for these notable individuals, and their homes play a key role in telling their stories. From humble houses in the country and suburbs to multi-million-dollar mansions around the world, the real estate portfolios of these famous people grew with their careers.
Do your homes tell a story?
Add this graphic to your site:
Click the text below.
Copy the selected text.
Paste the code on your website.
1 Comments