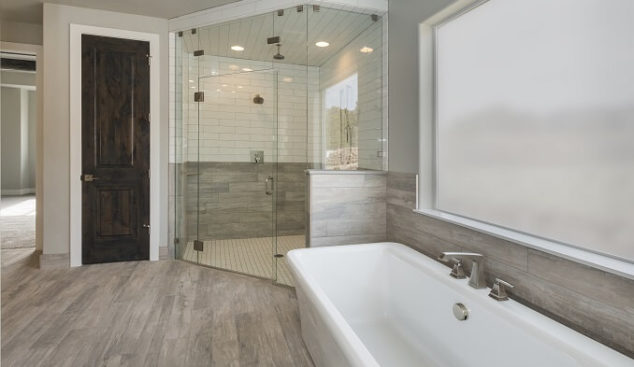 Remodeling a master bathroom is an exciting (and sometimes stressful) project. But planning your remodel ahead of time can help save you heartache down the road. Talk to a professional bathroom remodeler to find out what options will look best for your space.
Ideas for Master Bathroom Remodeling
Gather your remodeling inspiration from several sources as you start to plan your project. Look at the work from reputable pros to get ideas for your own home. When planning your remodel:
Decide on a style – modern, traditional or something entirely different.
When using tile in your shower, consider using the same style and color of tile on the floor. This will help the room to flow better.
Create a consistent theme for your bathroom that will bring all of your fixtures, appliances and design choices together.
If you have a dull bathroom, experiment with fun tile patterns, paint colors and designs to brighten things up.
Use water and energy-efficient appliances to save money down the road.
Consider your budget with each decision you make.
Utilize Pictures of Master Bathroom Designs & Layouts
If you don't have much experience drawing or visualizing a new layout, try using pictures for inspiration. Search for:
Pictures taken in homes that match the general layout and flow of your own.
Materials and fixtures in different styles.
The cost of different bathroom materials.
Tip: Keep everyday use and convenience at the forefront of your mind. If you're struggling to figure out exactly what you want, hire an interior designer.
How Much Does it Cost to Remodel a Master Bath?
The cost to remodel a master bathroom runs from $10,000 to $25,000 on average.
Small Master Bath
A complete tear out and replacement of this space runs from $5,000 to $15,000. For simple surface-level upgrades, like new paint, fresh fixtures and lights, expect to pay about $1,000 to $3,500.
Large Master Bath
A larger remodeling project could run you $12,000 or more depending on how extravagant the project is. The larger your square footage, the higher the cost of your bathroom remodel. This project typically runs around $125 per square foot.
---
No Comments Yet
You can be the first to comment!