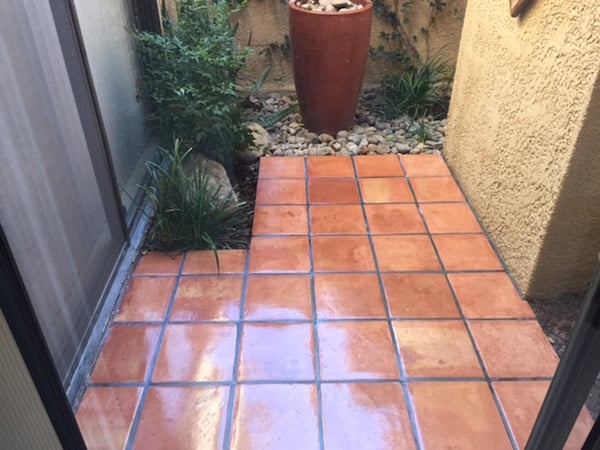 Few flooring choices have more character and charm than Mexican pavers. As a whole, the term Mexican pavers refers to a wide range of Mexican style flooring tile, including saltillo tile, tecate tile, and talavera tile. The trick is deciding which style is the right one for you.
When It Comes to Character, There is No Equal to Mexican Pavers
Mexican tile has grown so popular because it's the exact opposite of polished marble or granite. It is usually hand made in Mexico, and bears the imperfections and irregularities that make hand made tile so attractive. In fact, on any floor made from genuine Mexican tiles, you're likely to see lines, bumps, irregular surfaces, and even paw prints from animals that walked over the fresh clay tiles at the production facility before they were fired. It's this one-of-a-kind feel that draws so many homeowners to use Mexican tile as flooring tile, countertops, backsplashes, wall coverings, and as outdoor patio pavers.
Mexican Pavers Look Great
Besides their character, homeowners are also drawn to Mexican tile because it's one of the most beautiful tiling choices you can make. With colors that range from the deep natural hues of saltillo, to the bright, festive, hand-painted designs of Talavera, Mexican tile adds a sense of tradition, warmth, and old world charm that other tiles just can't match.
Choosing the Right Mexican Tile for You
This can be a tricky proposition, since there's so much out there to choose from, and since the styles vary so drastically. Start by asking yourself what you're hoping to get from your Mexican pavers. If you want the soft, warm feeling of traditional southwestern design, saltillo is exactly what you're looking for. If you're searching something a little more festive and loud, however, hand painted tecate and talavera tiles can be purchased with individual designs on each tile, or as sets that come together to make larger floor designs and wall murals. Many homeowners choose to combine the two, using the talavera and tecate tile in areas such as countertops, backsplashes, and wall murals, to add a little spice to quiet warmth of saltillo.
Talk to an Expert
Because there are so many choices, and so many design considerations, when it comes to Mexican tile, your best bet is to search out a tiling contractor/supplier who specializes in these designs before you make any purchases. These professionals have intimate knowledge of all the options available to you, and will be able to guide you towards making smart, and beautiful, design decisions as well. Not to mention, having a professional install your tile means you can trust it will last for years to come.
The New Wave: Mexican Style Concrete Pavers
Just as with so many other materials these days, advancing technologies now allow manufacturers to create Mexican style pavers out of concrete that are virtually indistinguishable from the real thing. Traditional Mexican tile does have a reputation for being somewhat fragile and difficult to install. On the other hand, concrete pavers made to look like Mexican style pavers give you all the same looks with the rock solid durability and toughness of concrete. Purists might scoff at the idea, but if you're looking for the feel of Mexican pavers without the maintenance, Mexican style concrete pavers might be worth a look.
No Comments Yet