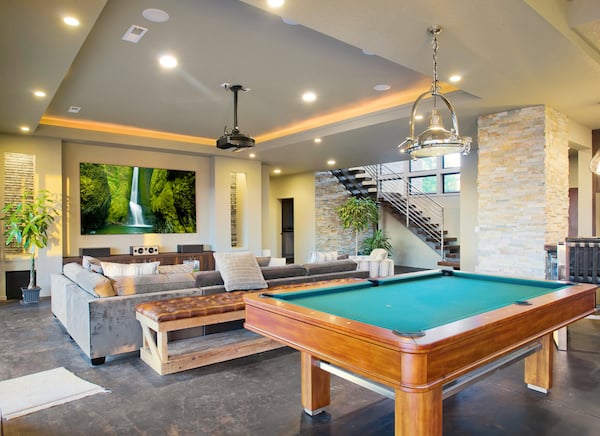 Millennials are just starting to break into home ownership, but affordability is still a challenge.
While dreams of owning their own home may have come true, many millennial homeowners may not have been able to put an offer on their dream home – and had to settle for an older home with some differed maintenance, or a smaller-than-average one (small bedrooms, non-existent closets) with plans to maximize the space.
It's no wonder so many millennial homeowners are spending money on remodeling.
Compared to all other homeowners, millennials homeowners are:
89% more likely remodel a basement
39% more likely to renovate a garage
The payoff of these home projects is twofold: They allow the younger homeowner help with the mortgage by creating a desirable room for rent – like an entire basement or a converted garage – and they make for an excellent strategy to build equity, and in turn, up the resale value of the home.
 
Remodel a basement
Avg. cost: $18,859
Though, on average, a basement remodel costs upwards of $15,000, it's an incredibly cost-effective way increase usable living space, and can yield a much higher return-on-investment than building an entire addition, as the structure is already there.
Brad's ROI Bit: Before you splurge on a pool table, insulate your basement. Proper insulation isn't glamorous, but it is critical to creating a comfortable, dry basement that can improve your home's energy efficiency. 
Besides keeping out the cold, basement insulation prevents condensation and will keep your walls cool year-round. Without the appropriate insulation, your basement is subject to expensive mold and mildew problems.
Renovate a garage
Avg. cost: $10,603
Converting a garage (especially one that won't fit a car in the first place) is an prudent investment for Millennials who have purchased a smaller home, as the space can be repurposed into a "granny flat" rental that can assist in defraying expenses, and help to build equity in a larger home they might not able to buy.
Brad's ROI Bit: Consider replacing the garage door before going on a furniture shopping spree. Faulty garage doors can cause flooding, prove inviting to burglars or even compromise your home's energy efficiency. Similar to installing an updated front door, a new, high-quality garage door boosts insulation and aesthetics.
Millennial homeowners aren't the only ones spending big on home improvement, though. Attend my presentation at the Home Improvement Research Institute's Insight Conference in Chicago on Sept. 20 to find out which generation is spending the most.
1 Comments