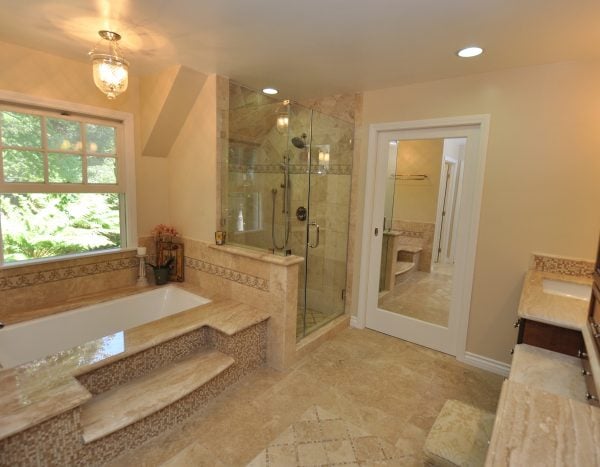 A mirror alone is simply a tool to view our surroundings or ourselves. In the home, though, mirror doors and mirror tile are a way to enhance the look of our space. If you are happy with how your home already looks, why not double your pleasure with some well placed mirrors?
Traditional Mirror Door Placement
Nowhere in the home is a mirror door more useful than in a bathroom. This is the place where you brush your teeth, fix your hair, and (for some) put on makeup. While a mirror behind a sink is nice, it is often too far away to comfortably get a good look at what you're working on close up. Having a mirror that is easier to access makes grooming a less time consuming process.
Second to bathrooms in mirror necessity comes the bedroom. Having a mirror door in the entryway or mirror closet doors gives you a full view of your entire body, so you can always be sure you're dressed to impress.
Mirror Doors around the Home
Bedrooms and bathrooms aren't the only places where a mirror door is useful. Since mirrors reflect the space that already exists, they can add depth to places that aren't very large. A mirror door in a narrow hallway, for example, can make it seem less cramped. A mirror door can also be a welcome accent to a den, study, or even a living room.
Mirror Tile Uses
Unlike other mirrors, mirror tile is almost entirely used for aesthetics, rather than for practicality. Small mirror tile is most often used to create mosaics; larger mirror tile, however, has other applications.
Mirror tile can be used in kitchens as a countertop. It is very sanitary, easy to clean, and dirt or grime is easily spotted on its surface. Unlike some other glass surfaces, mirror tile is more on the brittle side; it is recommended that a cutting board be used during all food preparation. Mirror tile is also commonly used behind stoves as a back splash. It's heat resistance is almost as good as its visual appearance.
One of the biggest benefits of using mirror tile instead of one continuous mirror lies in how easy tile is to replace. A crack in a continuous mirror often requires the whole piece to be replaced; when one tile cracks, all you replace is that tile. Additionally, a small crack will not spread from one tile to another.
Decorative Mirror Tile
Some people just like the look of mirrors, and wish to have them in unconventional places. Mirror tile is versatile enough to use almost anywhere. Using this tile for purely decorative purposes is commonly done in bathrooms as shower borders, or as a border for the entire room. Specialty tiles can be found that are actually 2-way mirrors with lights behind them. When you flip a switch, the tiles become lit up with bright color; flip the switch the other way, and the tile turns back to mirror.
No Comments Yet