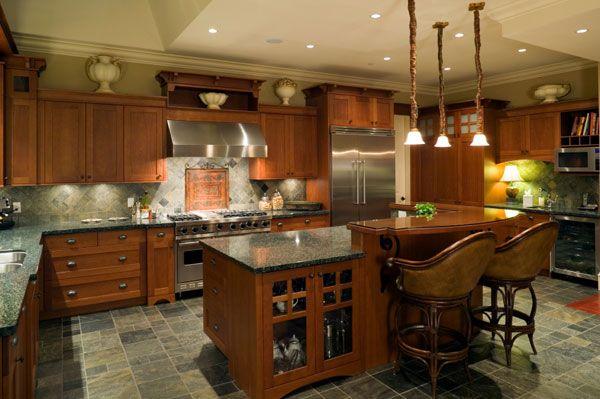 Reviewed by Bob Tschudi,
Expert Home Building and Remodeling Contributor.
When you're shelling out up to $4,500 for kitchen flooring, you want to choose the one that will look great and last the longest–even in a high-traffic kitchen.
You've got a lot of options: tile, hardwood and more. Compare these seven types of kitchen floors to find the one that's perfect for your budget and style.
On This Page:
1. Porcelain or Ceramic Tile
The price to install porcelain or ceramic tile is less than stone or wood, making it an ideal midrange option for the kitchen. This style is easy to keep clean and made to last, although it can be slippery when wet.
If you're looking for the best kitchen flooring for dogs, tile is usually a great choice. Its strength and natural moisture resistance make it easy for homeowners with pets.
2. Natural Stone Tile
The cost of natural stone tile installation can be affordable or quite expensive, depending on the type. It is one of the more popular kitchen floor tile choices, and for good reason. It comes in a wide variety of styles and price points to suit almost any homeowner.
This material can be delicate, especially if you drop something heavy on it, like a cast-iron crock. But with good care, it can last longer than the house.
3. Hardwood
Hardwood flooring installation costs come on the higher end for flooring options, but many homeowners say it's worth the investment. This material offers many benefits in the kitchen, including:
durability
a great look
timeless appeal
Although it isn't as water-resistant as tile, upkeep is minimal. Just keep a gentle hardwood cleaner nearby and clean up spills quickly.
If you're looking for a quick turnaround on your remodeling project, you're better off choosing something like tile or vinyl. The best wood flooring for the kitchen needs time to adjust to the local climate before installation. This helps to keep the boards from warping or separating during temperature changes.
4. Cork
Cork flooring installation costs about the same as hardwood or bamboo. This golden-brown, popular kitchen flooring option takes homeowners outside the box, with a choice that is:
easy to clean
noise-resistant
soft underfoot
Although cork feels warmer than tile or wood, it doesn't conduct heat. This means that it will help keep your feet from freezing in the winter but won't burn your skin as you stand next to the oven.
A polyurethane finish protects against stains, but cork still absorbs spills if left too long. It can scratch or dent under furniture, and it needs sealing every three to four years. But if you're looking for something that makes it easier to stand for hours at a time, cork may be a perfect selection.
5. Bamboo
The cost to install bamboo flooring makes it a competitor to hardwood. This option regenerates in only three to five years, which is why it's considered more sustainable.
Made of grasses, bamboo is layered to create a moisture-resistant surface that is denser than wood and easier to maintain. Its natural color is a dark yellow or light brown, with a grain similar to popular hardwoods. Manufacturers can add stains in different shades while building the planks or after installation.
"Bamboo flooring is much harder than most flooring, so installation materials must be very precise," says Bob Tschudi, a Raleigh, NC-based GC. "If the cleat is too small, it won't go all the way in. But if it's too large, it will make bumps or cracks in the flooring."
6. Vinyl
Vinyl flooring installation costs much less than other types. Modern styles offer an impressive imitation of wood or stone tile at a fraction of the expense. If you like the look and price of laminate but you want something that can handle moisture, this is a great choice.
Vinyl stands as the best waterproof flooring for the kitchen, but it is prone to scratching. Installation is a snap, and maintenance is too–just mop clean and you're done.
7. Linoleum
Linoleum was once the most popular kitchen flooring. As an affordable, natural alternative to humanmade options like vinyl, it's making a comeback. This material is made of linseed oil and powdered cork, with no volatile organic chemicals (VOCs).
Linoleum comes in a sheet that is easy to install, but the quality is key. The cheapest options may curl over time. It's fairly water-resistant but likely to fall apart during a flood.
FAQs
What's the most durable floor for a kitchen?
The best flooring types for durability often come down to hardwood versus tile. You're more likely to damage hardwood, but it's easy to repair. Tile is stronger but prone to cracking when you drop a heavy knife or plate.
What tile is best for a kitchen floor?
The best tile for a kitchen floor depends on your preference. Porcelain tends to be more durable and easier to maintain. Natural stone offers a modern style that may have a better resale value.
Is it a good idea to have wood floors in the kitchen?
Hardwood is an increasingly popular kitchen flooring choice. With regular upkeep and good hardwood floor installers near you, you can enjoy it for many years.
Do I put flooring under kitchen cabinets?
It may not be necessary to put flooring under your kitchen cabinets, but it depends on the subfloor. If you're installing new cabinets on top, don't use floating styles.
What is the best color for a kitchen floor?
The best color for a kitchen floor comes in medium shades, like a warm oak or a cool pewter. The lightest and darkest options are more likely to show dirt, stains and scratches.
No Comments Yet