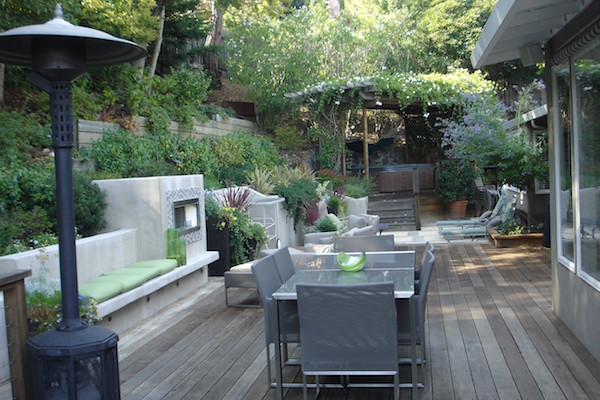 Outdoor heaters are a great answer to cold fall days, chilly spring evenings and everything in between. They can be powered by electricity, propane or natural gas and are available in a variety of styles to meet your specific needs. Whether you're a die-hard, year-round grill master or just refuse to give up your morning cup of Joe on the deck, a good patio heater can be the difference between being cold and comfortable when the days grow shorter.
Do They Really Work?
You bet they do. There's a reason you see these heaters being used in all their forms by restaurants, bars and other public venues just about everywhere you look. In fact, a quality outdoor heater will raise the temperature 10 to 25 degrees in a 15 to 20 foot radius around the unit, depending on how much you're willing to spend. Think about it. That means you can sit on the porch and watch the kids build a snowman in 25 degree weather, and for you it will feel like a beautiful 50 degree fall day. That's almost T-shirt weather in the middle of December!
Lots to Choose From
The most typical outdoor heater is a freestanding unit that sits on a post with a round, conical "hat" sitting on top. These are by far the most popular type of patio heater because they provide the largest amount of heat to the greatest amount of space. They also can be used just about anywhere, and since many are portable (or at least movable) they enable you to move them to wherever you need them most. They aren't the only available option, however. Wall mounted electric and natural gas heaters are also on the market as investments, as are radiant heat models that can be attached to ceilings and walls.
Looking For Something You Can Take With You?
If your cold weather activities aren't limited to your patio, porch or pool area, look into a tabletop model for your portable heating needs. These smaller units are perfect if you're shopping for an outdoor heater that you can take with you to barbecues at the park and other outdoor functions. And they're also a good solution if you like to entertain outdoors, since they are perfect for keeping a small group of guests warm as they chew the fat around your patio table.
Residential vs. Commercial Models
As with any home addition, you'll want to take in consideration what you're going to use your outdoor heater for before you make a purchase. Residential models are more than sufficient for most homeowners who are just looking for a cozy corner to sip tea in on brisk fall days. If you're known for inviting the entire neighborhood over for drinks and dinner on the deck, however, a more powerful commercial unit may be a better purchase for you. Talk to a patio heater retailer about which model will best suit your needs. And if you choose a natural gas model or a wall or ceiling mounted unit, talk to an expert about installation so you can enjoy your new outdoor heater worry free for years to come.
No Comments Yet