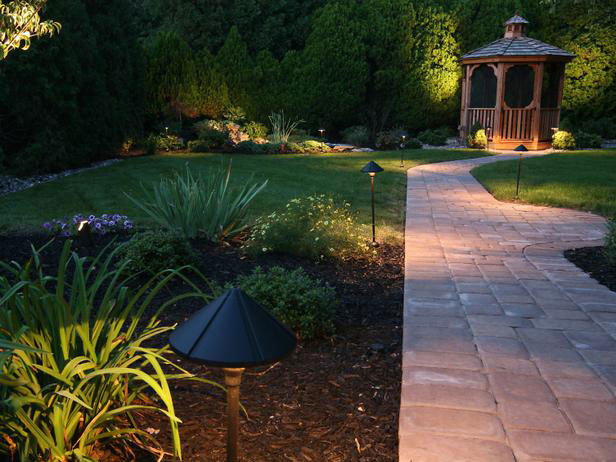 Landscape lighting is becoming increasingly popular because of the beauty, safety, and security it provides to the outdoor spaces of a home. Available in a variety of styles for an equal number of uses, these lighting solutions are perfect for making night time the right time in your yard, garden, deck, and porch areas.
Everything Looks Better With Lights
One of the reasons landscape lighting installations are on the rise is because it can be installed just about anywhere with stunning effects. On driveways and pathways, it not only creates a nice mood on the approach to your home or gardens, but it also illuminates the walking surface, making it safer to navigate. Where gardens and other areas of your yard are concerned, landscape lighting can highlight attractive plants and areas that otherwise would be lost to the darkness. Plus this lighting cuts down on dark corners where unsavory characters might find a refuge.
Finally, lighting installed around your home can light up social areas such as decks, porches, and patios, as well as the home itself, making for attractive places to hang out while at the same time discouraging unwanted intruders from making their way onto your property.
Many Styles to Choose From
In order to get the best results from your landscape lighting, you'll need to pick and choose from a variety of styles of lights, each specially suited for specific lighting conditions. Flood lights are good for highlighting large bushes and trees, while well lights work best on structures and walls.
For lighting up gardens or other areas of the yard, think about recessed lighting, which lights up small areas with hidden fixtures, or tier lighting, which looks like miniature lampposts, and is good for illuminating just about any small outdoor space. For decks, patios, and porches, there are a number of lighting options out there, such as accent, post, and recessed deck lights that create an inviting place for entertaining or just enjoying a summer night.
Positioning Is Paramount
In addition to the type of lights you choose to have installed, how you position them is also important. In general, think about what you want to highlight and adapt your lights accordingly. Trees for example, look best when lit from below, as do walls and other large structures. For gardens, walkways, and other places you want people to notice, make sure light points down or away in order to prevent the light from blinding the viewer. Finally, when lighting up outdoor social areas, think about what the area is used for and go from there. Railing, post, and recessed lights are great for illuminating decks with soft, low light that won't drive people away, but you'll want something a little stronger and higher up by the grill, so that you can be sure that you don't burn the steaks!
Low Voltage and Solar Lighting
By far the most popular current trend in landscape lighting is low voltage lighting. It's cost effective, since it doesn't draw nearly as much as electricity as regular lighting, and its low light output is perfect for creating that comfy, soft glow that landscape lighting strives for. Besides low voltage lighting, solar landscape lighting has also been gaining in popularity the past few years. Similar to low voltage systems, solar powered lights tend to be dimmer, thus well suited for landscaping applications. And from a pocketbook perspective, you can't beat a system that's powered by the sun. The only negative when it comes to this ever growing lighting solution is shade. If you've got a lot of large trees on your property or other sun blocking plants or structures, solar landscape lighting probably won't work for you.
Regardless of your outdoor lighting needs, there's a product out there to fit the bill. Talk to an experienced landscaper to help you design and install your landscape lighting project and enjoy your wonderful new nightscape for years to come.
Ready to start your
landscape lighting

?Find Pros
No Comments Yet