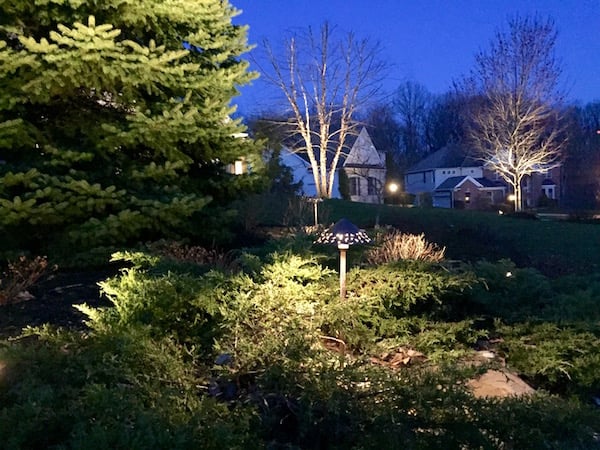 You may be able to install simple low voltage outdoor lighting by yourself, but for truly dramatic lighting, hiring an outdoor lighting contractor is the way to go. Not only do these contractors have years of experience in outdoor lighting design, there's a good chance they have access to outdoor lighting fixtures not available to the general public. Safely installing extensive or high end lighting may require proper licensing. Finding an outdoor lighting contractor that will enable you to bring your landscaping to life at any time of the day is a valuable addition to any home.
Outdoor Lighting Techniques
Downlighting—Lighting that comes from above an object or area. Particularly good at lighting the ground for safety and imitating natural lighting.
Uplighting—Lighting that comes from below an object or area. Shadowing and silhouetting create dramatic aesthetic effects, but minimize ground lighting.
Deck Lighting—Can act as its own daylight saving time. Specially designed to minimize accidents and the attraction of insects.
Tree Lighting—Many trees are even more stunning at night. Uplighting will highlight the contours of the tree; downlighting will highlight shrubs and gardens under the tree.
Grazing—Lighting effect that emphasizes surface texture. Mostly used on a home's exterior for nighttime curb appeal.
Area and Path Lighting—General lighting that ensures safety and illumination for important landscaping areas.
Ready to start your
Outdoor Lighting Project

?Find Pros
Hiring an Outdoor Lighting Contractor
While you should always check to make sure a contractor has proper licensing and recent references, outdoor lighting isn't as technically complicated as many areas of home improvement. There's a good chance any contractor with experience and an established local address is at least competent—never hire anyone who comes to your door and offers to do the job that day.
The most distinguishing feature of an outdoor lighting contractor is likely to be his or her designs and decorative skill. Look at photos of completed projects and schedule a time to have a contractor come out to your home so you can listen to ideas he or she has for your particular home landscape. If you feel comfortable with multiple contractors, then you can use the competition to find the best deal for your lighting project.
Tip: Outdoor lighting contractors often offer a wide array of residential services. Besides outdoor lighting ask about installing extra electrical circuits, which can eliminate the need for long extension cords for landscaping chores.
No Comments Yet