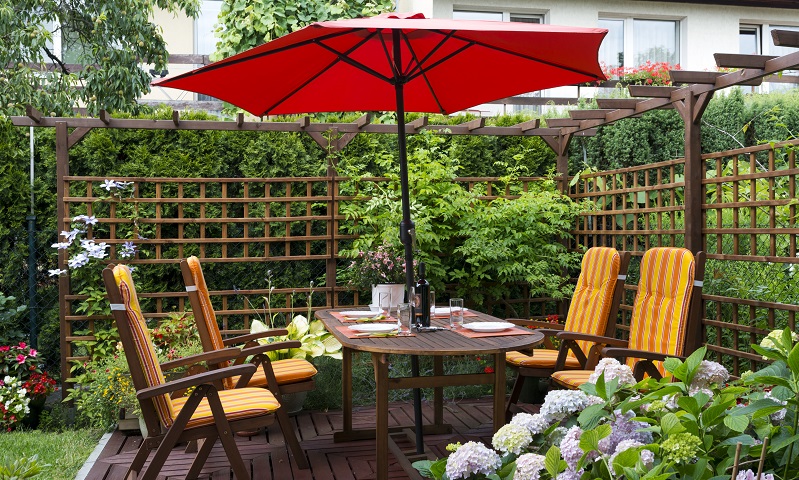 There are economical assembly services available to homeowners who struggle to DIY assemble furniture. The typical cost varies depending on the time of equipment. A grill only costs $45 on average while a shed might cost $400.
While assembling outdoor features is not top-tier professional work, it can help you avoid the pitfalls of DIY, such as unsafe or unstable construction and broken furniture.
On This Page:
Storage & Garden Shed Installation or Building
You can build your own storage or garden shed from scratch or purchase a premade one from a hardware store. The national average cost to build an outdoor shed is $3,000. Some structures can cost as little as $500 while more elaborate buildings cost up to $6,500. Factors such as the size of the shed, whether it has electricity, if you use a carpenter, and the building materials affect the overall price.
Most carpenters charge between $50 and $100 an hour. The average homeowner pays between $180 and $630 for the installation of a single shed. Adding electricity is a simple process for a professional, who will usually charge between $50 and $100 for the job. The main materials for this type of structure are vinyl, wood, and metal.
| Material | Assembly Price |
| --- | --- |
| Vinyl | $800 |
| Wood | $300 |
| Metal | $600 |
People need to know both basic and advanced carpentry to install a shed correctly. Installing electrical systems requires expert knowledge. Individuals who attempt to DIY the project without the proper background risk injury, the shed's structural integrity, neglecting code requirements, and damaging materials. A pro can ensure the structure remains safe for use and has the durability required for an outdoor building.
Small Storage Shed Assembly Services
Hiring a carpenter is not your only option to get help with storage shed assembly. There are many individuals who are not professional contractors but who do have experience with installation. They do not charge the typical $50 to $100 per hour of a traditional professional who could work full time for several days. These middle ground workers can assemble 12X12 premade sheds for as low as $375. The typical cost for a simple premade shed of this size from big box stores like Home Depot or Lowe's is between $200 and $1,000.
Return to Top
Gas Grill & BBQ Assembly
Homeowners enjoy using natural gas and propane grills and BBQs because of how easy they are to clean. The national average to install a gas grill is $250 with a standard range of $130 to $350.
Several factors affect the overall cost of installation. If a new gas line needs to be created and connected to the house, then the price will increase. More complex devices take more time and materials and therefore cost more money. Most laborers charge between $50 and $100 per hour for labor. The completion of a gas grill assembly typically takes 1-2 hours.
You can DIY some jobs, but gas grill installation might be difficult. A misconnected gas line can expose residents to gas buildup, which can be fatal. The gas can also ignite in the wrong area, leading to fire. Hiring a professional is the best idea if you lack experience because they know how to secure the line.
A more economical way to get a new grill is to hire a simple assembling service. The charge can differ depending on the size of and the number of feet on the grill. The average cost to assemble a grill with three legs is $42. A large grill with four legs is $75. This service won't install a gas line but is much cheaper than hiring a certified service provider to install a brand-new grill or BBQ. Most electricians or contractors can add the new line for as low as $90.
Patio Heaters
A patio heater is a useful device to keep a section of your patio warm on chilly days. They use either propane or electricity. Most heaters cost between $100 and $200. An assembly service can put the new device together for as little as $45. A professional will be able to complete the general assembly. A separate contractor is needed to complete electrical work, which adds an addition $100 to $200. Some parts are difficult for a novice homeowner to install, so hiring a professional can help you avoid dangers like an electrical malfunction, shocking oneself, or even electrocution.
Pilot: The pilot is a gas light which can ignite a larger, more powerful burner. A professional can make sure it is connected correctly to prevent a buildup of natural gas.
Patio Furniture Assembly Costs
Not everyone wants to set up patio furniture. Professional assemblers can charge either an hourly wage or flat rate for assembly based on the type of furniture or amount of pieces to put together. Large projects can be between $10 and $25 an hour. Below are some of the flat rates to assemble different patio furniture:
Chair: $85
Table: $170
Wicker Furniture: $100-$215
Wooden Furniture: $140-$400
Table: $170
Rocking Chair/Glider: $90
Metal Furniture: $120-$300
Chaise Lounge: $115
Check with your professional to see if discounts are available for assembling multiple pieces of furniture at once. A cheap flat fee around $50 is often available for installation of one to five pieces of the above furniture mentioned. You can get six to seven pieces assembled at once for a rate of $65. Prices can vary depending on the size and complexity of the items.
Return to Top
Fitness or Kid's Game Equipment Installation
Safety comes first when installing this equipment. It will need to withstand rough or excessive use. Unsafe or improperly set up equipment can collapse, injuring the users. A lot of fitness or kid's game equipment can be set up by a professional, who will charge per item or by hour or item.
Swing Sets
Professionals charge an average of $500 for swing set installation with a price range between $180 and $900. General playground equipment repair of items like swing sets can be between $100 and $750 with an average of $330. A simple swing set assembly performed by a lower certified pro could cost you as low as $50.
Playhouses
Playhouses are often prices between $300 and $800 to set up by a certified builder depending on the amount of parts, complexity of the set, and hours of labor involved. Most homeowners pay an average of $450 for the assembly for a single set. An assembly pro charges a lower amount with an average of only $60 for a single unit.
Trampoline
Trampolines are great fun, but they need to be assembled correctly to avoid injury. The installation of a single trampoline runs between $200 and $500 depending on the size of the equipment. Most professionals charge an average of $300.
Other Outdoor Fitness & Game Equipment
What more can there be for outdoor fitness and game equipment? Sports equipment like volleyball nets, basketball hoops, and soccer goalposts need to be installed correctly to prevent injuries, structural collapse, and other safety hazards. Homeowners can expect to pay the following averages for outdoor fitness and game equipment installation:
Basketball Hoop: $450
Volleyball/Tennis Net: $600
Soccer Goalposts: $700-$800
Return to Top
DIY vs. Hiring Assemblers
DIY assembly helps homeowners save money but can lead to some problems. The obvious ones are unstable or unsafe equipment, but there are a few added issues. Some equipment requires electrical work that should be done by a trained professional to avoid electrocution or short circuits. Some equipment like swing sets has moving parts that need to exert pressure on the right section of the frame.
Professionals are more expensive than DIY jobs, but they have the experience to install equipment safely and efficiently. Electrical and structural work should be left to certified individuals because the risks are great.
If you don't want to hire a full professional for basic work, you can contact an assembler. Their assistance can help homeowners avoid the same problems, but at a fraction of the cost of a professional. A hired assembler is not likely certified to perform electrical work.
No Comments Yet