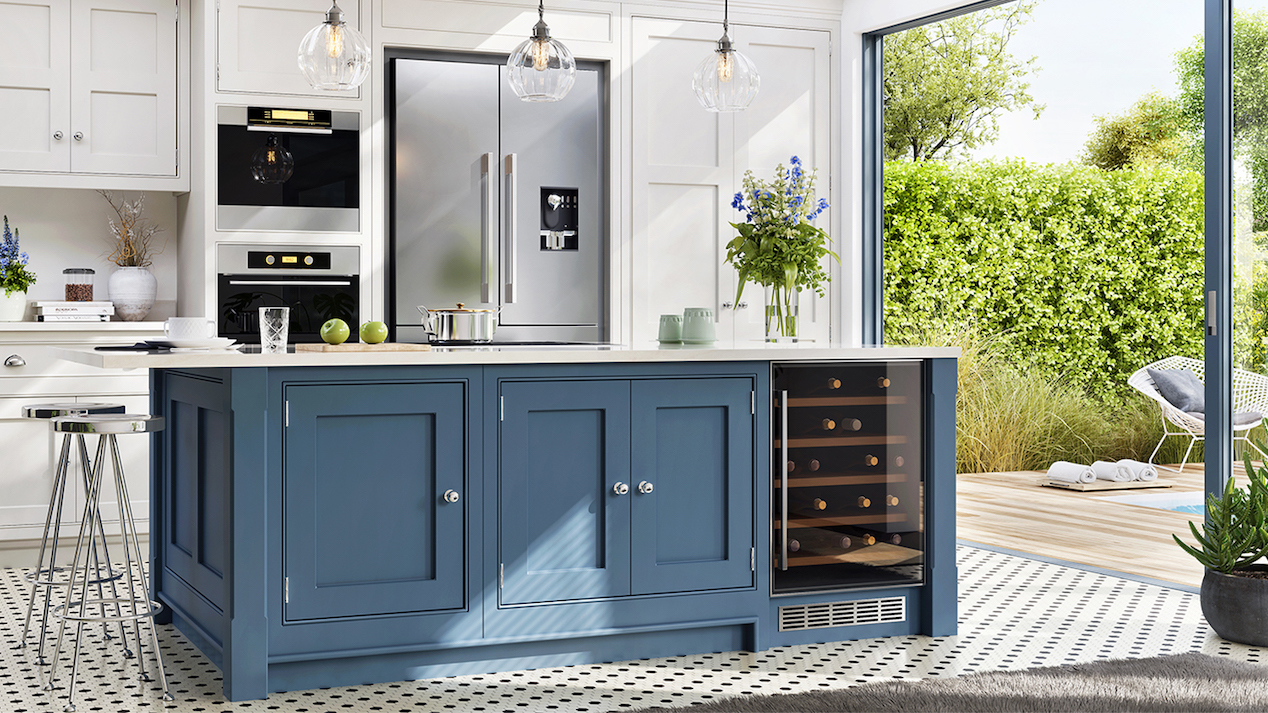 slavun / Adobe Stock
Whether you're remodeling or just refreshing your kitchen, you'll likely choose between paint and stain for your wood cabinets. Both are solid options that look and perform differently. Painting your kitchen cabinets will completely cover the wood grain for a smooth, modern look, while stain will get absorbed by the wood for a natural, traditional aesthetic that's long-lasting and easy to maintain.
On This Page:
What's the Difference Between Painted and Stained Cabinets?

starush / Adobe Stock
When choosing a look for your cabinets, paint and stain are two of the most popular finishing options.
Stained Cabinets
Stained cabinets offer a simple look that's more at home in traditional kitchen designs. Stain creates different color tones when it soaks into the wood of the cabinet, allowing the character of natural wood grains and knots to show through. Stain is also absorbed into the wood, allowing it to expand and contract with changes in indoor climate to prevent cracking or chipping.
Painted Cabinets
In contrast, painted cabinets are clean and modern. Since cabinet paint is thicker than stain, it creates a smooth, uniform finish that does not show any of the wood character underneath. You can choose from an endless array of color options, including trendy tones like gray, blue, green, and black.
Paint vs. Stain: Which Is Better?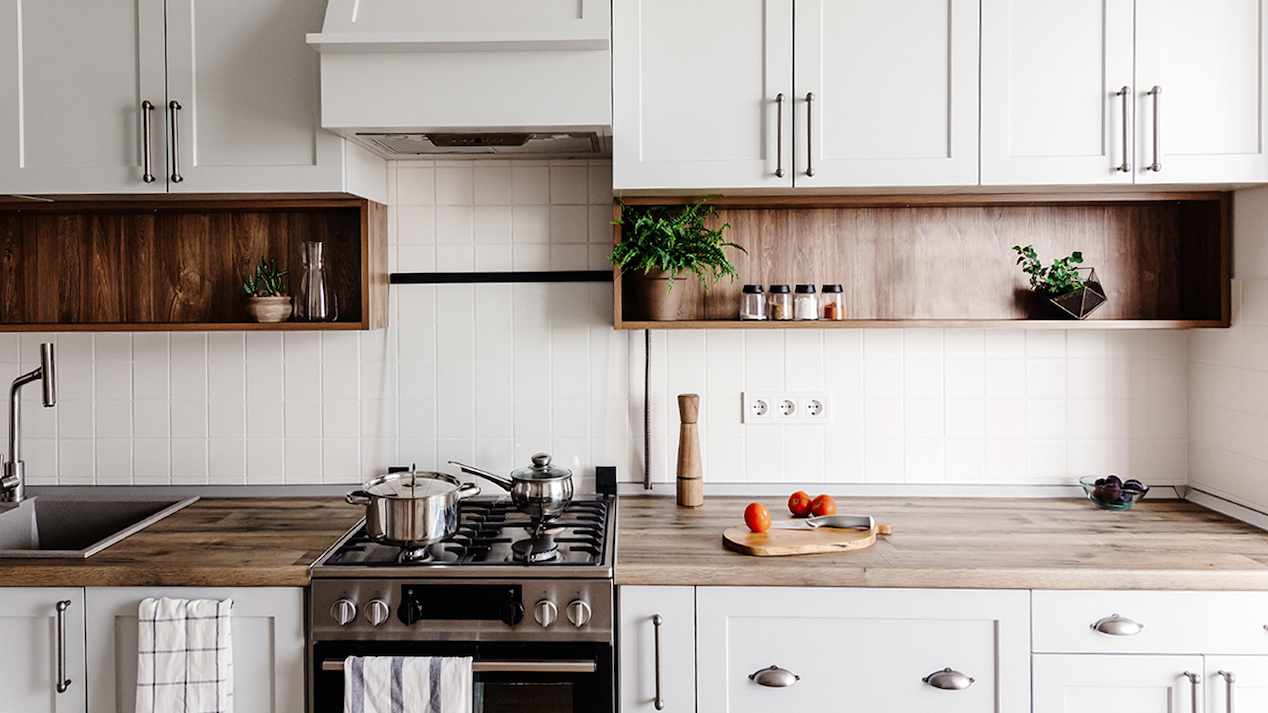 sonyachny / Adobe Stock
Aesthetic and Colors
When it comes to appearance, the choice between paint and stain comes down to the homeowner's preference.
Paint:
Smooth, modern look
Covers the natural wood grains with a solid color
Available color options are practically endless
Stain:
Displays the natural look of the wood grain
Shows the imperfections of the wood
Color options are more limited than those for painted cabinets
Best Aesthetic and Colors: Tie
Type and Style Options
Both paint and stain offer a variety of style options.
Paint
Stain
Finish Types

Latex
Low-VOC
Oil-Based

Slow-drying, even brush strokes for a smooth finish

Dye
Gel

Thick, doesn't drip, hides mistakes

Oil-based
Pigmented
Water-based

Style Options

Classic white hues
Nearly endless array of colors
Solid, two-toned, weathered, and distressed looks available

More limited color options

Green, gray, red, black, white, blue, wood tones

Hand wipe for uneven absorption and rustic look
Multiple colors for a two-toned look
Spray on for an even coat
Most Style Options: Paint
Material and Installation Cost
When it comes to material costs, cabinet paint costs about $200, while the cost of stain can range from $100 to $150. You'll spend another $200 to $600 for supplies such as brushes, rollers, drop cloths, and tape.
Although paint tends to be slightly more expensive than stain, both options are more affordable than completely replacing kitchen cabinets or doors. However, for homeowners on a budget, the decision between paint and stain may come down to that slight cost difference.
You'll also need to consider the cost of application by a local professional. Painting requires more care and extra coats to achieve a smooth finish, resulting in a slightly higher cost than staining.
Your total labor costs will depend on how many cabinets you have. Professional paint application costs $2,000 to $5,000 on average, while stain application costs about $1,500 to $4,000. Contact local cabinet refinishing services and compare quotes to better understand how much your specific project will cost.
Lowest Cost: Stain
Maintenance and Repair
Both paint and stain are capable of hiding dirt and dust, depending on the color you choose. Dust will blend in with lighter paint or stain, while dark colors will disguise dirt.
When your cabinets require touchups due to chips and cracks in the finish, paint is usually more complicated to fix. While you can touch up stained cabinets with a simple stain pen, you may want to contact a cabinet painter to touch up your paint.
DIY paint touchups with a brush or a roller can leave marks that degrade your cabinet surface. Painting is also difficult around handles, pulls, and other cabinet hardware. A pro will use a commercial-grade fine paint sprayer for a factory-like finish that won't chip or peel.
Paint is traditionally more challenging to clean than stain, although washable paint options and protective topcoats make care simpler. When removing kitchen grease from painted cabinets, avoid harsh abrasive cleaners in favor of soft microfiber cloths and mild dish soaps.
Stained cabinets can be wiped down with relative ease using a cloth and water. You should remove spills as soon as they occur and avoid aggressive cleaners that can dull the surface.
Lower Maintenance: Stain
DIY Ease
When finishing or refinishing your cabinets, you can save thousands of dollars by doing the project yourself. For best results with either material, you'll need to properly prepare the cabinet surfaces and stay patient throughout the drying process.
Paint tends to be more difficult and time-consuming to DIY than stain. Poor surface preparation will be apparent, and paint will highlight even the slightest application mistakes. It also often needs extra paint coats. Stain won't show mistakes as easily and it usually doesn't require as many coats, reducing the total project time.
Easiest DIY: Stain
Durability and Lifespan
Since stain gets absorbed into the wood, it's less prone to cracking, flaking, and chipping when the wood cabinets expand and contract naturally with changes in humidity. Stained cabinets tend to last 20 to 30 years.
Painted cabinets are more prone to cracking because the paint doesn't move as the wood expands and contracts. They tend to last a little more than 10 years.
Better Durability: Stain
Moisture Resistance
In most cases, stain is technically more water-resistant than paint. Because stain soaks into the wood, you can clean stained cabinets by wiping them down with water without the risk of removing or damaging the stain.
However, the moisture resistance of your finish tends to vary from product to product. For example, waterproof or water-resistant paint can be useful in areas like the bathroom where shower steam is common.
Better Moisture Resistance: Stain
ROI and Resale Value
Homeowners typically refinish their cabinets as part of a kitchen remodel, which offers a return on investment (ROI) of about 81%. That means that regardless of whether you choose to paint your cabinets or stain them, updating your finish is a great way to increase your home's resale value and get a good ROI.
If you're painting your kitchen cabinets, choose a neutral color that will appeal to a broad range of buyers. If staining, choose a classic, natural look for the same reason.
Best Resale Value and ROI: Tie
Find a Cabinet Pro Near You
Paint vs. Stain: Which Is Best for Your Room?
Which Is Best for the Kitchen?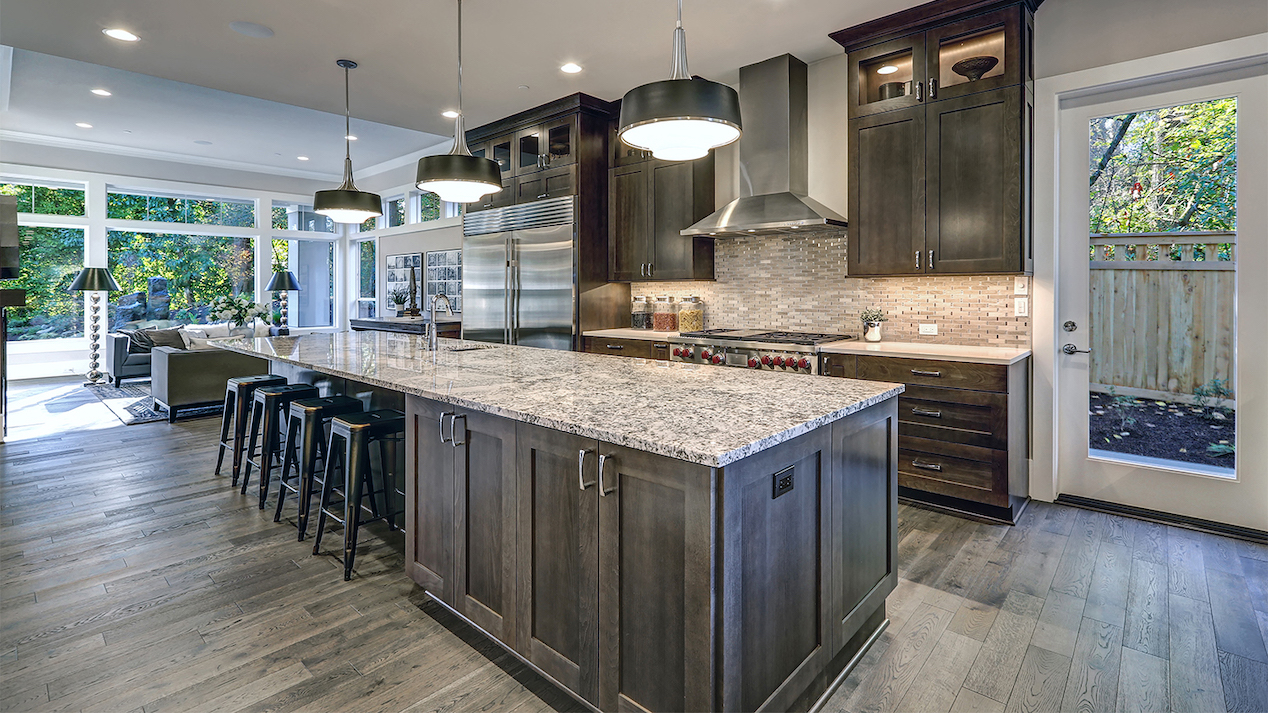 Iriana Shiyan
Kitchen cabinets can get messy from cooking, so you may prefer the easy-to-clean surface of a stained cabinet. In the event of cracking, chipping, or other types of damage, stain is easier to retouch because it can blend with your existing stain. On average, stain tends to last at least twice as long as paint, meaning you won't have to retouch it as frequently.
If you want to paint your kitchen cabinets, be sure to select a product that's specifically formulated to resist dirt and scuffing.
Which Is Best for a Bathroom?
Paint works well for bathroom vanities, base cabinets, or medicine cabinets. Choose an oil- or water-based paint with a 100% acrylic enamel formula to help stand up to the high degree of foot traffic that most bathrooms experience. You'll also want to use waterproof or water-resistant paint, so that shower steam won't cause chipping or peeling.
Paint vs. Stain: Which Is Best for Your Wood Type?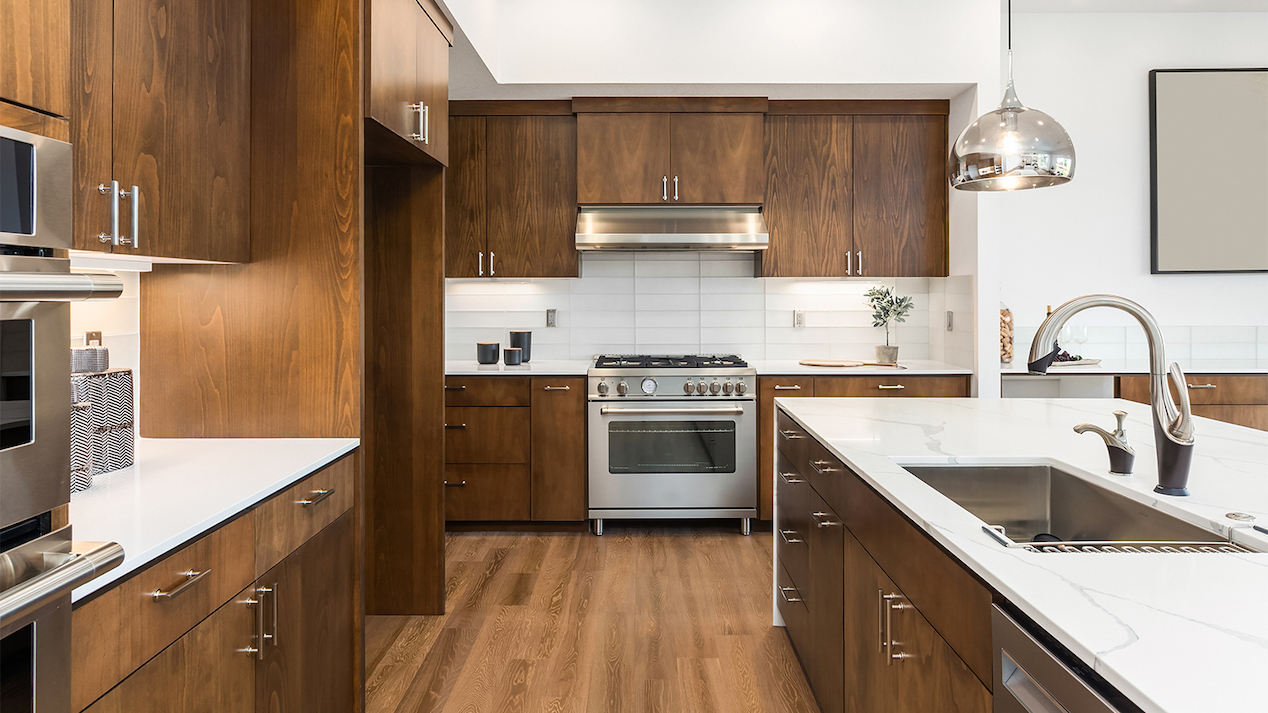 bmak / Adobe Stock
The type of wood used to make your cabinets should also be a factor in your finishing decision. Some cabinets are made from lower-quality paint-grade wood, which is usually smooth and flat. Stain-grade wood is typically higher-quality, with a rougher surface that holds stain better.
Which Is Best for Hardwood Cabinets?
Cabinets made from hardwood, like oak, will benefit from staining because it brings out their pronounced grains. However, either option will work as long as you properly prepare the surface.
Which Is Best for Softwood Cabinets?
Standard cabinetry is made from softwood and it looks best when it's painted. Some softwoods, including cedar, require extra care due to chemicals in the wood called tannins. When tannins come in contact with certain liquids, they can rise up or "bleed" through surface paint, causing splotches and streaks.
Use a high-quality primer to trap the red tannins of the wood and prevent bleeding. Alternatively, if you want to preserve the grain pattern of your wood, even out the pores with a conditioner and then stain it to allow the pattern to show through.
Which Is Best for MDF Cabinets?
Medium-density fiberboard (MDF) looks best when it's refinished with paint. This non-wood, paint-grade material won't benefit from staining, as it has none of the grain or other surface features of wood that stain would otherwise enhance.
Paint vs. Stain vs. Other Finishes
Paint vs. Gel Stain
Gel stain is a type of stain that tends to be thicker than regular staining products. Like paint, most surfaces don't absorb gel stain. In comparison to paint, gel stain:
Hides application mistakes better
Absorbs evenly across porous and non-porous spots
Much more DIY friendly
Doesn't run, but can glob up in corners of the wood
Still shows wood grain, but not as well as regular stain
Stain vs. Varnish
Stain and varnish are sometimes mistaken for the same thing. Although they are sometimes combined, they are different products. While stain absorbs into the wood's surface and enhances its hue and grain, varnish sits on top of the surface and can diminish the grain appearance in favor of a more matte or glossy appearance.
FAQs
Are white cabinets more expensive?
Like any painted cabinets, the cost to paint cabinets white is typically higher than staining, both for materials and labor. Applying white paint to your kitchen cabinets can show imperfections in the wood's surface when it's not prepared properly, so sand them before painting and apply extra coats for a smooth finish.
Can I paint over a stained cabinet?
Yes, you can paint over a stained cabinet if you prepare it properly. Preparation typically includes cleaning, sanding, and priming. In some cases, you may need to strip off the varnish. However, there are paint products that contain bonding additives that eliminate the need to sand and prime.
Can I remove paint to stain?
Yes, you can stain cabinets that currently have paint on them. It is a lot of work to strip and sand the surface, but it will be worth it if you want a natural wood look.
Should I stain or paint when refacing cabinets?
The wood veneer used when refacing cabinets comes in various colors and grain patterns, so you may not need to apply paint or stain. However, if you want to change the color or style after adding the new doors, you can apply either stain or paint the same way you would during other applications.
Start Your Cabinet Installation Project Today
No Comments Yet