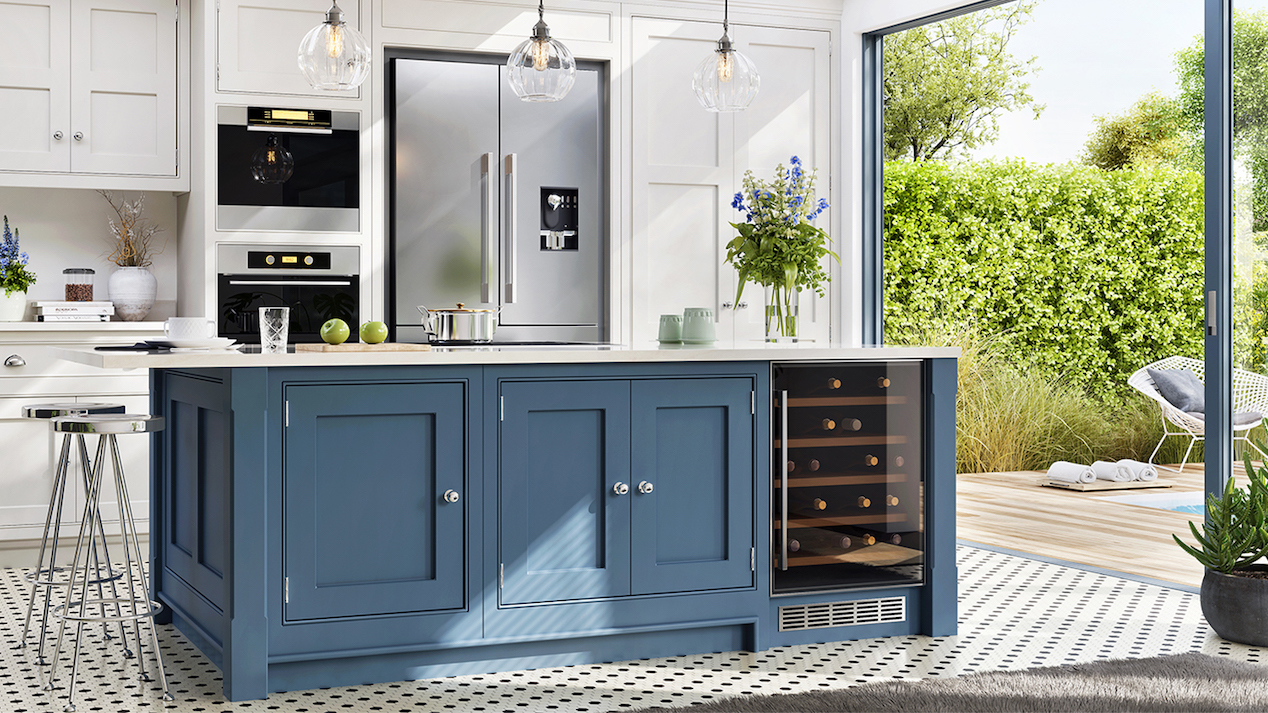 Photo: slavun / Adobe Stock
Deciding between staining cabinets versus painting cabinets comes down to the look. Staining cabinets will highlight the wood grain and its texture while painting cabinets will cover the wood grain. The material type for cabinets makes a difference because wood cabinets can absorb stain, but medium-density fiberboard (MDF) cabinets might get painted instead. MDF doesn't absorb stain as well as wood and lacks the wood grain pattern of natural wood.
In this article:
What Are Stained Cabinets?
Stained cabinets feature natural wood that has stain applied, a sealer, and a topcoat. Stain brings out the character of natural wood by showcasing its grain and patterns, soaks into the wood, and can range in colors from light browns to dark browns. Often, the type of wood will dictate the wood color when stained.
What Are Painted Cabinets?
Painted cabinets are usually made of lighter-colored woods, like birch, maple, and MDF varieties. Cabinets that get painted usually require a primer, a base coat, several coats of paint, and a topcoat. Cabinet paints are thicker than stains and can create a smooth, uniform surface. Cabinet paint comes in every color of the rainbow, and those searching for a textured look can turn to chalk paint, which doesn't require as much preparation as conventional paint.
Appearance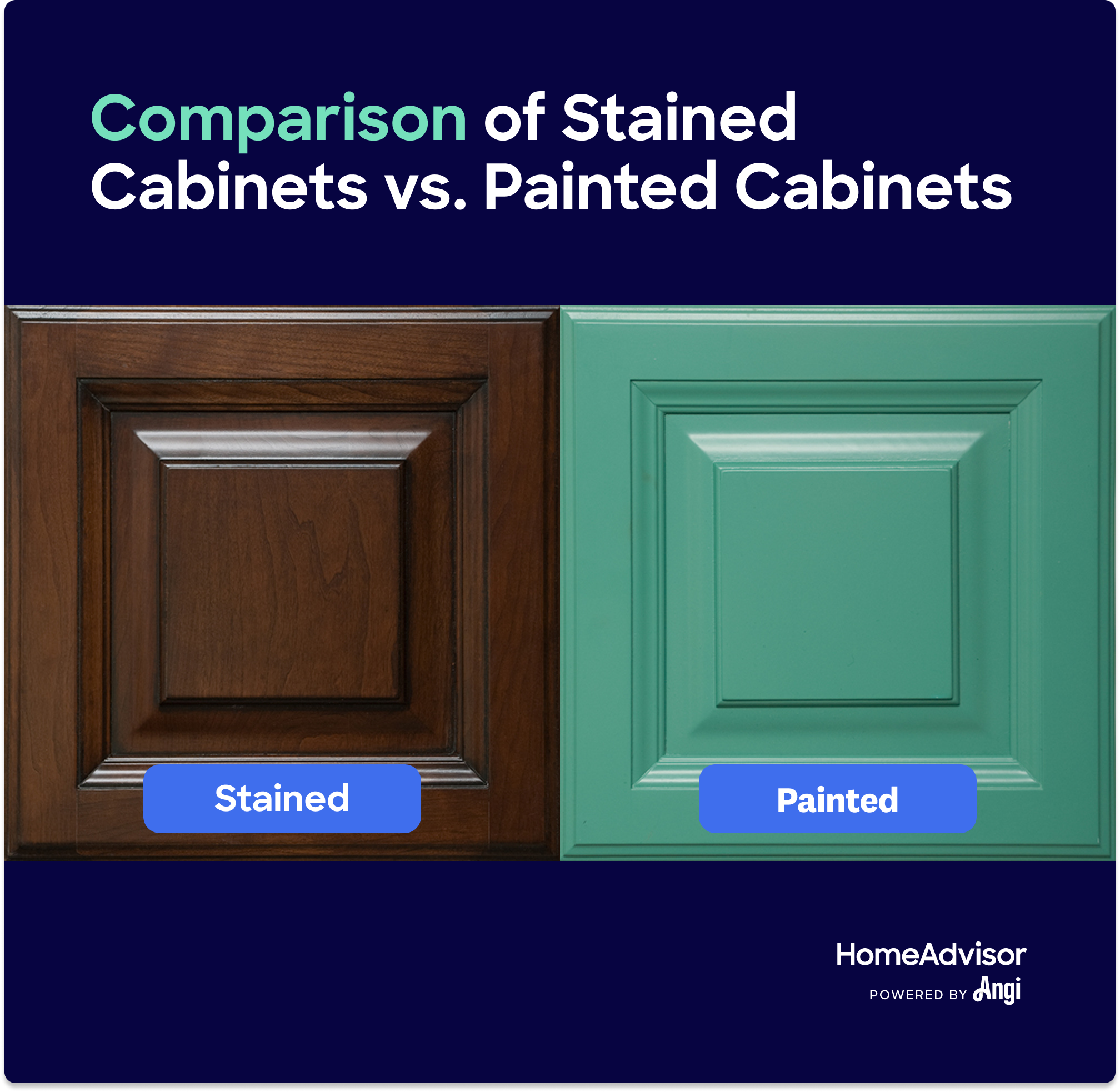 Photo: CowlickCreative / E+ / Getty Images
How your cabinets appear in your home and in the specific room will dictate whether you choose painted cabinets versus stained ones. Painted cabinets can fit various interior designs and architectural styles because you have a whole palette of colors available. Stained cabinets might fit into fewer home styles but can make a big impact.
Countertop colors and materials can also influence the decision between painted and stained cabinets. If you're considering stained cabinets, find the best wood for cabinets in each room in your house.
| Stained Cabinets | Painted Cabinets |
| --- | --- |
| More natural look | Smooth look |
| Range includes brown hues | Wide selection of colors |
| Gray and white stains available | Chalk paint available |
| Can create rustic looks with hand-wiping stain | Can create weathered or distressed looks |
Start Your Cabinet Installation Project Today
Stained Cabinets
Stained cabinets tend to appear in more rustic homes, but they fit in well with transitional-style homes with a mix of modern-style items, like stone countertops and stainless steel appliances.
Blond and cherry stains don't have the same popularity as they once did, but plenty of other stain options remain. Cabinets can have a white stain to match a white kitchen, plus darker stains can exude luxury.
Stained cabinets remain on trend and can create more of a connection to nature in the home. Birch and maple cabinets can pair well with stone countertops or white cabinets for a two-tone style. There's more flexibility with stained cabinets.
Painted Cabinets
Painted cabinets remain more popular than stained cabinets — and for good reason. Painted cabinets can fit nearly any style of kitchen or bathroom. White cabinets still dominate, but blue, gray, and even green cabinets remain in style. With Pantone naming Viva Magenta as its 2023 Color of the Year, bold colors might stay around in the kitchen.
Painted cabinets can also have different textures, though a sheen, smooth finish appears most often. Some texture in coastal-style kitchens appears in kitchen cabinets. The power of painted cabinets is the ability to tailor them to whatever style you want.
Cost
Refinishing cabinets costs between $1,800 and $4,500, whether painting or staining cabinets. Professional cabinet painting can cost between $2,000 and $5,000, while professionally stained cabinets can cost between $1,800 and $4,000, depending on the project size. You can contact a local cabinet painter for specific project costs or consider refinishing cabinets, which can cost less.
Painted cabinets tend to cost slightly more than stained cabinets because the paint is more expensive than stain. Costs for stained cabinets and painted cabinets vary based on the size of the project, the type of stain or paint, materials, and labor, if you choose to have a pro complete the project. Both stained cabinets and painted cabinets require prep work if you're restaining or repainting.
Stained Cabinets
Stained cabinets cost between $100 and $200 or $4 to $8 per square foot. One quart of stain can typically cover 150 square feet, and a quart of stain costs around $15. Staining cabinets requires additional materials like brushes or sponges, varnish, glazing, or shellacking for sealing the cabinet finish.
Painted Cabinets
Painting cabinets cost between $400 and $1,500, depending on how many cabinets you need painted. The type of paint used influences the price, with standard paint costing between $15 and $50 per gallon of paint. Designer paint can cost between $50 and $100 per gallon. A gallon of paint typically covers 350 square feet.
Brushes, glosses, tape, and drop cloths will add to the project's cost. If you plan on painting the rest of your kitchen at the same time, painting a kitchen costs between $600 and $1,300 on average.
Upkeep
Painted cabinets and stained cabinets generally don't need much upkeep. Each will suffer scratches and scuffs through everyday use, but stained cabinets hide those marks better than painted ones. Both stained and painted cabinets can get retouched to fix scratches. Often a stain pen can do the trick for stained cabinets, but painted cabinets can be trickier if you use a specific color. Some colors become unavailable after some time, so it's best to keep some around to fix any blemishes.
Stained Cabinets
You can clean stained cabinets with a damp cloth, but clean up any spills immediately because liquid can seep in and cause damage if not properly sealed. If your cabinets are properly sealed, your cabinets will need minimal maintenance. Be sure to keep an eye on the seal and address any chips to the seal quickly.
Painted Cabinets
Painted cabinet cleaning requires a little more caution because moisture can ruin the paint. A damp microfiber cloth can wipe away any spills easily. Using a soft cloth is essential because abrasive materials can damage the paint. Use a small circular motion to clean and clean small areas at a time. If painted cabinets become damaged, like a scratch, the surface typically needs to be sanded and repainted.
Durability
Both painted and stained cabinets have durability. The one thing that affects both is exposure to sunlight. Prolonged exposure to sunlight will cause paint and stain to fade through the years. Wood and MDF cabinets have similar durability, but MDF has better resistance to moisture than wood.
Stained Cabinets
Stained cabinets won't face as many cosmetic issues as painted cabinets because the stain soaks into the wood. There aren't any chips or flakes to worry about with stained cabinets. Stained wood cabinets can warp over time if exposed to high humidity.
Painted Cabinets
MDF-painted cabinets won't crack or flex and will retain their shape better than wood when faced with humid conditions. Paint still suffers dings, scratches, chips, and flakes. The dings and scratches appear more visibly than they do on wood cabinets. Paint can suffer from moisture issues if it encounters too much water.
Installation
Many opt to paint or stain cabinets on their own to save money on a fairly straightforward project. Completing a smaller cabinet painting or staining job on your own is more reasonable than tackling your entire kitchen. Plus, the kitchen is a focal point in your home, and shoddy work on your cabinets can become an eyesore.
Stained Cabinets
Staining cabinets takes time and having a pro complete the task can ensure a good finish for your cabinets. Refinishing cabinets means labeling each cabinet and having a space large enough to prep and stain them. It can especially leave a mess in your kitchen. Refinishing cabinets on your own can take up to two weeks, while it can take a cabinet pro three to five days to finish the job.
Painted Cabinets
Repainting kitchen cabinets can be a DIY job, depending on the size of the project and your available free time. Painting cabinets means you must prep them by sanding them and striping them if you want the paint to adhere the best. A pro should handle more significant projects to ensure a consistent look free from blemishes.
Life Span
Life spans of stained cabinets and painted cabinets can differ because each has different durabilities. Stained cabinets tend to preserve their look longer than painted cabinets because wood absorbs stains. Of course, it might be time for a new look when painted cabinets start to fade or flake.
Stained Cabinets
Stained cabinets can span 20 to 30 years if the stain has been properly sealed. Stained cabinets might need occasional touch-up work through normal wear and tear, but they should maintain their color without significant fading. Stained cabinets, however, can fall out of style.
Painted Cabinets
Painted cabinets have a life span of around 10 years. Paint can fade, chip, or crack throughout the years. Paint can also suffer more noticeable scratches and dings. Painted cabinets need several coats, so touching them up requires more work than retouching stained cabinets.
Start Your Cabinet Installation Project Today
Environmental Impact
Choosing stained cabinets over painted cabinets can have an environmental impact. Neither is particularly environmentally friendly though both have alternatives. Eco-friendly wood stain and paint alternatives can have zero to little volatile organic compounds (VOCs). VOCs can cause nose, eye, and throat irritation. Some VOCs can even cause cancer.
Stained Cabinets
Wood stains can be toxic while applied. It typically becomes nontoxic after 30 days. Water-based stains can be less toxic but must be cured before they become nontoxic. If you plan on staining cabinets, it should be done in a well-ventilated area, and you should wear a proper mask during application. Rags must be properly stored and disposed of because they pose a fire risk due to spontaneous combustion.
Painted Cabinets
Paint, like stain, contains VOCs that dissipate as the paint dries. Paint typically has about 250 grams per liter of VOCs for matte or flat paint, while glossy paint can have 380 grams per liter. Low- or no-VOC paints exist and typically have 5 grams per liter or less to be considered no-VOC or 50 grams per liter to be considered low-VOC.
Resale Value
Kitchen remodeling projects usually rank toward the top for projects that can recoup the most of your investment. But those remodeling projects often include upgrading several items, so it's hard to determine what kind of resale value you'll see by painting or staining cabinets. It's safe to say that upgrading your cabinets can increase resale value, especially if you're updating old or out-of-style cabinets.
Stained Cabinets
Stained cabinets might increase the resale value of your home, especially if they're custom-built. Stained cabinets can have more luxury appeal and bring the idea that they have more value than painted cabinets. Stained cabinets can have more value when stacked up against MDF cabinets.
Painted Cabinets
Painted cabinets, especially those on-trend, can also increase the resale value. Cabinets draw a lot of attention, and in-style cabinets can lead to a perceived increased value. Up-to-date cabinets might help with the marketability of a home because the home can be viewed as more move-in ready.
Are Stained Cabinets or Painted Cabinets Better for Your Home?
Deciding whether stained cabinets versus painted cabinets are better for your home will come down to personal style and your home's existing style. Painted cabinets have more design flexibility than stained ones. Stained cabinets cost a little more, so if you prefer to stay on trend, painted cabinets can help keep you in style.
| Factor | Stained Cabinets | Painted Cabinets |
| --- | --- | --- |
| Appearance | More natural look | Manufactured look |
| Cost | $5 per sq. ft. | $3 per sq. ft. |
| Upkeep | Minimal | Regular cleaning depending on color |
| Durability | Strong | Medium |
| Installation | Medium difficulty | Medium difficulty |
| Life Span | 20 – 30 years | 10 years |
| Environmental Impact | Has volatile organic compounds | Has volatile organic compounds |
| Resale Value | Can increase value | Can increase value |
Kitchen Cabinets
Kitchens see a lot of traffic, and stained cabinets might fit better depending on your household because they show less wear and tear than painted cabinets. A toddler with a marker can run around your kitchen cabinets and leave more of a mark on painted cabinets. Stained cabinets can last longer than painted cabinets and clean easier.
Painted cabinets can make a mark in a kitchen, especially if you like the look of a white kitchen. Plus, painted cabinets can cost less, especially if you choose MDF cabinets. Painted cabinets can also open up more design possibilities than stained ones.
Bathroom Cabinets
Stained cabinets can have issues when exposed to moisture and humidity, so they aren't always ideal in a bathroom where the hot water from a shower creates humidity. Painted cabinets can help lighten a bathroom with lighter colors.
Living Room Cabinets
Living room cabinets can be a focal point, like kitchen cabinets, so they must fit your home's style. Painted cabinets have more cache these days, but stained living room cabinets have their place in the right home. The versatility of painted cabinets is an asset for living room cabinets.
Stained Cabinets and Painted Cabinets vs. Other Options
Cabinets come in several types, including:
Wood
Wood veneers
Plywood
High-density fiberboard
Medium-density fiberboard
Thermofoil
Melamine/laminate
Particle board
Cabinet materials vary in durability, with hardwood having the most durability and particle board having less. Plywood and medium-density fiberboard often work as less expensive options to hardwood, though different materials can absorb stain and paint.
Start Your Cabinet Installation Project Today
No Comments Yet