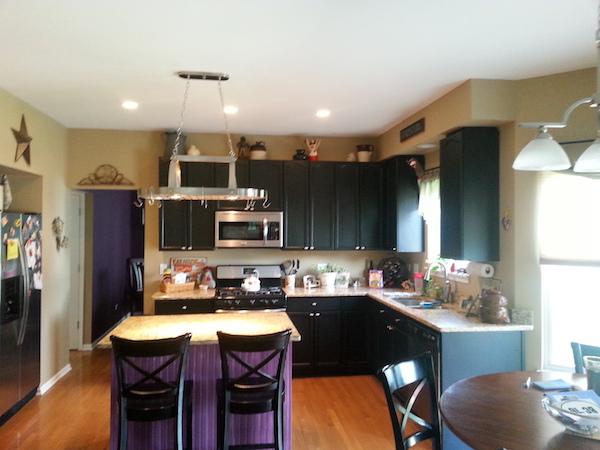 Try this on for size: your kitchen cabinets are looking rough. The varnish has mostly rubbed off, the stain is fading, and your cabinets are more scratched up than the cat scratcher in the corner of the living room. Still, they're decent cabinets, and you really don't have the money to invest in a new set of kitchen cabinetry, anyway. Never fear. There is an answer to your dilemma. Painting wood kitchen cabinets, if done carefully and correctly, can transform the look of your cabinets and your kitchen at a fraction of the cost of new cabinets or even cabinet refinishing. All you need is time, patience, and a few buckets of paint, and you're good to go.
The Toughest Part of Painting Wood Kitchen Cabinets: Choosing the Color
Remember, even though this is a relatively minor job, painting your kitchen cabinets is really going to transform the look of the room. Choose your cabinet color carefully to make sure it's compatible with your appliances, countertops, and flooring materials. Failure to do so often leads to a domino effect of kitchen improvements. Of course, if your cabinets are in need of a touchup, it's likely the rest of your kitchen could use it, too. Take advantage of the opportunity and spice things up with new curtains, countertops, wall paint, and maybe even some inexpensive laminate or luxury vinyl flooring (which all together will still add up to thousands of dollars less than installing new kitchen cabinets).
Painting Wood Kitchen Cabinets—A Step-by-Step Approach
#1—Remove the doors, drawers, and hardware.
#2—Prep the surfaces. If your cabinets have been varnished, or if you're a by-the-book type, you'll want to strip all the cabinetry down to bare wood (a large and time-intensive job). If you're willing to take a risk, skip the stripping and lightly sand all the surfaces you plan to paint. You risk that the paint won't adhere as effectively, but you're probably going to be okay, especially if you're thinking along the lines of a short term home improvement rather than a lifetime solution.
#3—Repair any gashes, dents, or deep scratches with a special putty. Once you apply the putty, be sure to sand the cabinetry again to achieve a smooth surface.
#4—Thoroughly clean all surfaces with water to remove dirt and dust from sanding. Resist the urge to use cleaning materials, as the ammonia in many cleaners can cause some paints to yellow and age prematurely.
Ready to start your
cabinet painting

?Find Pros
#5—Paint on your primer coat. Let your cabinetry dry and then go over it with your primer coat, then follow that with a light sanding to make the surface better suited for taking on new paint. As always, make sure you wipe away any dust from the sanding before you move on to apply subsequent coats.
#6—Paint on your finish coat. Be sure to use quality paints and brushes, since this is the face of your cabinets that you'll be presenting to the world. One coat might do it, but it's likely that you'll need two to cover your cabinets satisfactorily, especially if you had darker cabinets to start with.
#7—Replace your hardware. Besides painting wood kitchen cabinets, upgrading your cabinets with new hardware (handles and knobs) is the cheapest, most cost-effective way to give your kitchen a fresh, new look. You can buy the hardware new for that brand new shine, or you can shop around for vintage or antique hardware if those styles fit your home.
#8—Enjoy your new kitchen! Painting wood kitchen cabinets is sure to transform your kitchen overnight, and you'll have the added satisfaction of having done all the hard work yourself. Of course, finding the time for painting wood kitchen cabinets can be tough with today's busy lifestyles. If that's the case for you, hire a painter or handyman to come do the chore for you. It won't be as cheap as if you do it yourself, but you'll still save bundles (i.e. thousands of dollars) compared to purchasing and installing new cabinets in your kitchen or bathroom.
No Comments Yet