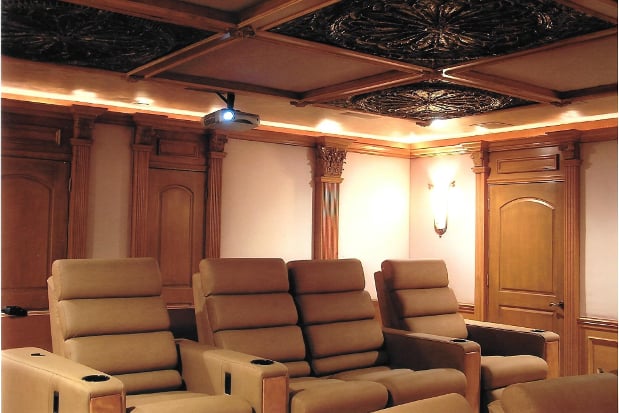 Should you take the time and effort to sand and refinish woodwork or paint it? The least expensive treatment would be to live with the current color and simply touch up with stain and varnish it. It is fine to leave some rooms stained and paint others, as long as there are definite breaks. It is not even uncommon to paint one side of a door and leave the other side stained to match the cabinets and baseboards inside a den. If you are in the market for a woodwork overhaul, however, there is still an important decision to be made.
Woodwork Refinishing
Refinishing woodwork is a more involved process than painting. Though the results can be a little unpredictable, there's a good chance the end result will be worth the time and effort. If you live in an older home where the smaller details of each room are something you want to show off, refinishing woodwork rather than painting it can bring the wood's true beauty to the surface.
On the downside, refinishing woodwork–trim, doors, window casings, cabinets–by removing the stain, sanding, re-staining with another color, and varnishing is at least as costly as painting. There is also no guarantee that the process will produce the look you're going for. If you truly want to preserve the natural beauty of classic woodwork, refinishing is definitely an option worth considering.
Ready to start your
Painting Project

?Find Pros
Painting Woodwork
Painting woodwork that has been previously stained is a little different than your average job. Despite the small amount of additional attention, however, woodwork painting can produce excellent results (often in less time, and for less money, than refinishing).
The process to painting woodwork that was previously stained is as follows:
1. Clean with detergent.
2. Prime with a stain locking primer.
3. Sand and caulk all cracks; fill all nail holes.
4. Apply two finish coats of paint. Many homeowners prefer spraying the paint on instead of using a brush or roller, as it saves time (and money), and you get a much nicer finish. Although this is not inexpensive, the beautiful results should be worth every penny you invest in your home.
If you are getting new baseboards to complement your woodwork walls or doors, you can buy many different styles in synthetic paint grade material for less than real wood and have the painter spray them before they are installed. Then your carpenter can cut them to fit, caulk and fill the nail holes, then touch up with paint after they are installed.
No Comments Yet