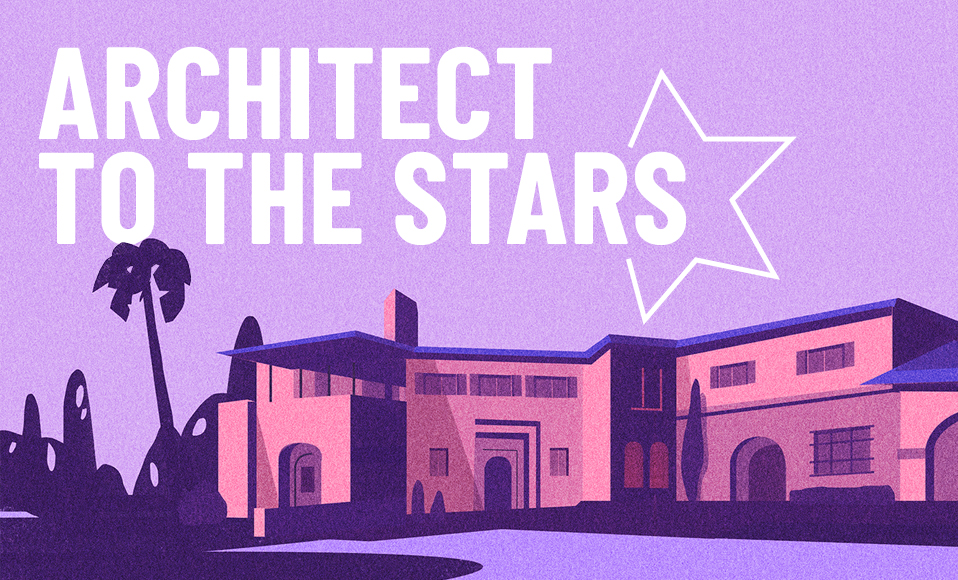 Paul Revere Williams' astonishing architectural career spanned the growth of Hollywood. Between the 1920s and his retirement in 1973, he designed over 2,000 private L.A. homes – many for Hollywood creatives such as Frank Sinatra, Lucille Ball, and Johnny Weissmuller. Wealthy, open-minded clients like this allowed Williams enviable creative freedom and earned him his nickname: architect to the stars.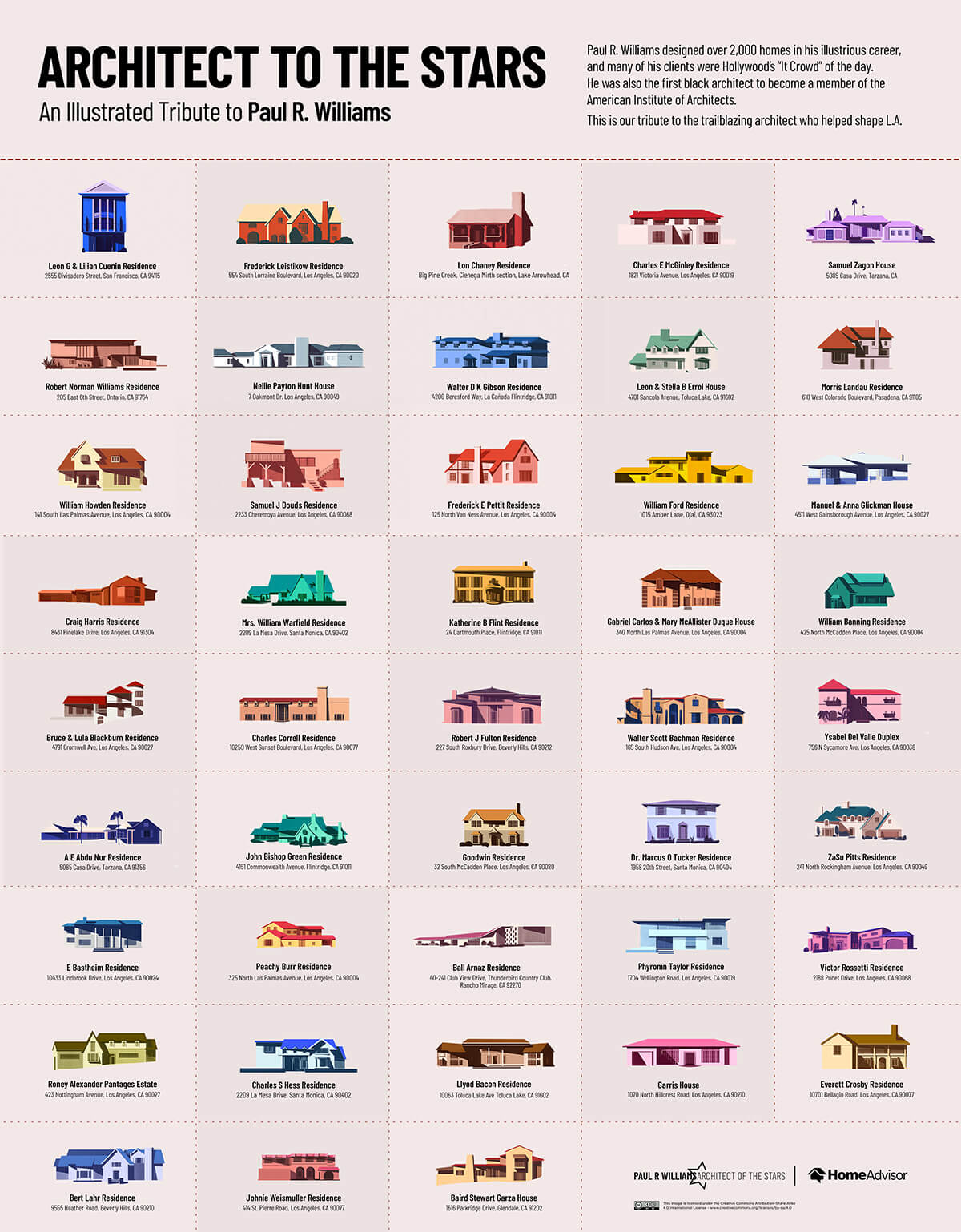 But it wasn't easy. Born into a struggling Black family in 1894, Williams was orphaned aged four. He  overcame adversity to become the first African American member of the American Institute of Architects (AIA), and learned to sketch his buildings upside down for white clients who felt uncomfortable sitting the same side of the desk as a Black man. His challenges informed his politics: when the US hit a serious housing shortage, Williams released two books of affordable home designs, later saying "expensive homes are my business and social housing is my hobby."
HomeAdvisor's celebration of the father of modern architecture, Frank Lloyd Wright, was a big hit. But now it's time to illustrate the work of a 20th century architect whose story is just as inspiring. We commissioned artist Ibrahim Rayintakath to illustrate 43 of Paul R. Williams' most notable California houses, and we've included addresses and an illustrated map so that architecture buffs can check out these historic buildings when you're in town.
Dr. A. E. Abdun-Nur Residence
10250 West Sunset Boulevard, Los Angeles, CA 900004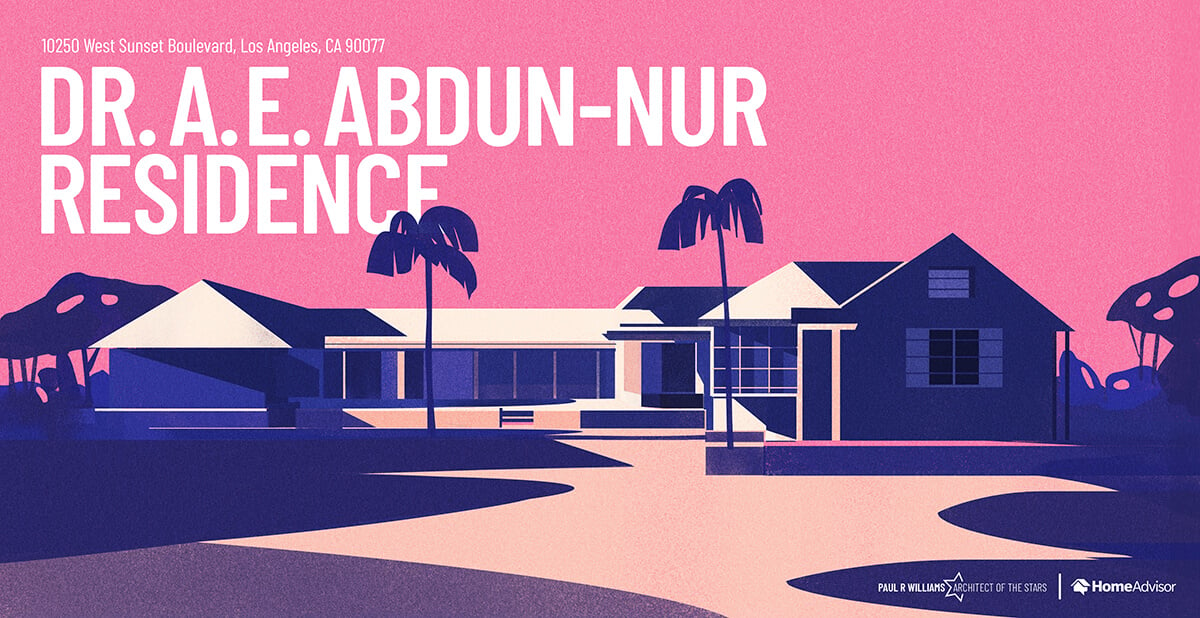 In 1909, Tarzan author Edgar Rice Burroughs bought 550 acres of land in greater metropolitan LA, gradually selling it as residential lots and naming the resulting town: Tarzana. Williams designed this "landmark on the hills above Tarzana" for a Lebanese-Syrian family as a sprawling ranch home with landscaped gardens and pool, perfect for entertaining international dignitaries.
Walter Scott Bachman Residence
165 South Hudson Ave, Los Angeles, CA 90004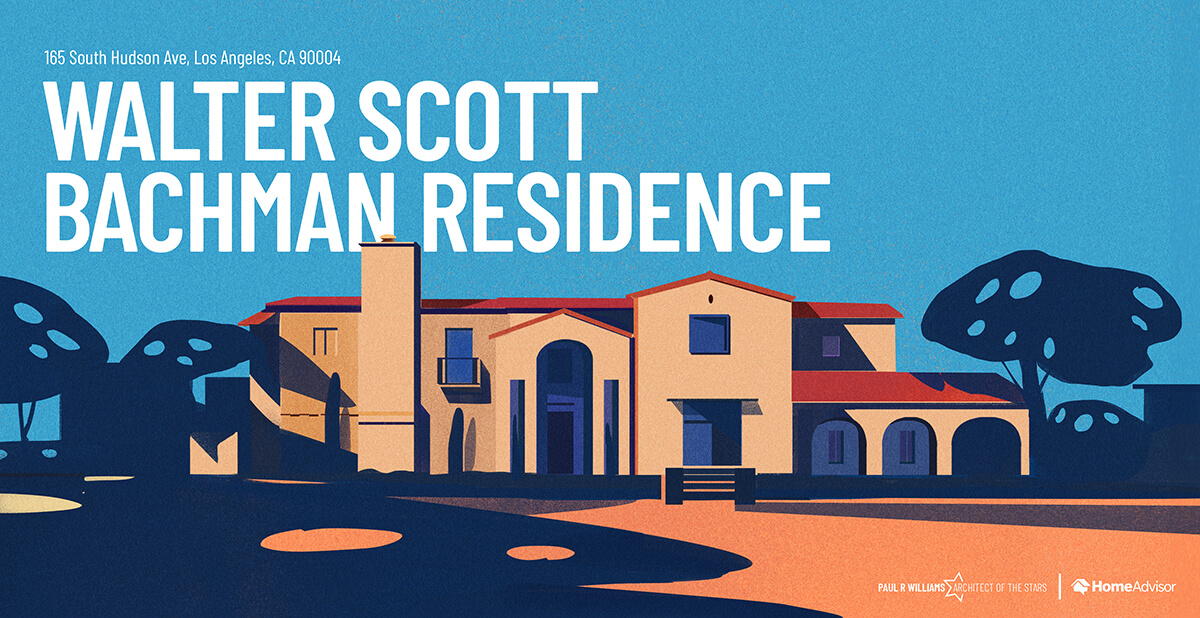 LA's Hancock Park area filled up with Spanish and Mission Revival-style homes in the 1920s as architects attempted to please their nouveau-riche clients while showcasing their architectural talents. Williams was more principled than most, avoiding 'Disneyfied' architectural flourishes on the outside while creating a livable modernist space indoors.
Lloyd Bacon Residence
10063 Toluca Lake Ave, Toluca Lake, CA 91602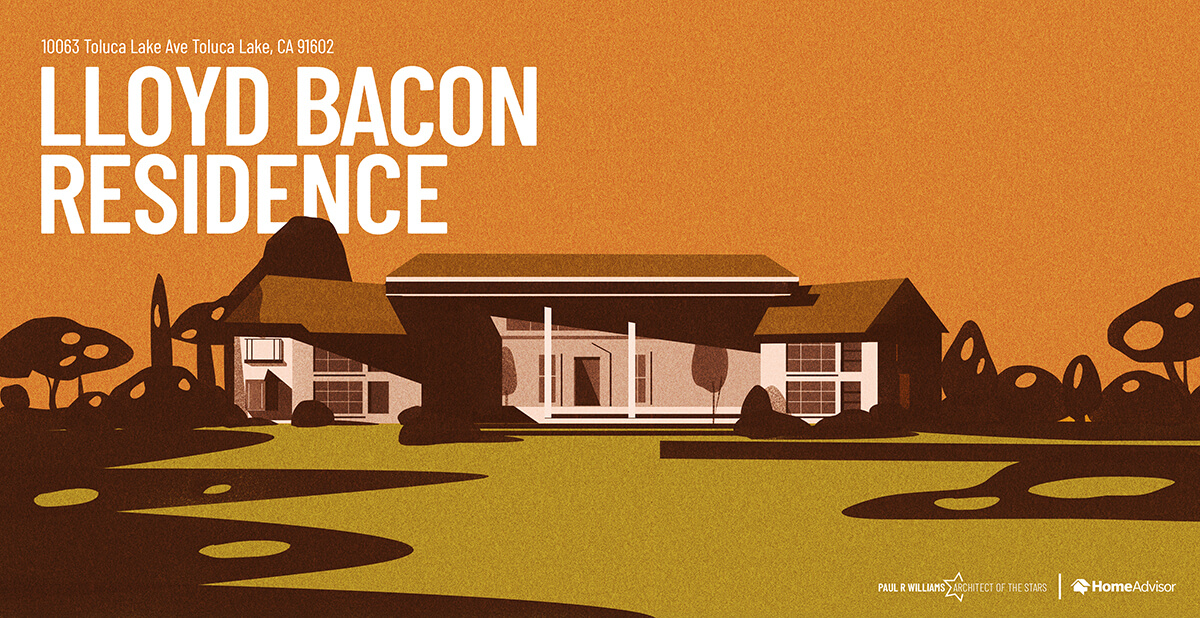 Williams built this two-story Southern Colonial-style residence in 1934, shortly after the end of cinema's silent era. In 1937, the house was bought by and remodeled for Lloyd F. Bacon, the director of the first ever movie to feature a spoken conversation. The house became emblematic of Hollywood glamor after a glossy photo essay in Pictorial California and Pacific revealed aspirational details including a grand entry with a winding staircase.
Baird/Stewart/Garza House
1616 Parkridge Drive, Glendale, CA 91202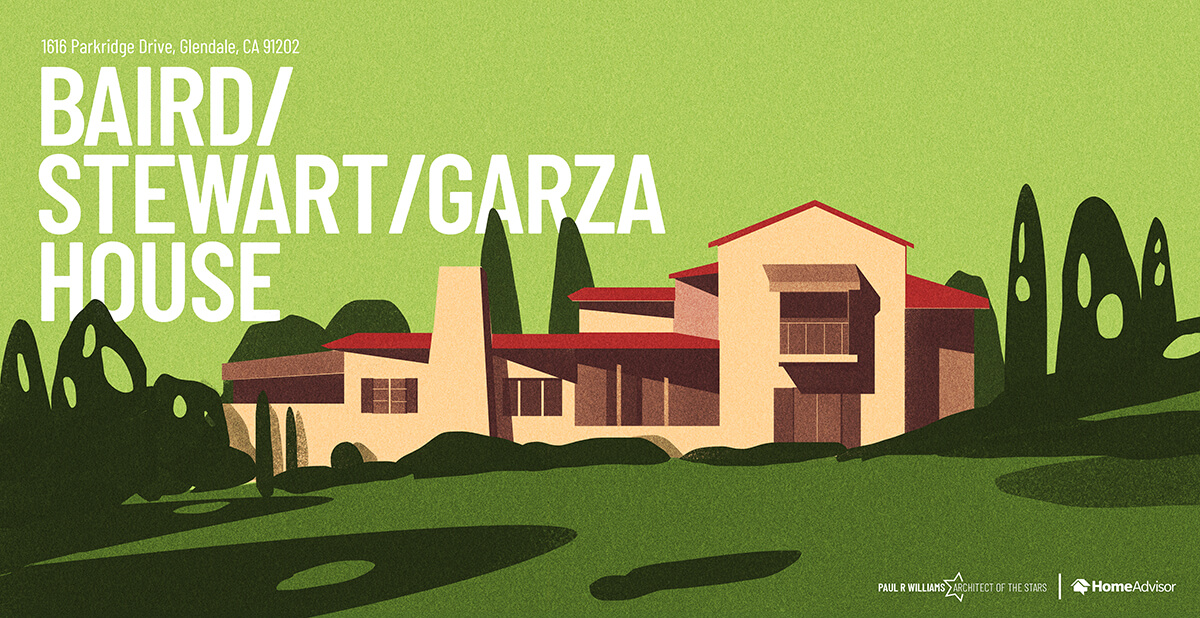 The water features of this 1½-story Spanish Colonial Revival-style house are tiled in a Moorish style and the geometric landscaping recalls Spain's Alhambra palace. Contemporary experts reckoned this common mix of Mediterranean elements was better renamed the 'Californian style.'
Ball-Arnaz Residence
40-241 Club View Drive, Thunderbird Country Club, Rancho Mirage, CA 92270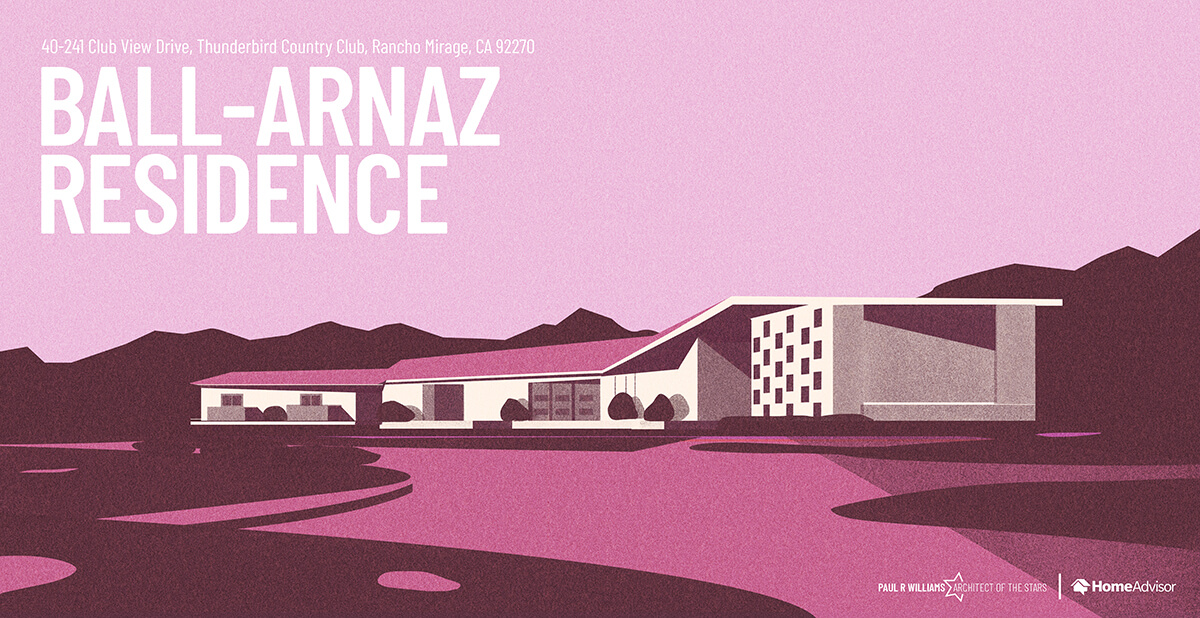 Lucille "I Love Lucy" Ball and her husband, bandleader Desi Arnaz, commissioned this house as their success skyrocketed in the early 1950s (Arnaz had reportedly won the land at poker). Williams had a lot of space, money, and ambition at his disposal for this project, and he responded with a hip 6-bed, 4,400-ranch. The signature detail was a lanai (Hawaiian-style veranda) segueing the rear of the house and the garden/pool area.
William Banning Residence
425 North McCadden Place, Los Angeles, CA 90004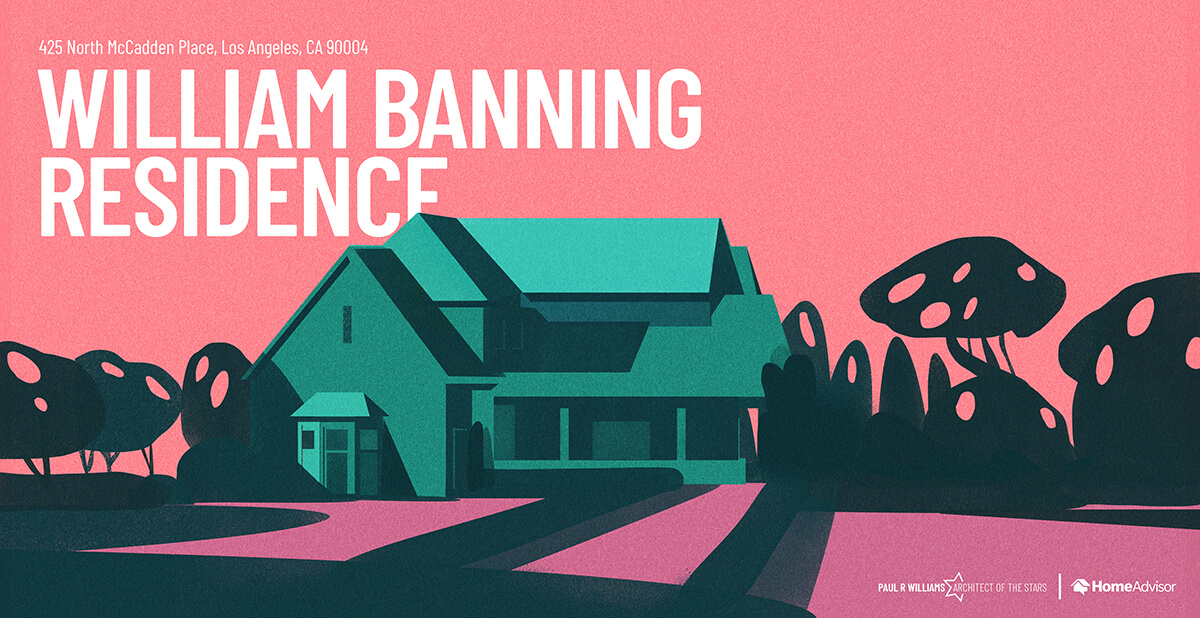 It may look cottagey from the outside, but this Tudor and English Cottage-style home features 6 bedrooms, 5 baths, and space for live-in 'help.' Williams subverted expectations by employing a "large bay casement window filled with diamond-shaped multi-paned glass" in place of the Tudor half-timbering or brick chimney usually used as a focal point for homes of this style.
Bastheim Residence
10433 Lindbrook Drive, Los Angeles, CA 90024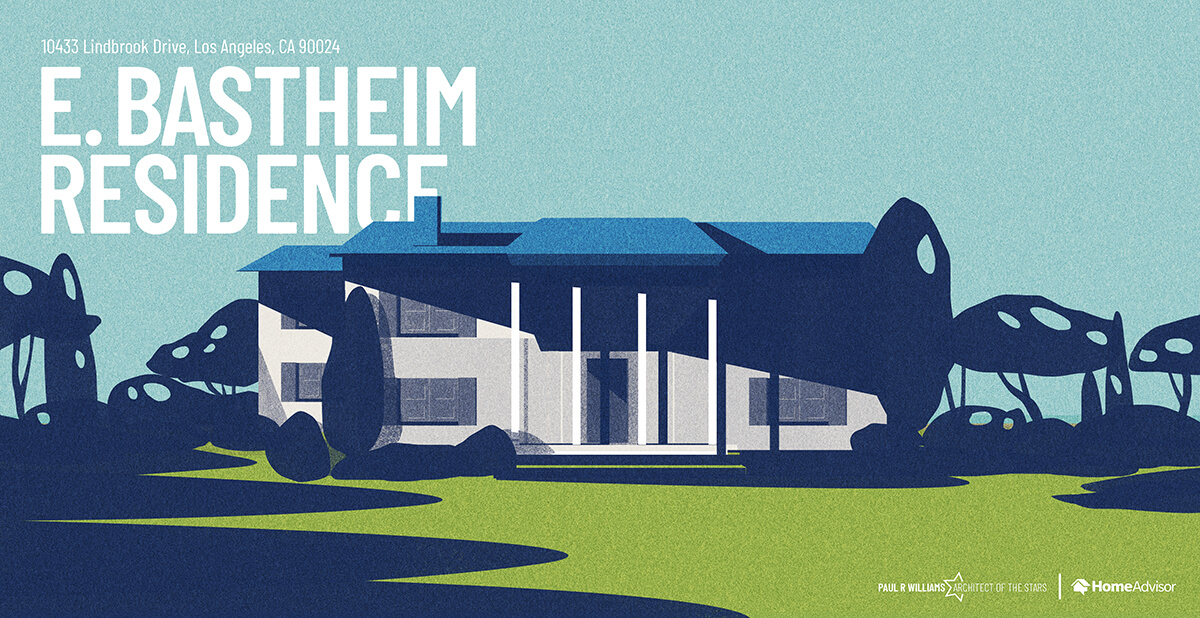 Williams' challenge, with this commission, was to create a showboat home for businessman Edmund Bastheim while honoring the more refined taste of Edmund's wife, Irene. The solution was a Monterey Revival house, a style considered fashionable yet conservative in 1929. Monterey is a very Californian blend of Spanish Colonial and English styles, resulting in a home that is formal-looking but sits comfortably in the laid-back setting.
Bruce and Lula Blackburn Residence
4791 Cromwell Ave, Los Angeles, CA 90027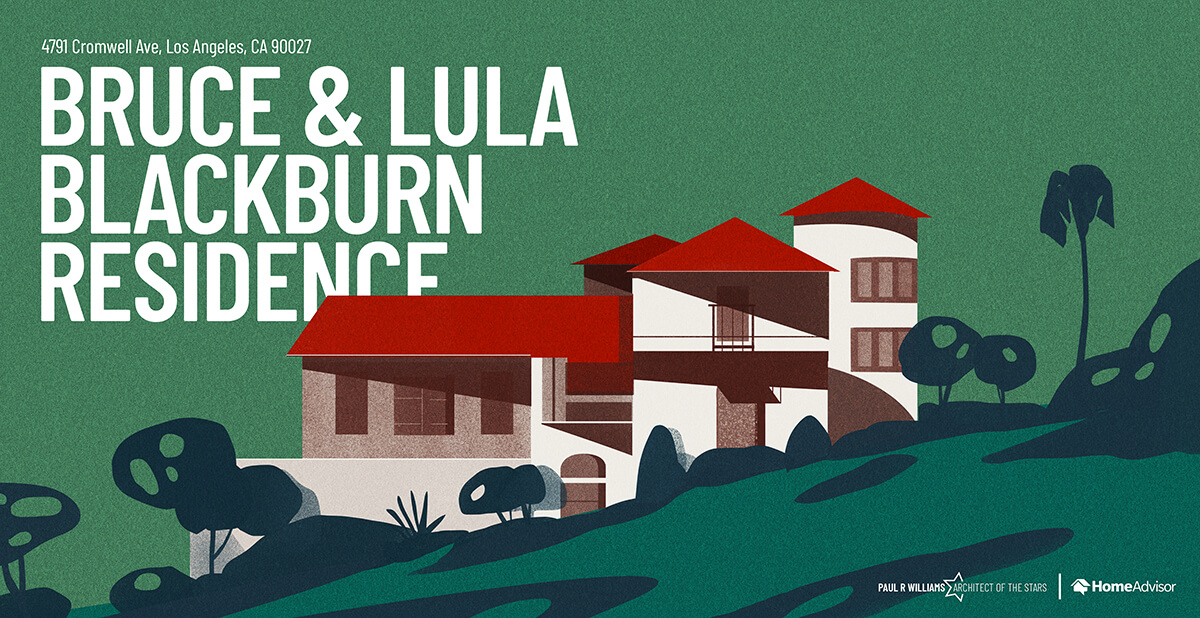 Williams' 12-room, 2½-story Spanish Colonial Revival home zig-zags grandly down one of Los Feliz district's verdant, sun-trap hills.  Check out the two-story turreted tower – a steam shovel was need for the preliminary excavation. The building has gone largely unaltered over the past ninety years, and in 2008 it was added to the City of Los Angeles' Historic-Cultural Monument list.
Lon Chaney, Sr., Residence
Big Pine Creek, Cienega Mirth section, Lake Arrowhead, CA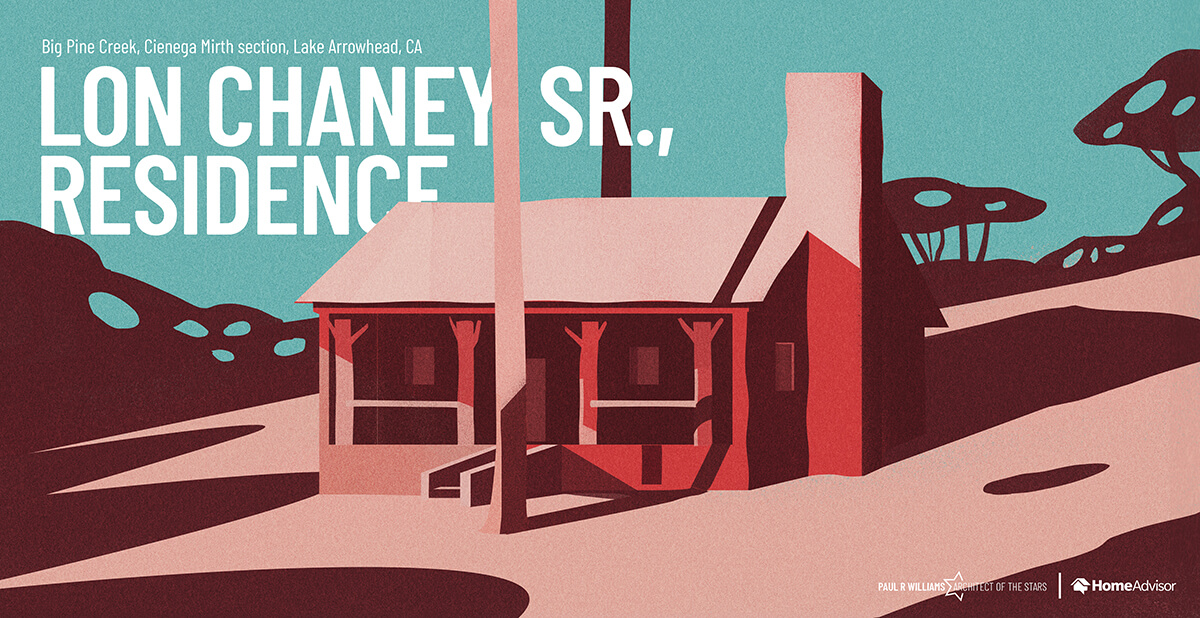 The architect to the stars designed this cabin for the "The Man of a Thousand Faces" – silent movie star Lon Chaney, known for his performances as the Phantom of the Opera and the Hunchback of Notre Dame. The 1,288-square-foot granite fieldstone cabin is unique among Williams' oeuvre, a cozy single-room retreat (still accessible only by hiking) with carefully arranged window views to the surrounding nature.
Ysabel Del Valle Cram Duplex
756 N Sycamore Ave, Los Angeles, CA 90038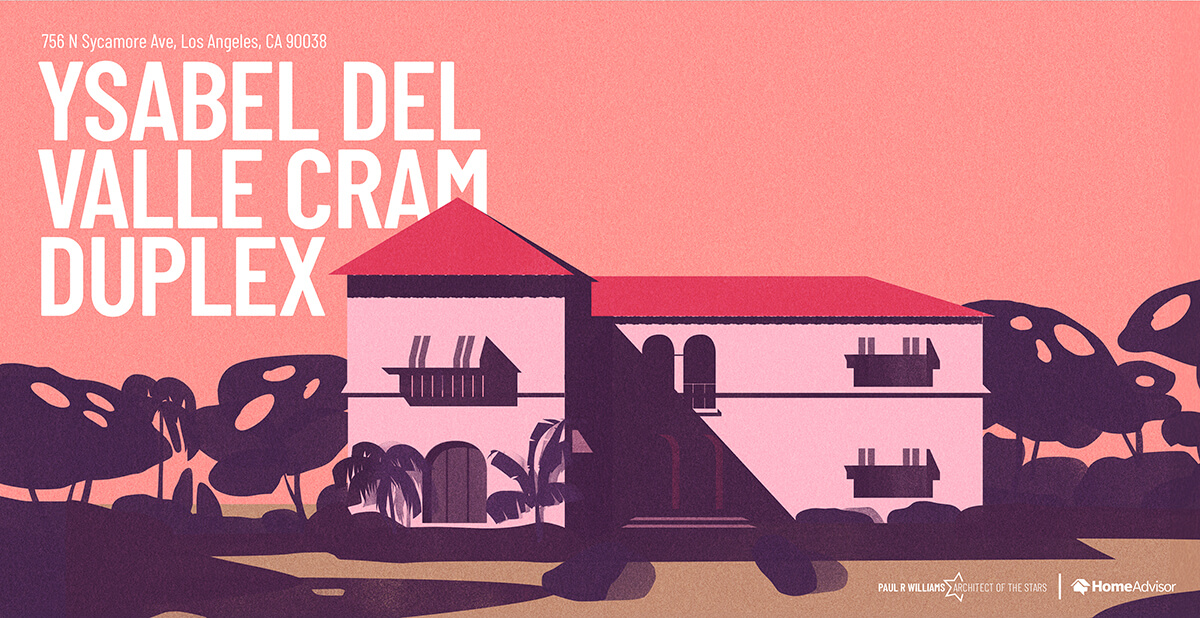 The Mediterranean, Colonial Spanish, or Mexican look was highly fashionable in early 20th-century California, inspired by descriptions in Helen Hunt Jackson's 1884 novel Ramona. Hunt herself was inspired by a stay with the well-to-do Del Valle family, including young Ysabel. The story came full circle forty years later when Williams designed this Spanish Colonial Revival-style duplex for a now-widowed Ysabel, in the fashion that her fictionalized childhood home had created.
Charles Correll Residence
10250 West Sunset Boulevard, Los Angeles, CA 90077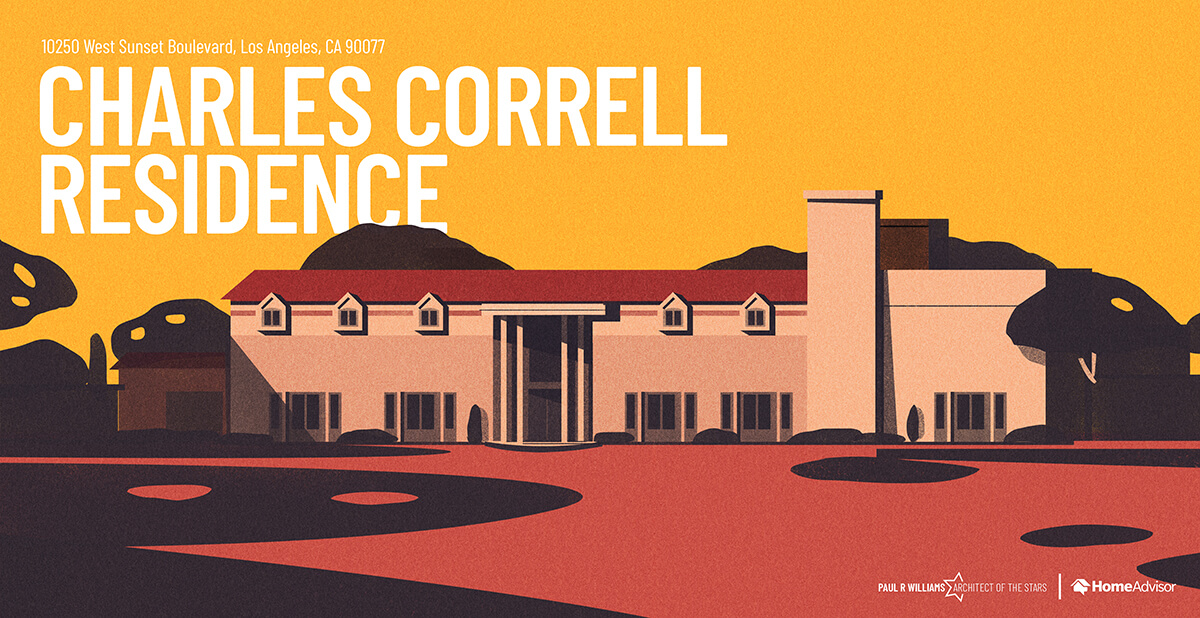 12,000-square-feet. 15 rooms. 2-story columned portico. 4-car garage. Charles Correll was one half of Amos 'n' Andy, a depression-era radio phenomenon that made him and his co-star millionaires. But despite all the big numbers, Williams prepared a design that had "gracious dignity, charming perfection of line and nicety of detail…of Georgian period, save for a playroom in the modern manner," according to one contemporary description.
Craig/Harris Residence
8431 Pinelake Drive, Los Angeles, CA 91304
Williams built this 1939 home in the style of an early hacienda, overlooking a valley through large, elegant windows. This created a sense of luxury while being enveloped in nature. The house has suffered a number of unsympathetic renovations over the years but is undergoing work to recapture its original style.
Everett N. Crosby Residence
10701 Bellagio Road, Los Angeles, CA 90077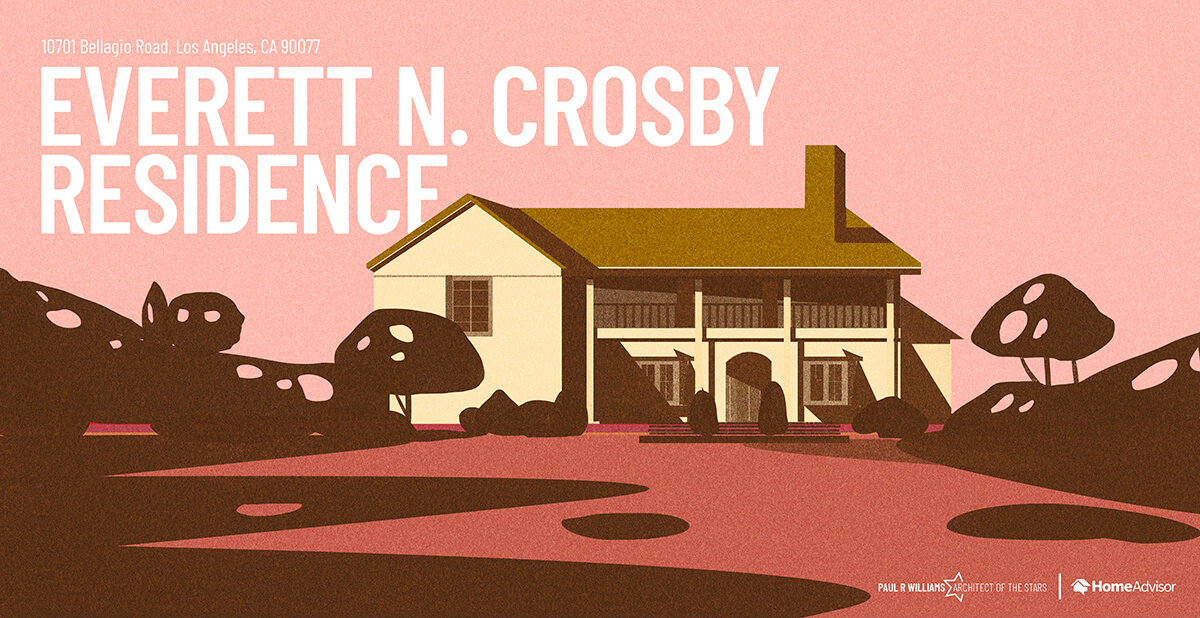 Everett Crosby was Bing Crosby's brother and manager. When the Crosby brand took off and Everett's management business blossomed, he hired Williams to design a 7-bed, 13-bathroom Georgian Manor-style home complete with pool and tennis courts. The estate also held provision for the Crosbys' countless dogs (both lap- and show-), cats, horses, monkeys and birds.
Leon G. and Lillian Cuenin Residence
2555 Divisadero Street, San Francisco, CA 94115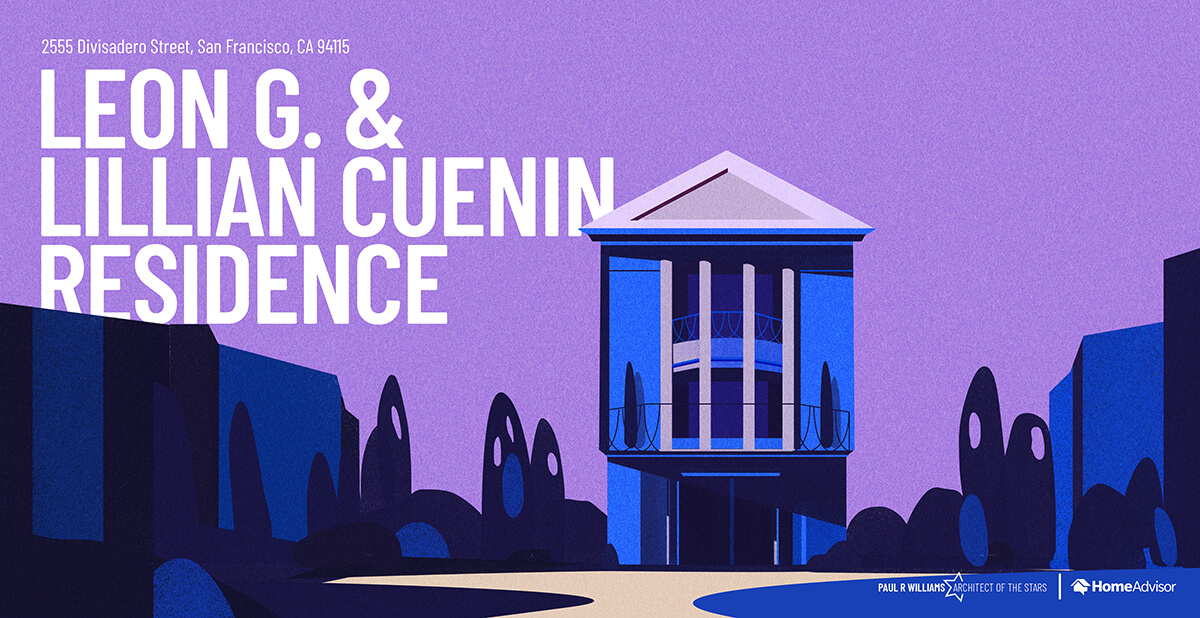 Williams employed an eclectic style for this multi-story house, but it was founded on principles of the classical Palladian Temple – making it a more elegant and refined home than some of his Hollywood pieces. The architect added a unique signature detail to each of his wealthy clients' homes, and in this case he included an intricate wooden medallion in the foyer floor.
Samuel J. Douds Residence
2233 Cheremoya Avenue, Los Angeles, CA 90068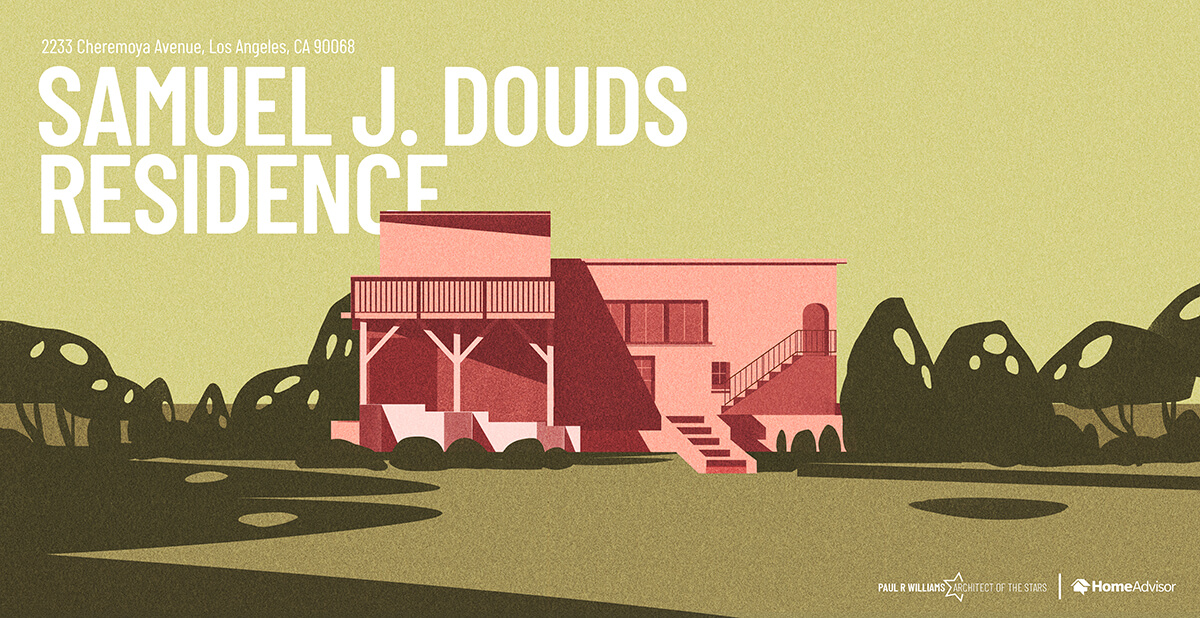 Douds was a highly successful grocer rather than part of the glitterati, but his 6-room, Spanish-style villa had a view of the famous Hollywoodland sign. Over 30 years after Williams built it, an African American family moved into the home only to be greeted by smashed windows – an indication that the racism in Williams' milieu hardly dissipated over the years.
Gabriel Carlos and Mary McAllister Duque House
340 North Las Palmas Avenue, Los Angeles, CA 90004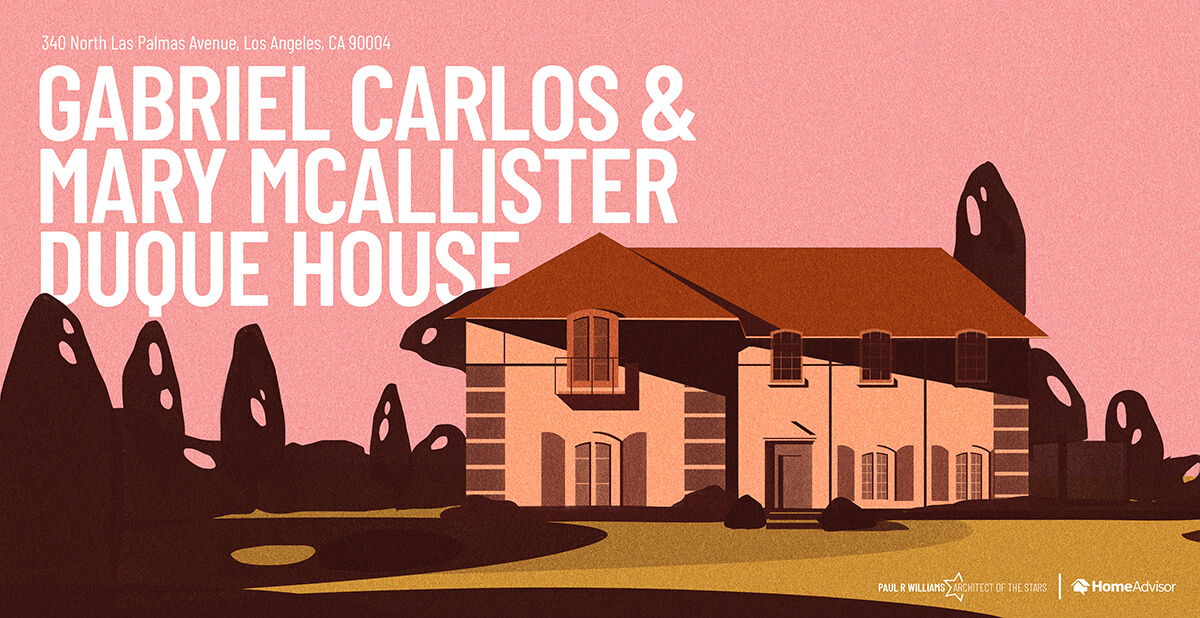 "The Gabriel Duques (she was the lovely Mary McAllister) are getting ready to move into their beautiful new French provincial house which Architect Paul Williams is building for them," according to the Los Angeles Times of January 29, 1933. The Duques were society people, and required a tasteful home with a garden for entertaining, which Williams accomplished with his familiar brand of cohesive eclecticism.
Katherine B. Flint Residence
24 Dartmouth Place, Flintridge, CA 91011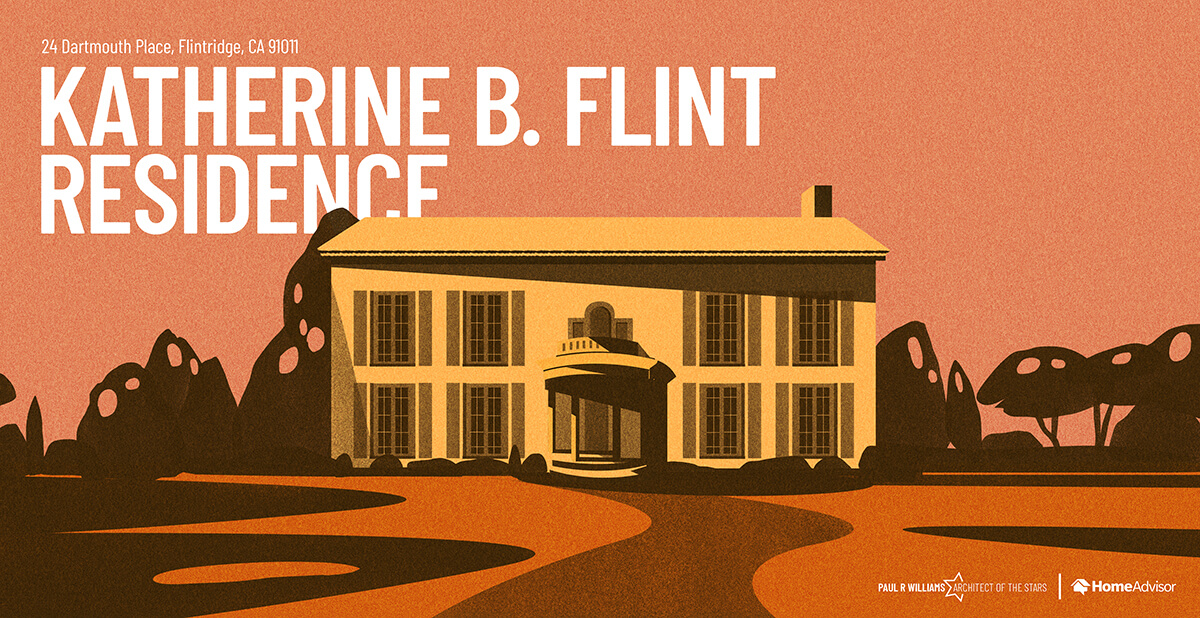 Senator Frank Putnam Flint was a big supporter of Williams' work. When he developed his own town – Flintridge – Flint commissioned Williams to design many of the houses. Flintridge was to become the area with the highest concentration of Williams' buildings. He built this mansion for Flint's family, styled with the idealized look of a southern governor's mansion. Frank Flint died before he could move in, but his widow Katherine lived there until her death.
William Ford Residence
1015 Amber Lane, Ojai, CA 93023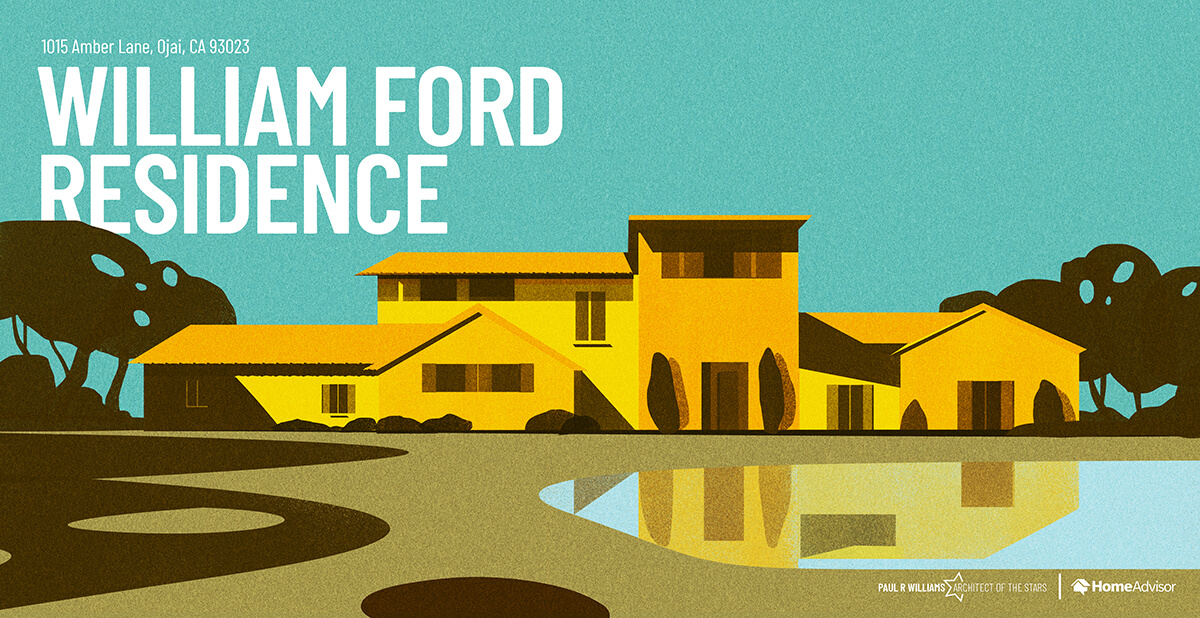 Businessman Ford employed Williams to build this hacienda-style, 16-room, 14,000-square-foot home around a landscaped courtyard. "This artistic country home is designed in Antique Spanish Architecture to harmonize with the magnificent surrounding scenery," according to the Southwest Builder and Contractor of May 2, 1930.
Robert J. Fulton Residence
227 South Roxbury Drive, Beverly Hills, CA 90212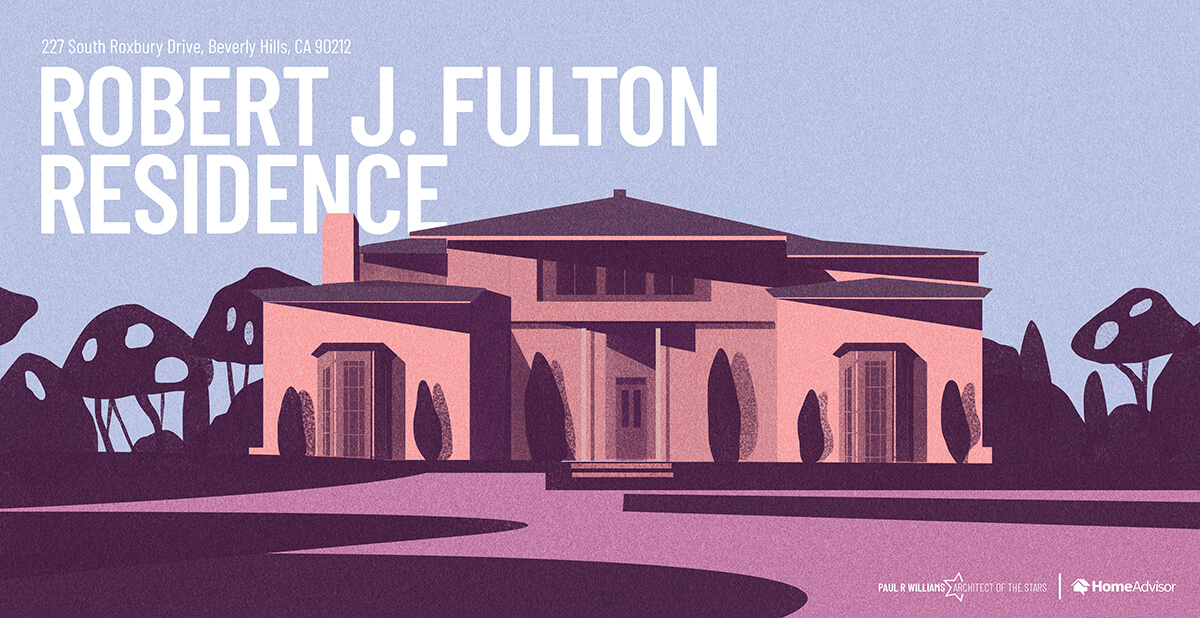 Williams designed this Georgian-influenced home to have a modernist edge, through details such as a glass block wall to separate/illuminate the library. Large angled-glass windows on each side of the entrance are another International Moderne touch that blended with the home's harmonious mix of classical elements.
Garris House
1070 North Hillcrest Road, Los Angeles, CA 90210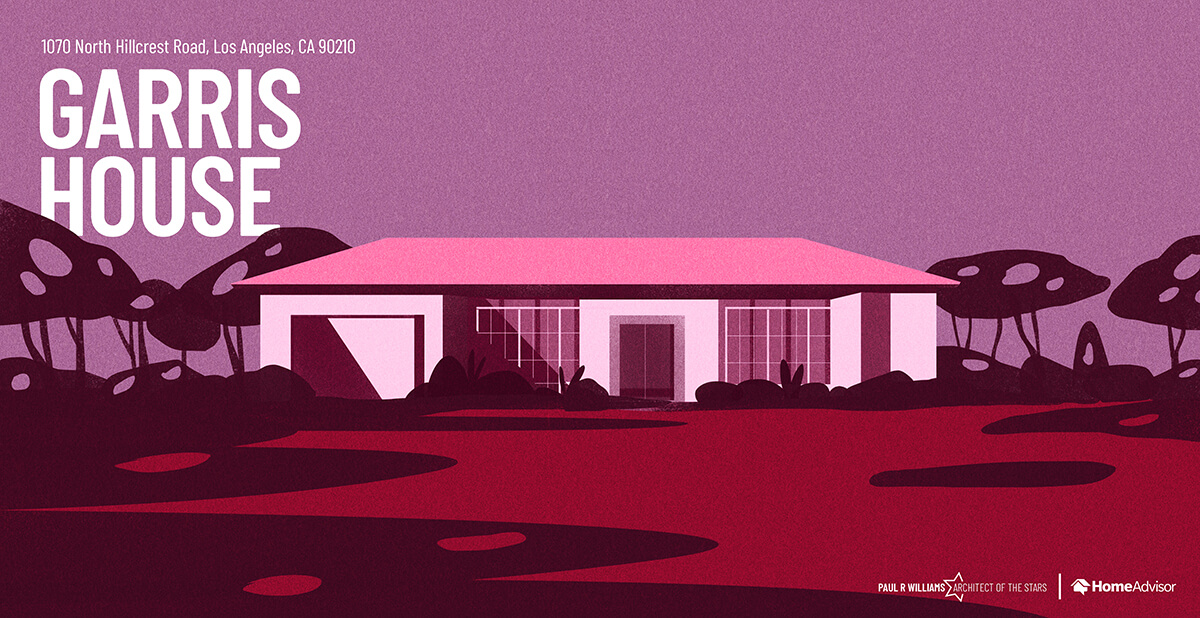 Michael J. Garris was a respected electrical engineer known for his elegant solutions for the illumination of homes, churches, and commercial buildings. He worked on many buildings alongside Williams and eventually commissioned his friend to build this stone clad, ranch-style house overlooking LA. Naturally, Williams made a particularly good job of designing for the movement of natural light around the building.
Walter D. K. Gibson, Jr., Residence
4200 Beresford Way, La Cañada Flintridge, CA 91011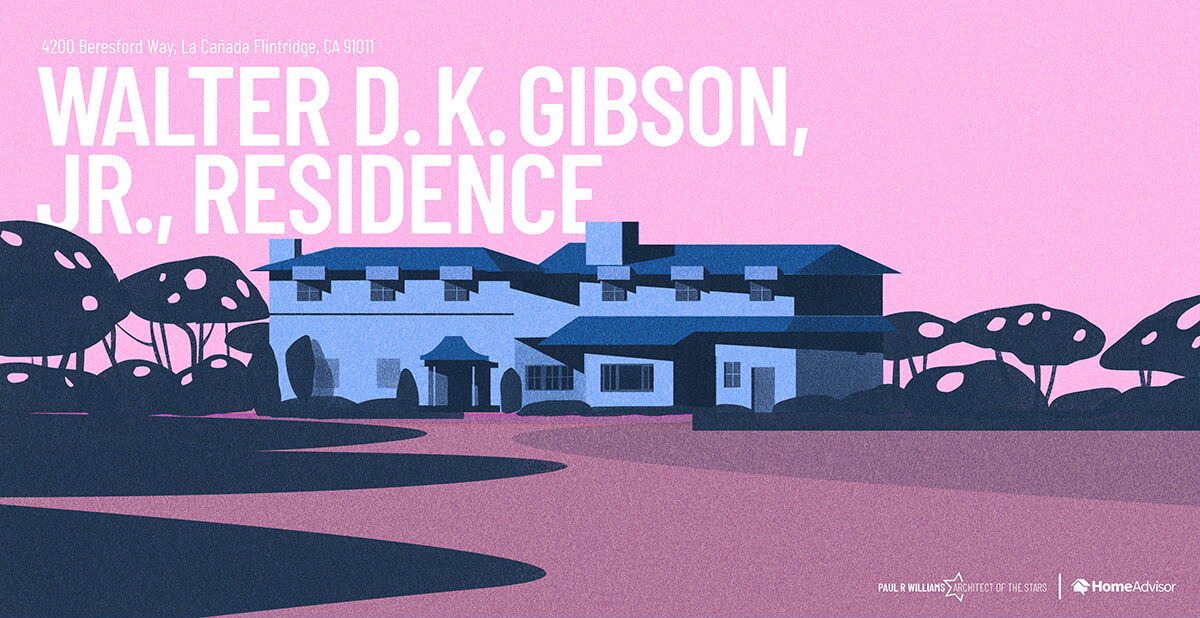 The Gibsons' home is a French colonial-revival-style house built in Flintridge in 1940. It became an aspirational model for homemakers across the States after Maynard Parker's exquisite photos appeared in publications such as House Beautiful, Architectural Digest, and Sunset Magazine.
Manuel and Anna Glickman House
4511 West Gainsborough Avenue, Los Angeles, CA 90027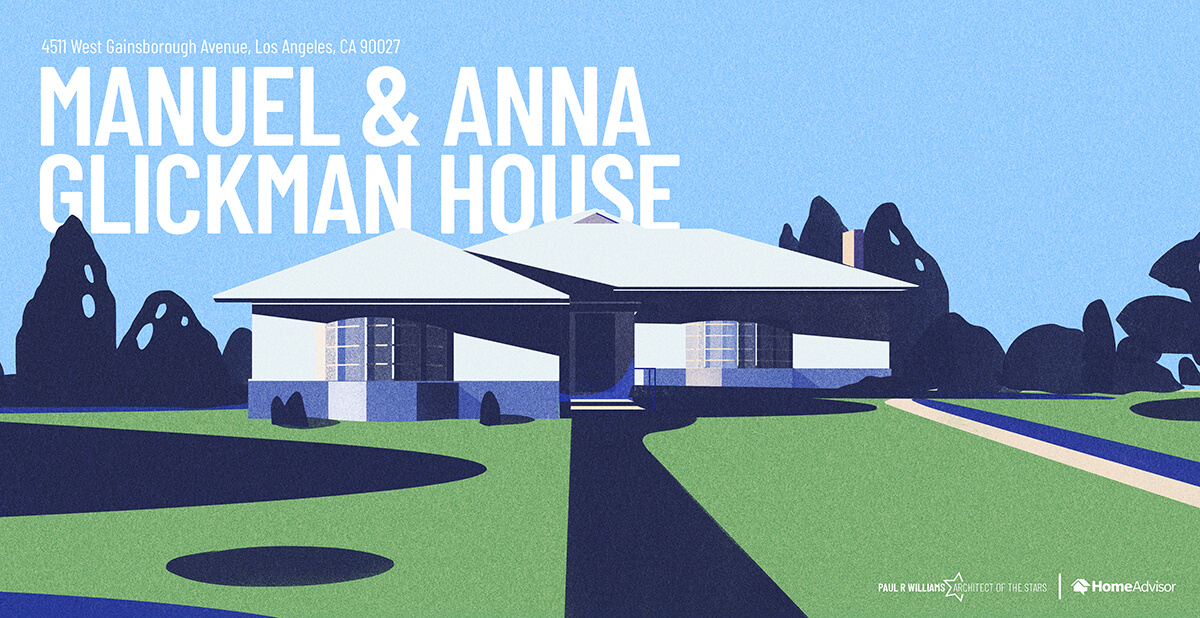 Williams developed small homes throughout his career. The six-room, wood and stucco Colonial-style house he designed for the Glickman's is a good example. Glickman built the house himself, working from Williams' blueprints.
Goodwin Residence
32 South McCadden Place, Los Angeles, CA 90020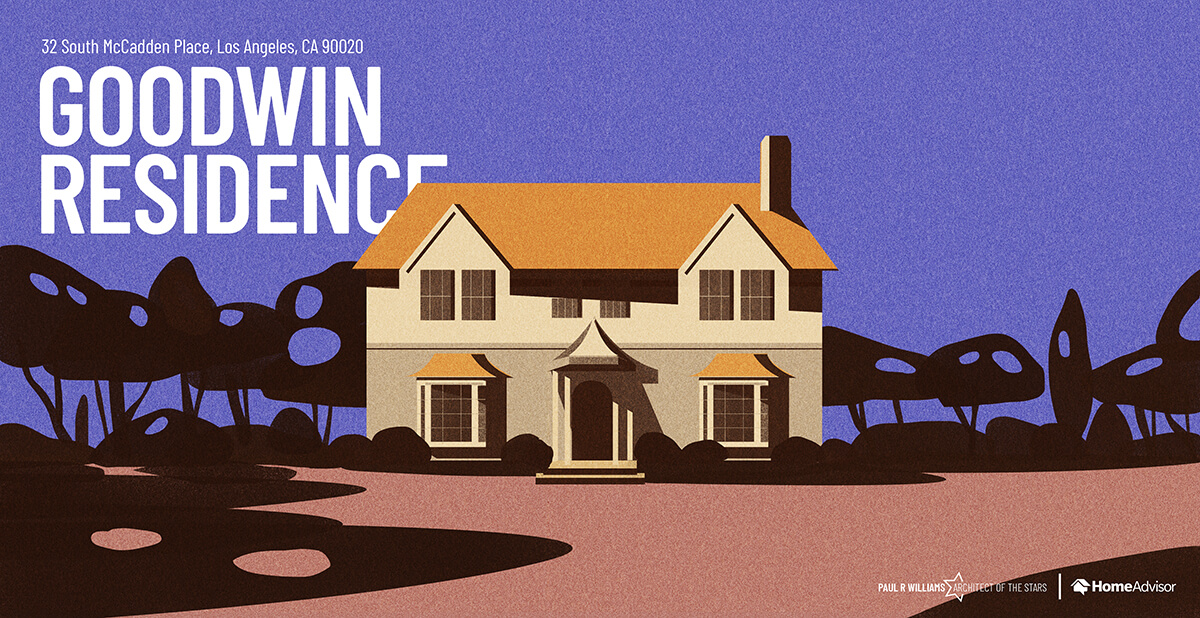 Williams built this 2-story, Colonial-style home with brick and wood in 1931. Sarah Belle Goodwin worked closely with Williams to develop her family dwelling, and a magazine spread from the time shows an interior far less 'designed' than most magazine spreads, featuring everyday furniture that created a warm and inviting effect.
John Bishop Green Residence
10250 West Sunset Boulevard, Los Angeles, CA 90077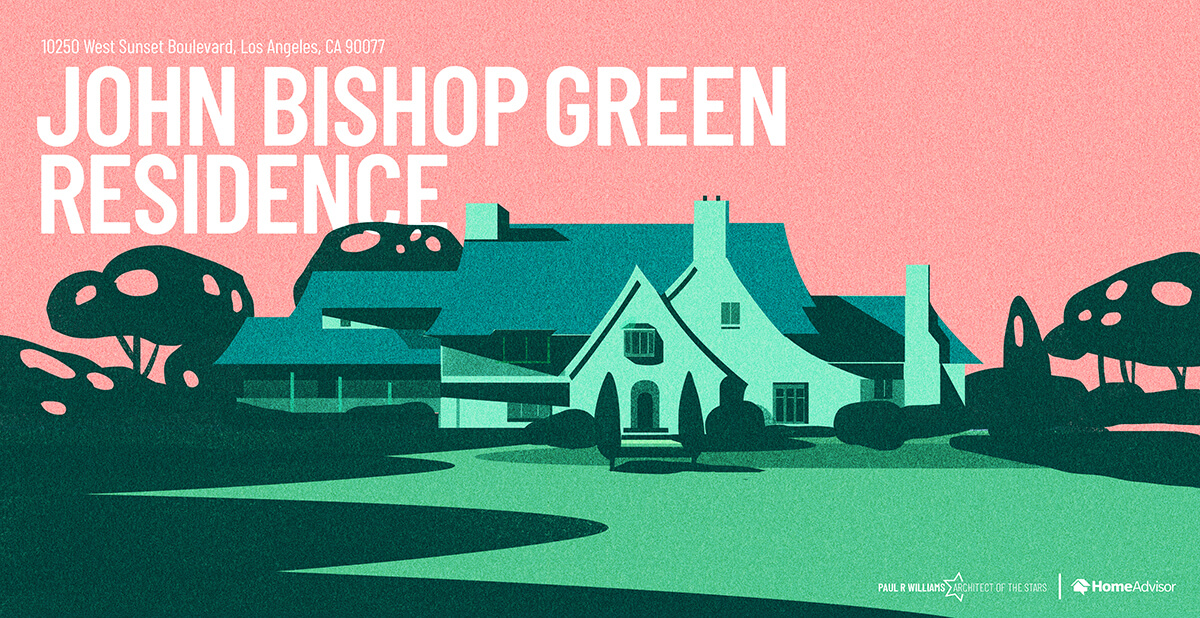 Another Flintridge property, this English Tudor-style farmhouse held 14 rooms across 2½  stories. The weekend home of the Greens exhibited great attention to detail, from wood carvings and detailed masonry to elaborate ceilings. The garden was landscaped to "not only preserve, but add to the natural beauties of the land," according to Southwest Builder & Contractor, April 15, 1927.
Charles H. Hess Residence
2209 La Mesa Drive, Santa Monica, CA 90402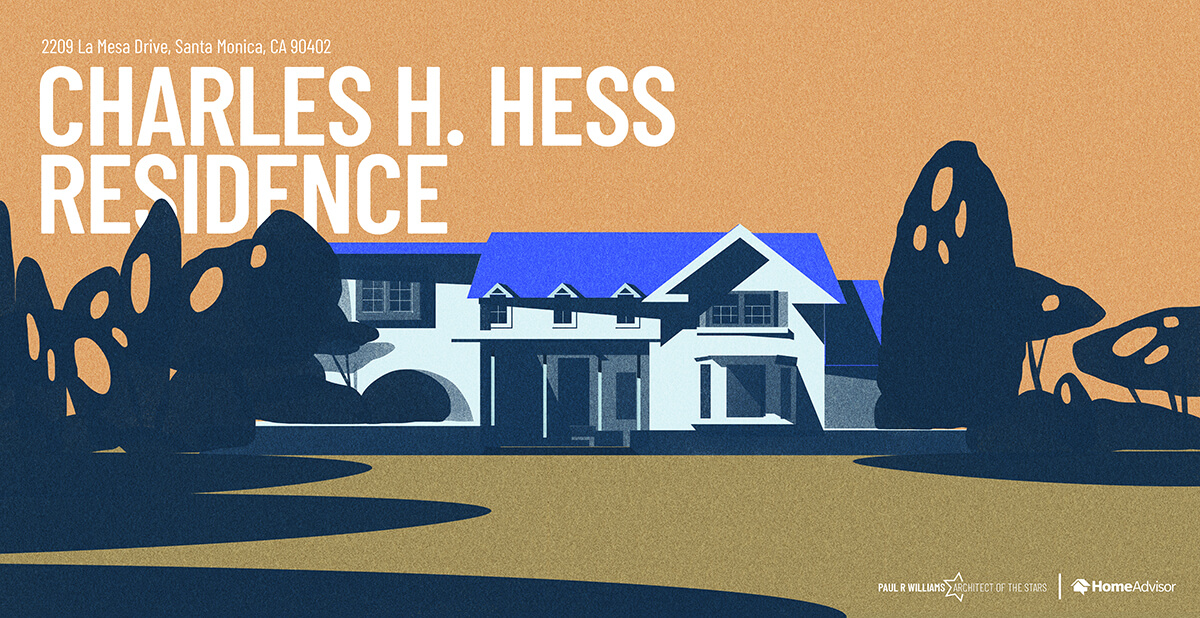 Prestigious La Mesa Drive is home to buildings from the offices of Marston Van Pelt and Maybury, Palmer Sabin, Oscar Niemeyer, and Lloyd Wright. Paul R. Williams has two buildings here: this Georgian Revival-style house was the 2-story home of businessman Hess and his family.
William Howden, Speculative House
141 South Las Palmas Avenue, Los Angeles, CA 90004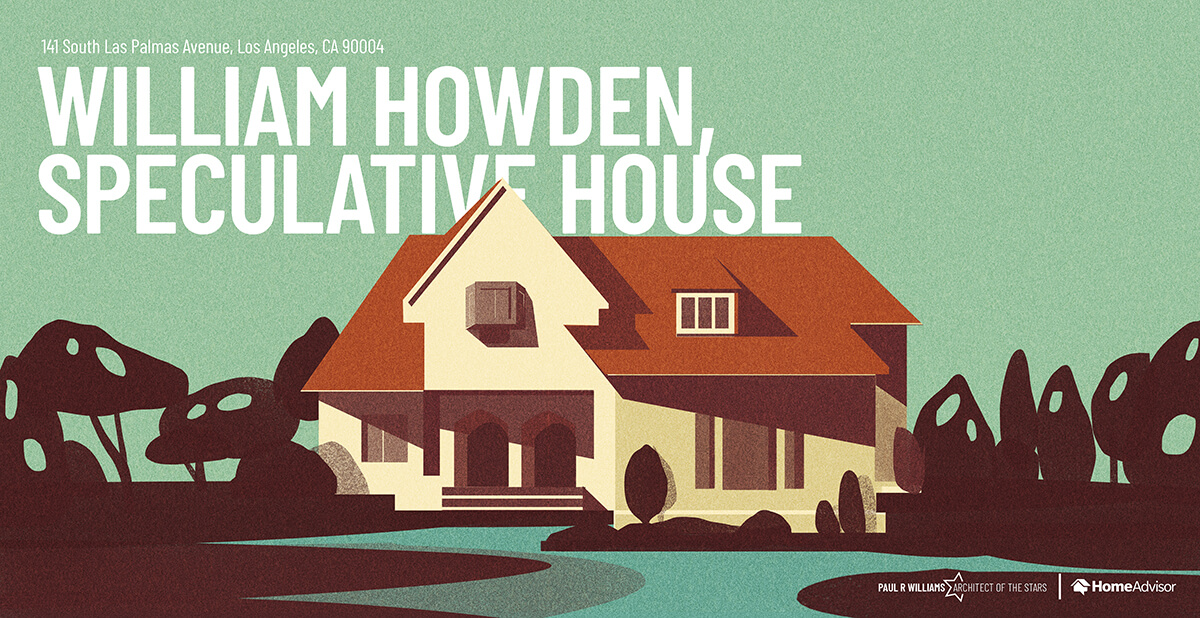 Howden owned a leading construction firm during the 1920s housing boom, so was well-positioned to recognize what buyers wanted. He commissioned Williams to design this 2-story, 9-room Tudor Revival house at the luxury end of the market. Here, luxury meant 3 bathrooms, automatic water heater, electrically controlled heating, and attached garage. The home sold within just a few months of completion.
Bert Lahr Residence
9555 Heather Road, Beverly Hills, CA 90210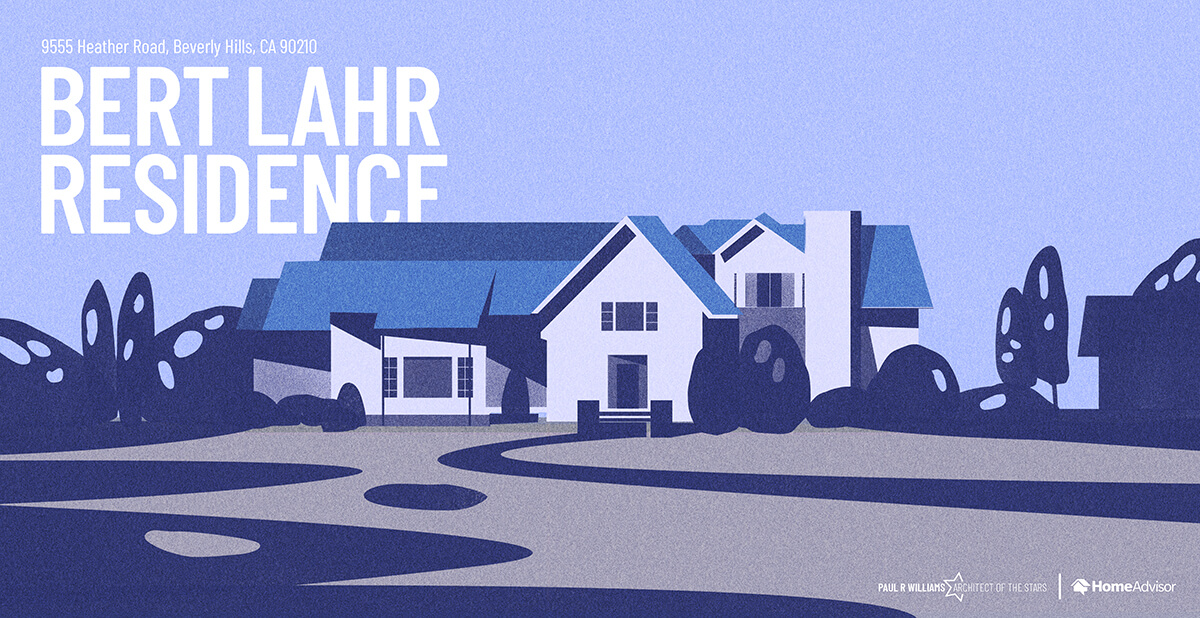 Bert Lahr played the lion in The Wizard of Oz, and there is something of the fantasy world about this 6,000 square-foot 4-bed on its 1.3-acre estate. The interior was wood-paneled and decorated with Colonial-inspired wallpaper and a giant 'homely' fireplace, and Williams landscaped the gardens with avocado, lemon, lime, grapefruit, almond, and fig trees. Later occupants include Betty Grable, Ozzie Osbourne, Paul McCartney, and Don Johnson with Melanie Griffith.
Morris Landau Residence
610 West Colorado Boulevard, Pasadena, CA 91105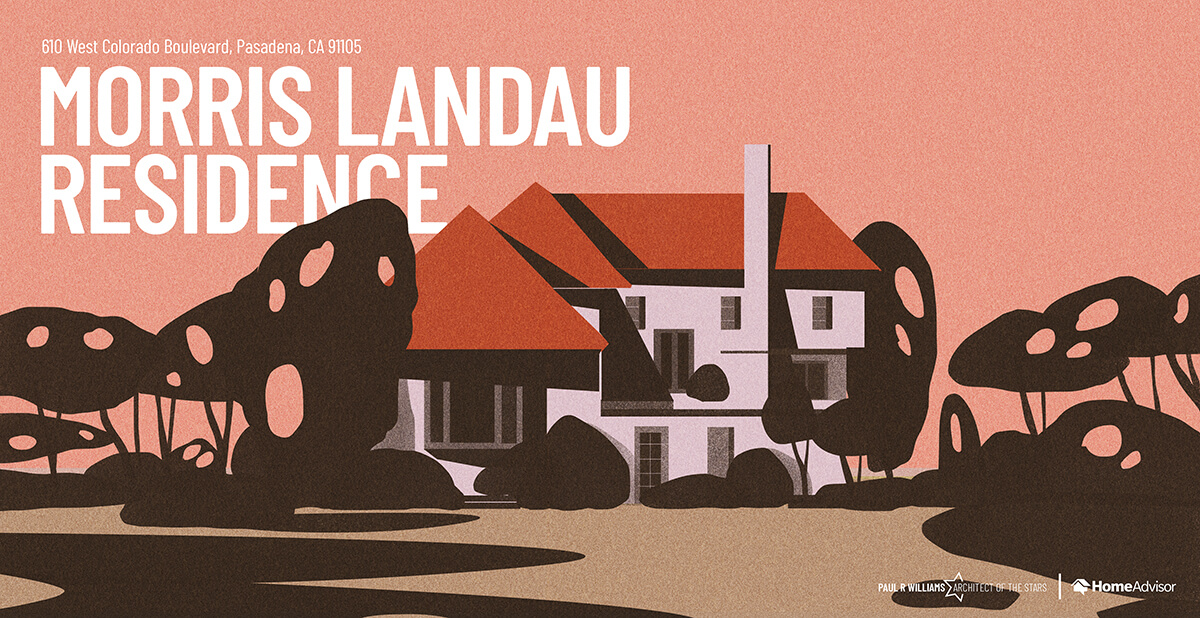 The mysterious tycoon Morris Landau arrived in LA in 1935 and commissioned this 14-room Georgian Revival-style mansion to be built in the Holmby Hills development. The entire building has since been divided into 24 sections, moved to Pasadena, and reconstructed.
Frederick Leistikow Residence
554 South Lorraine Boulevard, Los Angeles, CA 90020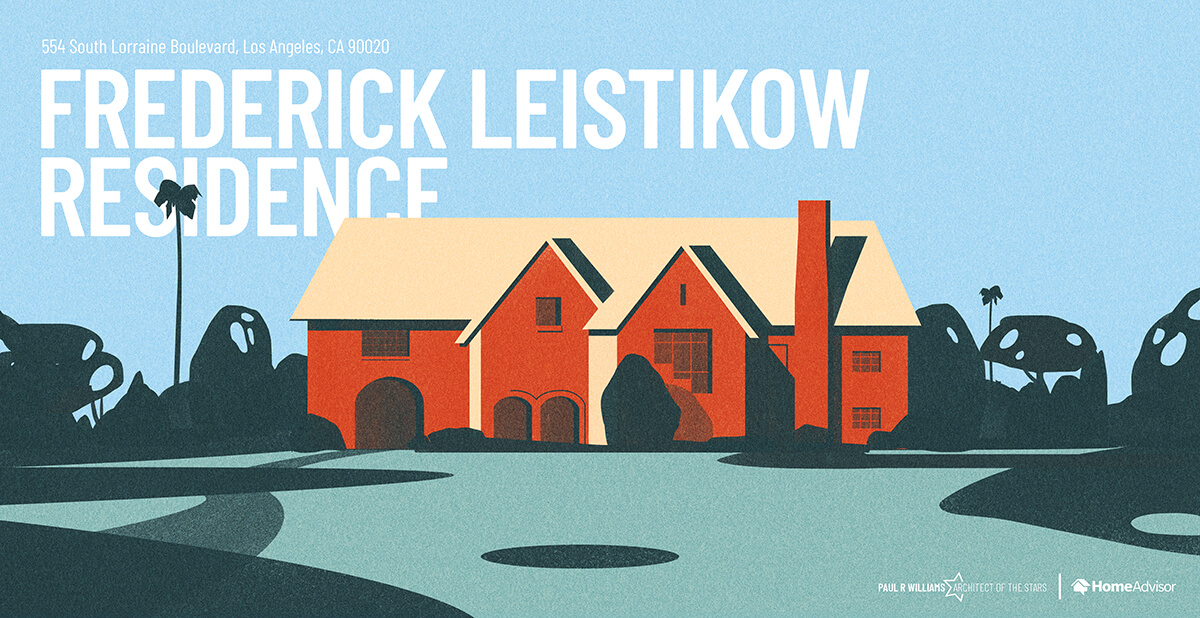 Economic powerhouse Frederick Leistikow commissioned Williams to build a home that would reflect his importance in California and provide a sanctuary for his large family. At this point (1924), Spanish revival was fashionable, but style-leaders were moving on: the Leistikow home would be a modern take on the Tudor style, complete with hollow brick technology and narrow leaded windows in panels on the front of the house.
Charles E. McGinley Residence
1821 Victoria Avenue, Los Angeles, CA 90019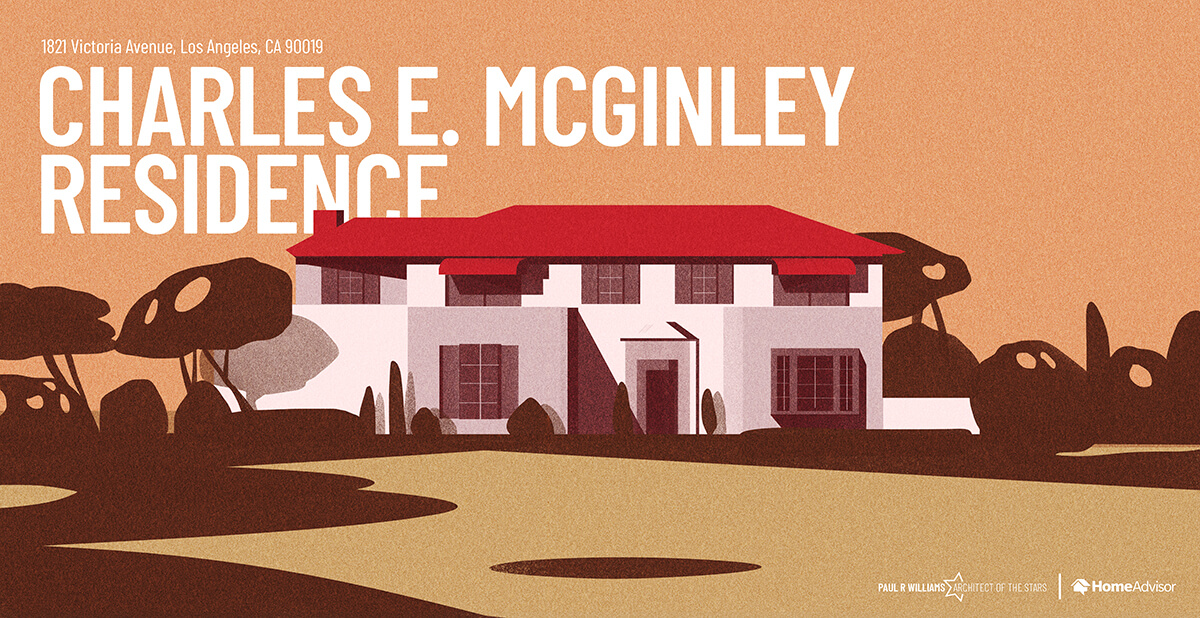 The McGinely residence was originally designed by Emmett G. Martin in the Prairie School style. Williams was hired to remodel and substantially expand the property in the Classical Regency Revival style, transforming it from a winter retreat to a full-time home for millionaire Charles E. McGinley and his sisters.
Rodney Alexander Pantages Estate
423 Nottingham Avenue, Los Angeles, CA 90027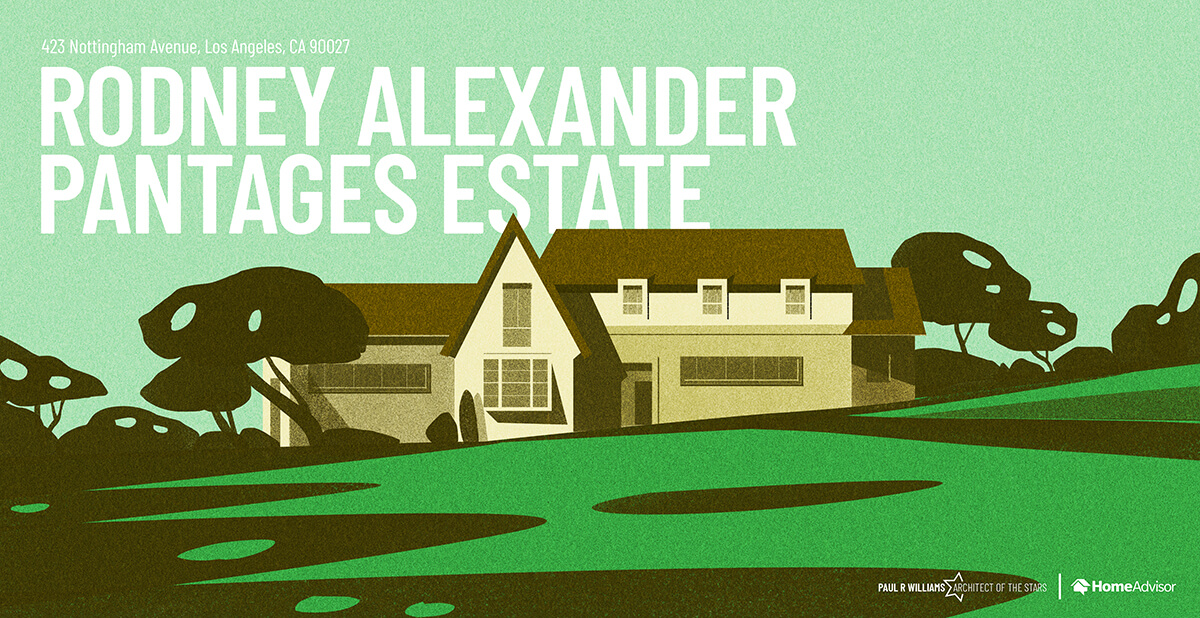 Alexander Pantages controlled America's largest vaudeville circuit and later converted his theaters into cinemas as vaudeville gave way to the movies. A disputed story posits that Pantages senior commissioned his son Rodney's 'palatial' Colonial Norman revival-style home as a wedding present. The paperwork shows otherwise. Either way, this 5000+ square-foot, 12-room mansion is a part of entertainment history as well as the history of America's architecture.
Peachy/Burr Residence
325 North Las Palmas Avenue, Los Angeles, CA 90004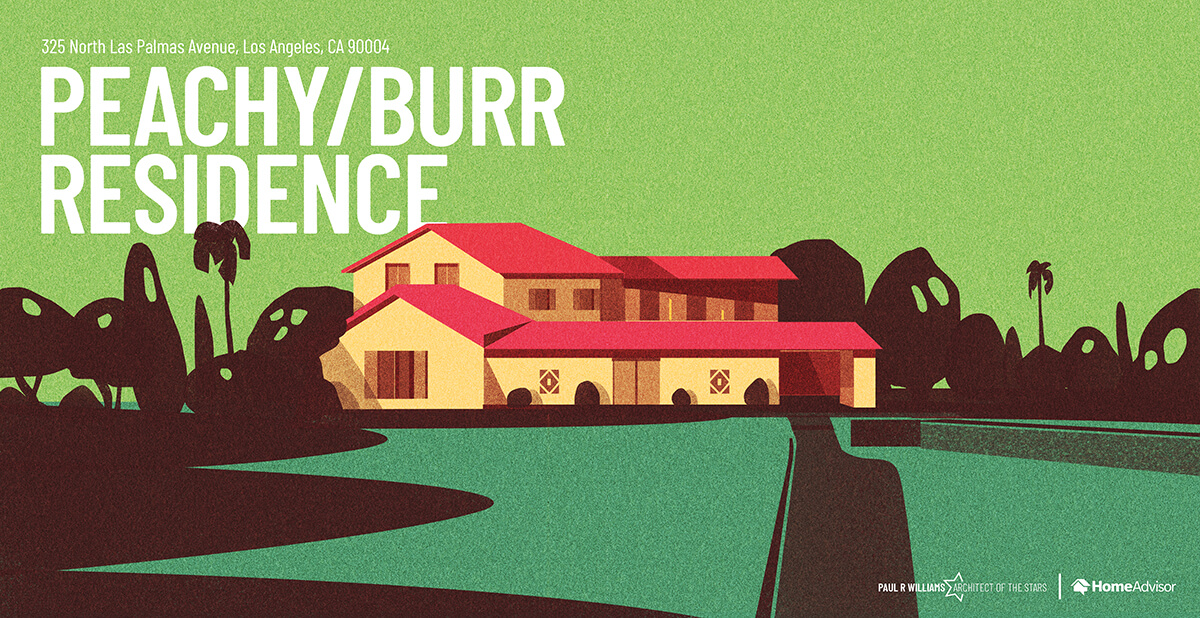 Designed in the Monterey Revival style in 1929, the depression meant the final elements weren't added until 1933. Signature Williams details include ornate ceiling designs and the use of distressed chestnut wood.
Frederick E. Pettit Residence
125 North Van Ness Avenue, Los Angeles, CA 90004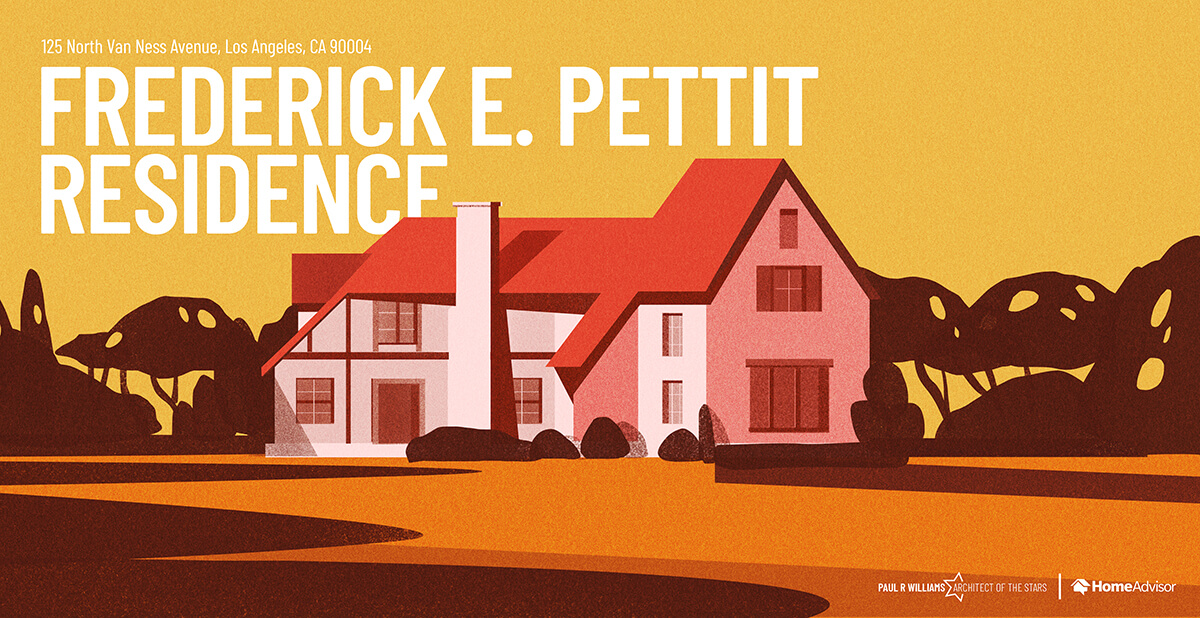 In 1923, Frederick Eugene and Hattie Pettit hired Williams to design an English Tudor-style home for their retirement. The interior was grand and respectable, with coffered ceilings, integrated display niches, and broad, arched doorways.
ZaSu Pitts Residence
241 North Rockingham Avenue, Los Angeles, CA 90049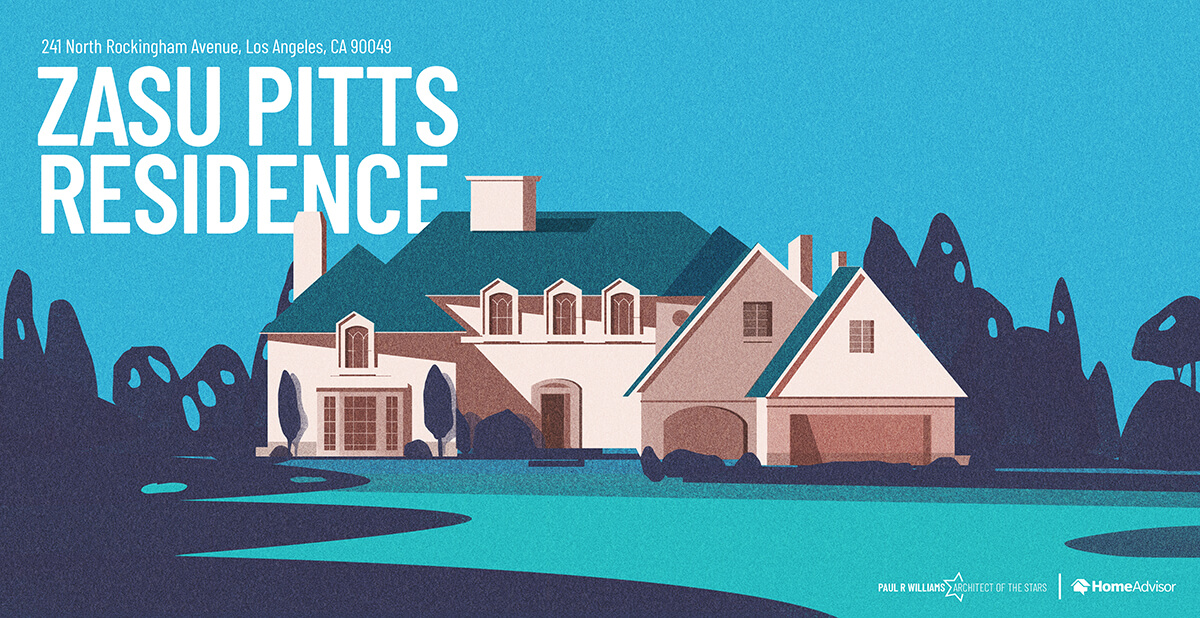 ZaSu Pitts may not be a household name, but she was a big star during the '20s and '30s and a familiar character actor through to the 1960s. At the peak of her fame, she hired Williams to build this Georgian-style residence with a circular kitchen: "It was not square or oblong or L-shaped," said Pitts, "it was ROUND — completely round. It was my dream come true."
Victor Rossetti Residence
2188 Ponet Drive, Los Angeles, CA 90068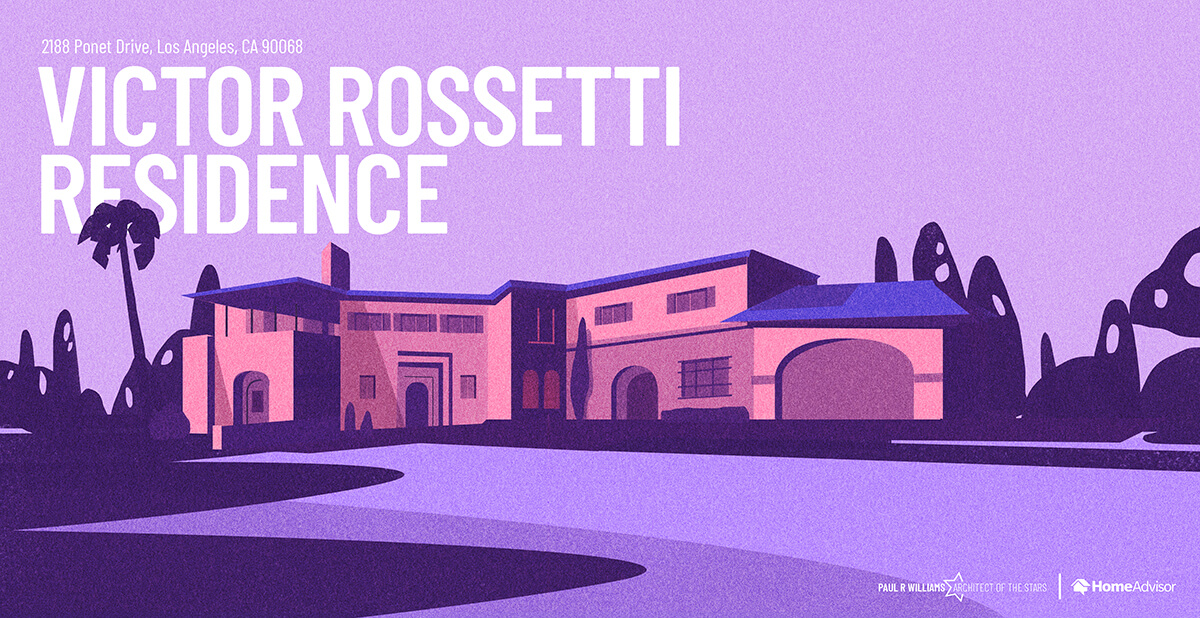 Victor Rossetti was a top banker who argued for "old-time thrift … self-denial, frugality and thrift on which the foundation of this country was built." Apparently, his home was an exception: a 14-room, L-shaped Spanish Colonial Revival house embellished with ornamental iron work, window grilles, stenciled ceilings, early intercom system and more.
Phyromn Taylor Residence
1704 Wellington Road, Los Angeles, CA 90019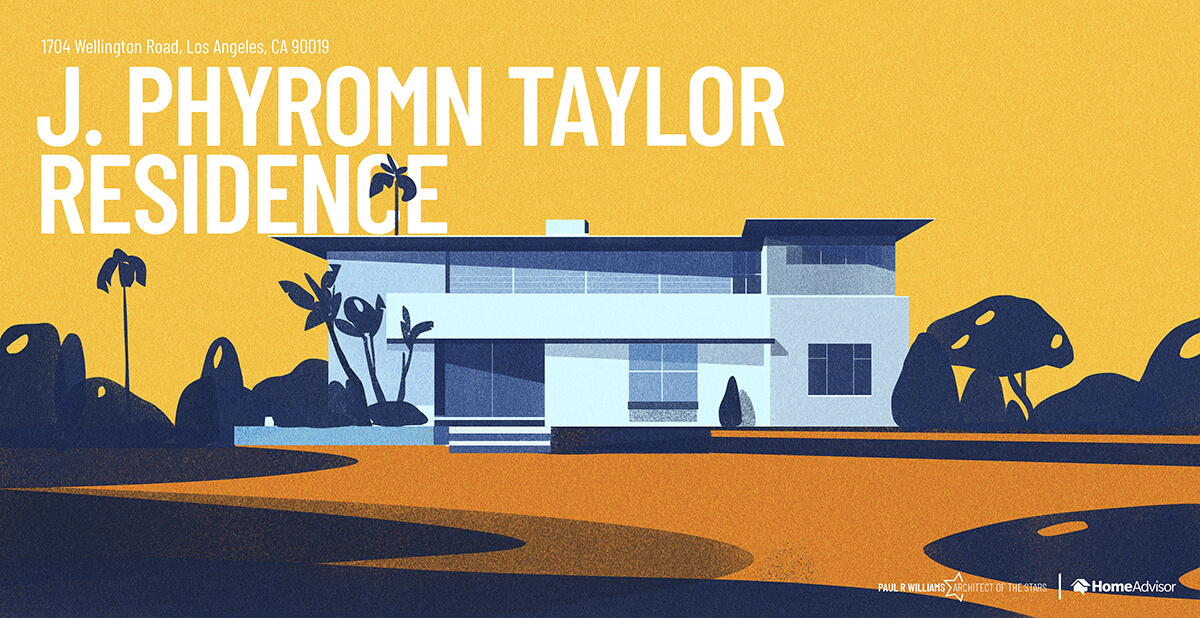 Dr. Jackson Phyromn Taylor was an African American GP and friend of Paul R. Williams, and Williams built Taylor's home close to his own in LaFayette Square. Taylor's home was in the Los Angeles Contemporary style: a mix of international and Frank Lloyd Wright elements featuring modern materials such as concrete, plastic laminates, and plate glass. The first floor was a premonition of today's desire for open-plan spaces, a "sweeping open expanse encompassing the formal entry way, dining room, living room, billiards room…with the only areas in the main floor having doors… the library, the kitchen and the back porch."
Dr. Marcus O. Tucker Residence
1958 20th Street, Santa Monica, CA 90404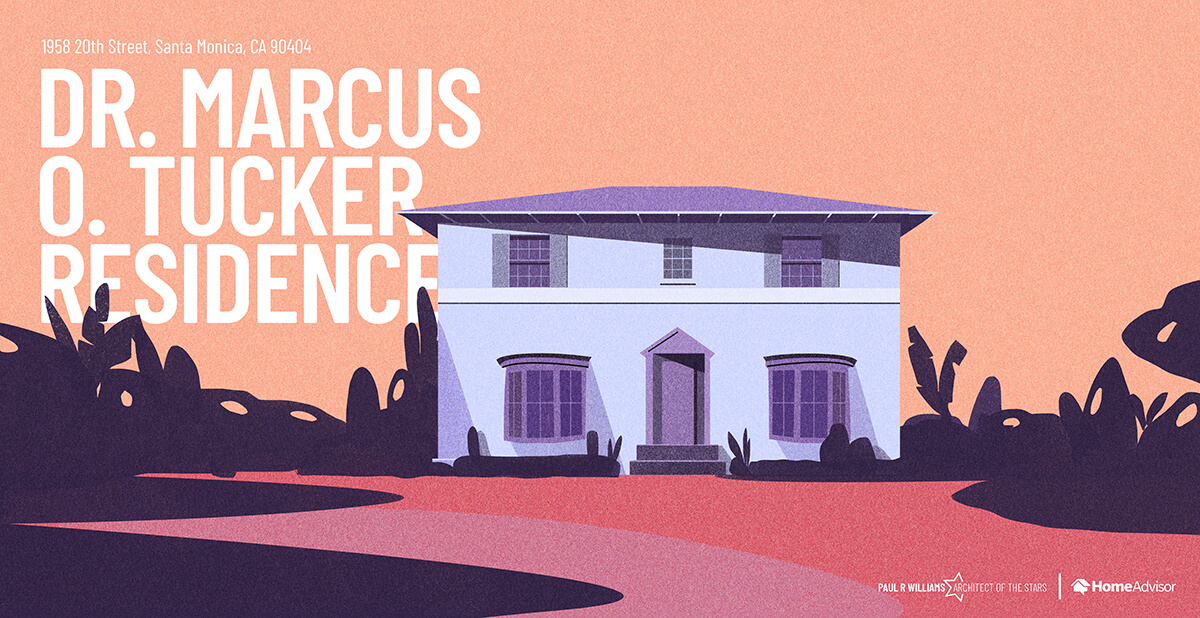 Williams built this two-story Colonial Revival family home for Santa Monica's first African-American physician, Dr. Marcus O. Tucker. It is notable for the unusual bow windows on each side of the recessed front door.
Mrs. William S. Warfield Residence
2209 La Mesa Drive, Santa Monica, CA 90402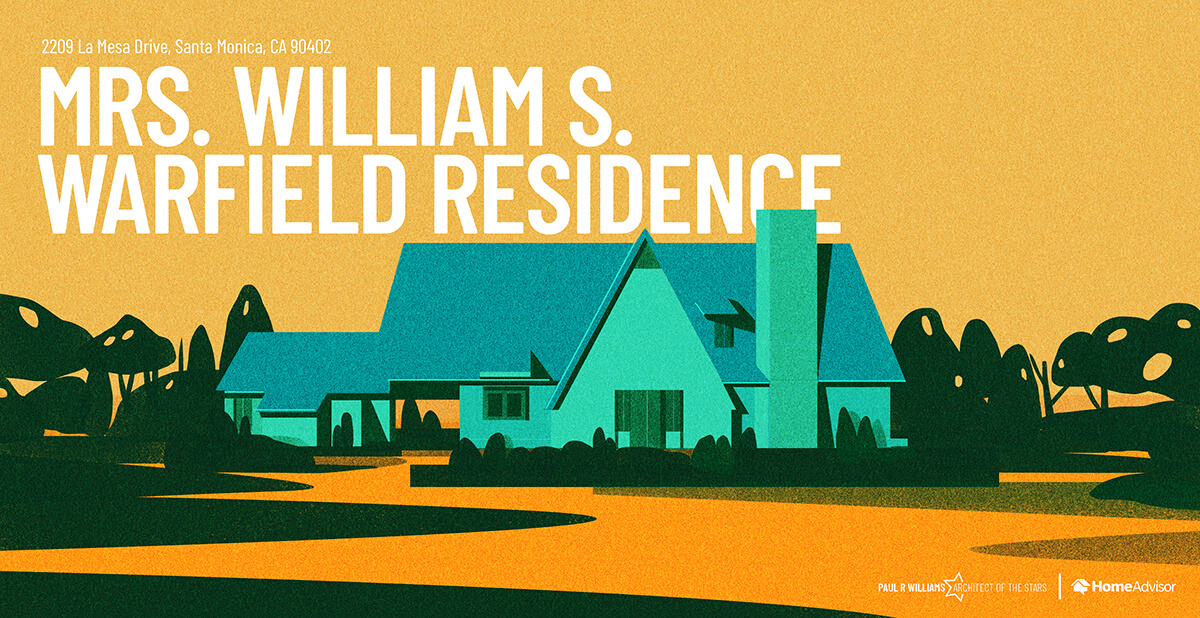 Ella May Warfield commissioned this Tudor-style house in 1939. It is unusual for its stone exterior – brick and stucco are more common alternatives for this kind of building.
Johnny Weissmuller Residence/Nicolosi Estate
414 St. Pierre Road, Los Angeles, CA 90077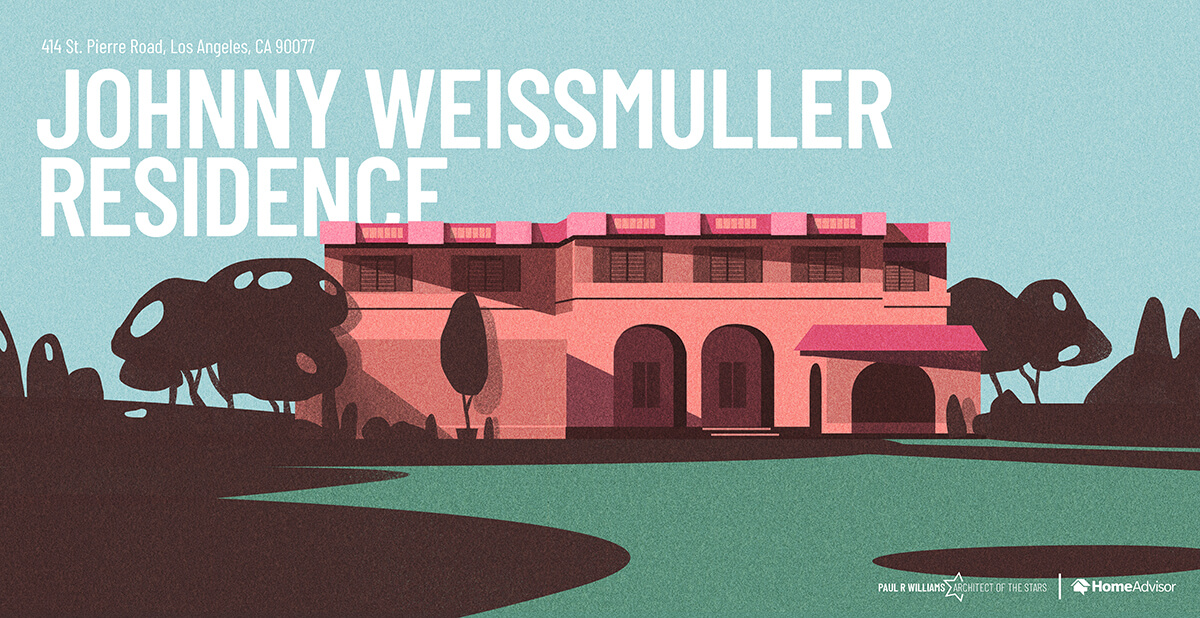 Johnny Weissmuller was an Olympic swimmer who achieved big-screen stardom playing Tarzan. Williams had a talent for reigning his client's wild ideas back to the realm of good taste, but here Weissmuller's desires would rule the day. Among other features, the estate (which would later be occupied by Mick Jagger) included: an 8,700ft2 pink, Italian-inspired palace; an electric waterfall feeding the 300ft swimming pool that snaked around the house; a ballroom; 20ft-high ceilings; and enormous carved stone mantels.
Robert Norman Williams Residence
205 East 6th Street, Ontario, CA 91764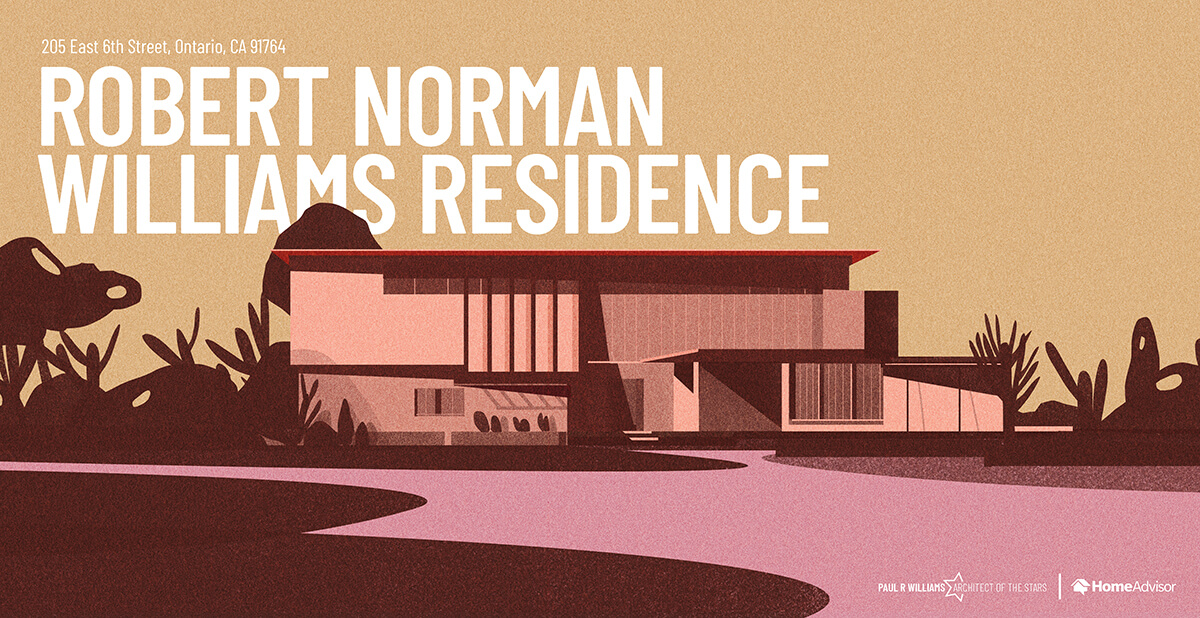 Dr. Robert Williams wanted the clean, ordered look of Mid-Century Modern for his 1948 home, inspired by Frank Lloyd Wright's Usopian home concept. The outside is relatively simple, but Williams made astonishing use of indoor landscaping, using planters and custom-built screens and cabinets rather than walls to create an open, flowing space.
Leon and Stella B. Errol House
4701 Sancola Avenue, Toluca Lake, CA 91602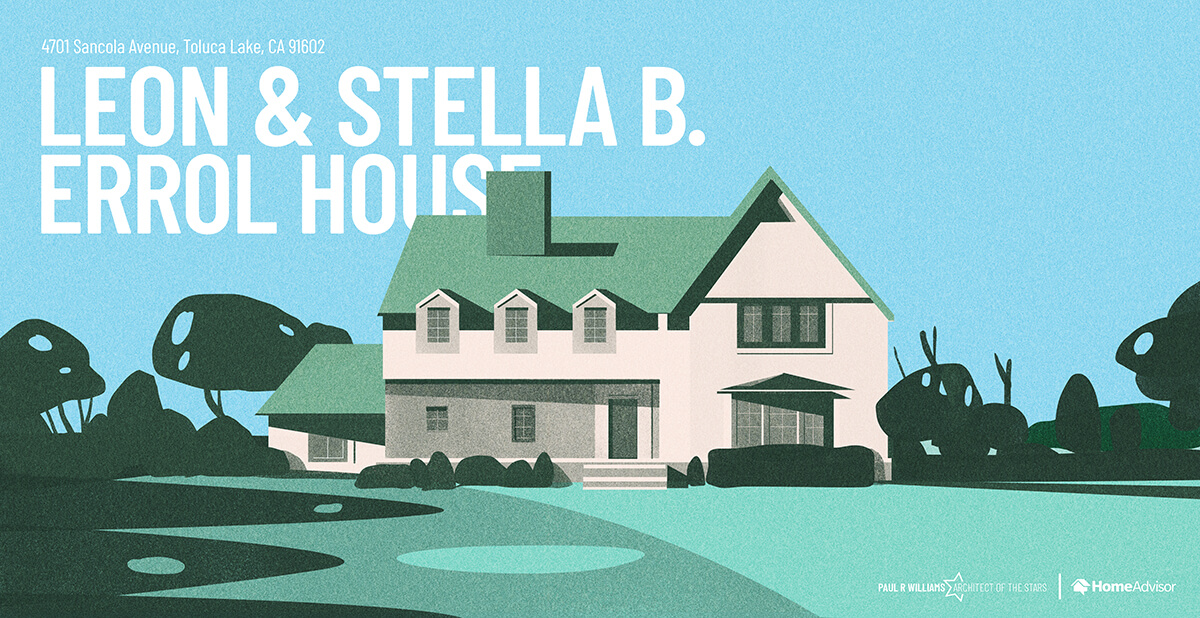 Leon Errol was an actor in vaudeville and in movies. Williams built his home in the Traditional style with 4 bedrooms, roaring fireplaces, and oak hardwood floors. The house was later owned by William Holden (who hosted the wedding reception of Ronald and Nancy Reagan here) and Denzel Washington.
Samuel Zagon House
5085 Casa Drive, Tarzana, CA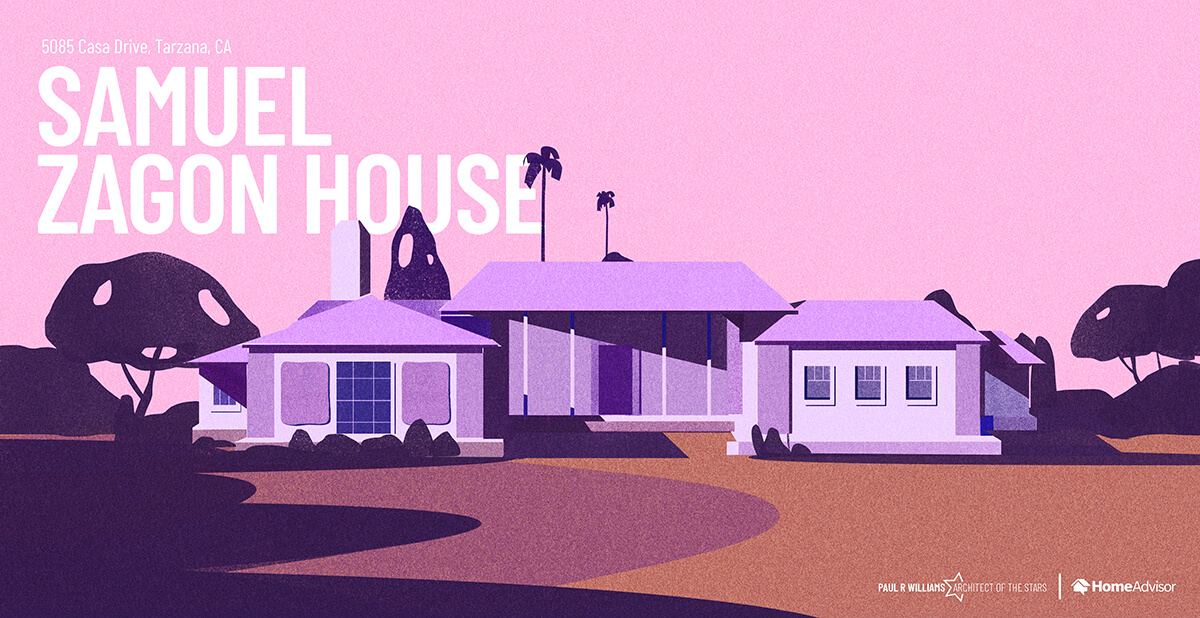 Williams built this home for celebrity lawyer Zagon, but its most famous occupant is Marlon Brando, who lived here at the height of his career. David Carradine, Barbara Hershey, and Frank Zappa have also lived here. There are 16 rooms including 6 beds and 5 baths spread across 5000ft2, and there is also a secret room hidden behind a bookcase. This was a common detail from Williams' prohibition-era work, and a handy retreat for Brando when the parties became too much!
The Nellie Payton Hunt House
7 Oakmont Dr. Los Angeles, CA 90049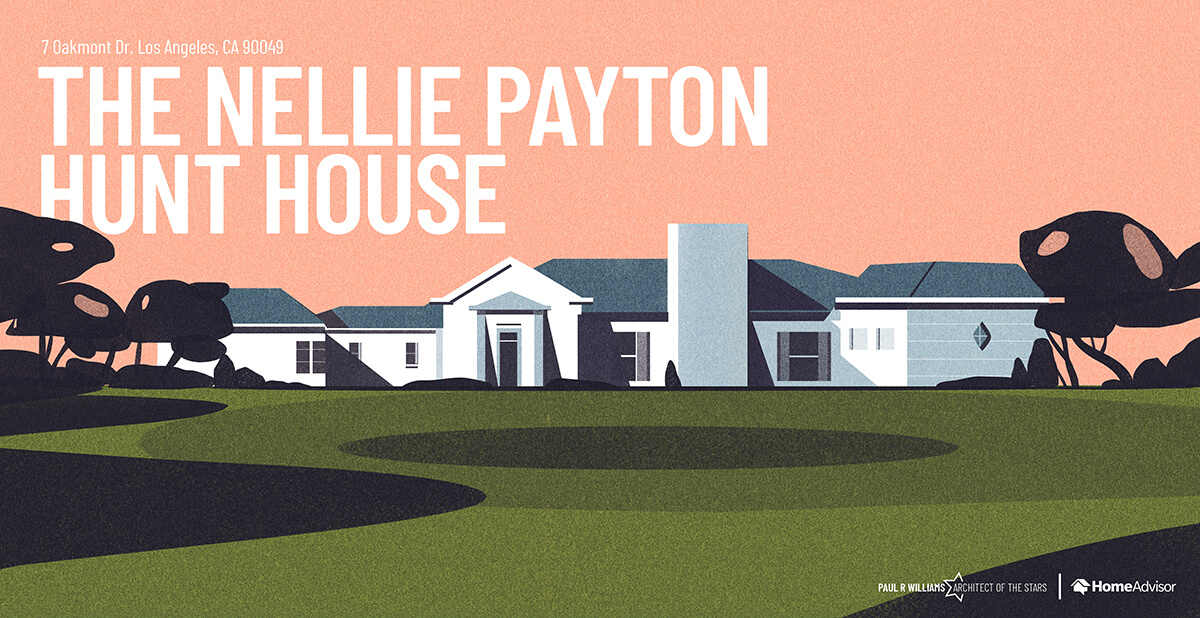 Nellie Payton Hunt moved into this ranch-style house in 1940, and it was later owned by Michelle Pfeiffer and Rene Russo, among others. 4 bedrooms are spread over a 3,867ft2 single-story home, with floor-to-ceiling windows looking out over the canyon and the ocean.
A celebrated architect against the odds
Paul R. Williams designed desirable homes for Hollywood superstars and for everyday people. He paved the way for African American architects to follow. But nine decades after Williams became  the first African American AIA member, the organization's black membership was still below 2%.
"Today I sketched the preliminary plans for a large country house which will be erected in one of the most beautiful residential districts in the world," wrote Williams in 1937. "Sometimes I have dreamed of living there. I could afford such a home. But this evening… I returned to my own small, inexpensive home…in a comparatively undesirable section of Los Angeles. Dreams cannot alter facts; I know…I must always live in that locality, or in another like it, because… I am a Negro."
No Comments Yet