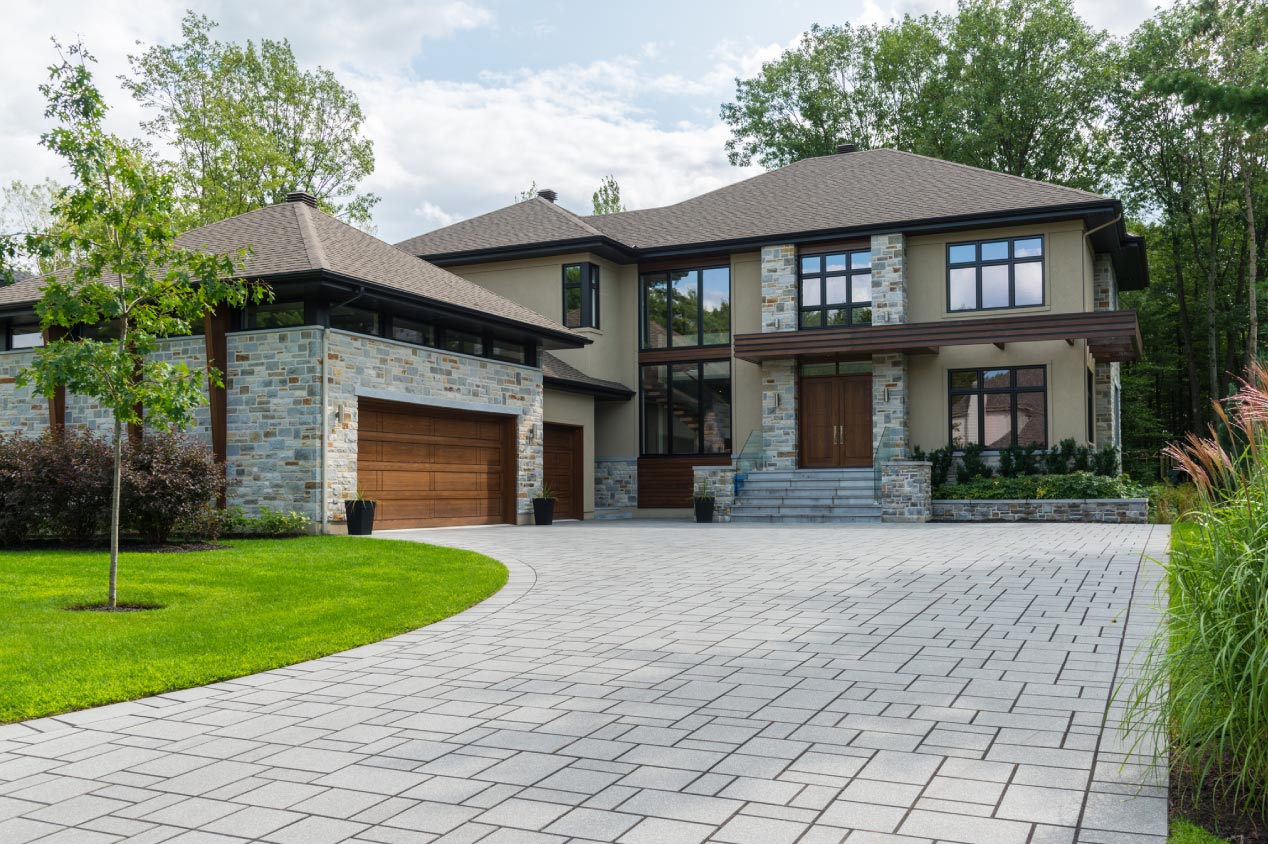 Left image: Photo: slobo / E+ / Getty Images
Right image: Photo: jnnault / E+ / Getty Images
You may be evaluating materials for your new patio or want to renovate your driveway for maximum curb appeal. If that's the case, pavers and concrete are both dependable options. Concrete is more cost-effective, while pavers get extra style points with more design potential. Here's a breakdown of cost, appearance, installation, durability, and other comparisons that could help you decide whether pavers versus concrete will be the best choice for your project.
On This Page:
What Are Pavers?
Pavers are similarly shaped flat materials arranged together to create a hard surface. The most common exterior pavers are durable, solid stone, concrete, and brick. Flagstone and travertine are the best paver types for a pool deck.
What Is Concrete?
Concrete is a durable surface material commonly chosen for various home-building and renovation projects, from foundations and support beams to driveways and sidewalks. Cement, water, sand, and gravel make up concrete. It can be poured as slabs or blocks and take on different shapes and finishes.
Appearance
The finished appearance of pavers and concrete can look similar or different. The key differences are found in the design choices of the material, from texture to color to shape. While concrete can be formed, brushed, or stained, it doesn't offer the sheer variety of paver designs.
| Pavers | Concrete |
| --- | --- |
| More design variations | Limited range of design options |
| Available in different colors and earth tones | Light grayish hue |
| Geometric shapes | Typically square or rectangular slabs |
Pavers
Statement paver features stand out with herringbone, bone, and basket weave patterns. Pavers offer a high-end look that adds an extra design finish to the project. Brick, concrete, and stone pavers also offer their unique look and appearance.
Concrete
Concrete has a rather simple finish and can take on several different types of surfaces. The most common is smooth with a light broom finish. Stamping, stenciling, and polishing can all add more texture and help the concrete take on the appearance of pavers and patterns. You can also stain concrete over a few days with acid- or water-based stains.
Ready to Start Your Driveway Installation?
Cost
Pavers versus concrete costs are fairly straightforward when it comes to materials. Concrete materials and installation labor costs are less expensive than paver installation. When it comes to finding the best design for your project, you'll also want to consider how budget factors in and how much materials and labor cost, as well as the cost to excavate and grade the area you're installing your materials.
| Pavers | Concrete |
| --- | --- |
| $10 – $50 per sq. ft. | $4 – $15 per sq. ft. |
| $6,100 – $30,400 for a driveway | $1,800 – $6,000 for a driveway |
Pavers
If you're estimating the price for a driveway surface, interlocking pavers cost around $1,000 and $9,000, depending on the size and type of pavers. A standard paver driveway cost ranges from $6,100 to $30,400, or $10 to $50 per square foot, with the square footage and paver materials being the main cost drivers. Demolition and clearing out old materials, as well as any add-ons, could also increase the cost of your project.
Concrete
A concrete driveway costs between $1,800 and $6,000, with an average price of $3,000. This is roughly $4 to $15 per square foot, installed. Concrete is the more budget-friendly of the two surface options.
Upkeep
Both pavers and concrete are popular choices for home projects because of their reputation as durable, hard-surface materials. Weather conditions may affect the cleaning and occasional repairs required by the paver or concrete. For example, four-season locations with snow and below-freezing temperatures may necessitate extra updates, fixes, and cleaning to counteract the salt, sand, and other surface materials. A pressure and power washing pro near you can help with these upkeep tasks.
| Pavers | Concrete |
| --- | --- |
| Pressure washing is very effective | Pressure washing is very effective |
| Use a blower to clean yard debris | Seal every 1 – 2 years |
Pavers
Pressure washing is one of the most effective ways to clean off your paver surface thoroughly. You can mix a mild degreasing soap or cleaner with water to scrub the surface, rinsing again when finished. If you have a lot of crevices from an interlocking paver design, use a blower to power off yard debris.
Concrete
Pressure washing is also the quickest and easiest method for clearing concrete. The other methods of applying a gentle cleaner and scrubbing any stained areas with a bristle brush help remove stains or problem areas. Sealing the concrete surface every year or two can also extend its quality, appearance, and life span.
Durability
Pavers and concrete both do an exceptional job standing up to the elements and constant traffic. The quality of the materials and maintenance schedule can improve the surface's durability. If cracks, chipping, or staining start to appear in your driveway or other exterior, care and a driveway service repair pro can help.
| Pavers | Concrete |
| --- | --- |
| Generally stronger than concrete | Sturdy but prone to cracking |
| Can withstand 4 times the weight of concrete slabs | Weather, traffic, and ground movement can affect it |
Pavers
Pavers can withstand four times the weight of a concrete slab, likely due to its more consolidated surface areas locked together in a pattern. If you need to replace one or a few pavers because of damage, you can easily switch out the damaged ones with new pieces.
Concrete
While concrete is a sturdy building material, it's prone to cracking and can't handle the same amount of pounds per square inch as paver pieces. That means weather or traffic on top of the concrete and any ground movement or erosion below can jeopardize the integrity of the slab.
Start Your Concrete Driveway Installation Today
Installation
While installing pavers and concrete can technically be DIY-able for some projects, it's worth considering the skill and tools needed to prepare the surface and lay the materials. Any ground grading or removal of previous construction materials must also be evaluated as part of the installation decision. The installation will impact the durability of the pavers or concrete, its life span, and your home's resale value.
| Pavers | Concrete |
| --- | --- |
| Laid individually and typically in a pattern | Fairly straightforward installation for prefab concrete slabs |
| Installation takes longer than concrete | Easier to install than pavers |
Pavers
Photo: nicolamargaret / E+ / Getty Images
Pavers are laid individually and typically in a pattern—like a herringbone or basket weave—and then secured with either interlocking edges or mortar. Because of the one-by-one approach needed for pavers, the installation takes more time than concrete. Consulting with a paver installer near you can help you figure out the ins and outs of your project.
Concrete
Concrete entails an easier installation process, with wet concrete poured into a form. Prefabricated concrete slabs are also a fairly straightforward installation process. If you have a sharply graded surface or want extra finishes, your project may require additional installation steps and considerations. To figure out the timeline and details, consult a concrete contractor.
Life Span
When it comes to home projects, there are very few product categories that can stand the test of time, like stone and durable surfaces. This includes the appealing longevity of both concrete and pavers. While the climate and daily use impact the life span of the surfaces, they have their appeal when it comes to getting your money's worth.
| Pavers | Concrete |
| --- | --- |
| Lasts 50 – 100 years | Lasts 25 – 30 years |
| Longer life span than concrete | Seal concrete to preserve its health and patch any cracked areas |
Pavers
Pavers have the longest life span, averaging 50 to 100 years before you need to consider a replacement. Sealing the pavers can also help fortify the materials. And, if you need to replace a paver or two here and there to address damage, it doesn't require a full replacement.
Concrete
Concrete can certainly hold its own, with an average life span of 25 to 30 years. If you live in a colder climate or have seasonal conditions, the concrete may crack with cold and ice. You can preserve the health of your concrete and add to its longevity by sealing it periodically and patching any cracked areas.
Are Pavers or Concrete Better for Your Home?
Because of their unique ability to hold their value, the product's long-term durability and life span, and design potential, pavers are generally a better choice for your exterior surface projects.
| Factors | Pavers | Concrete |
| --- | --- | --- |
| Appearance | More variations and pattern | Some design possibilities |
| Cost | $10 – $50 per sq. ft. | $4 – $15 per sq. ft. |
| Upkeep | Minimal maintenance with spot replacements as needed | Needs periodic resealing and patching |
| Durability | Can hold more weight | Subject to cracking |
| Installation | Laborious process | Easier to lay |
| Life Span | 50 – 100 years | 25 – 30 years |
Patios
Pavers are an ideal option for a patio project because they're both decorative and durable. You can even mix and match them to suit the space and its use.
Driveways
Because of the larger space of a driveway project, pavers cost quite a bit more. If you're on a budget, concrete is a solid option for a driveway project. But pavers are also more resilient with heavier weights and can withstand more pressure and wear and tear, so they won't require as many fixes or full replacements over time. In addition, pavers have a more positive impact on curb appeal for home resale value.
Pavers and Concrete vs. Asphalt
When considering concrete versus pavers, you may want to consider asphalt. Asphalt is a close product to concrete with some key differences, including longevity and aesthetic appeal. Asphalt typically lasts 20 to 25 years, and it's more challenging to customize. When mapping out your exterior project, weigh the pros and cons of asphalt versus concrete driveways.
Start Your Concrete Driveway Installation Today
No Comments Yet