Pavers vs. Concrete for Patios, Driveways and Pool Decks
Compare Quotes For Your Patio Project
Concrete Slabs
A standard slab is a layer of about three to four inches of concrete poured to cover your driveway, patio, or pool deck. It's a cost-effective, durable surface that is easy to install and protects the area, needing little maintenance.
Stamped Concrete
Stamped concrete is similar to a standard slab, but finished with texture to resemble flagstone, brick, and even wood. This decorative effect requires a higher budget but adds more style and curb appeal to your patio or driveway than an unfinished slab.
While often used interchangeably, concrete and cement are different materials. Cement is a major ingredient in concrete, not the finished mixture.
Stone or Brick Pavers
Pavers are individual tiles that fit together to make a solid surface. They're especially popular for their durability and custom look. While stone and brick are the most common alternatives, you can find several varieties to match your budget and style.
Other Paving Stones
Clay pavers
Travertine
Flagstone
Cobblestone
Bluestone
Porcelain
Marble
Interlocking Pavers
Interlocking pavers fit perfectly into each other, resulting in a relatively smooth surface. They create a less natural, more planned look, but are easier to install and do not require mortar.
Concrete Pavers
This type of paver uses molded concrete mixed with aggregate. Installation includes a sealant to keep moisture from entering the porous material and maintaining the color.
Compare Costs of Paver Patios For Your Home Project
Poured or Stamped Concrete vs. Pavers
| | | |
| --- | --- | --- |
| | Concrete | Pavers |
| Cost per Square Foot | $6-$10 | $10-$20 |
| Appearance | Simple & standard | Customizable |
| Durability | Cracks over time | Supports weight |
| Maintenance | Easy | More complex |
| Repairs | Complex | Simple |
| Length of Life | 25+ years | 50+ years |
| Freezing Climate | Good when sealed | Only certain materials |
| Slip Resistance | Good with coating | Typically good |
| ROI | Low | High |
Pavers vs. Concrete Cost Per Square Foot
The cost to install a concrete patio or driveway ranges between $6 and $10 per square foot. Meanwhile, the price for paver installation ranges between $10 and $20 per square foot. These ranges are typically identical for driveways and pool decks.
Which is Cheaper to Lay: Poured Concrete or Pavers?
Installation costs are typically lower for poured concrete. Pavers require more time in laying each stone and filling the gaps, and thus typically range higher despite a similar price per hour.
DIY Cost of Pavers vs. Concrete
Complex projects should be left to professionals regardless of the material. That said, tiles are easier to DIY than concrete because they don't require specialized equipment or experience in curing the mixture.
Appearance
Poured concrete is simple and tends to be a single, grey color. Stamping gives you some texture and customization options. Pavers are attractive because they come in various shapes and colors. You can easily create custom designs and patterns.
Durability of Concrete versus Pavers
Pavers are up to four times stronger than poured concrete, meaning they can support four times as much weight. Slabs tend to crack over time, while pavers can come loose individually.
Compare the Cost to Install Pavers vs. Concrete

Maintenance & Repairs
A slab is easy to clean, but repairing your patio costs more when it splits or cracks. Resurfacing your patio or driveway is necessary every 5-7 years. Individual tiles are more difficult to clean because the surface isn't smooth. Repairs for bricks and other options tend to be easier because they can happen one stone at a time.
Length of Life
Poured concrete lasts up to 25 years and longer. Pavers last up to and beyond 50 years, thanks to their stronger material and simpler repair process. The exact time depends on the materials used, climate, and proper installation.
Freezing Climate
Slabs can hold up well to cold climates when sealed properly. Various pavers perform differently in freezing temperatures. Slate, travertine, and porcelain tend to be good and durable choices.
Slip Resistance
Poured concrete is not typically slip-resistant but can be with the right coating. Pavers typically have more texture and are more slip-resistant as a result.
ROI or Resale
Driveways paved with stone or brick have higher resale value than slabs because of their longer lifespan and visual appeal.
Going with a Concrete Patio?
Paver Patio vs. Concrete Patio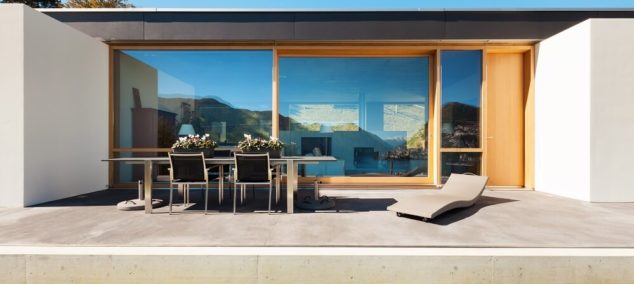 Installing a concrete patio costs between $800 and $1,000 for a 120-square-foot space. Meanwhile, the price for a paver patio ranges between $1,300 and $1,800 for the same size. That higher cost comes with more features, such as slip resistance, a longer lifespan, and a more polished look.
How much does a flagstone patio cost vs. stamped concrete?
The cost of a flagstone patio is between $15 and $30 per square foot or $700 to $5,000 in total. That's more expensive than the $800 to $1,200 price for a stamped concrete patio.
Can you add concrete and brick or stone patios together?
It is possible to add concrete and brick or stone pavers on the patio. Some homeowners save money by adding the tiles as an accent to the main slab. Others use thin stones over a concrete foundation to increase durability while paying less for materials.
What's better for walkways or sidewalks?
If you have the budget, pavers are better for walkways and sidewalks because they hold up well to foot traffic. Concrete, especially over time, will crack and need comprehensive repairs.
Most builders suggest concrete for handicap accessibility and anyone with mobility issues. The smooth area prevents water from pooling, which can become hazardous for more textured surfaces like pavers.
Plan to Install a Paver Patio or Driveway?
Brick Driveway Pavers vs. Concrete

A new concrete driveway costs between $1,800 and $6,000. Expect to pay $4,000 to $10,000 for the price of a brick-paved driveway. Stone pavers can take that range up to $20,000 for a typical driveway of 400 to 700 square feet.
Stones can hold four times more weight than concrete. That adds to their curb appeal in making this the preferred option if you can afford it.
Which is cheaper for driveways: concrete, pavers or asphalt?
Paving an asphalt driveway costs the least, at $1,200 to $2,800 for the standard 400 to 700 square feet. The durability of asphalt vs. concrete is another consideration: asphalt has a lifespan of only 20 years but holds up well to cold and freezing temperatures.
Pool Deck Pavers vs. Stamped Concrete

The price of a pool deck is $12 to $20 per square foot for stamped concrete, and $3 to $40 for tiles depending on the stone you use. Stamped materials hold up well next to the water and are more customizable in pattern and size. But the choice is entirely up to your style and budget.
Hiring the Right Pro
Whether you choose concrete or pavers, working with an expert tends to give you the best results. They'll know how to install and cure it, extending its lifespan to maximize your benefits.
Hire a stone or brick mason for tiles, or a concrete contractor to pour the slap. Start the process by finding reliable patio contractors near you.
Going with a Concrete Patio?
---
No Comments Yet
You can be the first to comment!