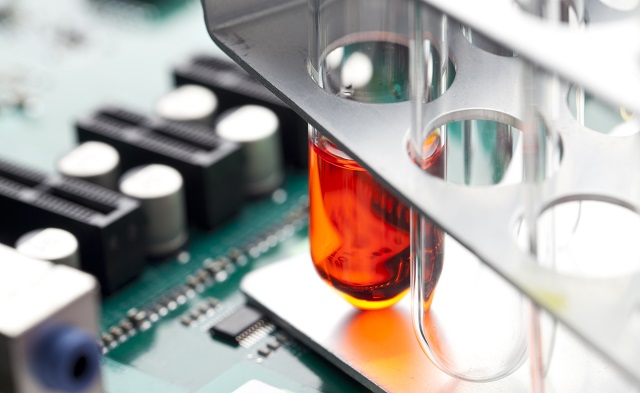 What are PCBs?
PCBs (polychlorinated biphenyls) are 209 human-made, organic chemicals. Each chemical variation contains carbon, hydrogen, and chlorine. The number and location of the chlorine atoms in the PCB molecule determine the specific PCB compound, known as a congener.
Flame resistance, chemical stability, a high boiling point, and electrical insulation made them versatile and widely used. Manufacturers and contractors used them for industrial and commercial applications such as:
Electrical equipment — transformers, capacitors, voltage regulators, switches, re-closers, bushings, and electromagnets
Heat transfer equipment and thermal insulation — fiberglass, felt, foam, and cork
Hydraulic equipment and oils
Plasticizers in paints, plastics, caulking, and rubber products
Pigments and dyes
Carbonless copy paper
Adhesives and tapes
Floor finish
However, the benefits of PCBs do not outweigh the risks. In 1976, the Toxic Substances Control Act banned the use of PCBs in the United States due to health concerns. Then, in the year 2000, the international treaty on Persistent Organic Pollutants identified PCBs as one of 12 "dirty dozen" chemicals to be phased out worldwide.
What are the health risks of PCBs?
The health risks of PCBs range from cancer and congenital disabilities to hormonal imbalance and impaired immunity. How PCB exposure affects you will depend on factors such as age and level of exposure. Keep in mind that PCBs accumulate in the body over time.
Cancer
According to the International Agency for Research on Cancer and the Environmental Protection Agency (EPA), PCBs are classified as a probable human carcinogen. In other words, the chemicals are reasonably likely to cause cancer in humans. Studies have shown increased rates of several different types of cancer in humans exposed to PCBs, including:
Melanomas
Liver
Gallbladder
Biliary tract
Gastrointestinal (GI) tract
Brain
Breast
Acute Toxicity
When directly exposed to high levels of PCBs through the skin, by consumption, or in the air, you may experience severe, toxic effects, including:
Irritation of the nose and lungs
Skin irritation, such as rashes and chloracne
Eye problems
Birth Defects
PCBs may impact fetal development from birth to at least seven years of age if their mothers are exposed to them before or during pregnancy. The compounds can also be passed from a mother to her child in breast milk. Complications may include:
Low birth weight
Small head size
Lower IQ
Poor short-term memory
Motor control problems
Behavioral challenges
Hormonal Imbalances and Immune Function
And that's not all. PCBs can also disrupt hormone function by mimicking the body's natural hormones, including estrogen and testosterone. This can lead to:
reduced sperm counts
altered sex organs
premature puberty
changed sex ratios in children.
They may also upset the balance of thyroid hormones, which can affect growth and development. Finally, the chemicals may bind to receptors that control immune system function. In children, this can mean more instances of ear infections, chickenpox, and higher disease susceptibility in general.
What are signs that my home has PCBs?
The most common way you can be exposed to PCBs is by eating contaminated fish. For example, certain species from the Hudson River contain levels of the chemicals a thousand times higher than the EPA recommends. This is because General Electric (GE) dumped PCBs into the river for more than 30 years before they were banned. You can also consume PCBs through contaminated drinking water, so the government keeps a close eye on those levels.
Researchers recently found that environmental sources of PCB in the home may also contribute to exposure levels for certain people. That's because manufacturers used PCBs in building materials — caulk, paint, and floor finishes — and electrical equipment, some of which is still in use in homes today.
If your house was built before PCBs were banned in 1977, it might contain contaminated materials or substances that can create harmful dust.
How do I test my home for PCBs?
Consider hiring an inspection specialist to take the samples and analyze any hazardous materials. They are more likely to take sufficient samples and get accurate results. Leaving this to a local hazmat pro also minimizes your risk of exposure and side effects. The cost to test for toxic materials is about $670 on average. Removing toxic materials averages about $2,300.
If you do decide you'd like to test your home for PCBs yourself, you can follow the EPA's sampling plan. Designed for school buildings constructed before 1978, the plan outlines how to collect the samples yourself and send them to a laboratory for analysis. Look for a laboratory that uses standard EPA methodologies.
Before you start, pay attention to the EPA's instructions. Get a notebook ready. At each stage of testing, you'll need to log the:
Site and location
Description of sample locations
Date
Exact times
Types and number of samples collected
Sample ID numbers
Sampling method description
Field notes
Names of people doing the sampling
Your first step will be to test the air in your home to determine whether PCBs are present. The process is detailed, so be sure to closely follow the instructions here. If you receive the results and they are above 0.1 μg/m3, you'll need to begin testing the building materials to determine the PCBs' origins. You'll test three different types of materials:
Bulk solid samples – Remove a portion of the potentially contaminated material, such as caulk, soil, and sand, for testing. Be sure to include only the material you want to be tested in the right Sample materials from different areas of the home separately.
Porous surface samples – The EPA does not recommend wipe sampling of surfaces since PCBs can migrate onto porous surfaces. Instead, use a chisel, drill, or saw to collect core samples from the top 0.5 cm to 2 cm of the surface. Take care to minimize dust, and wear protective gear to prevent inhalation.
Non-porous surface samples – Saturate a gauze pad or glass wool with hexane to collect a wipe sample from a 100-square cm surface area.
Like with the air test, you will send your samples to a laboratory for analysis. When you receive the results, you can determine how you will address the presence of PCBs where you live.
How do I remove PCBs from my home?
PCB removal and abatement is a task best left to professionals with the right expertise and equipment to do the job safely, and by laws and regulations. Pros will also leave the space in good condition for inhabitants and properly dispose of waste materials.
Look for a professional who is qualified, experienced, and has positive online reviews. Your professional should:
Prepare an abatement strategy that addresses your specific needs and, if required, notifies the proper authorities.
Conduct removal and abatement using the proper tools, equipment, and methods.
Dispose of waste in an approved disposal facility.
Prepare and submit documentation and reports.
When it comes to hazardous materials in your home, it's essential to choose a professional who is competent. The Environmental Protection Agency (EPA) employs a Regional PCB Coordinator at each of their ten regional offices to oversee issues with PCBs around the country. You can contact your local office if you need help finding an accredited laboratory, an abatement professional, or disposal facility.
No Comments Yet