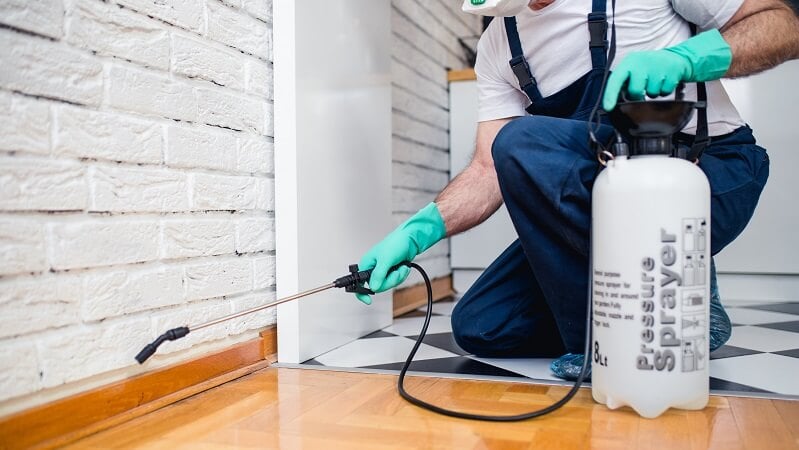 Finding a reputable pest control company is important to maintaining a safe, healthy home. Protect your family and your investment by taking the right steps throughout the selection process.
On This Page:
What Do Exterminators vs. Pest Control Companies Do?
What Do Exterminators vs. Pest Control Companies Do?
Exterminator and pest control company are interchangeable these days. These services treat existing pest or rodent infestations and help prevent future invasions. Reputable pros practice integrated pest management (IPM).
Modern control practices have many benefits over older extermination measures. For example, IPM does not always need chemicals to eliminate an insect or rodent problem.
What Does Pest Control Do vs. Extermination

| Integrated Pest Management Protocol | Exterminator Practices |
| --- | --- |
| Perform regular inspections to catch problems early | Come when customer notices a problem |
| Take preventive action (like structural maintenance) | No preventive action |
| Identify pests to understand biology & behavior | Identify pests & infestation area |
| Determine cause & consider environmental factors that may impact treatment | Determine extermination method & chemical required |
| Treat with chemical application, habitat removal, trapping, or a combination of chemical & non-chemical methods | Apply chemicals to eliminate pests, but do not take other preventive or treatment measures |
| Monitor & document treatment results | Come back when problem returns |
How Does Pest Control Work?
Unlike one-time extermination, pest control is a long-term process that relies on regular inspections, preventive measures, chemical and non-chemical treatments. Integrated services may save homeowners time and money by preventing expensive structural damage or infestation caused by pests like termites and bed bugs.
IPM practices attempt to control and/or eliminate insects and rodents through these five steps:
Inspection – A pro will check areas in and around your home where insects or rodents are common.
Prevention – After an inspection, pros will recommend measures like reducing food or water sources or performing structural maintenance.
Identification – Accurate identification helps a pro select the most effective treatment with the least impact to people, pets and the environment.
Treatment – This may be chemical, non-chemical or a combination of the two.
Monitoring – Pros will follow up to ensure treatment is effective. He/she will also suggest a schedule of regular inspections.
What Do Pest Control Companies Use?
Professionals often start with non-chemical pest control. If those methods don't work, they might use a chemical treatment containing one or more active ingredients proven to kill or repel the insect.
In most cases, manufacturers register active, pest-control ingredients with the Environmental Protection Agency (EPA). This registration indicates the product has been tested to determine potential environmental or human side effects. You can find this information on the product label and in the Material Safety Data Sheet (MSDS).
There are some natural and organic products that are "EPA exempt" or "reduced risk." They go through a strict registration process due to the slight health risk they pose. However, their active ingredients may still be harmful to humans, pets, beneficial organism and property.
What are the Side Effects of the Chemical Sprays & Pesticides Used?
In some cases, direct contact with insecticides or rodenticides can cause eye, skin, or throat irritation. Ingestion of these substances may cause nausea, vomiting, or other symptoms. In some cases, improper contact with these chemicals can cause death.
Do You Need Pest Control?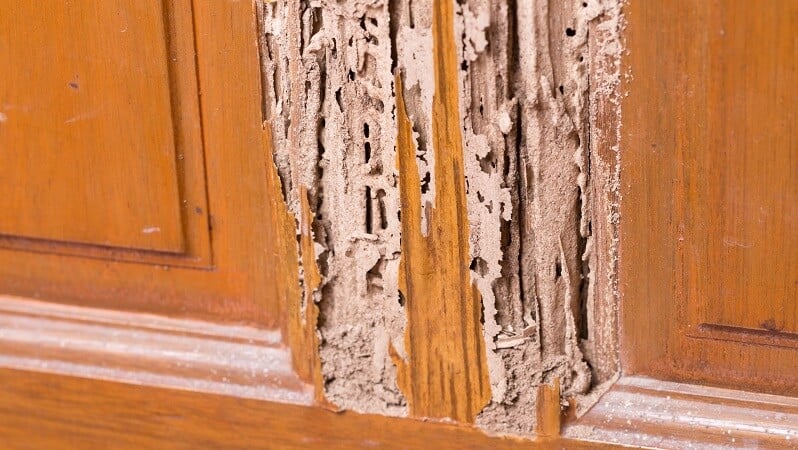 It's best to call in a professional because pests can severely damage your home. A pro can identify what kind of invasion it is, where they hide and treat the problem effectively. This generally means that you see professional results faster.
He/she can study underlying reasons for the problem and correct them. Hiring a pest control professional service early can also save you time and money by treating minor problems before they become harder to treat or cause extensive damage.
Signs You Need to Call Pest Control
There are some instances that require immediate attention. If you see any of these five signs, call a pro right away:
Property Damage – Look out for teeth marks on or holes gnawed in furniture, clothes, wiring or walls.
Urine and/or Droppings – Cockroaches, mice, and rats leave these traces. They also carry deadly diseases and can multiply quickly.
Unusual Sounds – Scratching in cabinets or behind ceilings and walls indicates rodents, ants, or termites.
Visual Confirmation – For every insect or rodent you see, there are likely more you don't. A few ants or roaches, for example, is typically the sign of a hidden nest.
Atypical Pests – Squirrel infestations and raccoon problems are less common, but these rodents can find their way into your home and cause extensive damage if not removed by a professional right away.
DIY: Reasons to NOT Call an Exterminator
Do-it-yourself control can be less expensive and more convenient than calling a professional.
For common problems, like sugar ants, fruit flies, or seasonal spiders, you can purchase traps or chemical sprays online or at your local home improvement or big box store. It will cost less than calling a professional, and you don't have to wait for an appointment.
Chemicals and traps available in stores are not the same quality as those used by professionals. Most homeowners do not have the expertise to address the source of the problem. This is particularly important when it comes to termites, bed bugs, wasps, or any infestation.
New House Prevention Systems
A whole-house prevention system puts bug or rodent deterrents throughout your home. Pest Defense can install a network of inner-wall tubes to get insecticides where bugs hide or nest. This can prevent damage done to access the area. Complex systems like this usually go in during construction because they are difficult to retrofit.
Tips to Find & Choose the Best Pest Control Company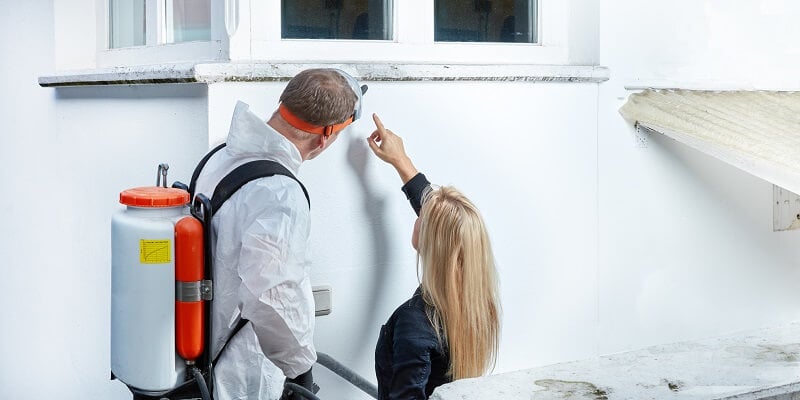 Before you hire a professional, do your research. Some companies specialize in certain insects, like mosquitoes. Others offer a broad range of services. There are other factors to consider as well.
Compare Costs
Compare pricing from at least three service providers before you make your decision. The cost to hire an insect control service should not be the only deciding factor. Instead, look for the best value. Some providers may offer more services for a little more money.
Check License & Insurance
Licensing procedures and allowable services vary by state. Check with your provider to be sure he/she has the appropriate license for the type of problem you are experiencing. Verify the information with your state licensing agency.
Read Reviews & Ratings to Find a Reputable Termite & Pest Company
Look at trusted online review sites to ensure you hire a credible provider. The more reviews, the better. In some cases, lots of mixed reviews can be better than one good one. You can also ask for a list of references.
Get a Pest Control Service Contract
A service contract typically includes regular inspections and preventive measures. In some cases, contracts include the cost to treat infestations. This can save a homeowner money in the long run.
If you are trying to control a structural insect, like termites, read carefully and ask questions. Many pros exclude the cost to control termites from their contracts or require a separate service agreement entirely.
Request a Free Inspection
Many companies offer a free inspection to earn your business. However, you should be wary of door-to-door and free inspection scams. In some cases, the scammers plant dead bugs in your home. Always get a second opinion.
Questions to Ask Exterminators
Before you commit to a treatment or contract, you should ask your pro a series of questions:
Are you insured?
What types of pests are you licensed to treat?
How long have you been in business?
Are your technicians trained and licensed?
Do you offer a guarantee?
What precautions should my family take before, during, and after treatment?
Do you have online reviews and/or customer referrals?
Do you follow IPM protocol?
Do you offer a free inspection and written quote?
Can you get rid of my problem?
Will you monitor the results?
Pest Control Scams to Avoid
Not all providers are true professionals. Be on the lookout for common scams.
Unfavorable Contract Terms – Be wary of self-renewing contracts or contracts that do not allow cancellation.
Variable Pricing – Pricing should be clear and in writing so both parties are protected.
Operating Illegally – Ensure all technicians have the proper license and insurance.
Green Services – Natural and organic pest control services can still be harmful to people and the planet. They can also be ineffective.
Alternative Services – Electronic or ultrasonic devices typically do not work as well as traditional methods. They may even attract insects, which puts you and your family at risk.
Bed Bug Box Scams – Trying to "heat kill" bed bugs in your home with space heaters is ineffective. The bugs simply migrate to cooler areas of the home until the weather cools.
FAQs
Is Pest Control Worth It?
Hiring a service can actually save you time and money in the end. Costs of repeat DIY treatments add up over time. Applying your own chemicals also poses health and safety risks. Finally, bugs and rodents can cause costly damage if you do not get rid of them quickly and entirely.
How Long Do You Need to Stay Out of Your House After Extermination?
Time varies depending on the type of treatment performed and chemical used. A pro will give you instructions. For DIY control methods, you should follow the instructions on the product label.
How Long Does Exterminator Bug Spray Last?
How long a treatment lasts depends on several factors, like the life cycle of the pest and the treatment itself. Most general control services take place quarterly. However, you must treat for pests like mosquitoes every 21 days to break the lifecycle and keep them away.
Hiring Extermination & Control Services
Hiring a pest exterminator you trust is important to the integrity of your home, as well as the health and safety of your family. Do your research, ask questions, and compare your options to ensure you make the right choice.
No Comments Yet