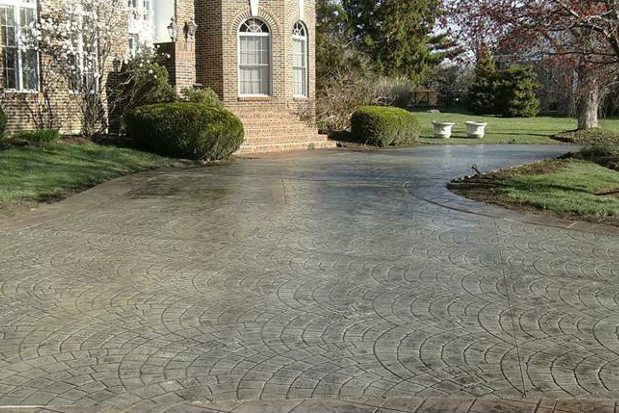 Concrete is one of the most popular materials for driveways and walkways and for good reason. Concrete is durable and requires little maintenance. It also gives you a number of versatile and decorative options in appearance. Before you can hire a company to begin pouring your concrete, you'll first need a plan. One of the elements where many homeowners don't spend enough time is driveway and walkway planning.
Driveway design, in particular, will help ensure your concrete installation doesn't run into problems. Naturally, you'll need a wider driveway for two cars, although if your house is set back from the road, you may want a single-car driveway that expands to accommodate two cars near the house. Concrete driveways can be poured in any size or shape. You might want to consider a curved driveway to maximize the curb appeal of your exterior and your outdoor landscaping.
Using Quality Materials for Concrete Driveways and Walkways
The professional standard for pouring concrete is that you should not use less than a five sack mix (five sacks of cement per cubic yard) or a compressive strength of not less then 2800 PSI for a driveway. Concrete should be a minimum thickness of four inches and placed on a well-compacted surface. Expansion joints should be placed so that no section of concrete exceeds 150 square feet and so the joints are no farther apart in length than twice the width. The depth of the joints should be a minimum of one-fourth the thickness of the slab. For example, a four-inch slab needs one-inch deep joints.
Ready to start your
Concrete Project

?Find Pros
Concrete Driveway and Walkway Cost
It's difficult to quote estimated costs of concrete installations simply because the price of concrete varies so much depending on locale. Transporting material to your home accounts for more of the cost than you might imagine. We can tell you, however, how the cost of concrete driveways and walkways relates to other materials. Concrete is cheaper than pavers, brick, or precious stones, such as cobblestone. It will probably be more expensive than asphalt, generic stone, or gravel. Since stone requires quite a bit of maintenance, asphalt allows for versatility in appearance, and gravel is tacky, concrete is the material of choice for homeowners who want a beautiful, durable driveway without paying top dollar.
Decorative Concrete Walkways and Driveways
Decorative concrete, which has been stained, stamped, or in some way finished, has little resemblance to the rough, plain, gray material that most people imagine. It is slightly more common in walkways, but can be used just as effectively for driveways. Concrete walkways can be finished to imitate more elegant stones or to create their own unique textures and patterns. With decorative concrete, you retain incredible durability without sacrificing beauty. If your neighborhood requires you maintain a sidewalk that you think is an eyesore, decorative concrete is a great idea to keep up with local ordinances and transform the dull area into extra curb appeal.
Ready to start your
Concrete Project

?Find Pros
1 Comments