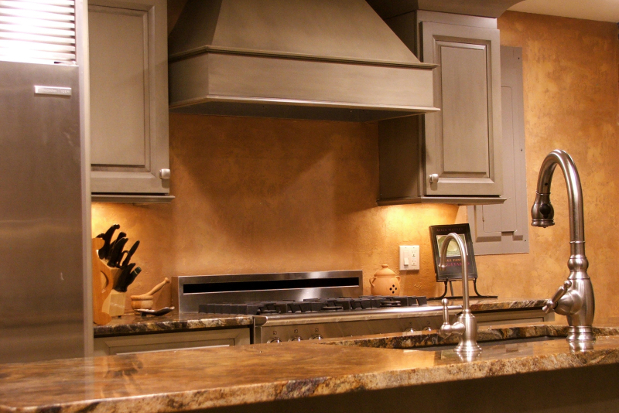 Whether you're remodeling a kitchen or just hanging a mirror, understanding wall coverings is essential. The most common interior wall surfaces are gypsum wallboard, also called drywall, and plaster. This article will focus on the latter.
Before There Was Drywall
If yours is an older home, built before the 1950s, chances are it contains plaster walls and ceilings. Appreciated for its versatility, ability to reduce noise, and fire resistance, plaster was commonly used as the wall covering of choice over brick, stone, or frame construction. And because of its pliable nature, and the fact that it can be manipulated to fit just about any nook, cranny, or curve, it continues to be an excellent solution for many challenging surfaces and wall designs.
Plaster Walls Weren't Just for Luxury
Even in smaller houses, it was standard fare to apply plaster in order to finish interior walls, and then whitewash, paint, or cover it with wallpaper. Traditionally, plaster is a mixture of Portland cement, sand, and water, that is applied in layers to a base of wood or metal lath, or perforated plasterboard. First, a scratch coat is troweled onto the lath. The plaster is allowed to ooze through the lath and grip the backing as it hardens, then a finish, or white coat, is troweled onto the scratch coat and smoothed out to achieve the final surface.
The Problem with Plaster Walls
Over time, plaster walls and ceilings have a tendency to develop stress-cracks. A professional plasterer has the specific materials and techniques needed to repair these cracks, based on the extent and condition of the damage. A service professional can also advise on stripping paint from plaster walls and ensure that the new paint adheres to the surface. This can be a major issue if you're looking to remodel, or re-design, your home. Since plaster isn't applied as a board, but as a mortar, any scraping, stripping, or more extensive work on it can lead to significant damage to the material.
Don't Give up Hope
Decorative plaster in historic or period homes may seem beyond repair, though often a skilled plasterer has the information he needs to save it without undertaking major renovations. Sometimes simply applying a new layer over the old can do the trick. Of course, if you're not as interested in preserving the historical integrity of your older home as you are in functionality, stripping the plaster and replacing it with drywall is going to lead to fewer maintenance problems down the road.
Plastering without Plaster
In new home construction, or for additions to older homes, there are materials available which can simulate the look of original plaster without using the actual product. Some of the latest materials for new interior construction are similar to drywall, but are stronger, more durable, and can be finished with a finish coat to provide the beauty and feel of plaster without the headaches. Talk to a contractor knowledgeable in plaster information, and experienced in plaster application, removal, and replacement, if you think your plaster wall is in need of some serious home improvement attention.
1 Comments