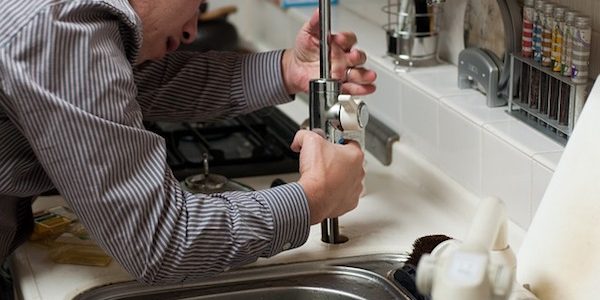 Plumbers and plumbing contractors are not necessarily the same thing. When you have a leaky faucet, a clogged drain, or another common plumbing problem, you're most likely dealing with a plumber. On the other hand, plumbing contractors are usually called only when there is a major plumbing problem or brand new plumbing is being installed in an addition, a new home, or during a major remodeling project. There are certain advantages of hiring one or the other in specific situations, and in some instances, either may be able to fix the problem. There are few plumbing issues that can be taken lightly, however, and new installations and major plumbing problems are even more serious tasks! Knowing when and if you should call a plumbing contractor is the first step in a quick and effective fix that will last for years.
Plumbing Contractors Are Best for Major Plumbing Problems
When it comes to major plumbing problems, certified plumbing contractors are your go-to guys. There's really little need to ask yourself what constitutes a major plumbing problem: When you have one, you'll probably know pretty quickly!
Plumbing contractors are not likely to take on small jobs like leaky sinks or backed-up shower drains; in most cases, plumbing contractors are only called in for large plumbing issues like removing and replacing faulty septic systems, the total or near total replacement of piping, or the complete reconstruction of radiator heating systems. In some cases, a smaller plumbing company is headed by a certified plumbing contractor; if you deal with such a company for your smaller plumbing tasks, you may be more comfortable (and perhaps even better served) by sticking with that company for larger issues. However, when major plumbing problems are present, you shouldn't depend on your local handyman to fix the problem as he or she is not likely to have the tools or man power to do the job fast and effectively.

Need to find a pro for your plumbing project?
Find Pros
Plumbing Contractors for New Buildings, Major Remodels, and Additions
While they are certainly the right folks to call for major plumbing problems, the majority of the work done by plumbing contractors is focused on completely replacing or newly installing plumbing for an entire room or structure. Here is where plumbing contractors and plumbers are simply not interchangeable; certified plumbing contractors have specific training that the average plumber doesn't have, and it's that training that prepares these professionals for these larger, far more involved jobs.
Plumbing contractors also pop up in situations that many homeowners would not expect. Gas connections and flues for heating systems (not including forced air units), installation of water heating units (including solar panel and hydronic heating and cooling systems), and the installation and maintenance of safety devices like gas control valves, water conditioning equipment, back flow prevention equipment, and gas earthquake valves are all jobs where plumbing contractors are likely to play a role.
Hiring a Plumbing Contractor
When you are entering a major building or remodeling project or dealing with a major plumbing problem, taking a little time to find the right plumbing contractor could save you plenty of hassle during and after the project. Since the projects these professionals deal with are generally expensive, a bit of legwork before you select your plumbing contractor could end up saving you thousands! Before you hire, get recent references and estimates from at least three different companies, and make sure that you meet with each before you make your decision. Meeting in person will give you a better idea of how well this company works with your needs, and may give you a few hints as to the service you can expect from each. In many cases, homeowners who meet with each company they get estimates from have no problem telling which company they should hire. And remember, no matter how great an estimate one company offers, a low price is never a substitute for good service, since you often end up paying the difference in headaches and miscommunications!
---
No Comments Yet
You can be the first to comment!