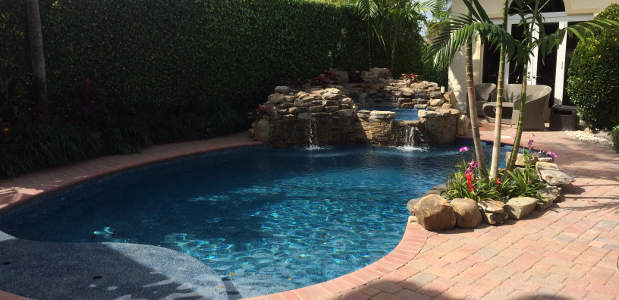 Like any major investment in your life (a house, a car, a family), there comes with it occasional maintenance. It's a contract you make with anything you care about, and it's certainly a responsibility that comes with ownership. Your pool and spa are no different: they cost a lot of money to install, they're a lot of fun to play with, and in order to avoid problems in the future they need to be taken care of when not in use. So what are these problems, what needs to be done, and who do you call to do it?
Problems
If you don't regularly invest some time and money into pool cleaning, your water could run into some serious troubles:
Murky or Colored: This usually means that your water is undergoing some kind of pH imbalance due to improper filtration or chemical instability.
Algae: If the water is turning green or there are black spots on the side walls, then you have some kind of algae problem, which can cause health troubles to you and your family if not taken care of immediately. Plus, if this isn't repaired fast, bacteria can quickly spread and get out of hand.
Water Level: During the summer, evaporation takes place at a rapid rate. If you don't keep an eye on your pool's water levels, it could be losing natural heat. And if the water gets extremely low, it could put an extra strain on your pump.
Debris: When leaves or other outdoor elements enter your pool, they will not only clog your filter, they can also shift the chemical balance of your water.
What to Do
How much you use your pool will tell you how often it will need to be cleaned. But pool cleaning services are the easiest way to make sure your water is always healthy, safe, and on a regular schedule. Like a maid service for your home, pool cleaning services can clean, repair, and maintain your pool for a reasonable price. But unlike your home, a pool is much more complicated and needs a specific upkeep that only trained professionals can provide. You can hire them on a daily, weekly, routine, or annual basis, but they offer hassle-free inspections and tune-ups to fit your particular needs. Here's a timetable of duties a pool cleaning service offers:
Daily Maintenance: When pool cleaning, it's important to skim the water daily to remove any large debris. This is an easy way to avoid future troubles with filtration and chemical imbalance.
Weekly Maintenance: Simply scrubbing or vacuuming the floors, walls, and tiles once a week to remove any calcium or algae helps to avoid any buildup. Plus, these professionals can clean your screens and baskets after they've inspected them to see if everything is being properly filtered. Also, most importantly, they check and correct the chemical balance of your water to make sure everything is stable, clean and safe. Additionally, these professionals can scrub your decks and surrounding areas to make sure everything is clean and orderly.
Routine: Every month or so, along with their regular duties, these companies will conduct inspections to see if your equipment is running properly. If any components are showing signs of damage, they are trained to replace and repair these troubled parts before they become major problems. They can even check to see if your lights are working right and your water level is properly maintained.
Annual: In the winter, if you need the water to be drained or just need advice about other forms of pool cleaning (covers, accessories, or equipment), these experts are perfect consultants. Plus, if you have an emergency of some sort, these specialists are a useful resource to have on hand.
No Comments Yet