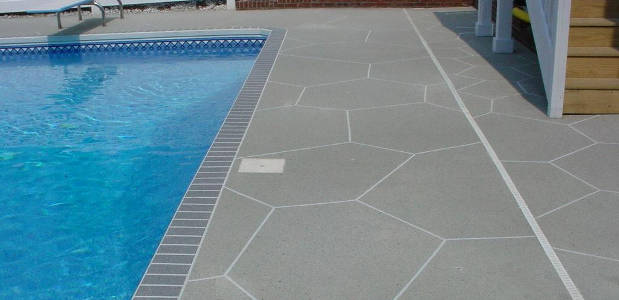 You probably don't need to be told that decks need a coating, stain, or some kind of treatment to protect them. The biggest threat is water damage, so your pool deck, naturally, requires even greater protection than most forms of decking. Sun and heat damage are also common destroyers. Beyond providing your pool deck with a protective coating against the elements, many coating products have a colorful, decorative tint that appeals to homeowners. There are coatings for nearly every type of material (and all decks benefit from protective treatments).
Choosing a Pool Deck Coating
There are dozens of companies out there who manufacture pool deck coatings. Obviously, some coatings are not right for every situation. If you have a concrete deck, for example, you're not going to choose a coating designed for a wood deck. Even after these simple considerations are taken into account, you'll still have tons of different products to choose from. Some of this is a simple case of getting what you paid for. A premium pool deck coating may include the promise of never requiring reapplication. Some are geared toward protecting from water damage; others are geared more toward sun and heat protection. And, of course, almost all of them promise a decorative finish.
Deck coating isn't exactly as ubiquitous as refrigerators or home furnaces, and it's nearly impossible to find reliable consumer reviews of these products. Rather than surveying these companies and products directly, finding a reliable professional to help you choose may be your best bet. Still, take a proactive approach when talking with a professional. When one deck coating is recommended, for example, ask what do I lose by choosing a less expensive coating and what do I gain by choosing a more expensive product? This way, you can feel confident you're choosing not just the best coating, but the one that's best for you and your pool.
Repair
If you haven't been diligent with coating and treatments, if your pool deck has suffered some other type of damage, or if it is simply old and has fallen into disrepair, you may need to call in a professional for repair. Pool deck repair is usually limited to one of three options: repair, cover, or replace. The extent of the damage and how much you want to get from your repair generally determines which course is the best for you. Superficial or minor damage can often be fixed with a simple repair. Maybe a handful of planks need to be replaced. Maybe the deck planks are still in good condition, but the screws need to be replaced and the deck reassembled.
Alternative decking, such as concrete, aluminum, or vinyl, doesn't require repair nearly as often as traditional wood decking, but it may also offer fewer options. Minor cracks in concrete, for example, can be filled, but significant damage almost always entails replacement.
No Comments Yet