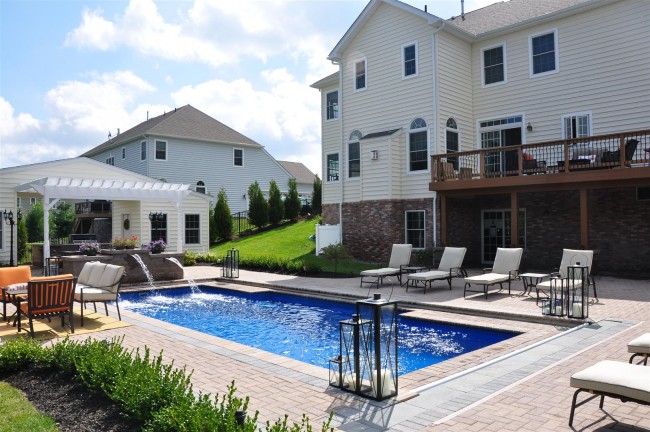 When it comes to keeping your pool area safe, nothing beats some old-fashioned parental supervision. Common sense basics always apply: don't run on wet concrete, don't drink-and-dive, don't swim in bad weather, and as your parents always told you, wait thirty minutes after you eat. But even if these rules are followed, accidents can still occur. You can't always be around. And when you are supervising, you can't see everything all the time. So what happens when the lifeguard isn't on duty? That's why it's important to invest in some pool safety products to help keep your family safe while you're away.
Pool Safety Equipment: Covers and Barricades
Though some pool safety equipment is designed to help when accidents occur, the following pool safety products are used to keep accidents from happening in the first place. Cheap and easy to install, these non-evasive inventions secure, protect, and prevent access into unsafe areas.
Drain Covers are one of the simplest, but most effective, pool safety products on the market. Drains create suction and pull in drifting objects, but these simple plastic guards keep that suction from hanging onto people and clothing. Keep your drain covers in good shape and replace them when necessary so you won't have to worry about snaring stray feet, fingers, or hair.
Pool Covers are another simple, but very effective form of pool safety equipment. Installing mesh netting, automatic covers, or plastic tarps help prevent accidental entry from wandering infants, kids, and pets. Additionally, pool covers also keep toys, leaves, and other debris out of the pool, reducing your weekly maintenance and reducing the chances of such items getting pulled into the inner-workings of your pool. The average automatic pool cover cost is between $1,000 and $10,000 depending, while the other varieties usually cost homeowners between $600 – $2,014.
Security Fences make keeping unwatched children (or even unwanted guests) out of the pool area easier. Spring-activated, self-latching perimeter gates impede intruders from entry. Also, transparent paneling around the area itself creates a safety bubble for kids. Since some would-be pool goers are a little more determined than others, it is a good idea to make sure the fences are climb-resistant and installed with a motion-sensor alarm.
Pool Safety Products: Alarms and Alerts
No list of pool safety equipment is complete without mentioning alarms and alerts. An electronic alarm system can be attached to the side gutters in order to monitor water levels: when an object (pet, toy, or person) enters the pool, the water is immediately displaced and an alarm is sounded. Motion-sensors can also be installed around the pool in order to detect intrusion. But alarm sensors aren't just security features; they're also great at recognizing emergencies. Since pumps create a vacuum, it's possible for small objects (including body parts) to get sucked in the drain. But some specialized pool safety equipment can perceive when suction increases and immediately shuts off the machinery. Or you can install an overall emergency shut down switch that can manually turn off the entire system when needed.
Handicap Accessible Pool Safety Products
Water is a great source of therapy. It's floating properties, calming qualities, and relaxing maneuverability restores agility, develops strength, and improves circulation. Therefore, a lot of pool safety equipment is specially designed to accommodate injured, disabled, or elderly persons so that everyone can enjoy the curative powers of water.
Crane Lift: Often the main problem involves safe entry and egress. Therefore, the most common solution is a lift: a canvas harness is slung from a metal pole that's been planted into the concrete, allowing one to gradually be immersed into the water without harm.
Access Chair: Usually made from non-rusting plastic piping, these devices act as aquatic wheelchairs that can slowly ease you into the water (though you have to have a pool with a sloped entry). There are even models available with all-terrain tires for the beach.
Easy Ladder: These sturdy, portable ladders act as an easy-to-use staircase that can be attached anywhere along the edge for effortless entry or exiting.
Other Pool Safety Equipment
Though not extravagant or state-of-the art, you can't have a complete assortment of pool safety equipment without the old standards. So make sure you have buoy lines and floats, life preservers and vests, reaching poles, hooks, and slip-resistant walking surfaces. Plus, it's smart to have appropriate signs posted around the premises stating the house rules and denoting special information, such as NO DIVING and NO RUNNING. Installing occasional depth markers around the perimeter is also a good idea in order to keep people properly informed.
Of course, the most effective pool safety equipment is the watchful eye of an attentive homeowner. Accidents can happen in just a few seconds, and the results can be devastating. Along with making sure that your pool is chemically treated regularly, cleaned as needed, and fitted with adequate pool safety products, the best thing you can do as a homeowner to reduce the chance of accidents is to keep an eye on anything going on in or around the pool area. Many pool-related injuries could have been prevented by having a responsible adult watching the goings-on and putting a stop to risky behavior. Though purchasing and/or installing pool safety equipment is an important step, there is no substitute for the accident prevention and quick response of a watchful adult near poolside!
No Comments Yet