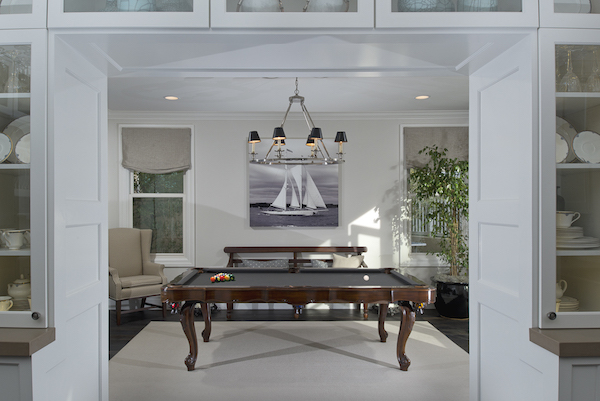 Whether you've already bought a pool table or are just thinking about it, providing that table with good lighting can be just as important as the table itself for quality play. Pool table lighting must provide consistent levels and areas of illumination during both the night and day. Plus, good pool table lighting should also enhance the décor of your room or entertainment area. Considering the style and design of your pool table light will influence the cost of the installation, the quality of your billiards time, and the look of your room.
Pool Table Light Installation
Pool table lights are almost always suspended from the ceiling. This helps place the lights at the proper height. Too high and the light may distract players with its glare; too low and the light may not illuminate the entire table. Most pool table lights are designed to be hung about 30 inches above your pool table.
Installing a pool table light is similar to installing any other suspended ceiling light, except that the lighting installation requires an extra measure of precision to ensure its effects work as they should. Always be sure to take the proper safety precautions when dealing with electricity. If you feel uncomfortable installing your own light fixture, you shouldn't hesitate to call an electrical contractor to install the light.
Cost and Style of Pool Table Lights
Pool table lighting, just like any other home lighting, can have a more traditional or a more contemporary feel. Opulent colors and patterns of Tiffany and Victorian style lighting will give you a classic pool table feel and will go nicely with traditional, Old World furnishings common in residential basements. For a sleeker, more modern feel, contemporary lighting will blend in with a minimalist decorating scheme. Customized lighting fixtures with sports team logos or other designs are also popular.
Ornate pool table lights generally aren't cheap, but the material that's used is often the biggest factor in determining price. Pool table lighting can be had for less than $100 but can range to nearly $1,000. You may not need to spend much on your lighting fixtures to get what you want, but chances are if you seek out the cheapest option available you're going to sacrifice some manner of décor or proper illumination.
Ready to start your
pool table lights

?Find Pros
Pool Table Lighting and General Lighting Design
You may need to consider how your pool table lighting is going to influence the lighting design of your basement or entertainment area. Given that pool table lights hang from the ceiling, you may have limited space for other overhead lighting. This kind of problem is most easily solved if you're putting in a pool table as part of a basement or other home remodel. You may consider whether you need an overhead light at all. Wall lights and sconces can often provide adequate illumination for a room and add an extra decorative element to your walls. If you need to suspend your pool table lighting near a pre-existing overhead lighting fixture, making an alternative lighting design is probably preferable to having competing, awkward lighting fixtures.
No Comments Yet