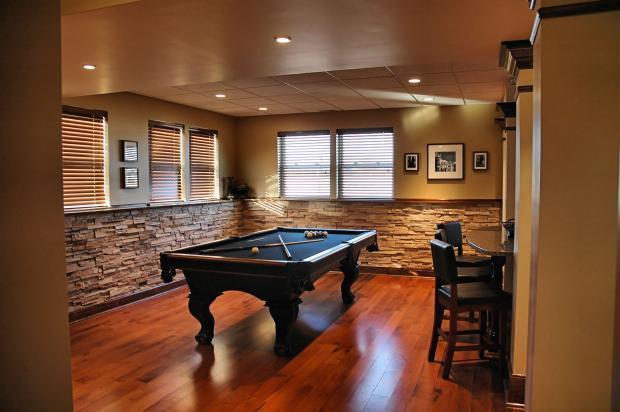 Pool table movers do a lot more than simply offer the man power to move your pool table. Almost all residential pool tables must be disassembled and reassembled in order to be moved. Even if you have the clearance to move the pool table in one piece, there's a good chance moving the table in this manner will cause severe damage, including splitting the rails, cracking the slate, or popping the joints.
Pool table installation is not a simple DIY project. Pool table movers have the specific expertise to take a pool table apart and reassemble it with the necessary care to maintain the original integrity of the table.
New Pool Table Installation
New pool tables sound like an unnecessary expense, but purchasing a new table does have some advantages. The cost of the pool table installation is almost always included in the price, and many pool table companies will offer a warranty on their products—although don't expect them to repair your pool table for free if your buddy puts his cue through the felt.
New pool tables offer a beautiful look and resilient performance. The elegance of a new table can bring its own sense of decor. Of course, you can probably find a more than suitable used pool table for less money, but you'll need to do your homework to ensure your used table will remain in good condition for years to come.
Used Pool Table Installation
Most homeowners try to find a used pool table to install in their home. Decent used pool tables generally cost somewhere in the neighborhood of $500-$1,000. This can be compared to a new table that may cost closer to $2,000 or up to nearly $10,000 for a high-end table with all the accessories.
Keep in mind that the felt will have to be removed and re-stretched. Older felt may not be up for this kind of treatment and may tear. Some of the best used table buys may very well involve finding a table than has suffered superficial damage that can be easily repaired during reassembly.
Pool Table Movers
Finding a pool table mover is often trickier than finding a used pool table itself. The cost of hiring a pool table mover depends on the size and design of the table and the distance of the move among other things. Plan on spending several hundred dollars, unless you're in an uncommonly easy or difficult situation. Just like any home improvement contractor, you should take the time to get estimates from multiple movers.
During this process, don't just look for the cheapest quote. Different pool table movers may offer different levels of service. More than simply moving your pool table, a mover may be able to improve the setup of the table, including not just leveling and re-felting but new rubber rails that conform to OEM specs.
You may want to match the services of your pool table mover to the quality of the table you're purchasing. You probably don't want to spend a bunch of money on movers for an inferior table. On the other hand, if you're going to invest the money for a quality used pool table, hiring professional movers that can ensure a like-new pool table upon reassembly is probably worth it.
Regardless, you'll want to choose a mover capable of installing your table without damaging it. When you hire the mover, sign a contract that guarantees the condition of the table once it's moved.
35 Comments