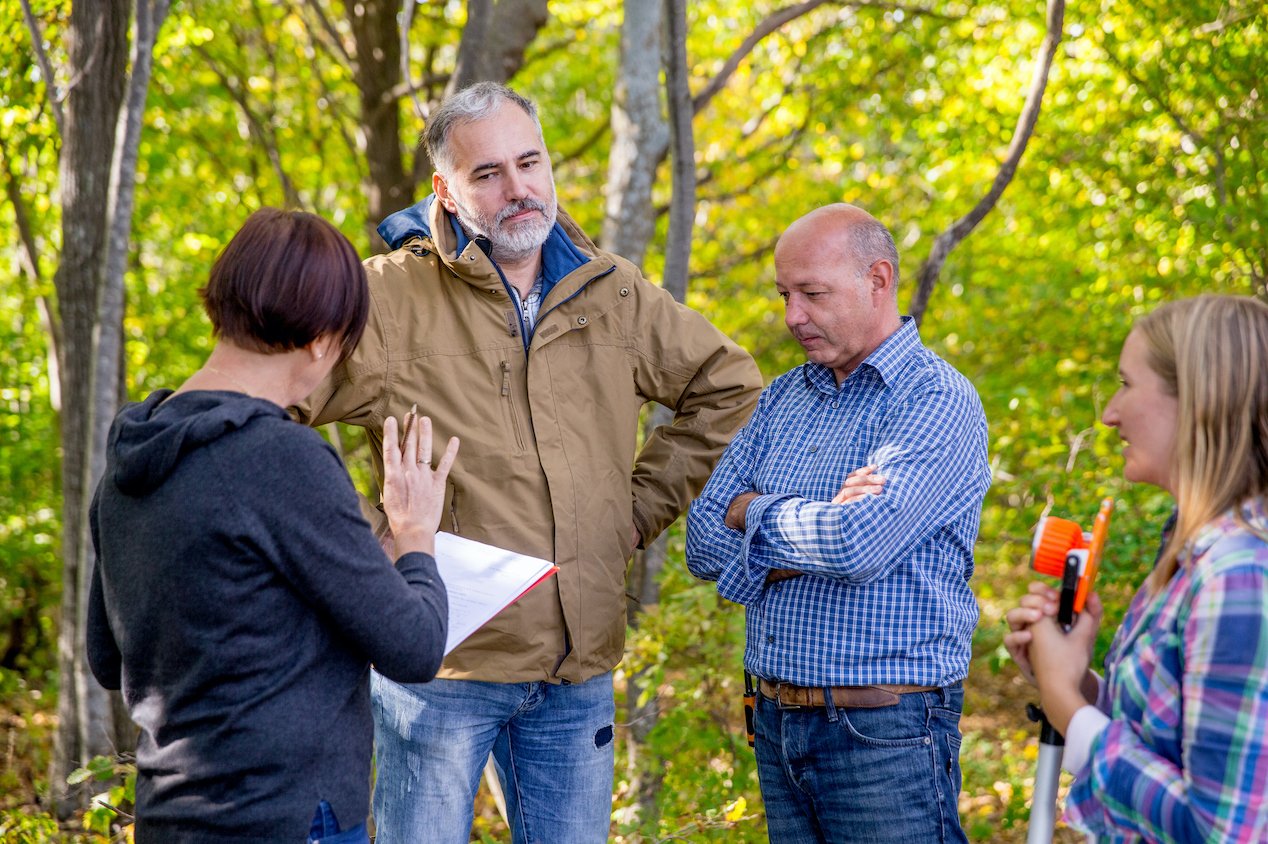 Homeowners associations (HOAs) can provide neighborhood amenities and may perform basic exterior maintenance tasks. That said, you've probably heard some horror stories about them: unexplained fines, towed cars, or spats between neighbors.
To find out what people in the United States really think about HOAs, we surveyed just over 1,000 homeowners. More than half (59%) said they've lived in a neighborhood with an HOA and confirmed the main benefit is improved neighborhood aesthetics. But does that make all the other baggage that comes with HOA membership worth it, especially if you can take care of things like landscaping yourself? We asked homeowners to give us their two cents.
Key Findings
Of homeowners surveyed, 1 in 3 say an HOA has caused them regular stress.
A majority of homeowners (4 in 5) would rather live in a neighborhood without an HOA.
The HOA restrictions homeowners hate the most? Lawn decor rules.
Homeowners' chief complaint about HOAs is the invasive behavior of HOA board members and neighbors.
The Pitfalls of HOA Membership
Most homeowners (80%) would rather live in a neighborhood without an HOA. In fact, HOAs can be a major headache: One in three homeowners say their HOA causes them regular stress.
So, what's so bad about HOAs? Homeowners put restrictive policies and rules at the top of their list—84% say these policies are a downside of HOA membership. Just after restrictive rules, homeowners have issues with costs and monitoring. About eight in 10 (83%) homeowners agree that they pay too much for dues and fines for infractions. Just under three in four (73%) think invasive monitoring (like coming by to check on backyard compliance) is a strike against HOAs, too.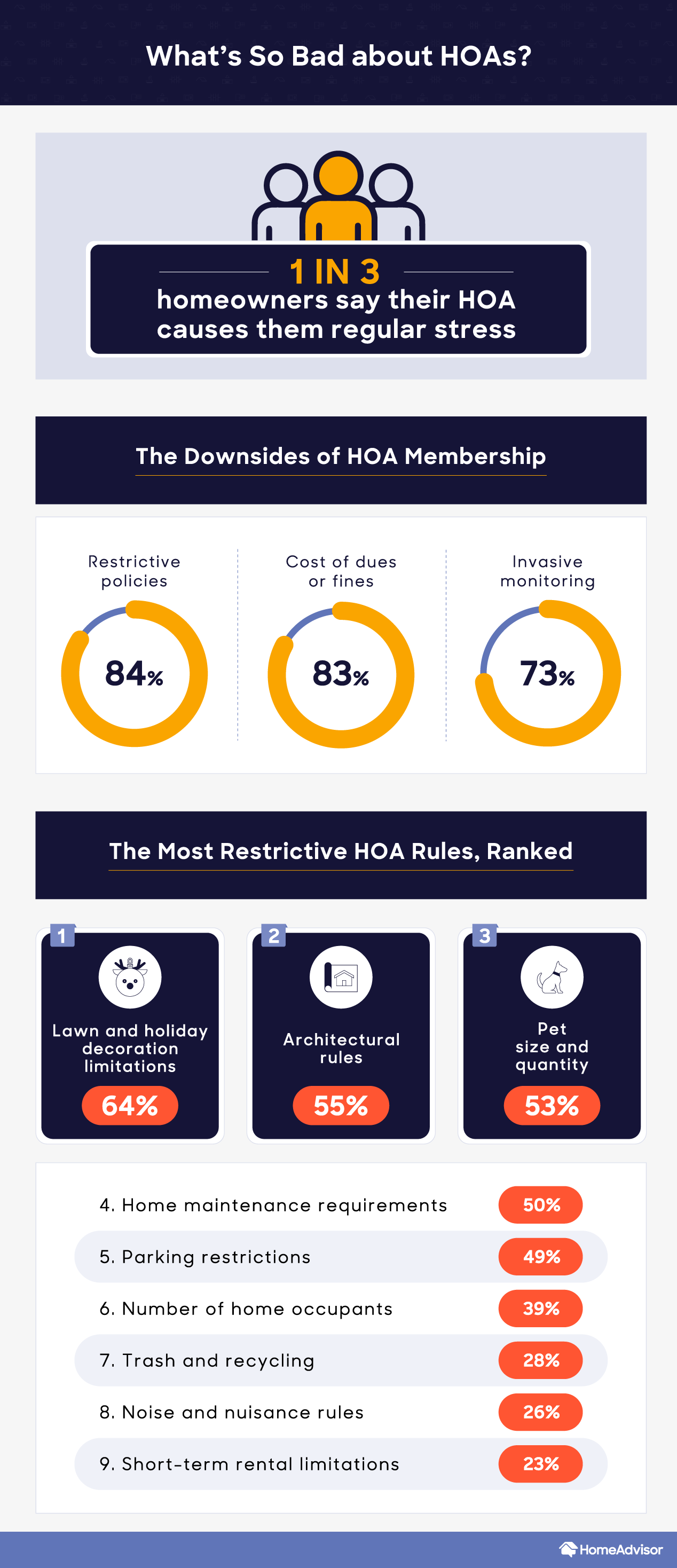 Of course, one bad experience can be enough to sour you on HOAs for good. One Gen X homeowner explained:
"[My HOA] is a nightmare. People years in arrears with their dues, a president who stole money and mismanaged the insurance and vendors, bullies, etc. I will never buy into another HOA when I leave here."
The specific rules enforced by HOAs frustrate many homeowners: Nearly two in three say lawn and holiday decoration restrictions are too strict. However, lawn rules aren't the only things cramping homeowners' style. Over half of homeowners say the architectural rules (55%) and the limits of pet size and quantity (53%) are very restrictive.
What Happens When Homeowners Break the Rules?
Since homeowners generally agree that HOAs are unreasonable, it is no big surprise that one in three homeowners have broken some of their association's rules. Over two in three (68%) say their HOA's response was unfair.
The rules homeowners have broken most involve:
Lawn and holiday decorations
Parking
Home maintenance

Homeowners report that over one in three HOAs (34%) have responded to these kinds of infractions with fines, while 78% have responded with warnings.
Thanks to these associations' behaviors, 13% of homeowners have tried to leave their HOAs. Younger homeowners are a bit more disenchanted than older ones: 16% of millennial homeowners have tried to leave, compared to 10% of Baby boomers. One millennial homeowner elaborated: "The people on the board are the worst power-hungry types."
Homeowners' Biggest HOA Gripes
Complaints about rules and regulations aside, homeowners are actually most frustrated by the board members themselves. Nearly three in four (73%) homeowners said overzealous board members and invasive behavior were among the worst aspects of HOAs.
Homeowners told us the three most annoying aspects of HOAsare:
Overzealous board members
Invasive behavior from the HOA or neighbors
Fines for small infractions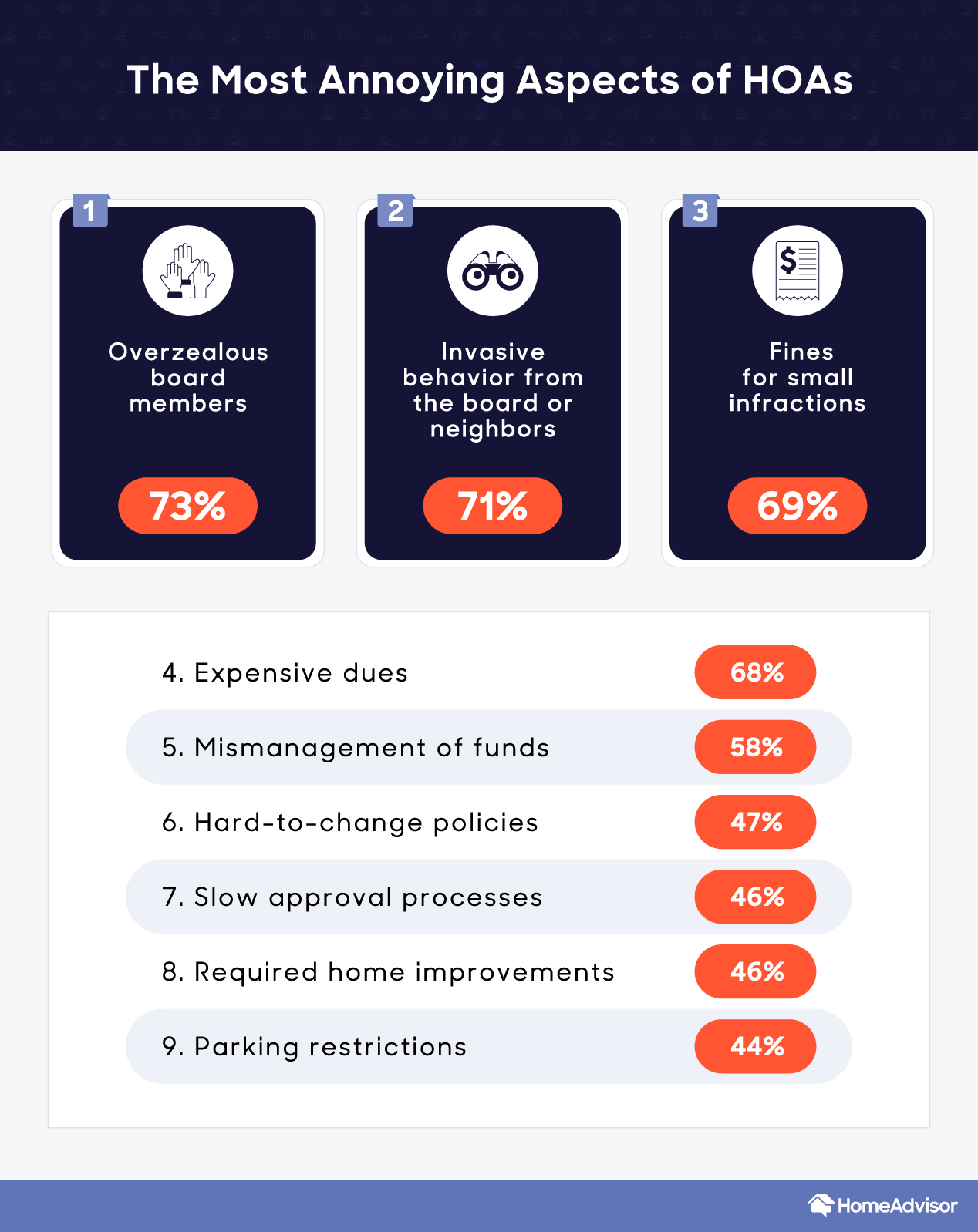 It's not just the board members who overstep—every place has its fair share of difficult neighbors, and strict HOA rules can bring out the worst in them. Of those we surveyed, about seven in 10 (71%) said invasive behaviors from their neighbors—like peeping into others' yards or reporting tiny infractions to the board—are a serious problem.
Many homeowners feel HOAs can have outsized responses to some of the seemingly insignificant choices homeowners make, and that can become quite costly. Just under seven in 10 (69%) homeowners said fines for small infractions, such as parking violations or a stray bike on the front porch, are a major issue.
Conclusion
Homeowners acknowledge that while HOAs can provide some benefits, the difficult behavior from the HOA itself—and nosy neighbors—can make membership more trouble than it's worth. Luckily, even if you find yourself in an area with a demanding HOA, HomeAdvisor has plenty of local home professionals who will make it easy for you to stay in compliance.
Methodology: We surveyed 1,006 homeowners on July 12, 2022. The gender breakdown was 50% man, 49% woman and 1% nonbinary. The age breakdown was 16% baby boomers, 28% Gen X, 50% millennials, and 5% Gen Z.
No Comments Yet