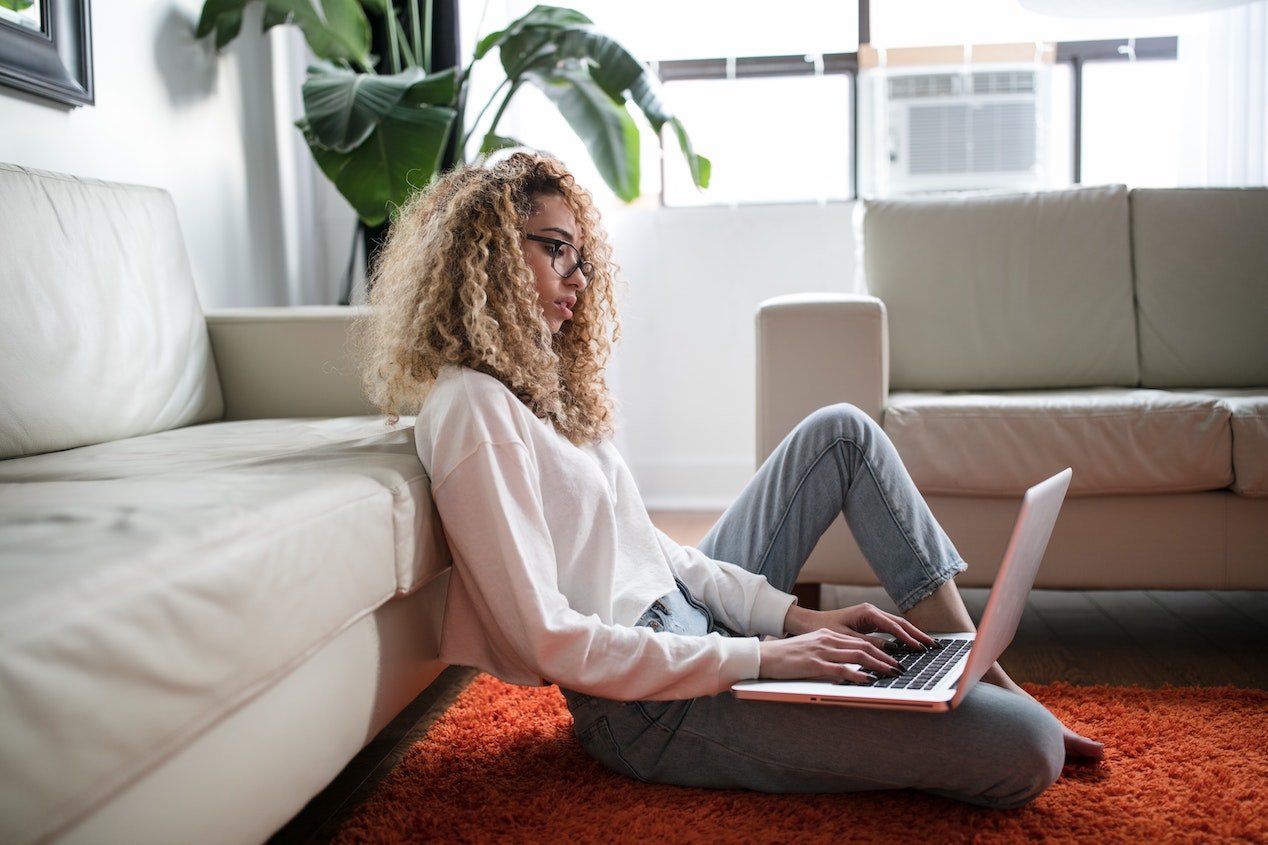 Traffic memes, complaints about real estate prices, sunrise pictures, stories about local heroes, and links to local handypeople—city subreddits are alive and kicking in 2022, with many being home to hundreds of thousands of members.
To see what's on each city's (hive) mind, we analyzed the top 50 posts of all time from 30 major American cities. We categorized the posts according to their content: politics, culture, daily living (infrastructure, weather), pictures and art, local stories, COVID-19, or crime.
We then analyzed each of the posts to gauge its tone:
Proud: Posting thank-yous, humblebrags, shameless sunset pics, and original art of the city
Humorous: Poking fun at national and local culture
Complaining: Seriously or sarcastically, about any topic
Looking at 1,500 of the highest-ranked posts of all time across these 30 city subreddits, we used our scoring system to share with you the proudest cities, the ones with the most complaints, and more.
Key Findings
Las Vegas and El Paso, TX, share the most local pride on Reddit, with over half (58%) of their subreddit posts dedicated to showing off their cities.
The three funniest subreddits are Oklahoma City, Jacksonville, FL, and San Antonio.
The three cities with the most complaints are Denver, Seattle, WA, and Los Angeles.
Across all 30 city subreddits, people posted more about politics (29% of posts) and culture (24% of posts) than anything else.
Denver, Louisville, KY, and Seattle have the most politically active subreddits, with around two in three of their posts focused on policy or social issues.
It's All in the Attitude: What Kind of City Do You Live In?
Some cities use their subreddits to do a little bragging about the place they call home. People in Las Vegas, Oklahoma City, and Jacksonville (top right quadrant) have plenty of good things to say about their cities and tend to keep the tone light with jokes and memes. Redditors in El Paso, Chicago, and New York City (top left quadrant) are more proud than they are critical, though they present things a bit more seriously.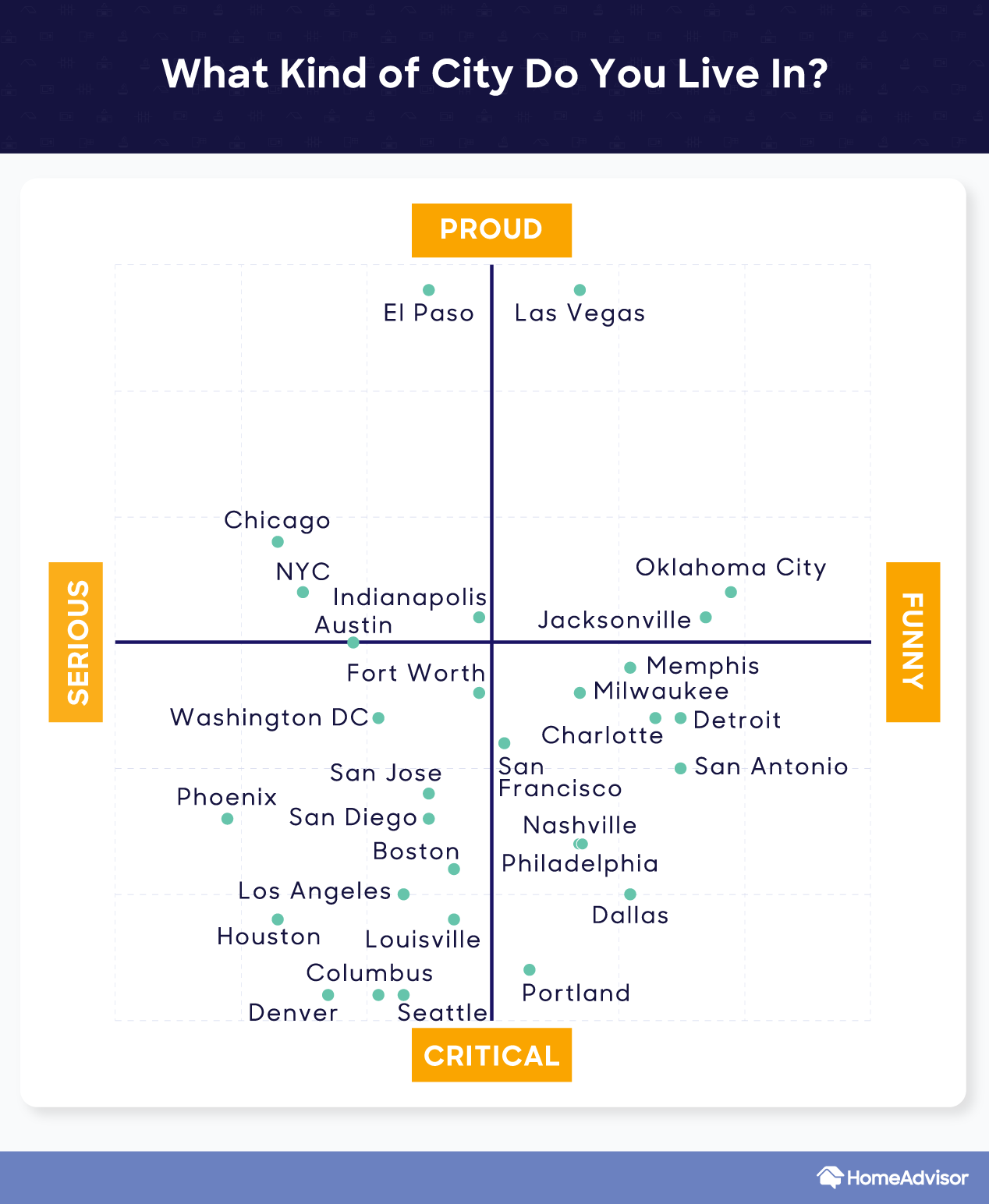 However, more Redditors tend to bring their criticisms online than their praises. San Antonio and Detroit (bottom right quadrant), for example, are more critical than proud, though they dish out insults with a side of humor. On the other hand, cities like Houston and Louisville (bottom left quadrant) are critical and serious.
Who Has the Most Local Pride?
Rich history, local architecture, art, and natural beauty—some cities can't help but boast. Looking at the subject matter and tone of subreddit posts, we determined which cities have the most local pride.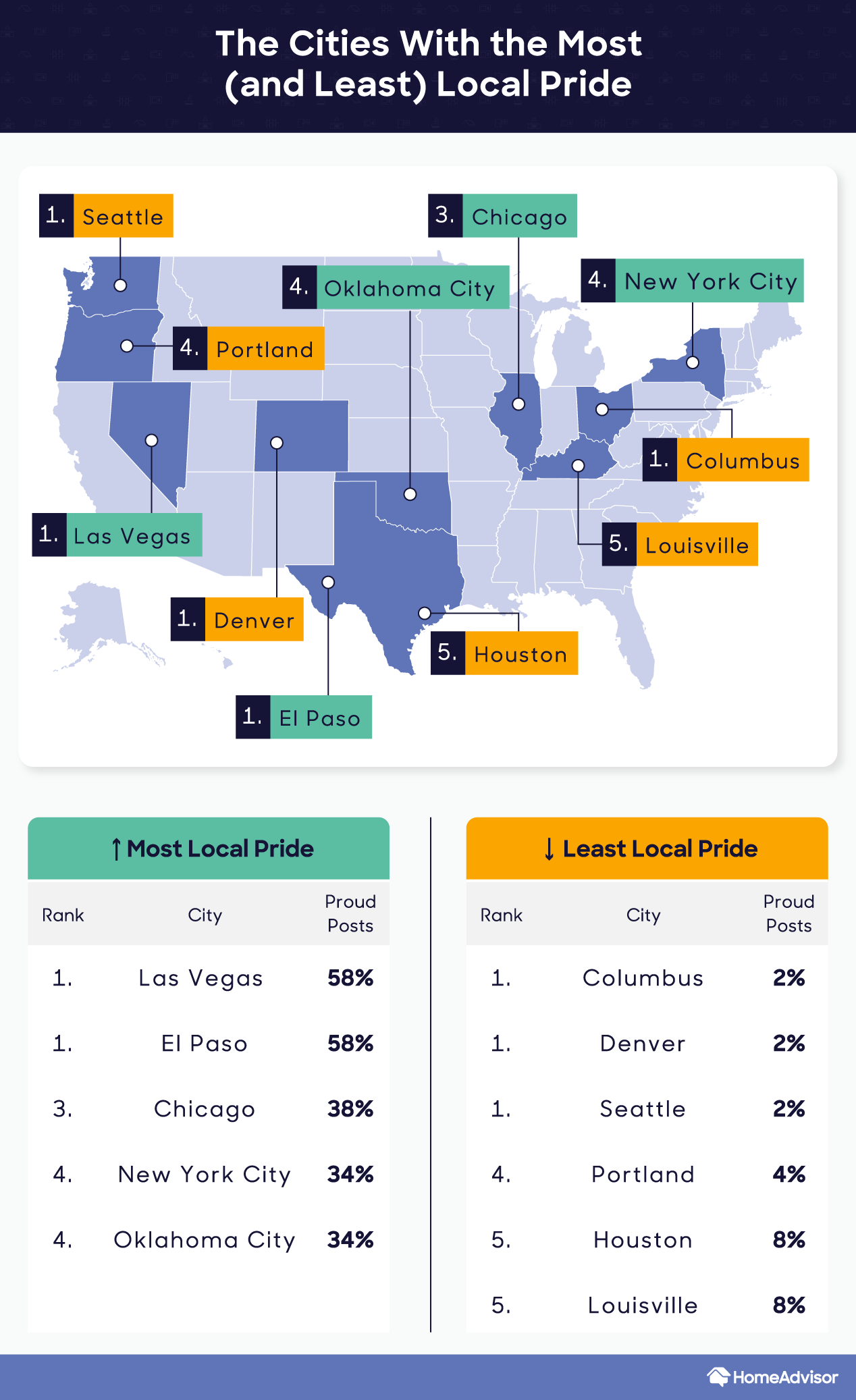 Although people from all over the country share odes to their cities on subreddits, posting paintings, drawings, and even embroidered likenesses of their towns, a few cities stand out for their local pride. Las Vegas (58%) and Chicago (38%) are the proudest of their history and architecture, posting lots of pictures of their downtown city centers past and present. Redditors from El Paso (58%) focus on the natural beauty that surrounds the Sun City, sharing plenty of pictures of mountains and sunsets.
On the other hand, Columbus, OH, Denver, and Seattle appear to have the least local pride, with very little ego-boosting content making the top 50 posts. The city subreddits where pride is in relatively short supply tend to have more serious, political posts instead. For example, only 2% of the posts in Columbus' subreddit expressed local pride, but 48% covered political topics.
Where Redditors Love to Poke Fun—and Complain
Lots of Redditors have mostly good things to say about their cities, even if they slide a sarcastic joke or two in there. Redditors in the South and the Midwest, in particular, like to poke fun at themselves and their hometowns.
However, cities in the Western U.S. tend to complain more on Reddit than those in other regions. Over two in five of the top 50 posts on the Denver and Seattle Reddits are complaints—and Californians like to post their woes, too.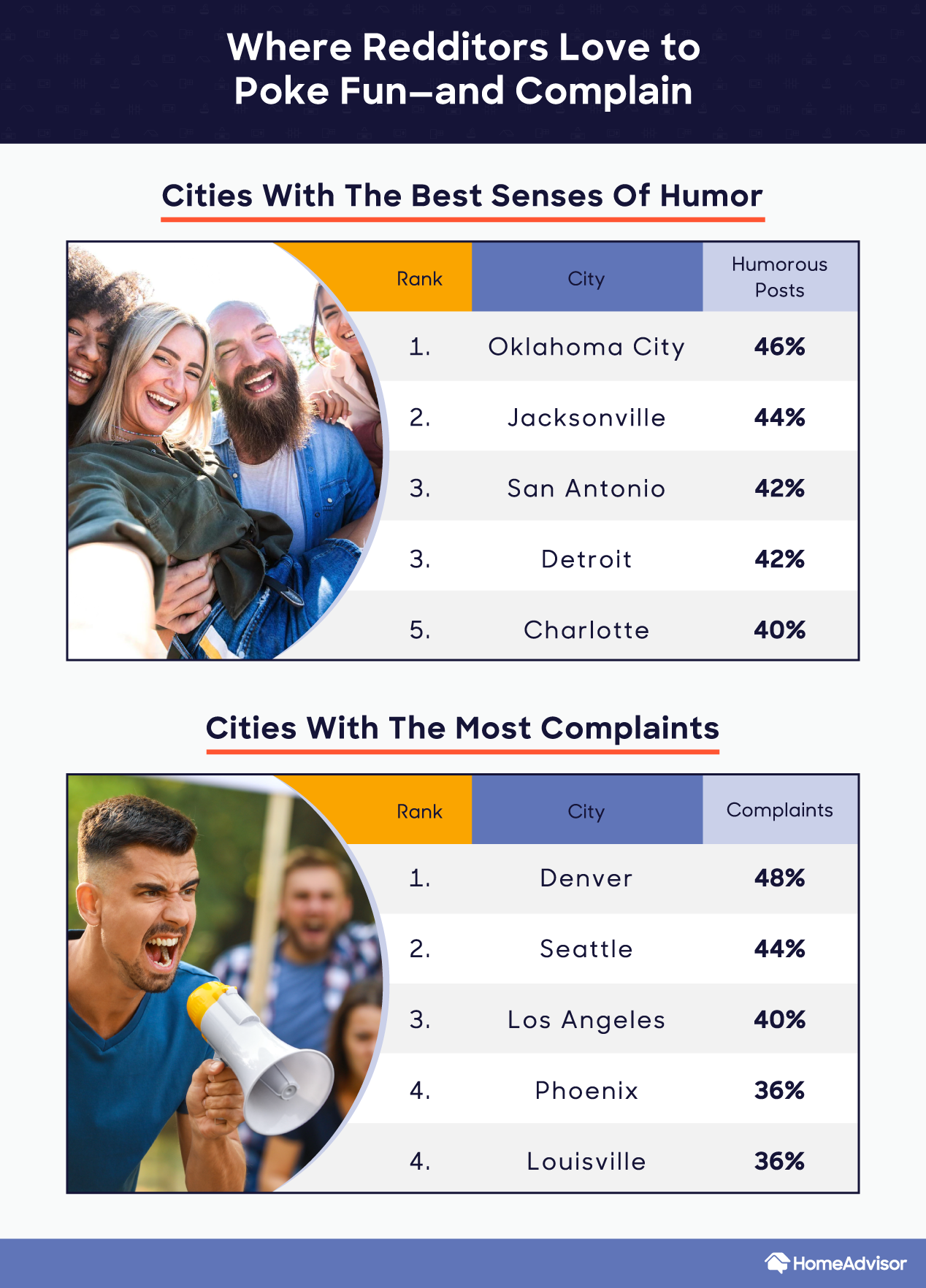 The bulk of the complaints we reviewed tend to be about one of three things: politicians, bad drivers and roads, or the high cost of living. Los Angelenos and Denverites had the most complaints about their local congress and city council. Those in Memphis and Chicago shared the most complaints about crazy drivers, and those in Boston and San Francisco had the most to say about expensive housing.
Cities With the Most Political Complaints
Los Angeles
Denver
San Antonio
Dallas
Charlotte
Cities With the Most Driving Complaints
Memphis
Chicago
Milwaukee
Detroit
Fort Worth
Cities With the Most Cost-of-Living Complaints
Boston
San Francisco
New York
Los Angeles
Seattle
What Are People Talking About on City Subreddits?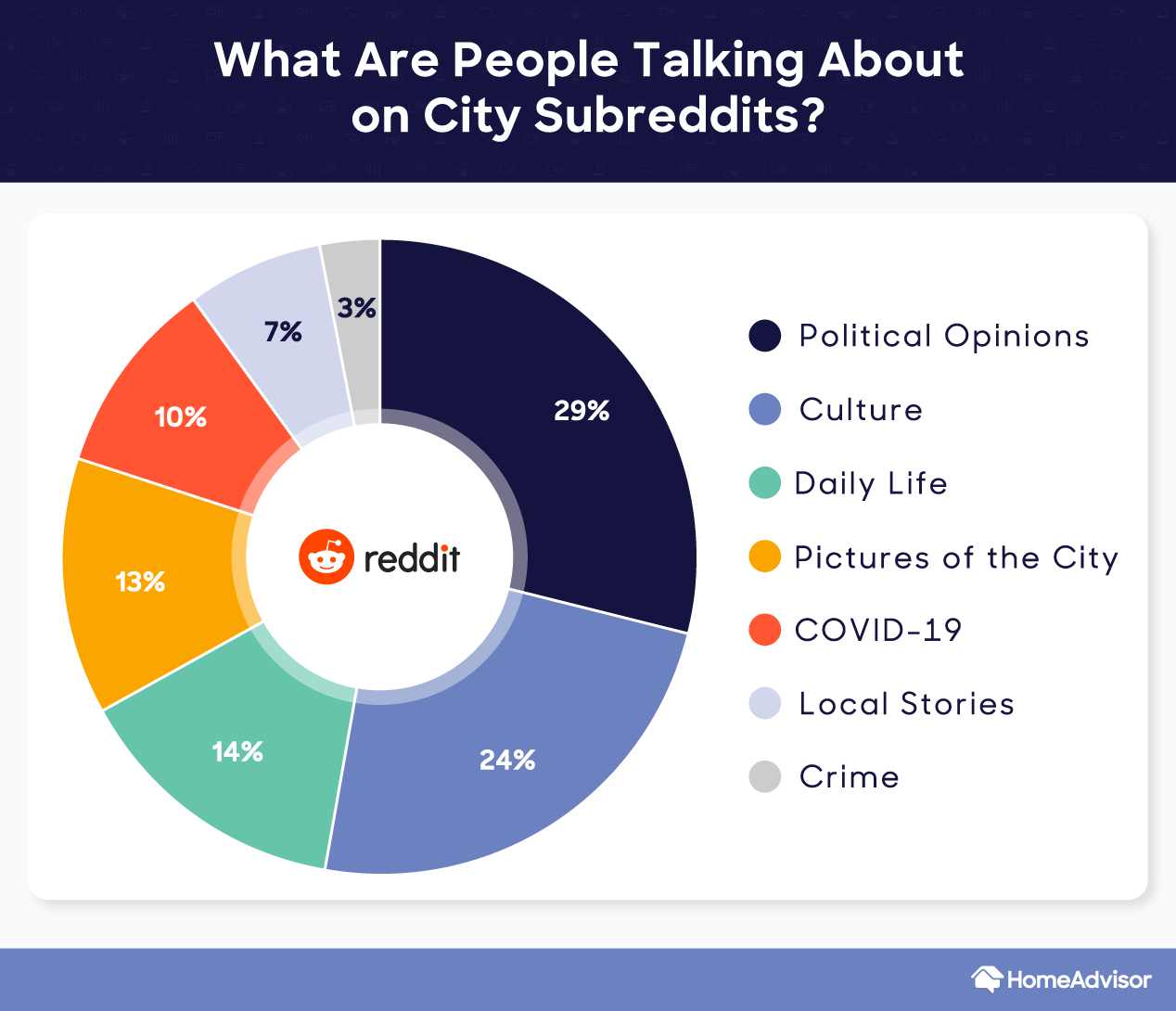 Across the 30 cities that we analyzed, discussions of politics (29% of posts) and local culture (24% of posts) dominate. Political content focuses on national and local politicians, policy, and news. Cultural content runs the gamut from opinions of local museum exhibits to reviews of neighborhood taco trucks.
Redditors use their city subreddits to discuss other elements of daily life (14% of posts), like energy infrastructure, the weather, and the roads (plus the drivers on them). They also share pictures of their local landscapes and city streets (13% of posts).
Only one in five of the posts we analyzed covered other news, whether related to COVID-19, local happenings, or recent crime.
Politics
Political activism defines some city subreddits, with news and commentary about local politics, policies, and protests from the past few years.
Posts on the Denver (68%), Louisville (66%), and Seattle (62%) subreddits reflect the most political activity, with around two in three posts focused on policy or social issues—especially the Black Lives Matter movement.
The least politically active cities on Reddit, like Las Vegas (0%) and El Paso (4%), tend to focus on local culture and pride in lieu of politics.
Culture
City subreddits can provide great resources about local culture, whether you're new to town or have lived nearby your whole life. If you want to find out which communities offer a tight-knit feel and which ones suffer from noisy neighbors, local residents have you covered.
Redditors also post about museums, outdoor activities, food, and sports—it's all fair game. But take recommendations with a grain of salt: some cities are definitely making fun of themselves. Jacksonville (46%), Las Vegas (40%), Indianapolis (36%), Detroit (36%), and Memphis, TN, (34%) post the most about local culture, cracking jokes alongside compliments.
Some cities focus more on pressing news and politics than neighborhood banter and sightseeing. The more politically active cities like Seattle, Denver, Los Angeles, and Phoenix tend to post less about other components of local culture: Just 4%, 8%, 12%, and 16% of these cities' posts, respectively, relate to local culture.
The Wonkiest Roads and Scariest Weather
Redditors also take to the internet to discuss the mundane and the extreme encounters, from potholes and tornadoes to unsafe drivers and frigid temperatures. Thirty percent of the posts in Oklahoma City are about weather or roads, many of them focused on wild winds and rolling blackouts. Those in Texas shared commentary about recent heat waves and freezes: roughly one in four of the posts in Houston (26%) and Dallas (22%) relate to weather and infrastructure.
In some cities, however, daily commutes and local weather aren't big topics of conversation: Only 2% of the subreddit posts in Chicago and Columbus highlight issues with weather or infrastructure.
The Prettiest Places to Live
Some subreddits are filled with photographs and local art that highlight their city's beauty, both constructed and natural. El Pasoans are grateful for their glowing hills, with 38% of the posts showcasing the city's natural landscape and with 36% of their posts dedicated to showing off the city. Redditors in Las Vegas seem to appreciate the city itself—casinos, skyscrapers, and historical architecture alike. In Chicago and New York, 34% and 26% of the posts, respectively, showed off the city, and local artists seem to be especially fond of illustrating these towns.
Dallas and Denver? Not so much. No flattering photos cracked the top 50 posts of those city subreddits, and only 2% of the posts in Boston, Columbus, Portland, OR, and Seattle show off those cities.
Whether you want to get the scoop on political happenings or commiserate with a community, city subreddits can be useful hubs of local information. If you want to compete with El Paso's sunset scenes, maybe you should contact a local landscaping professional—and make sure to post a pic!
Methodology
Between April 25 and April 27, 2022, we analyzed 1,500 top-ranked posts on the subreddits for the 30 largest cities in the United States according to U.S. Census Bureau data:
Austin, Texas
Boston, Massachusetts
Charlotte, North Carolina
Chicago, Illinois
Columbus, Ohio
Dallas, Texas
Denver, Colorado
Detroit, Michigan
El Paso, Texas
Fort Worth, Texas
Houston, Texas
Indianapolis, Indiana
Jacksonville, Florida
Las Vegas, Nevada
Los Angeles, California
Louisville, Kentucky
Memphis, Tennessee
Milwaukee, Wisconsin
Nashville, Tennessee
New York, New York
Oklahoma City, Oklahoma
Philadelphia, Pennsylvania
Phoenix, Arizona
Portland, Oregon
San Antonio, Texas
San Diego, California
San Francisco, California
San Jose, Texas
Seattle, Washington
Washington, District of Columbia
We looked at the top 50 posts of all time on each subreddit and categorized the posts according to their content (politics, culture, daily living, pictures and art, local stories, crime, or COVID-19), as well as their attitude (proud, funny, and/or complaining).
No Comments Yet