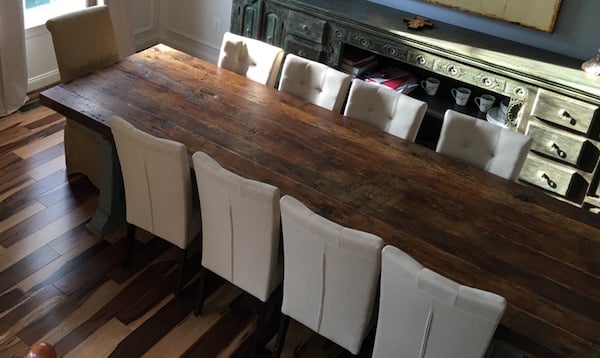 Quarter sawn wood is a way of cutting wood logs perpendicular to its growth rings to create a straight, pleasing grain and a considerably stronger wood. The milling process takes more time and attention to detail and isn't performed as often as the demand would suggest, artificially driving up the price. On the other hand, lumber companies also know the extra benefit of quarter sawn stock and that contractors and homeowners will pay the extra price for the quality of their home improvement projects.
Plain saw wood that pays no attention to grain direction will, nevertheless, cut certain sections of the log with the proper grain direction. Sometimes this wood will be sorted out, other times it will be kept with the rest of the log. If you're thinking about a small, DIY wood project, you may be able to hand pick quarter sawn wood from your local hardware store.
Quarter Sawn Wood Projects
The most common question from homeowners, however, isn't necessarily how quarter sawn wood is created, but for what home improvement projects the extra cost is warranted. There is no simple answer to that question, but here are some guidelines and common projects that people choose to pay for this premium wood.
Hardwood Flooring—This is probably the most common project where you should go ahead and purchase quarter sawn wood. A major home improvement investment that receives a lot of traffic and wear naturally lends itself to the twisting and cupping resistance that quarter sawn wood provides. The grain of hardwood flooring is also absolutely critical to the appearance of the final product. Applying a good finish will really give the grain and its texture a nice flair.
Cabinets and Furniture—Wood-working craftsmen almost always prefer and choose quarter sawn wood for its appearance. To ensure your furniture looks authentic and has a good, finished quality, you'll probably want to ante up the extra money for your cabinets and furniture. Antique furniture created by wood craftsmen is almost exclusively made from quarter sawn stock indirectly creating this standard for premium furniture. Plus, wood furniture such as dining room tables benefit from the increased structural stability. Even slight warping is a problem when you're trying to set down a glass of water.
Quarter Sawn Oak and Other Wood Species
Quarter sawn oak is the most popular type of wood to purchase quarter sawn. This hardly means it's the most important wood to have quarter sawn. Virtually all wood species gain the same benefits from being quarter sawn. In fact, quarter sawn oak is probably only the most common because of its popularity with hardwood flooring and furniture. Oak, however, is already one of the more stable woods available. If you like the appearance of a different wood more than oak, but that wood isn't as strong, you might consider if buying it quarter sawn can make up that difference. Depending on the wood you choose, a quarter sawn version might be similarly priced to plain sawn oak.
No Comments Yet