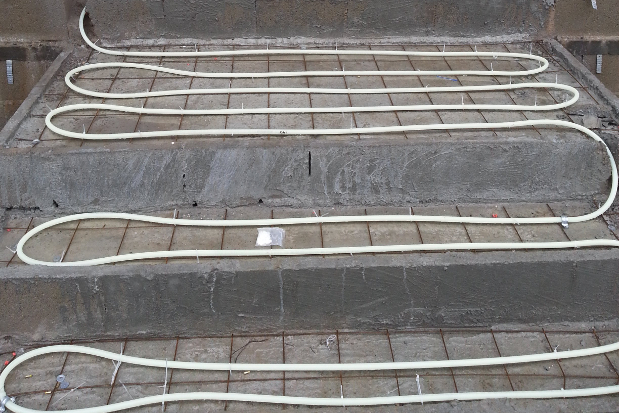 Radiant floor heating has become a popular solution to cold tile, icy driveways and home saunas. This type of heating system is installed beneath the floor and is controlled by a thermostat that you set, turn on, or turn off. The idea was dragged inside from the concept of heated driveways and has added new dimension to the manner in which rooms can be heated.
Three Types of Radiant Floors
Electric Radiant Floors—Do a great job at heating any kind of home, but they're extremely expensive.
Hydronic Floors or Liquid Floors—Cost less and are, therefore, used more often in residential construction.
Radiant Air Floors—Don't hold large amount of heat, and for this reason they are used mainly in commercial buildings.
Radiant floor heating performs as a distribution center for the home by taking advantage of the floor and laying tubing throughout the whole floor. Beautiful tile, marble and slate floors are being utilized in homes, but they're ice cold. With radiant heating you can now have a beautiful floor and still walk around barefoot.
Using a hydronic floor system is a great way to heat your home, but you can also use it on a smaller scale, installing it in a cold room such as a basement or under the tile in the bathroom so that you don't step onto chilly tile after a warm bath.
Installing a Radiant Floor System
There are two categories of installation for radiant floor heating—wet and dry. Wet installation is most commonly used in the ground floor. Your contractor needs to be experienced with the installation of these types of systems, both wet and dry, so be sure your builder knows ahead of time that you are contemplating having a radiant floor system installed, because steps need to be taken to ensure there will be enough space in the substrate.
When installing a radiant floor system on the upper floors of your home, the most common method is called "dry installation," which is a system that suspends the tubing underneath the subfloor, between the joists.
Ready to start your
Radiant Heating

?Find Pros
Radiant Floor Cushions
Denser, thinner pads such as a slab rubber or waffle rubber pad, without clay fillers, are considered the best choice among pads for use with radiant floor heating systems.
Lighter, less dense pads, such as bonded urethane and prime urethane, are usually too high in R-value to be a good choice because they inhibit the heat from passing through the cushion into the room, reducing your system's efficiency.
2 Comments