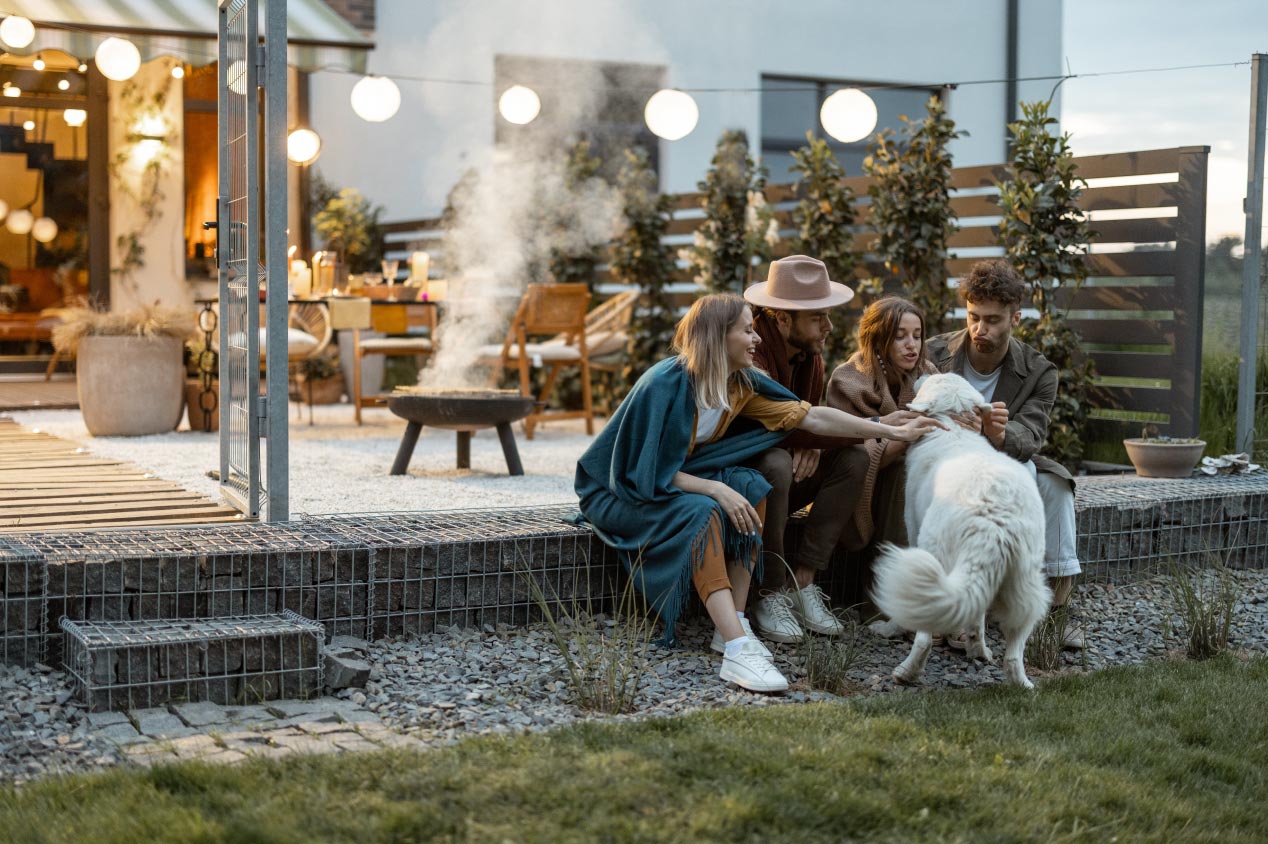 rh2010 / Adobe Stock
Raised patios and decks are both fantastic options as a centerpiece of your outdoor space. They're both great-looking and durable, with plenty of room to host outdoor seating, grills, and various leisure-based activities. These backyard showstoppers may offer the opportunity for outdoor family fun, but there are some fundamental differences in their designs.
Raised patios come from ultra-durable materials such as concrete, brick, or natural stone, whereas patios are made from wood, aluminum, or even rubber. Also, decks are almost always attached to the home structure, whereas patios can lay anywhere on the property.
On This Page:
What's the Difference Between Raised Patios and Decks?
One of the main gripes regarding traditional patios is they require a completely flat surface. On the other hand, raised patios lay around the natural curvature of your yard, though there are limitations as to just how high a patio can go. Decks go as high as you need, even up to multiple stories, though safety features like railings will need consideration.
Raised Patios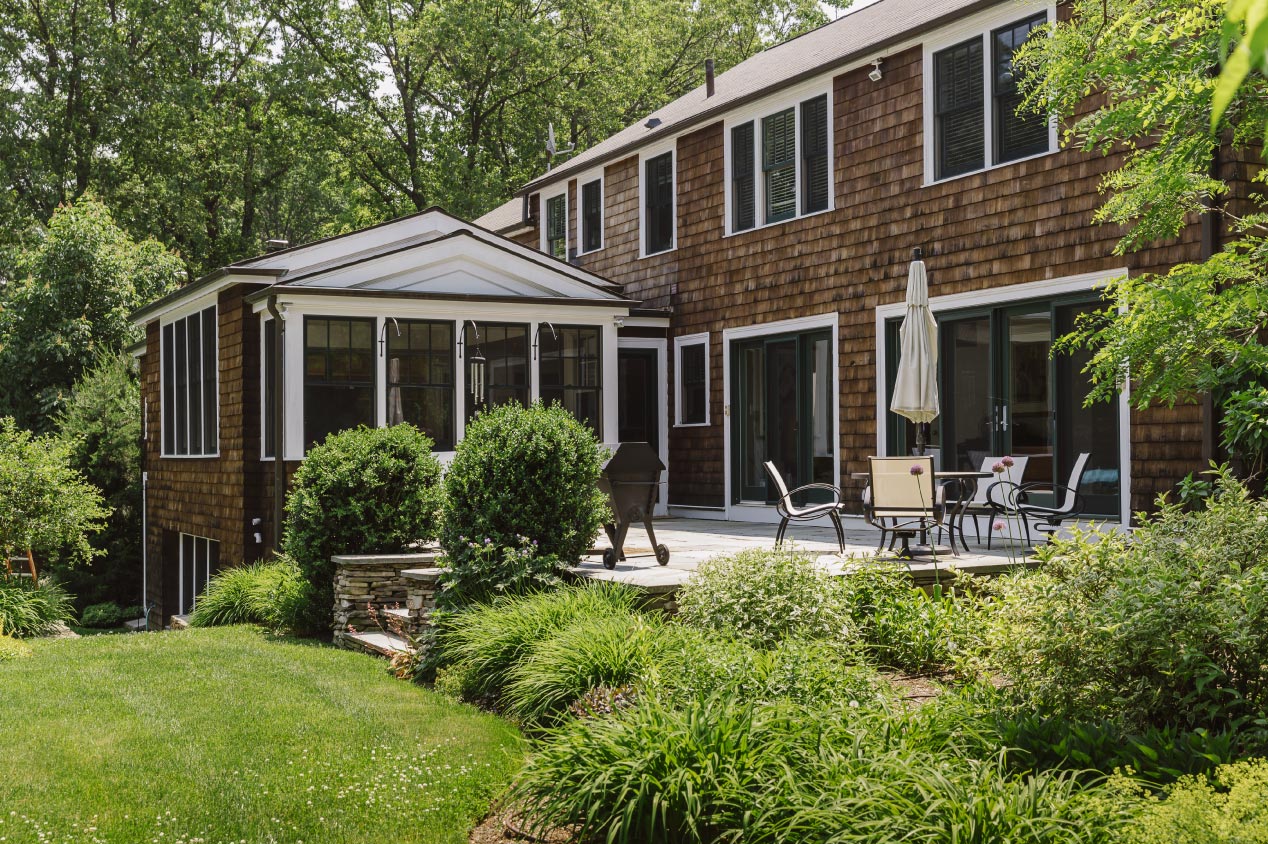 Stocksy / Adobe Stock
Raised patios sit on the ground like traditional ones, but contractors grade the ground to meet the pavers, adding versatility regarding placement options. Raised patios are a good option for properties where the ground isn't level. Local patio builders use cement, stone, or concrete, making patios essentially permanent constructions—or at least extremely difficult to disassemble or move.
Decks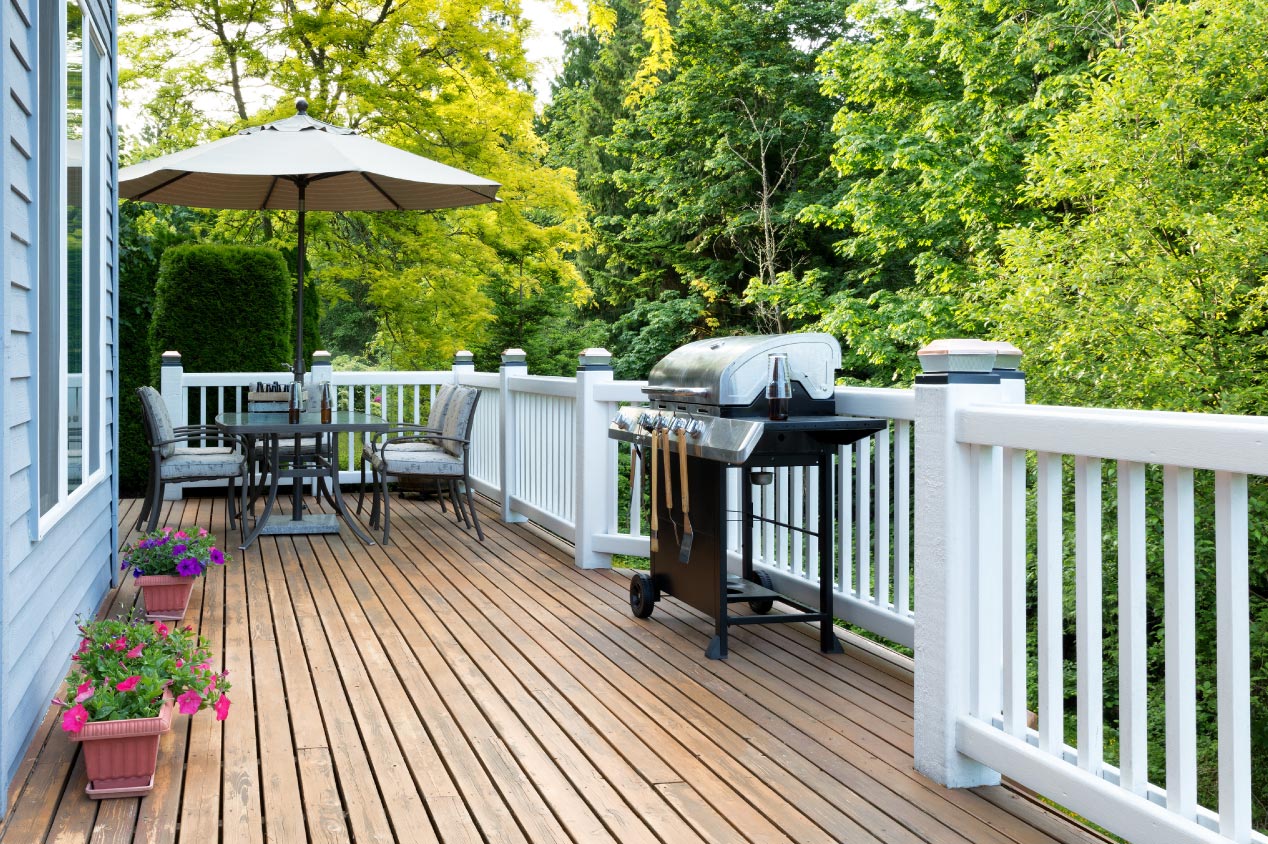 tab62 / Adobe Stock
Decks are generally crafted from wood or materials made to look like wood, such as aluminum, rubber, or various composite materials. They're open outdoor platforms raised above the ground and almost always connected to the house. Decks typically lack roofs and come in a variety of design types. As the name suggests, ground-level decks lay on the ground for ease of accessibility. Floating decks, however, sit several feet above the ground, often requiring stairs to access.
Find a Deck Contractor Near You
Raised Patios vs. Decks: Which Is Better?
Both raised patios and decks are fairly weather-resistant and provide an attractive space for outdoor gatherings, but they differ in some important criteria.
Aesthetic
Outdoor Beauty: Tie
This is primarily up to personal preference. Both raised patios and decks are gorgeous centerpieces for a backyard or anywhere on your property. Wooden decks give that classic look perfect for summer barbeques, while concrete or natural stone raised patios offer a more refined and modern style.
Cost
Most Affordable: Raised Patios
Traditional patios cost $1,900 to $5,300, with lawn-grading and leveling adding around $1,000 to that total for a raised patio. Decks cost more, with the cost to install a deck ranging from $4,000 to $11,000, thanks to the pricy nature of various woods. You'll also pay to add stairs, if required, at $15 to $25 per square foot. Cost is a major factor for home renovation and installing outdoor spaces. To that end, you'll save some money by going with a raised patio.
Customization
More Customizable: Raised Patios
Both of these outdoor spaces are customizable to suit the needs of different homeowners, but raised patios have a slight edge over decks. You can dye concrete, pavers, stone, and cement to nearly any color of the rainbow for increased creativity. Wood is also customizable and is available in various grain patterns and colors, though customization is limited by what types of wood are readily available in your given location.
Lifespan and Durability
Most Durable: Raised Patios
If your deck is primarily wood, you'll experience an overall lifespan of around 15 years before needing a replacement. Wooden decks, after all, are susceptible to water damage and are extremely attractive to wood-boring insects. Increase the lifespan of your deck by relying on composite wood instead of natural wood. Raised patios may crack or heave with extreme weather, but they're otherwise highly durable, lasting 25 years or more depending on the materials used for construction.
Maintenance
Easier to Maintain: Raised Patios
Wood decks are tricky to maintain, as they require staining and sealing every two years. This is not a cheap procedure, as the cost to stain a deck is $500 to $1,000. Raised patios require very little maintenance since concrete and cement are heartier than wood and composites. However, keep an eye out for cracks with raised patios as these form if the soil underneath becomes saturated with water. A competent pro charges $50 to $100 to repair these cracks.
Weight Limit
Higher Load-Bearing Capacity: Raised Patios
Generally speaking, you can put more appliances and other kinds of items on a raised patio when compared to a deck. Decks have built-in weight limitations, as wood features a reduced load-bearing capacity compared to concrete, stone, or cement. This reduced weight limit becomes an even bigger issue with floating decks. However, weight limits depend primarily on the materials used during construction, so talk to your local general contractor.
Raised Patios vs. Decks: Which Is Best for Your Home?
Your climate and desire for a higher resale value impact which type is best for your property.
For Cold Climates
Winner: Raised Patios
While extreme weather causes minute cracks in raised patios, you can fix these for not much cost. On the other hand, wooden decks are susceptible to water damage resulting from multiple freeze and thaw cycles. Additionally, critters like to hide out underneath decks during the winter months, while raised patios lack openings for them to crawl into.
For Hot Climates
Winner: Tie
Both are great options for hot climates, as a primary function of a dedicated outdoor space is to spend time with friends and family during the summer months. Decks will typically stay cooler than raised patios, as wood doesn't conduct heat as intensely as concrete or cement. Otherwise, it's a draw.
For Return on Investment
Winner: Decks
If you're looking for an outdoor space that increases the resale value of your home, you're in luck as both are good options. However, decks have a slight edge here, with an approximate 70% return on investment (ROI) compared to a 50% ROI when installing a raised patio.
Raised Patios vs. Decks vs. Other Options
Raised patios and decks aren't your only two options when it comes to outdoor recreational areas, as there are plenty of other choices available. If you're still unsure which is the best decision to make for your property, contact a local home exterior professional for a detailed discussion.
Vs. Traditional Patios
Regular patios offer their raised cousins an advantage and distinction—with one primary difference. They must be laid on flat ground, whereas raised patios can work around some bumps and other terrain irregularities. Still, traditional patios are cheaper to install than decks, more durable, and require less maintenance.
Vs. Screened-In Porches
If you live in a part of the country overrun by mosquitos, a screened-in porch is a good way to allow access to the outdoors while still remaining protected from the elements. Screened-in porches are versatile additions to the home, but a screen lacks the durability of concrete or even wood. Also, they're not the most ideal option for grilling since the smoke has nowhere to go.
Vs. Verandas
Verandas typically exist in the front of the house, though they occasionally extend to the sides. They provide a shaded and cool area to sit and relax but aren't particularly appropriate for hosting barbecues and related recreational activities.
Vs. Gazebos
Gazebos are expensive and not quite as roomy as decks or raised patios. Gazebo installations cost $3,500 to $15,000, depending on size, materials used, and necessary pre-building procedures such as land preparation. They're made from just about anything, so durability and lifespan depend on materials.
Start Your Deck Project Today
No Comments Yet