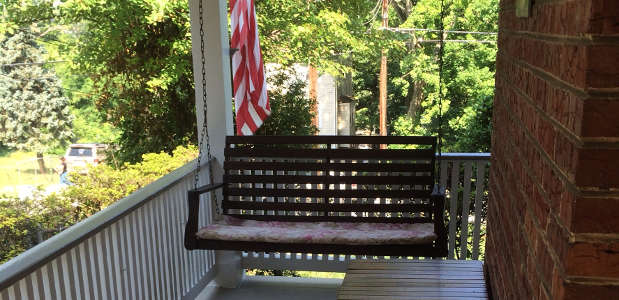 A front porch swing is one of the most undervalued items in a home. They just exude relaxation. Nobody has ever walked by a house and seen people sitting on the front porch in a swing having a bad time. It just doesn't happen. Swings are fun, but with all of these sleeping porches, screen-in porches, and other items that try to fancify the standard porch, our favorite little swings seem to be drifting out of fashion. But these little treats are more important than ever with our busy lives and our go-go attitudes. Finding time to relax can be difficult, but finding ways to relax should never be.
The Return of the Swing
There are a few little known secrets of selling houses that most real estate agents know. One is to plant yellow flowers by the front entrance. Another is to change out the address numbers with sharp, visible ones. Another idea is to install a porch swing. The installation process is not that difficult and can be managed in a few hours. All you need to do is find the kind that best suits your home.
Ready to start your
Porch Swing Install

?Find Pros
The two most popular types of swings are wicker and wooden. Wicker porch swings just have that classy, old world charm and can be easily transformed into another color with a can of spray paint if another color happens to take your fancy.
The Real Thing to Learn
If real estate agents think porch swings make a home feel cozier or more like a home, then it must be true that people love these little items. They are great for reading the paper or just sitting with a loved one, rocking back and forth on a lazy Sunday. Add some cushions to make the whole experience that much more comfortable.
If the swing is too low to the ground or too high off of it, the chains make for a quick adjustment. What's more is that porches are great places to entertain. They get to take advantage of the outdoor breezes, the night sky, and of course, a great porch swing.
No Comments Yet