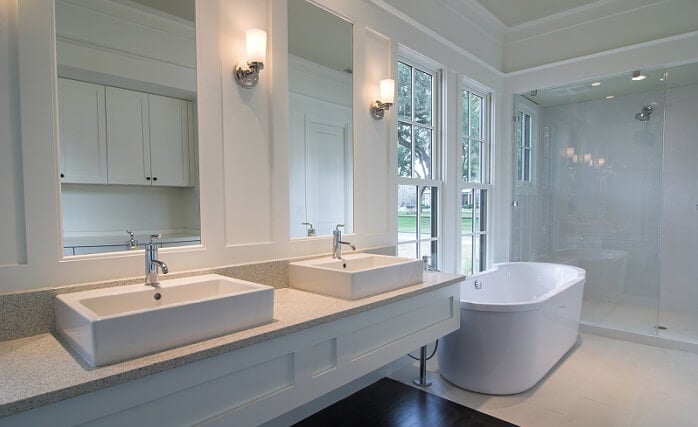 What Home Improvements Add the Most Value?
Potential buyers are most interested in kitchen and bathroom remodeling projects. So, if you're looking to improve the value of your home, focus on these areas after tackling necessary improvements such as replacing a broken window or resolving drainage problems.
How Much Value Does A Bathroom Remodel Add?
Remodeling a bathroom can add as much as 100% of the amount you put into the project—as long as you spend it wisely. Professionals recommend spending five percent of your home's total value on a regular bathroom remodel and about seven to ten percent a master bath.
Keeping your updates within popular and neighborhood trends helps you get the best ROI.
No one wants to go more than a few hours without access to their bathroom, let alone several days. Hire a bathroom remodeler when:
How Much Does A Kitchen Remodel Increase Home Value
Thoughtful kitchen remodels can increase the value of your home by as much as ten to fifteen percent. Like bathrooms, kitchens can fully recoup your investment. The rule of thumb is to keep your kitchen renovation budget between ten and fifteen percent of your home's value. Therefore, that's how much you should estimate to gain.
Make updates according to neighborhood and popular buyer standards to maximize your investment.
When remodeling a kitchen, especially when your goal is to add value to your home, consider hiring specialized contractors such as:
When you remodel your kitchen, you can expect it to be out of commission for the duration of the project. Even if you have the skills, if you lack the time, then hiring a contractor could be priceless for limiting stress and preserving your sanity. It's the same for bathroom projects.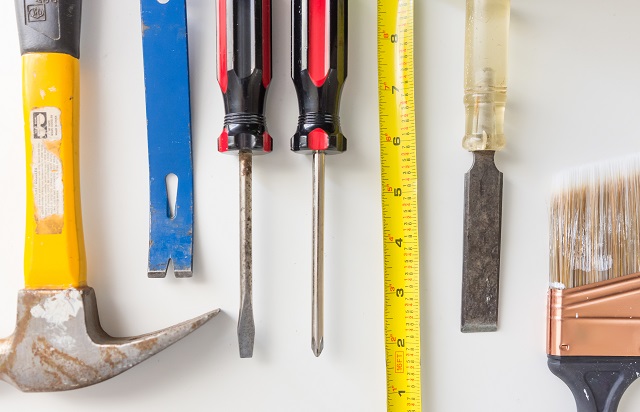 DIY Projects to Increase Home Value
Homeowners see the biggest lift in home value when the property is kept well insulated, secure, efficient, and up-to-date. Kitchens and bathrooms are great rooms to show off your home's functionality and style. They're also great places to flex your DIY ability. From new hardware to refinished floors, improving these rooms will improve your home's value. Here are some updates you can make to both.
Bathroom Upgrades That Pay Off
Everyone loves a crisp, clean and spacious bathroom. Whether you're renovating a master bath or a guest bathroom, blending comfort and style is the way to go. Bathrooms, though a place of practicality, often help houses sell more quickly when they feel luxurious and spa-like. Some simple DIY bathroom fixes include:
Lighting
Consider several lighting options, depending on the size of your bathroom. Modern solutions that bath the space in warm or daylight make the space feel inviting. Elegant sconces next to the mirror can be an ideal companion to soft recessed lighting in the ceiling.
Windows
While no one wants a bathroom that broadcasts itself to the neighborhood, natural light is perfect for these spaces. Consider installing solar tubes to bring in natural light and decrease your electric bill. Use window treatments that will let in the sunlight but maintain privacy. Decorative window film can not only give you the privacy your bathroom needs, but the decor you — and potential buyers — want.
Fixtures
Nothing says elegant like a pedestal sink. However, if new porcelain isn't in your budget, a new faucet can make a big impact on a small budget. You can change out the fixtures on your sink, tub and toilet along with the showerhead to update your bathroom's look. Consider faucets or caps that conserve water to help both you and the next owner save money every month.
Paint
Wall color can make or break a bathroom. If you have a small bathroom, paint the walls a light color and the ceiling an even lighter color. This will make the room feel larger and more spacious. Conversely, if you have a vast master bathroom that you want to give a cozy feel, try dark, but warm, colors on the walls and a shade slightly darker on the ceiling.
Kitchen Upgrades for Higher Resale
The kitchen is where many families and friends come to gather. We celebrate holidays with good food, bond with loved ones by cooking together, and relax in solitude with a warm cup of coffee or tea all in the same space — the kitchen. That's what makes this room the heart of a home, and deserving of the kinds of updates that make life more enjoyable, such as:
Cabinets
You can update cabinets in many ways without having to tear them out and start from scratch. Refacing cabinets, covering them with a thin veneer, is the best way to update your cabinets and get the best return on your time and investment.
A new coat of paint and modern hardware can add new life to a kitchen. Keep in mind that if you're going in for a DIY, removing doors, sanding, priming and painting cabinetry is an intensive project that can take days if you're doing it alone.
For a more open and spacious look, you can remove the cabinet doors entirely and let the exposed shelving, along with your dishes and cookware, serve as decor.
Backsplashes & Walls
To get the best bang for your buck, stick to mosaic or subway tile backsplashes in white or neutral colors. They are durable, easy to clean and popular styles that allow either you or a new owner to decorate on a blank canvas.
Glass and other tile sheets are simple to install yourself and instantly enhance your kitchen. Make sure you take it all the way up the wall between counter, stovetop and cabinet for a modern look that sells.
For walls without cabinets or counters, paint is both an easy DIY. Soft, warm and welcoming colors can complement a rustic kitchen, while muted colors with one bold, vibrant wall can add character to a modern kitchen. Don't forget to make a splash with your backsplash. From tile to tin, there are dozens of ways to make an elegant backsplash the focal point of a creative kitchen.
Appliances
How much value do new appliances add to a home? Some realtors believe new appliances can recoup 75% of your investment. ROI depends on their age, efficiency and quality. If the appliances you plan to replace are more than ten years old, not energy efficient or below typical neighborhood quality you can get more money back with a new set. Just add the cost of the new appliances to the list price of your home.
Most buyers agree that stainless steel is the way to go. However, working within your budget and remodel aesthetic may require creative thinking. If you aren't looking to sell soon, keep it timeless. A gas range, double stacked ovens and a refrigerator with a bottom drawer freezer are all appliances that rarely go out of style.
Flooring
Enhance the appeal and value of your kitchen flooring by installing durable, practical and neutral materials. Try out cork, stone tile, engineered wood or luxury vinyl for the best value for your money.
Installing flooring may seem daunting, but depending on the kind of floor you want, you can easily make this into a DIY project. Refinishing wood floors, laying vinyl or polishing old tile can enhance a kitchen with low cost and low effort.
What else can I do to improve my property's value?
When your hopes and dreams for a kitchen or bathroom remodel go beyond your capabilities as a DIY-er, then you may want to hire a contractor to give your vision life. Although hiring a professional costs more than DIY, the return on investment (ROI) for the value of your home is often much higher than that of a DIY project.
Not to mention, if the do-it-yourself project goes wrong, you'll need to hire a contractor to correct the mistakes — which will end up costing you more than if you had hired a pro in the first place.
Professionals can handle remodeling projects that require a certain skill level to do them safely and up-to-code. Professionals are also a good call if you need to complete a project quickly but don't want to sacrifice quality. Call a remodeling contractor to:
Ready to remake your home? Whatever your vision, from new curtains to a new floor plan, keeping the value of your home in mind can help drive good decision-making. Whether you bring in a seasoned pro or tackle a project all on your own, make sure you have a well-thought out plan, including a budget, timeline and outcomes.
1 Comments