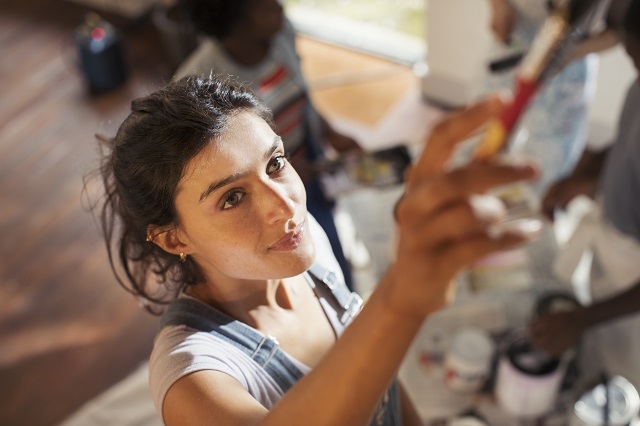 Do you watch hours of home shows waiting to pick up the perfect list of tips for your next project? Chances are your favorite host never mentioned these helpful tips to plan your project. These guidelines will help you get the most for your money.
Prioritize Projects Wisely
When remodeling, start with projects that must be done. These may not be glamorous transformations, but they make the biggest impact on your home's functionality and value. Replace old water heaters and worn-out carpeting, update inefficient appliances or fix plumbing issues that might cause flooding, leaks or damage.
From there, opt for projects that give you the most satisfaction and bang for your buck. High return-on-investment projects include:
Fiberglass insulation (107.7% ROI)
Entry-door replacement (90.7% ROI)
Manufactured stone veneer (89.4% ROI)
Garage door replacement (85% ROI)
Minor kitchen remodel (80.2% ROI)
Create a Realistic Budget
If you don't know how to begin planning your budget, check out our cost guides. There, you can find the high and low average costs of virtually any renovation project or professional home service.
Keep in mind: a renovation budget needs to include more than the cost of materials and labor. You never know what you might uncover once fixtures and coverings are removed. So, account for the unexpected. Many pros recommend a adding a 15 to 20 percent contingency into your budget to account for unforeseen expenditures. If you're total budget is $10,000, plan to set aside at least $1,500.
How much should you spend on your project? The general rule is: don't overspend on any room's proportionate value. For instance, a kitchen is typically worth 10 to 15 percent of a home's total value. Here's an example. If you have a $200,000 home, don't spend more than 15 percent, or $30,000, on kitchen renovations.
How Much You Should Spend on Each Room:
| Room | Percent of Home's Value | $200,000 House |
| --- | --- | --- |
| Kitchen | 10-15% | $20,000-$30,000 |
| Master Suite | 10% | $20,000 |
| Powder Room/Bath | 5% | $10,000 |
| Living, Dining or Bedroom | 1-3% | $2,000-$6,000 |
| Finished Attic or Basement | 10-15% | $20,000-$30,000 |
| Patio, Deck & Landscaping | 2-5% | $4,000-10,000 |
Know What Buyers Want
If you are renovating with an eye to sell, design your remodel based on the elements buyers look for in a home. Here are some popular features buyers want:
Energy-efficient appliances and windows
Hardwood floors,
Storage space, especially in the garage,
Sustainable building materials and features,
Neutral color pallette,
Curb appeal, including exterior lighting,
Ceiling fans,
Patios and decks,
Light-filled rooms.
Consider Neighborhood Competition
It's important to keep renovations in line with the style and value of other homes in your neighborhood. Housing prices are calculated using square footage and the sale prices of comparable homes in your neighborhood.
So, installing high-end fixtures and materials doesn't necessarily make a house sell faster or at a higher price. For instance, if most of the homes in your neighborhood are builder-grade, splurging on luxury kitchen and bath remodels may cost you.
But don't discount quality value. Chances are good that you'll recoup your investment on long-lasting, efficient and sustainable options.
Enhance Character
Many homeowners look for ways to give their home character. There are good and bad ways to do that when it comes to ROI. Don't paint your home a distinctive, highly-personal color. Instead, stick to light, neutral hues. Look for ways to play up your home's existing features, especially if it is old.
If the original hardwood floors are in good condition, have them refinished instead of covering them with carpet or laminate. Look for ways to play up architectural features like built-in bookcases, mantles or inset. Use wooden beams to add interest to a ceiling. Thrift architectural elements, like balusters, columns, finials, molding or pendants, to transform interior lines.
Choose the Best Financing Option
Unless you have cash saved, you'll need to finance your home renovations. Choosing the remodeling loan with the lowest interest rate is usually the best way to get a good return on your investment. Your options may include:
A home equity loan that offers financing based on the equity in your home.
A valued-added loan that's based on the value your home will have after renovations.
Cash-out option allows you to access cash based on the equity in your home.
A homeowner's loan that's based on income instead of equity.
The right financing for your home improvement will depend on your situation. Consult your banker or financial advisor for advice.
Don't DIY These Projects
There are some renovation projects better left to the pros. Complex systems like electricity, plumbing and weight-bearers usually require a licensed, certified or insured professional to perform the work. Seemingly simple tasks may require a specialized skill set or a particular piece of equipment.
Do not attempt the following home projects if you're not a trained professional:
Structure or foundation repairs,
Asbestos and mold removal,
Gas, electrical or plumbing work,
Additions or build-outs,
Hardwood floor installation,
Window replacement,
Installation or maintenance of warrantied items.
Unfortunately, the full list of projects you shouldn't DIY is more complex. Some projects need to be up to state or local code. For instance, if a shower or tub is installed without the mandated support, you may need to hire a professional to do the job properly. Always check warranty terms, local codes and HOA rules before committing to a DIY.
Contract a Professional Service the Right Way
When starting any home renovation, hire a pro you trust to stay on time and on budget. Make sure your contractor commits to communicating when things aren't going right and might cause delays or a cost increase. Create a thorough contractor agreement that spells out exactly what the contractor will and won't complete along with timelines and payment. Get more tips for hiring a contractor to ensure your project runs smoothly.
Anticipate Some Kind of Surprise
Home renovation projects don't always go as planned. The contractor you want may not be available on your preferred timeline. The weather may not cooperate. Or, worse, the project's timeline may get extended due to labor shortages, mistakes or miscommunications.
It's hard to be patient when your home is in disarray, but it is all too often part of a home renovation project. Recognizing that delays occur before the project begins can help you manage expectations.
No Comments Yet