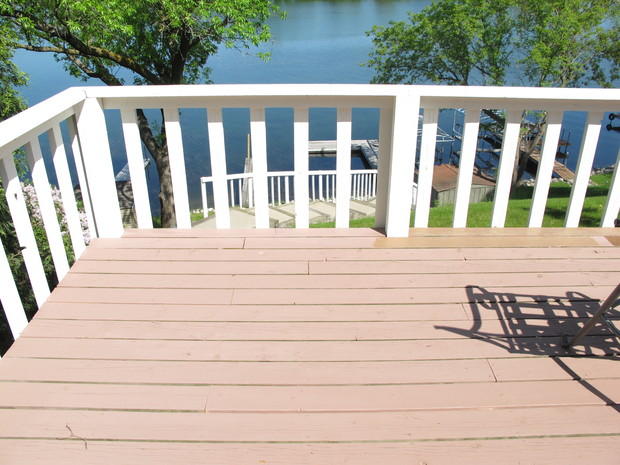 To replace a bad deck board you will need rustproof deck screws, a power screwdriver, a power drill and a pilot drill bit. If your deck boards are screwed down, simply unscrew the damaged board, cut a replacement to the same length, and screw it down with rustproof deck screws. It is best to replace entire boards. For stability and safety, a deck board should span at least three joists.
Complications in Replacing Deck Boards
If your deck boards are nailed down, the boards are quite tricky to remove without damaging the surrounding area and you may wish to enlist a service professional. You should never take on a home improvement project, unless you feel confident that you know how to fully complete the job. One of the more common unnecessary expenses in home improvement is the extra cost for fixing problems created by overly ambitious DIYers. Of course, replacing decking can be done without extensive decking knowledge, if the board is simply attached, but once you notice any complications, call a deck contractor before you get in over your head.
Design Flaws in Your Decking
Another thing to watch out for is a systematic problem with your decking. Most decks fall into disrepair due to design flaws during the installation. Often, proper precautions weren't taken to eliminate the problems associated with gaps between the deck boards and joists that support them. It's easy for moisture to find their way into these gaps and when warmed by the sun are breeding grounds for dry rot bacteria and fungi. You should always get a good-length warranty with your decking installation, and if your deck boards have begun to rot or come loose prematurely, contact the contractor who installed your deck.
Ready to start your
deck board repair

?Find Pros
Decking Replacement
For older decks, you may have multiple deck boards that need to be replaced, and it may be time to consider a total decking replacement. Sometimes, if the underlying structure is still in reasonable shape, you can replace your decking without knocking down the whole structure. You can replace your deck with all new wood or replace the boards with decking tile. Decking tile is a good idea for DIYers as most have an interlocking design that allows for easy installation.
Decking Contractors
Even if you're not sure exactly what you want to do about your deck repairs, talking to a decking contractor can be a useful resource to help you with your project. They may have ideas that you haven't thought of or that may work for your specific situation. At the very least, you should be able to determine if it is something you can handle on your own or if you need to hire a contractor and pay for professional repairs. You'll also have a better idea of your options, plus the costs and potential benefits of each course of action.
No Comments Yet