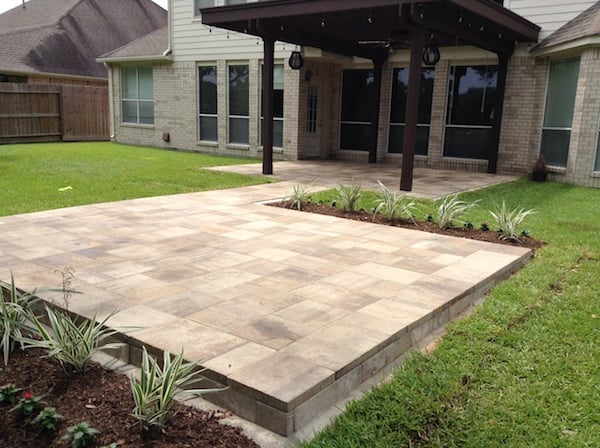 As strong as concrete is, it's not impervious. Even when it lasts for many years in relatively good condition, dirt and deterioration will set in, despite your best cleaning efforts. When this happens, it's time to revitalize your patio area. The good news is a concrete slab can offer a solid foundation for a new patio installment, making the project significantly cheaper than starting from scratch.
Resurfacing Concrete Patio Slabs
If your concrete slab has not yet cracked, simply cleaning the concrete can be a viable option. When discussing resurfacing concrete, this probably means something more than just borrowing your neighbor's pressure washer. Concrete companies, however, have chemical-based cleaning solutions that are designed to clean concrete and can handle jobs beyond the abilities of a pressure washer.
If your concrete has small, manageable cracks, an epoxy filler and sealant can be used in some situations. It sounds simple enough, but the cracks need to be pulled apart slightly so the subsurface area can be thoroughly cleaned before the epoxy is applied. For most homeowners, this will mean hiring a contractor.
New concrete can also be poured over the existing concrete. This will still require using an epoxy layer to create a membrane between the two layers, but the resulting slab will look newer and will generally be more durable. The new layer of concrete should have a higher sack mix with fiber additive.
Concrete Alternatives
Resurfacing doesn't mean you have to stick with concrete. Any number of different materials can be laid over your old concrete patio. One of the most popular is patio tiles. If your concrete is in decent condition, you can lay interlocking tiles over your concrete without the hassle of nailing and little, if any, surface preparation. Brick and stone masonry can also be laid over your old concrete. You'll have a topflight patio if you survive the price tag. Regardless of the material you use—tiles, brick, stone, new concrete—you'll need to make sure that the new material doesn't raise your patio height to the point of blocking doors and gates.
Ready to start your
patio resurfacing

?Find Pros
Your Outdoor Patio
Many times, these choices will largely depend on what you use your patio for. Concrete slabs can be great for your kids, hire a contractor who can install a basketball hoop next to your outdoor patio and they'll have countless hours of entertainment. Some homeowners may decide to resurface their outdoor patio slab when their kids have left the nest. If this is the case, resurfacing your patio slab with interlocking tiles can be a relatively cheap patio installment that will instantly convert your patio into a place for outdoor dining and entertainment. Replace the basketball hoop with some tiki torches or outdoor landscape lighting and your transition is close to complete.
No Comments Yet