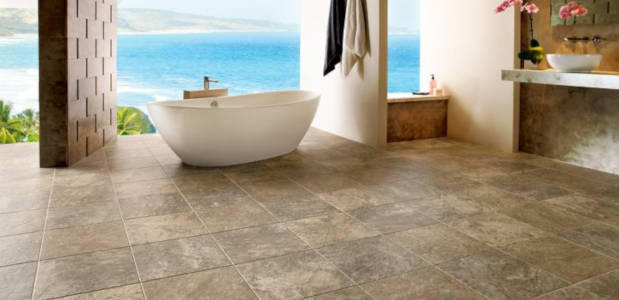 Whether you're considering a major remodeling project or simply want to update a room, changing your flooring is an easy way to make a dramatic change. There are so many choices available today including hardwood floors, carpeting, tile, and even laminate flooring.
Hardwood Floors
In general, hardwood floors are more durable and more resistant to damage from impact.
The most popular hardwoods include oak, followed by maple and ash. Specialty woods are more expensive, butthey are often quite beautiful. If you have an ample budget, you may want the luxurious look of rarer woods like walnut, teak, and cherry.
You can also customize your floor with pieces arranged in a special design. Inlay elements can turn an already striking floor into a distinctive work of art.
Another way to customize hardwood floors is to stain the wood in an unexpected shade. While wood flooring can come in a variety of different shades and colors, it is becoming more and more popular to create a custom color. Many homeowners have chosen a bright red or deep green stain with striking results. Often it is best to choose a vibrant color for smaller areas or rooms as too much of a non-neutral color can prove to be overwhelming.
Bamboo flooring is an increasingly popular trend in flooring and is actually harder and more durable than hardwood. Technically a grass, bamboo is a renewable resource that can be harvested every five years. And, in many cases, bamboo flooring is less expensive than wood while the installation costs should be about the same.
Carpeting
If you haven't been carpet shopping recently, you may be overwhelmed by the many choices. Don't make the mistake of choosing carpeting only for its color. Consider the fibers and construction as well as your lifestyle.
Plush or cut-pile carpet has loops trimmed off so that yarn ends poke up. Saxony plush, one of the most popular varieties, has short tufts that are densely packed. While a popular choice, plush doesn't tend to wear as well as berber.
Berber (or high level loop) carpet creates a nubby texture with complete yarn loops that stand upright.
Wool generally is considered to be the ultimate carpeting fiber. It costs two to three times the price of synthetics, but it's particularly comfortable, durable, and natural in appearance. It is resistant to soil, but when soiled may be particularly hard to clean. Be aware that direct sunlight will fade wool fiber over time.
Synthetic fibers are made from several artificial materials. Nylon is the most popular because of its durability, although it can be damaged by prolonged exposure to sunlight. It is less costly than wool.
Ready to start your
Flooring Project

?Find Pros
Understanding all of the attributes and drawbacks of each carpet product can help you choose the most appropriate flooring for your home with confidence. If you need carpet installed, it's a good idea check with a few highly rated carpet contractors in you area.
Tile
The most durable of all tiling materials are ceramic and natural stone materials, which, when properly installed, last the lifetime of a house. This durability, combined with natural beauty and an incredible array of colors, patterns, and textures makes tile and stone the materials of choice where quality and character are important.
Ceramic tile and stone are fundamentally different. Stone flooring can include quarried slate, limestone, flagstone, granite, or marble. Stone tile is a relatively affordable alternative to stone slab and is made from real stone aggregate suspended in a polymer binder.
Choosing the right stone tile is usually a combination of personal preference and budget considerations. Marble and granite, for example, offer a more formal appearance. The most expensive, marble, is an elegant, ornamental stone that takes a high polish. Both sandstone and limestone are more brittle but less costly options.
Ceramic tile is made from slabs of clay that are fired for hardness. Ceramic tile may be either glazed or unglazed. Glazed tiles have very hard, smooth surfaces that reject water and stains. The tiles come in many colors, four finishes, and two surfaces that may be smooth or textured. No matter what tile you prefer, a local tiling contractor should handle any project.
Laminate Flooring
Laminate flooring used to be considered merely a substitute for hardwood or tile, but now it's a legitimate medium in and of itself. The durability is often what initially interests customers.
Laminate wood flooring is easy to install because, unlike conventional solid wood, it's prefinished and may be glued down or applied over a thin foam paid laid on the subfloor. Some types are even adhesive-backed.
The grouted tile looks are also very popular. Customers love having the look of grout without having to scrub it to keep it presentable.
Another advantage of laminated flooring materials is that they're less likely to suffer from the expansion and contraction problems that often occur in moisture-prone areas such as the bathroom or kitchen. This also makes laminate very popular in climates with higher humidity.
No Comments Yet