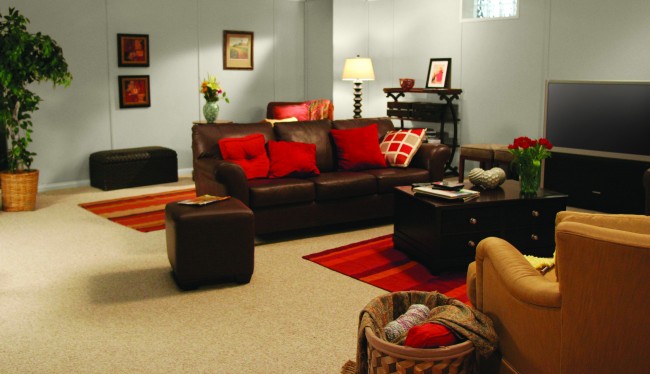 Basements are like your strange cousin. Because we are not quite certain what to do with them or what they should be, we end up treating them a little differently than the rest of the family. Basements have a strange way of becoming part storage, part workout room, part teen hangout, and part workshop. This is especially true if your basement is unfinished, and since most new homes come standard with a large basement, there are many homeowners who are scared of that odd child below the ground floor.
Not to worry, basements are also the easiest room to remodel in the home. But there are some safety concerns that need to be considered even if you aren't going to remodel.
Basement Lighting
To begin, you need to install a light (if one is not already there) at the top of the stairs. It might sound too simple to consider, but many old homes don't have this necessary feature, and it is a quick fix for any electrician. It is also a good idea to have a connected switch at the base of the stairs in case you are watching a movie in the basement and you want the lights out. This way you can turn the lights back on just before you walk up the stairs. Again, pretty simple, but is a safety measure people don't often consider.
If your home is not built on a raised foundation, your basement most likely has very shallow windows, which results in a limited amount of natural light. For some, this fact alone can create a space that is not particularly easy to be in, but the safety implications could be serious in some cases.
Basement Windows, Window Wells, & Window Well Covers
Basement windows need to be a certain height so that people can escape if there is a fire. As a result, if windows are not at or above this height, they cannot be considered full basements or part of a home's square footage, whether finished or unfinished. To make sure that people in your home can always get out easily, a smart and safe basement remodel is to have contractors dig out the area around your basement windows so that larger windows can be placed in the basement. These are called "window wells" and come standard on most new homes built today. Typically, removable window well covers are fastened to the tops of window wells to keep debris or pets from falling. Window wells are not only a good safety feature, but also help create natural light in an otherwise dreary, crazy cousin room.
How much does it cost to dig a basement? In a survey of more than 550 homeowners, most paid between $1,287 – $4,471.
Ready to start your
basement remodel

?Find Pros
Basement Waterproofing and Black Mold
Although water seepage and mold growth are generally thought to be under the category of health concerns, which it is, but health is basically a type of personal safety, so it seemed right to mention it here.
Many basements leak, flood, and produce condensation which can lead to a buildup of mold and other allergens that can not only affect those who are in the basement, but can spread to the rest of the people in the house. Mold can really spawn once it is allowed a place to inhabit, and it can take off in a basement if you're not monitoring it.
Avoiding childhood asthma is greatly dependent on your home air quality. Regularly cleaning air ducts and changing your HVAC filters are requisite steps, but if your basement is wet and dank, then the black mold and general house mold will be impossible to combat if you don't waterproof and remove the mold.
How much does it cost to waterproof a basement? The national average cost is about $4,000.
Basement Safety
No matter how much time you will be spending in your basement, no matter if your basement is finished or unfinished, the health effects of black mold and basement condensation can be severe and they are can be easily remedied by the right home improvement professional.
No Comments Yet