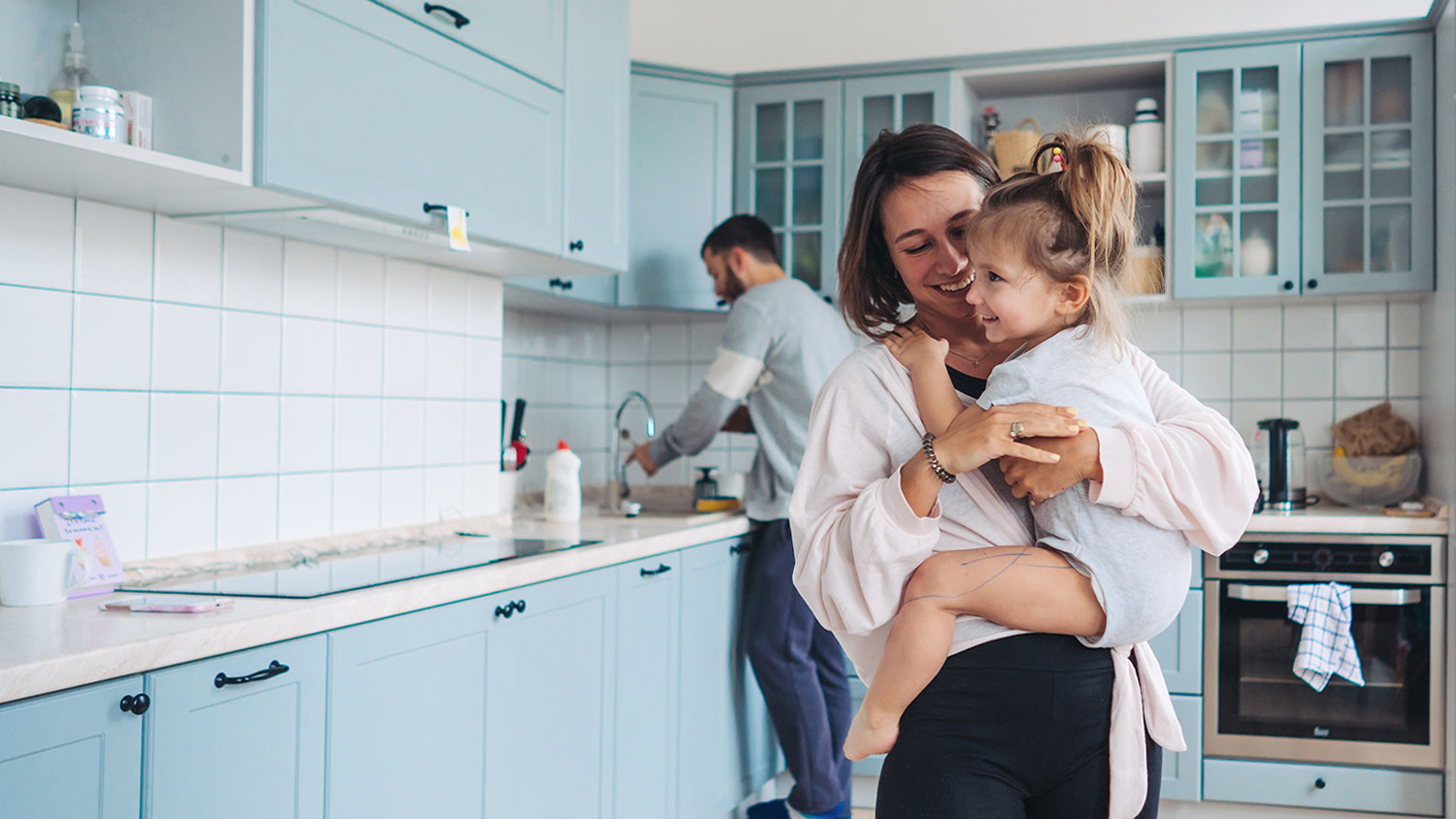 teksomolika – stock.adobe.com
When choosing cabinets for your home, the difference between Shaker and traditional styles is mainly aesthetic. Shaker cabinets are usually found in more contemporary-style homes, whereas traditional, or raised panel cabinets, often fit better in a more conventional-style home.
Table of Contents
What's the Difference Between Shaker and Traditional Cabinets?
Both Shaker and traditional cabinets come in various wood types and colors, but there are some fundamental differences.
Shaker Cabinets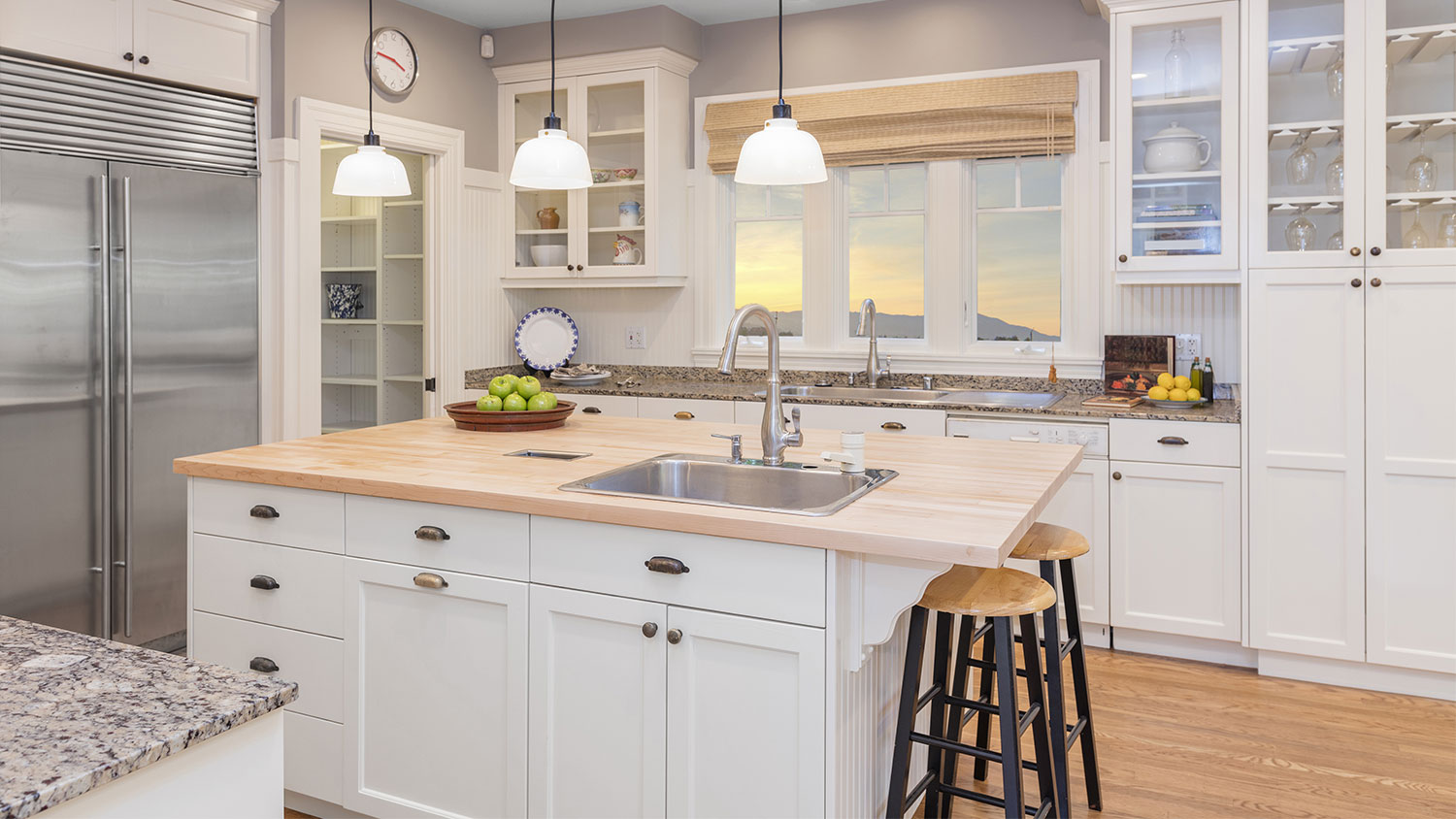 coralimages – stock.adobe.com
Shaker cabinets are a more contemporary style of cabinet. They have one recessed center panel and a raised frame. They usually have a simpler look than traditional cabinets, often with straight lines and square edges. Shaker cabinets' hardware is usually simple with clean lines.
Traditional Cabinets
SawBear Photography – stock.adobe.com
Traditional cabinets, also called raised panel cabinets, have either carved or raised centers, usually with an ornamental design in them. They rose to popularity in the Colonial era and are understandably common in Colonial-style homes. Their hardware is usually more decorative looking, with carved brass knobs being a favorite for these types of cabinets.
Shaker vs. Traditional Cabinets: Which Is Better?
Both Shaker and traditional cabinets are popular styles for kitchens. Consider these pros and cons to decide which is best for your home.
Appearance
The main difference between Shaker and traditional cabinets is their appearance. More contemporary designs tend to incorporate Shaker cabinets because of their clean lines and simple appearance, while more traditional-style homes, such as farmhouse or rustic.
Frame Style
Shaker cabinets usually employ a frameless construction with hardware hidden inside. Traditional cabinets come in either framed or frameless styles, so you have a choice of whether or not you want decorative hardware showing.
Shaker
Traditional

Sleek appearance
Versatile
Available in different finishes and wood types
Frameless construction

More cabinet door design and decorative options
Available in an array of wood species and finishes
Framed or frameless construction
Cost
Most Affordable: Shaker
Shaker-style cabinets are usually less expensive to install than traditional-style cabinets; traditional cabinets tend to have ornamental designs in the wood, which costs more to manufacture than straight edges and lines.
Shaker Cabinets
Average cost to install Shaker cabinets: $4,000–$6,000
Traditional Cabinets
Average cost to install Traditional cabinets: $5,000–$7,000
Factors that influence cost
Size of kitchen
Wood type and finish
Custom vs. prefab
Maintenance/Care
Easiest to Clean: Tie
Shaker cabinets may be slightly easier to clean than traditional cabinets, but it largely depends on how intricate the traditional cabinet design is. If there are small or multiple grooves, you may have a harder time cleaning those than the simpler lines of Shaker cabinets.
Placement is also a consideration; the lower down or higher up the cabinet installation, the more difficult reaching those cabinets is. The feature that may give traditional cabinets a leg up is molding. Shaker cabinets' design doesn't include molding around the ceiling, so there may be a gap between the top of the cabinet and the ceiling that is more difficult to reach. A traditional cabinet design often includes crown molding that attaches the cabinet to the ceiling, eliminating the cleaning requirement between the cabinet and the ceiling.
Installation/DIY
Hire a professional: Tie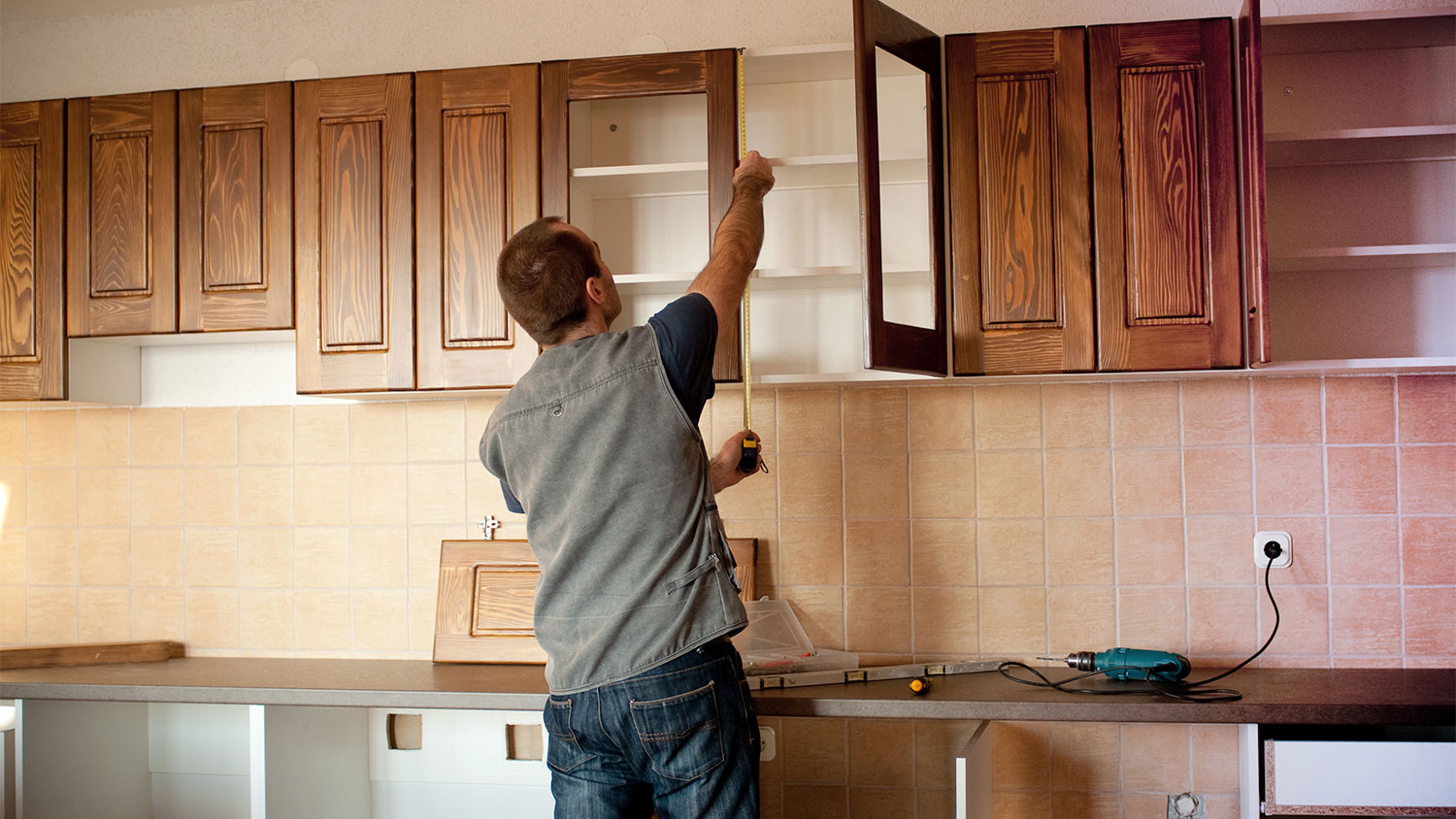 Viktor Pravdica – stock.adobe.com
The installation for both Shaker cabinets and traditional cabinets is the same. The difference between the two designs is on the doors only, so the other part of the cabinets are identical.
If you have the know-how and the drive, both types of kitchen cabinets can be DIY projects. However, the work is incredibly detail-oriented and mistakes can be expensive. If you're unsure about the project, you should hire a professional to ensure an excellent final product.
The kitchen cabinet installation costs run $50 to $450 per linear foot, depending on the job's difficulty and whether the cabinets are custom made.
Availability
Most available: Tie
Cabinet availability varies by region and both styles are popular in the market. Most manufacturers and home improvement stores stock both types, and builders do custom jobs for both. It may be easier to find Shaker cabinets than traditional if you're looking at a frameless style.
ROI/Resale Value
Highest ROI: Tie
According to Remodeling Magazine, a minor kitchen remodel, which includes new cabinet doors, has an ROI of 77.6%. A major kitchen remodel, which includes changing out the existing cabinets for custom cabinets, has an ROI of 58.6%. Neither style increases or decreases the ROI significantly.
Which Is Best for Your Home?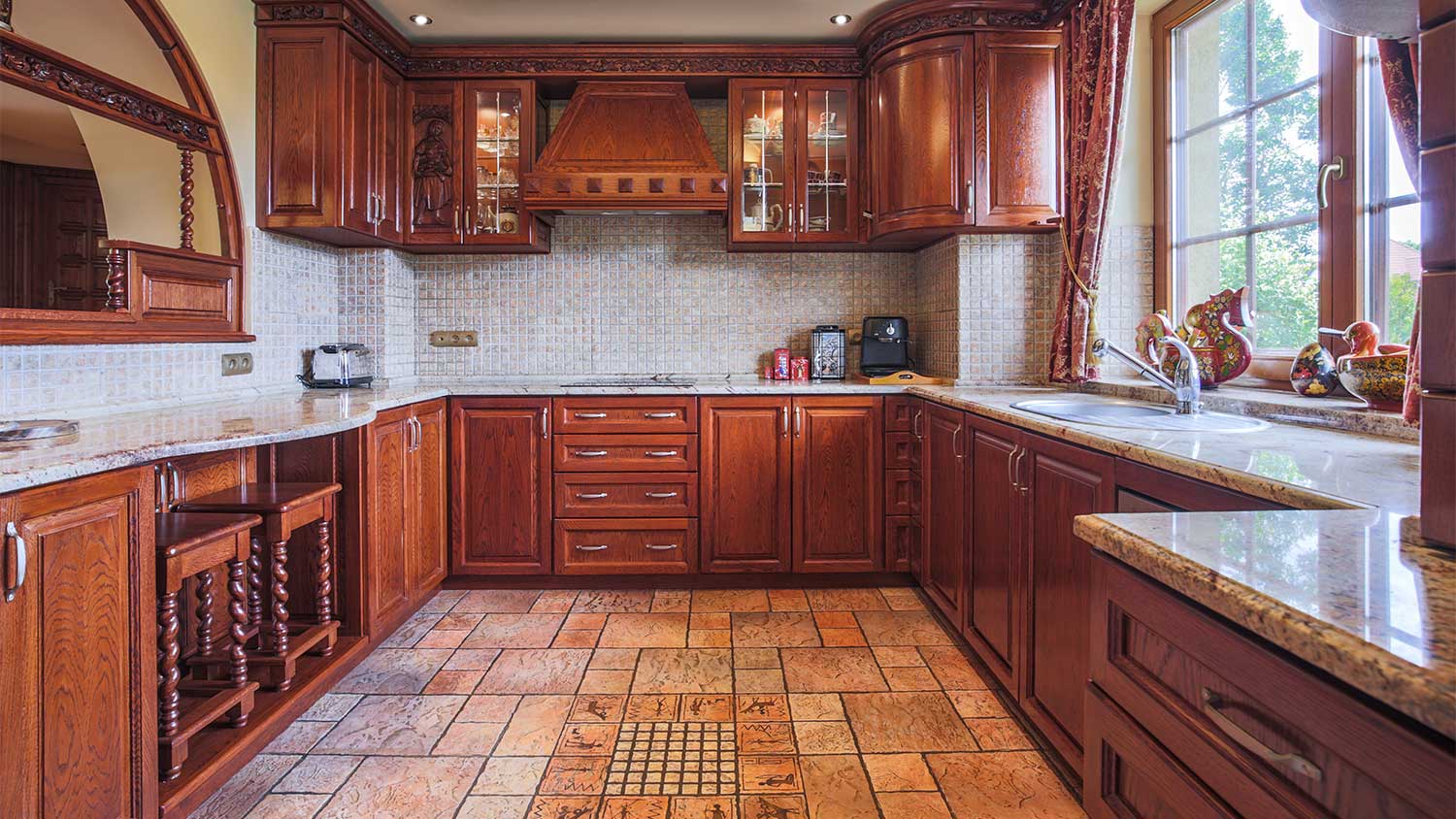 Photographee.eu – stock.adobe.com
Both Shaker and traditional cabinets can revamp a kitchen space. But, ultimately, it all comes down to personal preference and budget. If your kitchen is more modern in its design, Shaker cabinets are the way to go. If you have a Colonial-style home with a kitchen that matches, sticking to traditional cabinets will go with the flow of your aesthetic.
Other Shaker Cabinet and Traditional Cabinet Materials
Manufacturers use different types of wood to build both traditional and Shaker cabinets.
Shaker
Hardwoods—maple, cherry, oak, pine and poplar—most often go into shaker cabinet construction. Wood cabinetry usually costs between $80 and $150 per linear foot (including installation). Manufacturing hardwood cabinets is expensive, and in the 1960s, manufacturers introduced a new type of material called medium density fiberwoods (MDFs) that builders now use to make Shaker cabinets. MDFs are moisture-resistant and come in various colors and have an average cost of less than $10 per linear foot.
Traditional
Traditional cabinets also come in various woods, including oak, hickory, cherry, birch, ash and pine. They also come in laminate or thermofoil, which is a vinyl film that mimics the look of hardwood. Some homeowners choose laminate because it's durable and generally less expensive than wood cabinetry at $50 to $75 per linear foot.
No Comments Yet