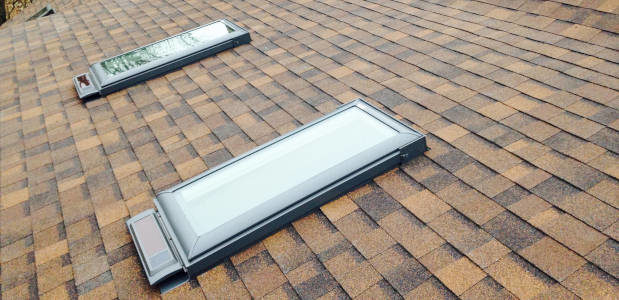 A skylight is a great way to shed a little natural light into a home. By opening up your ceiling to the sun, you gain some interesting advantages. You add a bit of visual style to the architecture, some unique life to your interior, and a little radiance to a room's atmosphere. Plus, by exploiting solar energy as opposed to electrical lighting, you're also able to save on heating, cooling, and other utility bills. But whether you're pre-planning a house, or retrofitting a skylight into an existing ceiling, you're going to be cutting a hole in the top of your house. So you better consider all the styles, accessories, and installation methods out there in order to avoid any unnecessary mishaps.
Types of Light
Skylights come in a variety of shapes and sizes in order to fit any roof. Plus, since it sits on top of your roof, it's also vulnerable to damage. Therefore, they're constructed of many different safety materials in order to protect your family. So here are some things to keep in mind as you make your selection:
Bubble: This dome-shaped style is very strong and is great for low, slanted ceilings or dormers since it can give more headroom while still letting in the light.
Flat: It typically sits flush with the rest of the roof and is great for flat roofs since it is specially made to shed away water.
Plastic Acrylic: Most are made with this type of lightweight plastic that is inexpensive yet strong, and is designed to remove water away from the roof.
Tempered Glass: This safety glass protects against breakage. For instance, if a falling tree limb cracks the surface, it's engineered to break into balled-up pieces, like a car window.
Laminated Glass: It is filmed with a UV coating and a plastic interlay: if the glass breaks, the pieces will be held in place by the plastic, like a car windshield.
Ultra-violet Coating: Many windows are layered with this low-e (low emissive) coating to protect the home against harmful UV rays that cause discoloration and cracks.
Skylight Installation
After selecting the right product, the most important concern is proper installation. As we said before, you're going to be cutting a big hole in the roof of your home. So if it's installed incorrectly, you're making yourself vulnerable to leaks, drafts, and condensation build-up. It's crucial to hire an expert when it comes to skylight installation.
First, these experts consider efficiency. Where would the skylight best be placed? Which slope will be most efficient (high solar radiance, but little direct light in order to avoid fading and unneeded heat)? They'll even consider the seasons of the year in order to optimize its capabilities.
Second, they'll make sure it is properly sealed. They'll install curbs if necessary (curbs are wood frames that allow the light to rest above the roof of your home) and make sure the flashings are properly sealed, secured, and waterproofed.
Third, they can give you maintenance tips. Most windows come with a five-year warranty if any leaks occur, but if condensation does build up (usually due to warm air on one side of the glass coming in contract with cool air on the other side, especially in humid areas of home, like a kitchen or bathroom) then you have a ventilation problem and may need to install condensation gutters (once again, call a pro to get it done right).
Need to find a pro for your Skylight Installation?
Find Pros
Other Options
Like any window, a skylight doesn't just have to be a static, transparent object. There is always new technology available to give your light a little more life.
Ventilation: Yes, they can open and close. Often operated with a crank, a pole, or even motorized alternatives, these windows can make your home feel like a convertible car. Just make sure you also install a lock to protect against break-ins, make sure to keep an eye on the weather when it's open, and make sure it is fully sealed every time it's closed.
Energy Star: It's always wise to install Energy Star rated products to help protect against the sun. These government approved windows are coated, tinted, or shaded in order to let the light in, but keep the heat and harmful UV rays out.
TDD: If you don't want so much solar penetration, then you may want to invest in a Tubular Daylight Device. Often called pipe lights, these long cylinders filter and optimize the light from outside in order to illuminate a small space of the home without overwhelming it.
---
No Comments Yet
You can be the first to comment!