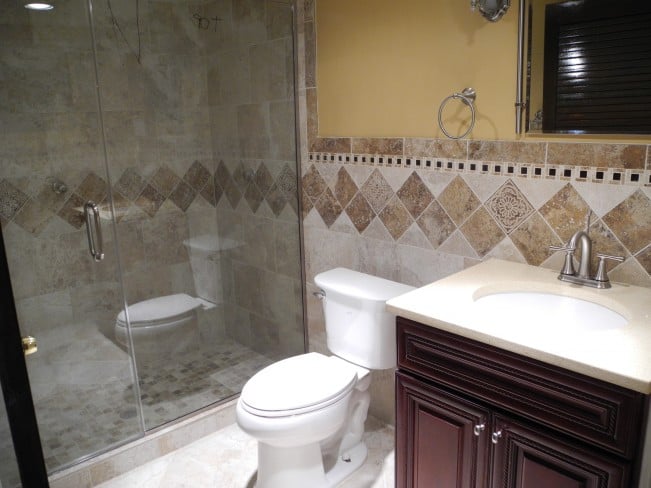 On This Page:
Small and luxurious is a myth, right? Wrong. If you're struggling with finding space in your cramped bathroom or half bath, all you need is a little creativity and design know-how. Here are some tips to get you started:

Maximizing Space
Transforming a bathroom from cramped to cozy requires the efficient use of space:
Less is more: Homeowners have a tendency to keep all of their conveniences nearby. If you're dealing with a small bathroom, try only to include the basics. Because you're limiting the items in your bathroom, feel free to include higher-end toiletries like luxury towels and designer soaps (keep accessories like hair dryers in a nearby linen closet).
Open up floor space: If you have a cabinet under your sink, consider replacing the entire unit with a pedestal or wall-mounted sink. These smaller, slimmer designs will take up much less space.
Store on shelves: Small bathroom shelving units can be used to hold towels and washcloths without using much space. Shelves can be placed on any wall, eliminating  the pile-up of items on your toilet or other surfaces.
Use indirect lighting: Lighting fixtures that jut out from walls or ceilings take up space and make your bathroom feel cramped. Consider installing recessed lighting to illuminate specific areas.
Replace the bathtub: If your bathroom has a bathtub, consider swapping in a shower or walk-in tub. Clear glass doors on showers also give the impression of more floor space.
Use soft colors: Calming colors are easy on the eyes and make your bathroom feel more open. Save bold colors for towels and small accessories.
Decorate small: Small decorations used sparingly can have a big impact on limited space. Decorative candles or small wall decorations fill in empty space without being intrusive.
While remodeling your small bathroom, remember to incorporate functionality into your design. For example, if you use a wall mounted sink, the space underneath can hold a shelf for bath towels. Corner mounted vanity cabinets also take up very little space and provide additional storage.
Combining Form & Functionality
The combination of form and functionality is key for any small bathroom. Fortunately, designers have kept both utility and beauty in mind when designing modern bathroom amenities. But, it's important to note that some features have their own maintenance and repair requirements.
Tub/Shower: Tub and shower kits are available in various sizes including those for small bathrooms. While colors are sometimes limited, a shower pan can be used instead of an entire shower kit (which will leave room for tiles and other decorative touches). If you're using existing plumbing, modifying the look of your shower or tub is a simple DIY project. But, replacing a tub with a shower (or anything involving modifying the plumbing) should be left to professionals.
Vents: Maintaining a small tub or shower is no different than maintaining a larger one. The challenge is making sure you have enough ventilation to resist the buildup of mold. If you suspect your vent fan isn't powerful enough, measure the volume of your bathroom (length, width, height) and the length of your ducting (note the diameter, flexibility, insulation and elbows). A local professional or hardware store will be able to tell you if your fan is an appropriate size based on your measurements. If your fan is inadequate, check your local building codes before you call a pro or perform the install yourself.
Toilets: Depending on the size of your bathroom, your existing toilet might be fine. But, smaller toilets are available that work just as well as their standard sized counterparts.
Low Profile: Low profile alternatives are no harder to maintain than a standard toilet. But, because of their lack of height, a low profile design may not be suitable for homes with tall, elderly or handicapped residents. Toilet installations are an involved DIY project, so it's best to hire a handyman or professional to tackle this project.
Tankless: Tankless toilets are similar to toilets found in commercial settings. The tankless design is considered an attractive alternative because of its sleek casings and low profile construction. Tankless plumbing is more complex than standard options, almost always requiring a professional for installation and repair.
Wall mounted: Wall mounted options are easier to clean than the other designs, especially for those with mobility concerns. Like tankless toilets, the complex plumbing associated with wall mounted options almost always requires a professional for installation and repair.
Sink: A cabinet sink may be useful for storage, but in a small bathroom be prepared for a tight fit. A pedestal or a wall mounted sink is a better choice if you're working with limited space. Aside from having a smaller footprint, pedestal and wall mounted options are also easier to access during minor DIY repairs.
Cabinets: Some cabinets are a necessity (like vanities). Vanities should be recessed into a wall if possible. If a recess isn't an option, there are a variety of corner mounted designs that provide ample storage while remaining unobtrusive. If you're going to install a recessed vanity, be aware of hidden wires. If an electrical switch or socket is nearby, you may be better off by hiring a local handyman. Aside from electrical work, most shelves and small cabinets are fairly simple DIY projects.
Shower Install/Repair
Shower kit: $400.00 to $600.00
Shower pan: around $100.00
Largely due to a lack of space, small bathrooms usually have showers installed instead of tubs. A prefabricated stall can be installed fairly easily if existing plumbing is used, but the lack of space could make maneuvering difficult. Though more expensive and time consuming, many homeowners find it easier to buy a shower pan and install the sealant and tiles separately.
If you decide to tile your shower, opt for larger sizes. While smaller tiles can sometimes appear busy, consider smaller sizes for accents (like a narrow band halfway up your shower).
If you have to modify your existing plumbing, call a professional. An experienced plumber will know what sort of configurations work best for your home and help identify trouble spots that you may not be aware of.
Small Bathroom Cabinets
Cost: $60.00 to $150.00 each
Regardless of size, adequate bathroom storage is necessary — soaps, towels, washcloths and lotions have to go somewhere. Consider storing your bathroom supplies in a nearby linen closet in order to cut down on bathroom clutter. If nearby storage isn't an option, keep only the essentials in your bathroom (designer soaps, luxury towels and scented candles).
Shelves are more desirable than cabinets in a small bathroom because of their open appearance. Cabinets are not banned altogether; some vanities are as small as 12 inches wide and can support a small sink with room for storage underneath. Narrow tissue cabinets are often roughly seven inches wide and a little over two feet high — great for holding spare rolls of tissue or other small items.
If your bathroom is truly tiny, consider corner-mounted cabinets. These cabinets are a great way to offer storage without encroaching upon useable space.
Toilet and Sink Considerations
Some small bathrooms may not have a full suite of amenities, but most will always have a toilet and sink. Depending on the options associated with each fixture (standard toilet, wall-mounted sink, etc.) the amount of space left available in your bathroom may change.
Toilets
Standard: $100.00 to $200.00
Low-profile: $200.00 to $300.00
Tankless: $500.00 to $600.00
Wall-mounted: $300.00 to $500.00
A standard toilet bowl is quite large (sometimes measuring 26.5 inches tall, 17 inches wide and jutting 25.5 inches into the room). Low-profile toilets are more compact and often shorter in bowl height than standard models. Low profile designs can sometimes be unsuitable for homes with tall, elderly or handicapped residents.
Tankless toilets present a much smaller profile (the lack of siphon feeding eliminates the need for a tank). Tankless options are usually smaller in height and depth by four to six inches, with  seating being just three inches smaller than average. Wall-mounted toilets tend to be narrower than other models. Though wall-mounted toilets appear elongated, most only protrude 18 inches into the room and stand 17 to 18 inches tall. Tankless and wall-mounted toilets will require a professional plumber to ensure their proper function. Depending on the amount of work necessary, a pro can add $500.00 or more to your total.
Toilets come in many different styles, but it's best to make a selection based primarily on comfort and space (unless you plan to sell). If you're remodeling with a move in mind, a smaller toilet will make your bathroom look larger.
Sinks
Pedestal: $100.00 to $400.00
Wall-mounted: $36.00 to $200.00
The typical bathroom sink consists of a basin and cabinet. A sink basin can jut 11 to 17 inches from the wall, stand 32 inches tall and measure 20 inches in width. If you're working with limited room in your bathroom, these dimensions can be tough on your available space.
For a reduced footprint, many homeowners choose pedestal sinks for smaller bathrooms. Besides displaying more floor space, pedestal sinks have a classic look that adapts to any decor with astonishing ease. While pedestal models don't offer much (if any) storage underneath, some models can hold small towel and washcloth bars to help alleviate clutter.
Wall mounted sinks take up virtually no space and are built for functionality (as well as attractive visuals). Some models are no more than nine inches deep and available for corner mounting. While wall mounted sinks don't offer storage, the open area underneath allows for small shelves if desired.
Conclusion
Just because your bathroom is small doesn't mean it has to feel that way. If you approach your decoration and design correctly, your spatially challenged bathroom will be transformed into the in-home oasis you've always wanted. Just remember to think small, but dream big.
2 Comments