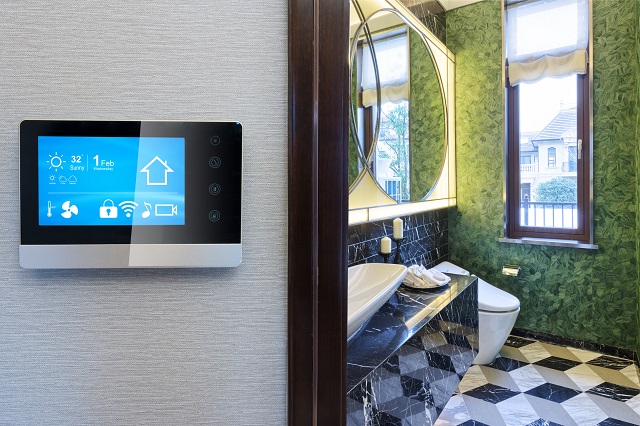 Smart home technology has the power to transform your home, improve its safety, convenience, comfort, and efficiency. It can also drive you nuts if you don't make all the necessary upgrades before trying out the latest tech.
We checked in with Ryan Herd, a smart home specialist (or "integrator," to use the industry term) and author of Join the Smart Home Revolution, a guide to creating a connected home without the headaches. Here are the five must-haves he says many homeowners miss.
1. (Really) High-Speed Internet
In the old days—2015 let's say—a download speed of 100 Mbps (megabits per second) was considered fast. Today, with many households streaming content to multiple devices, 100 Mbps might not even be enough to keep Netflix from buffering.
Not sure what kind of broadband your home boasts? Run a quick, free speed test at fast.com.
How much internet speed you need depends on your household size and habits? If you're planning on the full smart home experience, with dozens of connected devices, including multiple smart TVs, it's worth spending an extra $20 or $30 per month on more megabits.
"I just went up to my provider's fastest plan, 400 Mbps," says Herd. "But then, I'm an integrator and we're a family of five, so we have many, many devices running at once."
When in doubt, give your internet service provider a call, describe your smart home plans, and see which service they recommend. Don't want to wait on hold with your ISP? Talk to a local smart home integrator like Ryan.
2. A Robust Wireless Network
Fast internet is the backbone of any smart home, but since most connected devices run on wireless, you also need to make sure the network reaches every corner of your home. Otherwise those cool new wireless speakers you install by the back patio won't stream your latest playlist, and the connected treadmill in the basement won't download your favorite workout.
There are two ways to expand your home's Wi-Fi coverage: create a mesh network or put in more access points.
Create a Mesh Network
Mesh networks are easier to install; you simply place satellites around the home to expand the coverage. But there's a drop-in speed with every new extension. What's more, Wi-Fi signals have a hard time penetrating thick walls, and they're subject to interference from the refrigerator, microwave, and other large appliances.
Install More Access Points
That's why integrators like Herd prefer access points. This means running an ethernet cable from the main router to any dead zones throughout the home. It's an investment (a single access point might costs $500, about the same as some entire mesh networks), and it's less DIY-friendly, but the solution tends to be more effective and long-lasting.
3. A Backup Power Plan
Okay, your home is blanketed in fast internet. Time to fire up the smart home! Well, sure, but what if there's a power failure?
"These days you lose more than just your lights in a blackout," says Herd.
That's why it's important to have backup power for your smart home equipment.
Standby power generators are the most fail-safe solution, since they kick on automatically in case of an outage, keeping your smart home running more or less indefinitely. The peace of mind doesn't come cheap, though. The average cost to install a generator being about $4,000.
A more affordable solution is to buy a UPS battery backup, starting around $100, and plug your router and modem into it. Typical battery backups will keep your home's Wi-Fi running for several hours; some systems include extra power packs to help in the event of an extended blackout.
4. A Central Control Center
While you can create a smart home piecemeal, this usually means having a separate app on your phone for each connected device. And there's no guarantee the devices will talk to each other. For simple, seamless control of your smart home, it pays to invest in a central hub.
If money is no object, you can spend thousands of dollars on a controller from a high-end home automation brand like Control4, Crestron, and Savant; the various smart home devices will cost thousands more. But you'll get the full white-glove experience, with a CEDIA-certified integrator walking you through all the options, designing the system, overseeing the installation, and taking care of any ongoing service needs.
A good middle-ground approach is to purchase a smart home hub, like the Google Nest Hub or Samsung SmartThings, and build your smart home off its platform. You'll probably spend several days on the design and set up, and the all-in cost could still be up around $1,000, depending on how many devices you install. But it can deliver a lot of smart home magic for far less than a professionally installed system.
5. Additional Electric Outlets and Wiring
Most smart home products run on Wi-Fi. But more and more of them also need to be plugged into wall. Take smart toilets. Though battery-powered models exist, most of these high-tech toilets require a GFCI 120 volt outlet within three feet. Most people don't have that in their bathroom. The average cost to install an outlet is $200, so you'll need to add that to the total cost of the smart toilet.
Other smart home devices that may need to be wired include lights, cameras, thermostats, mirrors, shower controls, and window shades. The average cost to hire an electrician for this type of work is $50 to $100 per hour, with projects seldom taking longer than a few hours.
As you can see, a lot of planning goes into creating a smart home. Before you start picking out new lights, cameras, locks, and more, make sure your home is ready to accommodate the best smart home experience.
No Comments Yet