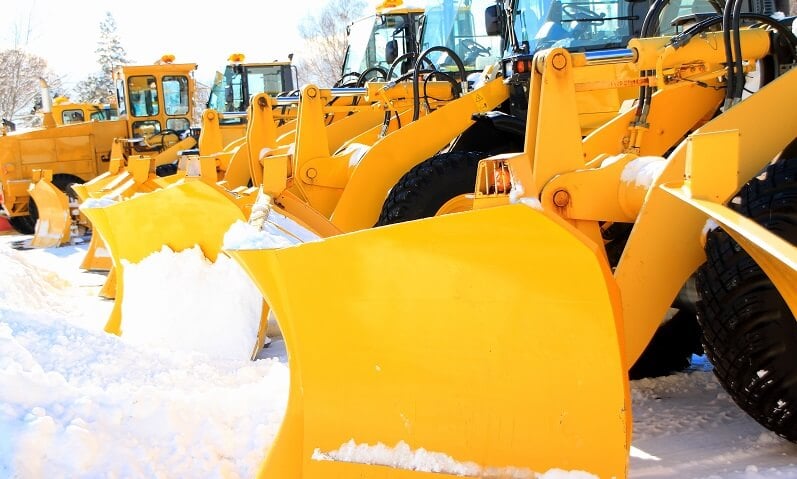 On This Page:
Snow Removal Services Contracts
A removal contract is a set-it-and-forget-it way of dealing with snowfall. They're worth the investment whether you get year-round accumulation or only experience a couple of months of wintry weather.
Type and scope vary depending on your location, the area you need cleared and any specific needs you have. Agreements are almost always customizable with a combination of sanding or salting and sidewalk, lot or driveway clearing.
They come in five basic types:
Fixed Fee: $350 to $450+ – one fee for the entire season. Often with a visit cap.
Per Inch: variable – based on actual accumulation totals.
Per Push: $30 to $50 – also known as per visit, this is a standard trip fee.
Per Event: $50 to $80 – charged by snowstorm, regardless of number of visits needed.
Time and Materials: $25 to $75 per hour + materials – figured by actual time and materials used.
Read more on snow removal costs.
Basic Removal or Snow Plowing Contracts
Basic contracts all include simple moving or removing. All are tailored to your specific situation.
Basic contracts include clearing short drives, typically less than 60 feet in length. This is usually for driveways, parking lots and private roads. Short drives and sidewalks have the option of shoveling or snow blowing.
Often used interchangeably, "plowing" and "removal" sometimes refer to two different things.
Plowing is pushing it out of the way but leaving it on-site.
Removal uses trucks and loaders to remove the piles to another location.
Fixed Fee
These agreements include one fee of $350 to $450 or more for the entire season and entail any services you and your provider agree on. Fixed fee contracts are common. The actual costs vary depending on the average annual snowfall your region gets.
Tip: Combine lawn care and snow removal. These companies offer year-round contracts that include both winter and summer services, or let you roll over unused winter services for lawn care.
Per Inch
With the uncertainty of accumulation, many providers steer away from this type. It's tough to budget and takes longer to calculate.
Per inch contracts often charge a flat fee for a certain bracket of snowfall. For instance, one pro might charge a fee up to 6 inches. Another may charge one rate for 1-3 inches then another for 3-6 inches.
Note: Inches are determined by local weather stations. This avoids arguments over how much snow fell.
Per Push or Per Visit
You are charged for each visit to your home. For example, if it snows for 12 hours and the professional makes two trips to your home, you're charged for two "pushes." It's often in the $30 to $50 range per push or visit for residential services, though pricing increases with more snowfall.
Per Event
Event, or per snowstorm, pricing is a less common type since it is tough for the professional to budget for. This type involves a flat rate for each event, regardless of how many inches fall or visits to your home.
Note: "Events" often reset every 24 hours. This means that if you have a 3-day storm, it counts as three events.
Time & Materials
Probably the fairest way to bill, time and materials simply charges by the hour plus any materials used, such as sand or salt. It might be fair, but hard to budget for. With high accumulation comes higher invoices.
Note: Experience matters. Less experienced pros take longer to do the same job as more qualified contractors.
Snow & Ice Management
Ice removal isn't usually included unless it's common in your area. Sanding and salting are typical add-ons to manage icy surfaces. It either increases the seasonal price or can be tacked on when it's used.
Residential vs. Commercial Agreements
Commercial contracts share pay models with residential agreements. However, commercial jobs often require larger, more expensive equipment, and come at a higher billing rate. They also differ in duration and include removal or hauling over banking it in parking lots.
Commercial Snow Removal Contract
Commercial customers include HOAs, retail stores with large parking lots, restaurants and apartment buildings. Business service providers have a larger investment in heavy equipment and personnel to meet the needs of multiple clients during a typical season.
A commercial contract has two major differences from residential types:
Usually multi-year. This helps average out the accumulation over multiple years to give both the business owner and the contractor the best value.
Involves larger crews and equipment. Hauling snow away requires trucks and loaders. This heavy equipment requires more manpower and comes at a premium.
Residential Snow Removal Contract
Often smaller and cheaper. These seasonal contracts only require a single-year commitment and require far less equipment and a smaller crew.
Snow Plowing Contract Sample
A typical plowing contract has several sections including the scope of work, payment, performance and insurance. When asking for a bid also ask for a sample contract.
Scope of Work
This will outline the exact work the pro agrees to perform. It'll include any negotiated items such as sanding, salting and hauling snow away. It'll also mention how the work is accomplished – with what equipment and crews necessary.
Additionally, it'll set out the trigger snowfall needed to initiate a service call. A trigger is the amount of snowfall, in inches, that must occur before the professional makes a visit to your home. For example, f you have a contract for removal at 2-5 inches, the trigger is the 2-inch mark.
Payment
This section goes into the agreed upon payment amounts, payment model – per push, event, seasonal, etc. – and when payment is due.
Performance
This section outlines what the pro will do to contact you and when you can expect service. For example, one outfit may have 5 crews with 30 clients. This necessitates prioritizing clients during an event. Professionals always try to contact all customers quickly and efficiently, so you're not left wondering when the plow will arrive.
Insurance
This section outlines the insurance details. It will mention that the contractor agrees to maintain commercial liability insurance throughout the contract's duration.
How to Get a Snow Plow Agreement
If you like your lawn care specialist, that's the first place to start for winter weather services. Many seasonal landscapers switch in the colder months. Only deal with written agreements and always ask about additional or hidden costs.
If you don't already have a summer contractor, the best way to get a plow agreement is to:
Search our database of licensed and insured snow plowing professionals.
Read ratings and reviews.
Get multiple bids
Ask for a sample contract.
For more tips on how to hire a snow plow service.
No Comments Yet