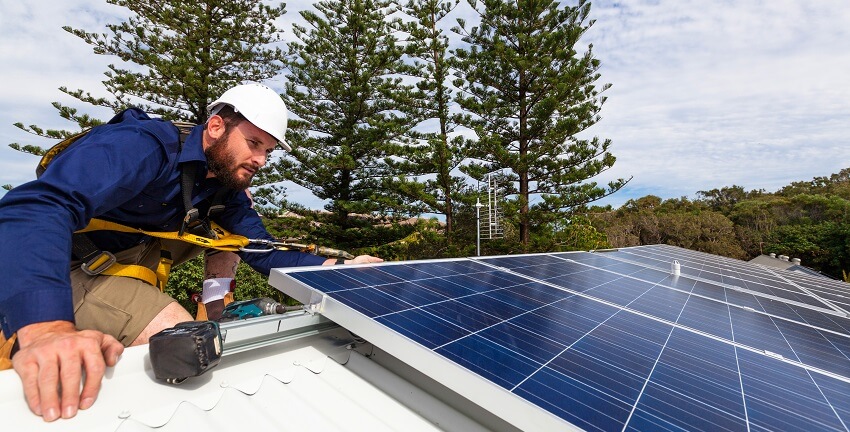 Need a Solar System Contractor?
A solar energy system is a big investment. It's important to find a quality contractor for your product selection and installation. As intimidating as that seems, with the right information, you can make the best decisions for your home, your energy needs and your wallet.
In this guide, we answer some of the most frequently asked questions about solar power. Discover tips for hiring a professional and compare the pros and cons of using a local company versus a national one. For more information on pricing, use our solar panel installation cost guide.
On This Page:
Frequently Asked Questions & Answers about Solar Energy
Solar technology and its benefits are complex, and a number of questions crop up as homeowners start the research process.
How Does Solar Power Work?
Residential, photovoltaic (PV) systems have cells (often made of silicon) that absorb energy from the sun. The cells turn the solar power into direct current electricity (DC). That energy goes through an inverter, which turns DC into alternating current (AC) energy. This powers the home.
What are the Benefits of Solar Panels?
Energy Savings: They can reduce your utility costs by up to 50 percent, which can equal $30,000 in savings over a 20-year period. This will make you less vulnerable to increasing electricity rates.
Carbon Footprint: They shrink your home's carbon footprint by reducing pollutants and lowering greenhouse gas emissions. Learn more about the environmental benefits with this quick look at our article on "Going Green with Solar Panels".
Home Value: Studies show that, in most cases, they increase property values.
What is the Life Expectancy of Solar Panels?
Most panels have a life expectancy of 25 to 35 years. However, there are panels with shorter and longer life spans. Thin-film panels only have a life expectancy of 14 to 17 years. Some higher-cost panels have a projected lifespan of 40 to 50 years.
How Much Does it Cost with Installation?
With labor, permits and equipment, these systems cost $15,000 to $30,000. However, prices vary dramatically. A two-kilowatt setup averages $6,000 to $7,500 across the country. A ten-kilowatt setup averages $30,000 to $36,000.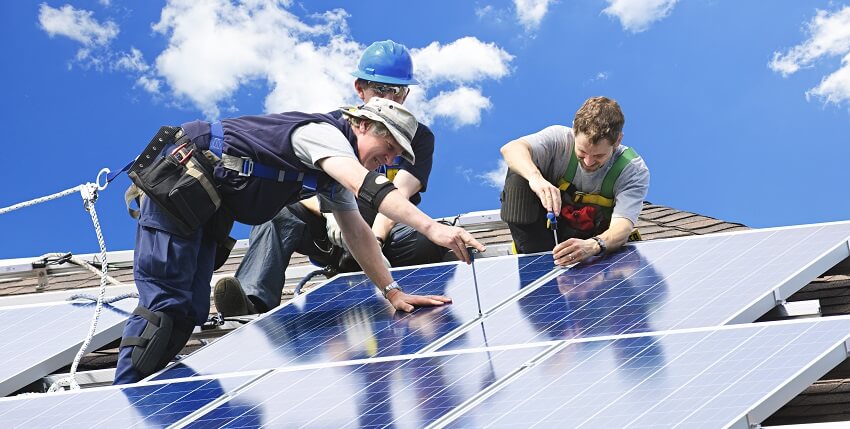 How Do I Size My System?
You can get a ballpark estimate of the size you'll need by analyzing a year's worth of electric bills. Your monthly consumption of kilowatts per hour (kWh) will be alongside your charges.
For example, a 5kW system provides 7,000 kWh of energy per year. This covers more than half of the average households' energy consumption (11,000 kWh). For this size, you would need around 20 panels and 225 to 300 square feet of roof space.
An expert can help you find an accurate size but it helps to have an idea of what you need before you call for quotes. The number of panels you need will depend on:
Your energy consumption.
Percentage of consumption that you want to fuel with solar.
Weather conditions in your area.
Sun exposure on your roof.
You can also plug your address into Google's Project Sunroof. Using data on your actual property and location, it will recommend a size, project your net savings and even predict your potential impact on the environment.
How Extensive is Solar Panel Maintenance?
This equipment is very low-maintenance. Most systems only need an inspection and cleaning once per year. Solar panel maintenance costs $100 to $350. Annual inspections average $150 and cleanings range from $120 to $160.
In case of damage to the equipment, expect solar panel repairs to cost anywhere from $200 to $1,000.
Will a Solar System Raise Home Value?
In most situations, home value will increase. Energy efficient features are a top priority for home buyers, and this particular feature will save them money year after year. To learn about other efficient features, check out the resources in our home energy efficiency guide.
A study conducted by the Lawrence Berkley National Lab (LBL) found that an average-sized system can raise home value $15,000. In sunny regions like California, it will lift home value by a greater margin. In cloudier, rainy regions like Washington state, it will lift by a much smaller margin.
What Rebates and Incentives are Available?
There is a 30% federal investment tax credit (ITC) for homeowners who add panels to their homes. Individual states and municipalities have rebates and incentives that add to the savings. There are even utilities companies that offer incentives and credits. To learn about the incentives in your area, visit the Database of State Incentives for Renewables and Efficiency.
In some cases, your contractor can apply for incentives and rebates for you. Be sure to sort out who is responsible so that you don't miss out on savings.
Can This Be a DIY Installation Project?
It is possible to install solar panels yourself, especially with a home kit. However, there are many disadvantages:
Roof work is extremely dangerous.
You risk voiding equipment warranties.
Fewer product options for DIY than with a pro.
You'll likely need an electrician to connect equipment.
Improper installation could reduce efficiency, wasting potential savings.
Can I Finance This Project?
If you can pay for this project upfront, you will save more because there won't be fees associated. However, if you want to get a head-start on utility savings and finance the project, you can get a solar loan or lease. If you lease, you won't cbe responsible for maintenance costs.
What Other Residential Solar Equipment is Available?
There are solar water heaters of varying applications that improve energy efficiency for the home.
For the pool: Installing a swimming pool heater costs $1,500 to $4,000, and a solar style will run high in that range at $3,000 to $4,000. Though the initial price of the unit is high, it will have no operating expenses versus the $100 to $600 operating expenses of other options.
For the home: For heating water or air in the house, a solar water heater costs $2,000 to $5,000. These units reduce electricity bills and improve your carbon footprint. While regular water heaters cost less, solar styles will have lower operating costs and should pay for themselves within four to ten years. Learn more with this information on solar heating.
There are also solar screens which work like window shades, blocking thermal energy from entering. To learn more, check out our article on solar screens.
Solar Panel Contractors vs Solar Companies
The choice between a local contractor and a large, nationwide company comes down to your priorities, financial needs and service expectations.
Advantages & Disadvantages of Local or Regional Companies
| Pros | Cons | Examples |
| --- | --- | --- |
| Flexible product options | Less reputation assurance | PetersenDean |
| Supports local industry | Less business stability | Direct Energy Solar |
| Lower prices | | Baker Electric |
| Personal experience | | Sullivan Solar Power |
| Loan programs | | |
| Familiarity with region | | |
Nationwide Solar Company Pros & Cons
| Pros | Cons | Examples |
| --- | --- | --- |
| Solar leases and loans | More expensive | SolarCity |
| Established reputation | Limited product options | SunRun |
| Greater business stability | Fixed pricing | Vivint Solar |
| | Outsourced work crews | SunPower |
How to Find & Hire Solar Panel Installation Contractors
Proper installation is vital to the panels' efficiency and longevity. Guarantee yourself maximum savings and a long-lasting investment by vetting professionals in your area.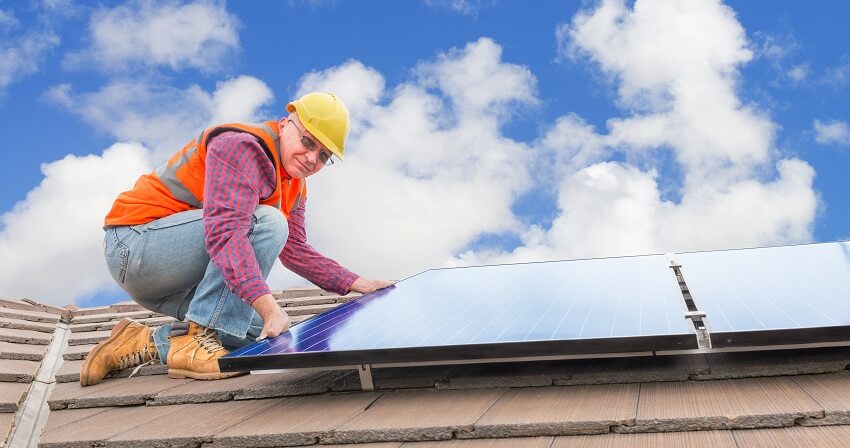 Do your research – Check out local professionals on reputable consumer review sites.
Get multiple quotes – Solar companies use varying methods to determine system size and price, so it's best to get at least three quotes from local professionals. Find out how their costs are estimated and question large variances.
Don't just go with the lowest quote – A low price may indicate lower quality work and products. This reduces your energy potential, cutting your savings year over year.
Research the equipment – Familiarize yourself with your product options, including panels, inverters and mounting equipment. You may find that a more expensive product is worth the energy savings.
Get the right permits – Discuss permit requirements with your contractor and find out if they will acquire them for you or if you have to apply for them yourself.
Request a monitoring system – Many companies include a free monitoring service in their package, but not all do. Make sure to get the service that fits your needs if monitoring is a priority for you.
Meet them in person – If possible, meet your contractor in person before hiring them. It's important that you can trust and communicate with them as they work on your project and into the future, in case of performance issues or concerns you may have.
Questions to Ask Solar Installers Before Buying Solar Panels
These questions are key to securing a contractor you can trust.
How long have you been in business?
How many installations have you done?
Do you have the proper licensing and insurance for this work?
Will we sign a contract?
Do you guarantee your work?
Do you have a list of references and examples of your work?
Will you explain the components of my system?
Why do you stand by these particular products?
What are the warranties associated with these products?
How do you calculate the size of system I need?
Do you use subcontractors and how do you vet/train them?
Are you NABCEP (North American Board of Certified Energy Practitioners) certified? This is a voluntary certification and is not required, but it is highly recommended.
No Comments Yet