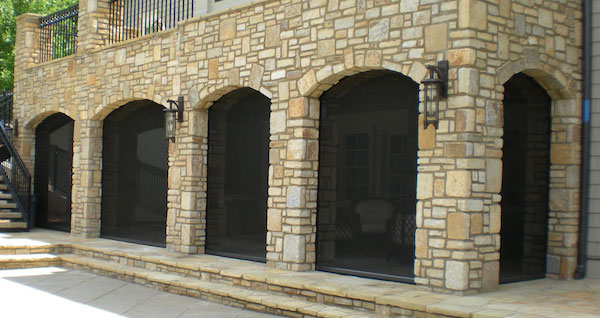 We love it when things look modern, cool and sleek. Think about how we invest in sunglasses not just to keep out the light, or how we tint our cars not just to keep the car seats cool. Shades give glass a refined, edgy appearance that makes it seem clear, crisp and competent. This is the same philosophy behind installing solar window screens for your house. These fabric window shades look contemporary and unique from the outside, but there is also a more practical purpose behind these products: keep out the sun's energy. While glass tends to heat up the sun's rays as they enter your home, these transparent shades continually block and reflect this thermal energy before it has a chance to come into the room. The real beauty is that just like sunglasses or car tints, you are still able to look out and enjoy the view from your house. This makes these shades ideal for any weather climate in any geographical landscape, city or countryside.
Energy Efficiency
By blocking out the sun, solar screens keep rooms cooler in summer, making the indoor environment much more comfortable. Plus, you'll save on your energy bills, making installation of solar screen costs well worth it. Since you now have a natural thermostat sitting right in your windowsill, you'll no longer have to rely on the air conditioning to moderate the temperature. Solar screens aren't just useful in the summer months either. They retain quite a bit of heat during the winter as well because instead of using ugly plastic wrap to seal up windows against winter winds, these shades provide a better looking and more efficient seal.
Surefire Protection
There are other residual benefits of managing the sun's rays. Solar window screens create a relaxing indoor atmosphere by providing glare control. This eases harsh eyestrain because you'll no longer have to squint in your own home. Also, by keeping out harmful ultraviolet rays, your home will be virtually fade-free because the sun will no longer do damage to your carpet, drapes, or furniture. Let's also not forget why we buy shades in the first place: to keep out those nosy neighbors. Solar screens provide privacy by blacking out your windows from outside eyes while still giving you the ability to see what's going on in the neighborhood from inside.
Optional Models
Solar window screens are fairly inexpensive ($1-$2 per square foot) and come in all kinds of shapes and sizes. They can be customized to fit any window, despite any irregular design or pattern, which means that they can even be installed over skylights, porch doors, or grid work. Oftentimes, they are permanently installed from the outside like any other mesh screen. This allows you to open your windows for ventilation, while still keeping out the sun, insects, and dust particles. But solar screens can also be applied indoors, acting like a shade or drape to be raised or lowered at will.
But recently there have been new innovations in solar window screen technology. You no longer have to use a cord to raise and lower the shades. Currently, some models can be fully automated, so you don't even have to be there to activate them. With timers or computerized sensors that detect light and wind velocity, these shades can operate themselves, hands-free. Therefore, in the evening they'll roll up and put themselves away and when the morning light arrives at daybreak they'll be put right back to work while you sleep.
1 Comments