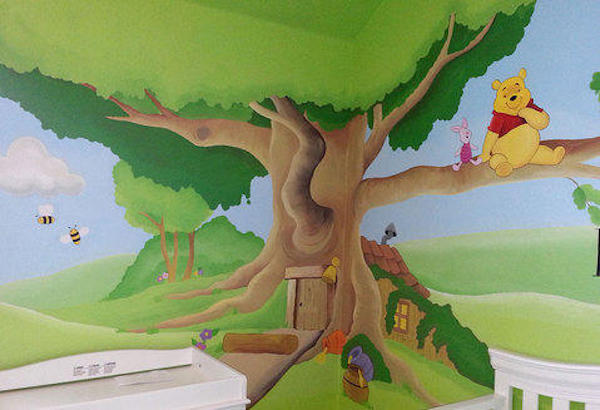 Though it's usually the last chore on the list, any homeowner has the ability to paint a wall. It's messy, boring, and physically exerting, but anyone can use a roller or paint brush without much training. Except for those corners, edges, and trim, it's pretty straight-forward and the visual results are always worth the work. A new coat can add value to a house, make the place feel more like home, and can certainly give a room some style. However, if you're tired of the same old color schemes, paint swatches, and uniform looks, it sounds like you want a change—a way to make your house stand out from the rest. If so, you may want to include some specialty painting in your home.
Specialty Painting Services
These professionals aren't just painters. They're true artists with extensive training and qualifications. Unlike professional house painters, who are hired for their efficiency at getting the job done quickly, these particular contractors are skilled in the art of decorative painting. Many have had an intense art education with multiple college degrees, a strong background in interior design, or widespread experience in theatrical set construction. The projects may cost more and take up time, but the end result is always a one-of-a-kind work of art. Plus, these experts pride themselves on their ability to adapt and change form: in other words, they love a challenge and tend to rise to the occasion. Therefore, they thrive on your input and rest their reputation on making you happy with the final product.
False Impressions
Faux finishes are probably the most popular form of specialty painting. Their basic premise is imitation: to make ordinary drywall appear as another material. It's all about fakery without looking fake. It can make new walls look like historic antiques with a distressed wood grain or crackling plaster finish. If you want marble floors, ceilings, or walls, these experts can swirl any surface area in order to appear authentically marbleized. Or like baby shoes, you can literally gild your walls with gold or any other modern metal. You can even paint your walls to look like wallpaper with subtle stripes, streaks, or striations. It's cheaper, less messy, and easier to remove than the real thing.
Ready to start your
specialty painting

?Find Pros
Get Textured
Textures are another popular form of specialty painting. Instead of relying on customary colors and flat finishes, why not make your walls feel alive and three dimensional? There are several different types of glazes that can be applied over a basecoat and then manipulated to create specialized patterns. Using a variety of household tools, such as rags, combs, and sponges, you can play with this glaze to craft dimples, zigzags, or granulated effects. You could even reproduce the feel of parchment paper, wood grains, or diluted color-washes. These experts are also trained to remove textures, such as popcorn ceilings or pre-existing faux finishes you no longer want.
Decorative Painting
If you're handy, some of the previous techniques could be done on your own. However, more elaborate work that requires actually drawing, conceptual design, and other fine arts should be left to a professional.
Murals: Instead of hanging works of art, why not turn your wall into a canvas. Frescoes, air brushing, and even graffiti have become very popular in modern homes. And though a bit pricey (depending on size, it'll cost about $15-30 per square foot), they definitely leave a distinct impression on a house.
Trompe L'Oeil: This technique creates the illusion of objects. Often seen in Tuscan-style homes, experts can paint the appearance of elaborate structures, latticework, pillars, doorways, and even windows on a wall. A common practice in the theater, it not only makes a stylish statement, it also enlarges a room.
3-D: Sometimes referred to as Sotto in Su, this technique creates the illusion of a 3-D space. Often used on ceilings, it uses perspective and vanishing points to give depth and dimension to an otherwise flat surface.
Stenciling and Stamping: Using a template, any type of border or pattern can be created in any room.
Prep Steps
Many homeowners may be able to do some of these things on their own, but for those of us who aren't artistically inclined but still want a unique paint job, you may have to hire a professional service to do the work. Keep in mind a budget and a timeframe to help the painters out and to help limit yourself: a little decorative painting goes a long way and too much can quickly become overwhelming. So think carefully about which room would be most helped by these specialized designs, and how it corresponds with the rest of the home's décor and color scheme. Also, in order to help out the contractor, it's a good idea to have a photograph or rough sketch of what you want things to look like in the end.
1 Comments