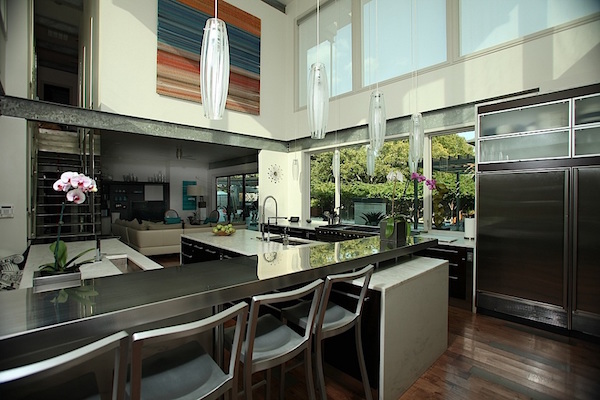 Are you tired of hearing about the same old kitchen materials all the time: laminate, marble, hardwood, concrete, and tile? Yet look at restaurant kitchens: none of them use any of these materials. Why? Because since they're more interested in the utilitarian side of cooking, they want their décor to match this more industrial aesthetic: simplicity and sleekness mixed with beauty and elegance. That is why stainless steel counters have become so popular recently. They imitate the modern look of professional kitchens and make any homeowner feel like a world class chef.
Safe and Sturdy
Restaurants use stainless steel countertops not only because they look sharp and appealing, they're also very resilient. They're water resistant, which means that since the surface is non-porous, no water can enter into the material itself, eliminating the risk of any long-term water stains or rust. Plus, since water can't build up in the material, there is no chance for mold, bacteria, or other germs to build up either, making for a very hygienic cooking surface. Also, it's heat resistant, which means that you can place hot pots and pans on it without risk of heat damage.
Fashionable Innovations
Metal is shiny and malleable, which also allows it to be inventive and flexible. There are many interesting ways to design a professional kitchen around stainless steel counters:
Reflections: Since this material is shiny, it can reflect the different surfaces of your kitchen, which makes the overall space appear brighter and bigger.
Harmonizing: Metal is actually quite neutral in terms of color and design; it can match any kitchen décor. And now that metal cabinets are coming back into fashion, a stainless steel countertop is a perfect way to stay up with the times.
Bend It Into Shape: Since metal can be bent, they can be made to fit any surface area. Plus, they can actually form into other surfaces elements. They can creep up onto your walls to form a perfect backsplash or they can bend to make a great integral sink.
Ready to start your
stainless steel counter

?Find Pros
Problems and Solutions
Like anything, stainless steel counters come with their own pros and cons. However, many of the minuses can be avoided if you keep in mind these preventive tips:
Dents: Even though it won't stain, this material can certainly acquire dents over time. However, if it is installed properly by a trained professional you should be able to avoid them. These surfaces are adhered over a solid piece of wood to deaden any echo affect, and the tighter the installation and harder the wood, the less risk for dents as well.
Scratches: Metal can scratch. It's just a fact of life. But stainless steel countertops can come in many different designs and finishes. They can be textured with different grains, patterns, or surfaces that can hide these flaws. Plus, always use a wooden chopping block or cutting board while cooking to avoid these blemishes.
Fingerprints: Just because they don't stain doesn't mean they're smudge-proof, especially if you have children with wandering hands. However, simply clean up fingerprints immediately and you'll be able to avoid long-term problems. (Once again, textured surfaces can hide these flaws.)
Stains: Like anything, you have to keep up on the maintenance. Don't use harsh chemicals though or else you will actually stain the metal. Instead, simply use soapy water or low impact cleaning solutions. Always dry it completely to avoid temporary water smudges and wipe in the direction of the metal's grain.
Expense: They're not cheap. It'll cost you about $75-$150 per a square foot for the material, and since the installation is specialized you'll need to hire a pre-screened contractor to get the job done right. And though there are more affordable imitation materials out on the market, because true stainless steel counters are so useful and easy to maintain, it's best to go with a trusted brand.
1 Comments